Browsing articles tagged with " punk"
Label : Southern Records
Review by Davide Torresan
Chelsea Wolfe is an American singer-songwriter and eponymous band from California. She released two albums: "The Grime and the Glow" in 2010 and "Apokalypsis" in 2011. Recently it came out a collection of acoustic songs: "Unknown Rooms". It is not easy to identify the genre that this girl proposes, but she suggests us the term "specific brand of drone-metal-art-folk". "Prayer for the Unborn" is a sort of quirk, experiment. Indeed Chelsea reproposes with her own style five songs of the English anarcho-punk band Rudimentary Peni. The change is literally radical since these songs have nothing to do with punk. They have a rock soul closer to alternative rock. Guitars are often used with fingerpicking. There are parts more quiet and others a little bit faster. Each song in the album is similar to the next one, and they show us a good singer. Chelsea's voice is really hypnotic and soothing. Continue reading »
Interview by Miriam C.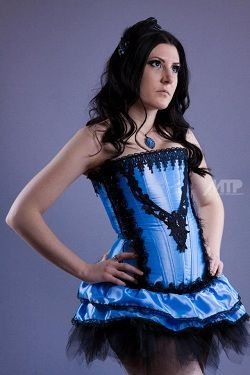 Schoolcraft is the solo musical entity leaded by Canadian singer and instrumentalist Lindz Riot. Recently she landed the touring female singer and keyboards position on UK symphonic extreme metal band Cradle of Filth and for this reason I thought it was a nice idea to ask her few questions about her next projects, her background and least but not last about her (former?) band Mary and the Black Lamb and her last release "Rushing Through the Sky". I'm sure that if you love ambient music, harps and cellos, you'll be get intrigued by Lindz.
Hi dear, how are you? I would like to start this interview asking more infos about your musical background/training. Also how do you manage to balance your classical training with the contemporary one?
Hey Miriam! Thank you so much for having me at Femme Metal Webzine. I actually started in country music when I was a child. I was taught guitar by my dad and that's where my singing started. I think the country style of voice training was a good foundation for me because it taught me the basics of belting as well as softer folky tones in the higher range. Well, I wouldn't call it training more so as just my own interpretation of it.
In my tweens I gave up music for a bit, but then when I turned 15 I discovered punk music and became very passionate about it. I formed an all-girl punk band and that's where I began in the music business and played bass for 8 years. I took lessons twice a week and really developed my song writing and basic theory skills at this time. I sometimes wonder where I'd be if I didn't give up the bass. I'm pretty sure I could handle technical death metal pretty easily, but the bass just wasn't in the cards for me anymore after the age of 20. Continue reading »
Independent Release
Review by Tony Cannella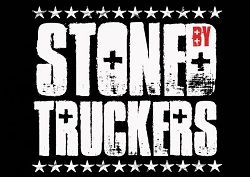 From Barcelona, Spain, Stoned by Truckers brings rock n' roll back to basics on their debut 2-song single. Make no mistake about it, this is not epic, dramatic metal, this is just straight-forward, to-the-gut rock n' roll. Stoned By Truckers, lists as some of their influences, Guns N' Roses, AC/DC, The Ramones among others, so that should day a lot about where they are coming from musically. The first of the two songs provided here is the track "Pussy N Gasoline". The song has an AC/DC vibe to it led by a strong Angus Young style, simplistic riff. The second track "The Color and the Shape" is the band going all out, playing with reckless punk-like abandon and energy. Sure the single only clocks in at about 9-minutes, but still it gives you an idea of what Stoned By Truckers is all about.
Rating – 75/100
Tracklist
Pussy N Gasoline

The Color and the Shape
Line Up
Elisa – Vocals

Germán – Lead Guitar

Jahdry – Rhythm Guitar

Judith – Bass Guitar

Toni – Drums
Links
Label : Cooking Vinyl/Edel
Review by Luisa Mercier
"Theatre Is Evil" is the result of how much fans support is worth. Amanda Palmer was able to record the album after raising more than one million dollars on the Kickstarter platform and the fans were also able to decide how the title should have been written. So, together with her, we find The Grand Theft Orchestra (aka Michael McQuilken, Chad Raines e Jherek Bischoff ) that give birth to an electronic, heavy, distorted sound completed by Amanda vocals. "Smile (Pictures or It Didn't Happen)" is an example of this, followed by new single "Killing Type", catchy but angry, harsh song accompanied by a bloody (literally) video. "Do It with a Rockstar" and the first single "Want It Back" represent the rock and funny side of the record, especially the second has distinctive '80s influences, new wave influences that paired with Amanda voice create a perfect hook. Among my favourite there is "Trout Heart Replica", an orchestral piece, fille with piano and atmosphere that could be taken off the previous album of Amanda. Same for "The Bed Song". "Theatre Is Evil" is a release that shows how Amanda can offer a lot to the music scene and I am sure that it is almost impossible that fans will be unhappy with what their money resulted in.
Rating – 80/100
Tracklist
Meow Meow Introduces The Grand Theft Orchestra

.Smile (Pictures or It Didn't Happen)

The Killing Type

Do It with a Rockstar

Want It Back

Grown Man Cry

Trout Heart Replica

A Grand Theft Intermission

Lost

Bottomfeeder

The Bed Song

Massachusetts Avenue

Melody Dean (featuring David J on bass)

Berlin

Olly Olly Oxen Free
Line Up
Amanda Palmer – Vocals, Piano

Chad Raines – Lead Guitar, Banjo, Backing Vocals, Horn Arrangements & Programming

Jherek Bischoff – Bass & Backing Vocals

Chad Raines – Lead Guitar, Banjo, Backing Vocals, Horn Arrangements & Programming

Michael McQuilken – Drums, Ukulele & Backing Vocals
Links
MySpace * Facebook * Twitter * Site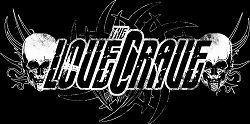 Interview by Ed MacLaren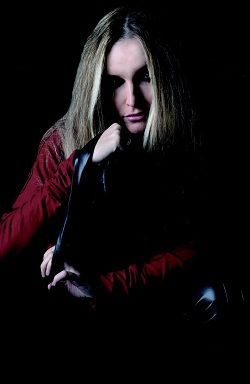 With "Soul Saliva", The LoveCrave welcomes you, once again, into their mysterious musical world living deep within the grey shadows lurking between light and darkness. The Italian quartet's unique hybrid of gothic, hard rock, and electronic sensibilities combined with strong melodies and heavy riffing continue to improve on this sophomore release. New mom and vocalist Francesca Chiara took some time to talk to Femme Metal about the new album, the importance of a good mascot, and how pregnancy improves vocal skills.
"Soul Saliva" is out and it's a fantastic album of dark modern rock. Are you pleased with the results?
Wow! Dark modern rock is a great description of what we do…can I use that? Hahaha! So far, we are really happy of the results; it seems that our hard work is appreciated basically by everyone. Let's see what the reaction of the audience will be now.
It's been a good four years since your debut "The Angel and the Rain". They say you have your whole life to create your first album. The real work comes when preparing for your second. How has The LoveCrave evolved musically since your first album?
The second album is always the hardest to do, you feel changed in the years but you can't step too far away from your first release so it gets hard to keep the balance. We definitely grew a lot since our first album. We got open to new collaborations and tried our best to create in the studio the special sound that our band has. As in the first release we paid a lot of attention to the songwriting which is the most important thing for us. We don't want to hear not even one bad song in our albums!
What was your mindset when you started writing "Soul Saliva"? What goals did you set out to achieve?
We wanted to sound original, write great songs and offer a high-level production.
"The Angel and the Rain" was considered a concept album of sorts. Is "Soul Saliva" written in a similar vein?
"Soul Saliva" was written out of a story as well but it is not included in the packaging because it is too long. Once I find the time I will try to put it online…I actually have to translate it to English first!
"Outsider" is the standout of many great songs on "Soul Saliva". It's the definitive combination of all the musical and vocal elements that make The LoveCrave plus an awesome guitar solo. What are your favorite tracks and what makes them so?
You just said it…"Outsider" is my favorite song! Of course I like many songs in the album but "Outsider" has something more, a growing energy that really catches me. Plus I think that it's the song that I sang best on the whole album.
You have a great rock/punk vocal style which contrasts well with the sophisticated electronics of The LoveCrave's music. How have your vocals evolved since you started singing publicly?
Well, I don't consider myself a real singer; as you said I am more a punk rock singer who does not sing real punk music… In this last work though I think I did a really good job and believe me, I never say that when it's about me! I can't hide that I'm really proud about my vocals in this album. Maybe they sound good because I was pregnant and I sang with a big belly! Hahaha!
In addition to being a singer you're a writer and an artist. How does your creativity in those areas infuse your music?
I write because sometimes I need to turn off the light, close myself in a room and just put down on the paper everything that I feel. When I turn the light on again I am a new person. Music is different; it's a way to open my heart, to explode, to recharge myself until all the energy bursts out all in once. A little less introspective but much more involving.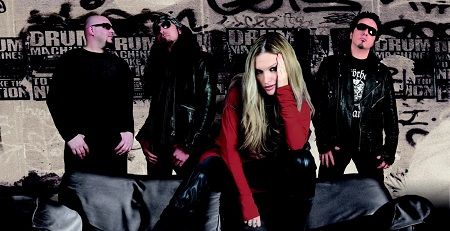 You've been making music since your early teens. Is The LoveCrave the culmination of your musical aspirations? Do you see yourself anywhere else other than with the band?
Well I put so much energy into the band in these years – all my work and all my heart – so that at the moment I can't think about singing in another project.
You draw inspiration from very diverse bands like Iron Maiden and Depeche Mode – two bands that in their 80s heyday wouldn't be caught in the same room together. What is it about these bands that complement each other and fit into The LoveCrave's style of music?
Hahaha! You are right, this is the fun thing, mixing really different music styles, trying to find in each style the elements that could fit together in your own sound. It's exactly what we do. Iron Maiden has great rhythmic ideas and the use of guitars is really original, Depeche Mode play with electronic sounds, they search there more than any other band. There are many other styles mixed in our music but we grab just a few elements of each style.
What is the story behind The LoveCrave "mascot" seen on the album cover? Is there an evolution to the character in the same vein as Iron Maiden's Eddie?
Rain – that's her name – is just a mascot as you say and we would love to use her just like the Maidens use Eddie. We would love to film a video with her, bring her on stage with us, maybe in a megascreen behind us, produce some dolls with her looks…but as you can imagine we are too small to even think about these expensive solutions…
Your cover of "Thriller" is killer! It's much more sinister and stripped of the dated 80s pop conventions. What gave you the idea to cover this and what was your approach to make it your own?
I just heard the song on TV about a year ago and started to sing along. I thought it was cool so I proposed it to Tank Palamara who found the riff right away and in a couple of days it was arranged and done. We worked overnight but everything came out naturally, we did not think too much, we just produced it as we do with all the other songs, this is why it sounds like a song of ours.
You also covered Duran Duran's "The Chauffeur" on "The Angel and the Rain". How do you choose a cover song for an album?
Well we don't give so much importance to the covers on our albums, we just treat them like another song, that is the way to make it sound original. The choice comes from a few elements: first of all I need to be comfortable when I sing it, it has to have a melody that I would write so I can find my way to sing it. In the second place, we like to redo songs that belong to the past, our past. They need to give us special vibrations and it's more fun if they belong to a completely different style.
The 1980s seem to be creative inspiration for The LoveCrave. What is it about that decade that keeps the attention of bands like The LoveCrave and others like The Birthday Massacre?
What was good in the 80s was the songwriting. It was impossible to release a song if it was a badly written song. Now, kids care more about other stuff like the sound, how aggressive the song is, or if you can dance to it and so on… We still believe that the songwriting of a track is the first main thing. We throw away so many songs just because they are not good enough, in our opinion.
The energy on "Soul Saliva" must translate well to the stage. What can fans expect from you on the road? What are your tour plans for the summer?
We just got back from a tour and we are thinking of doing some festivals before leaving for a tour again. This summer we will film a video and we started working on an EP that will be released at the end of September.
(Famous) last words?
Thank you so much for this interview and for those who will listen to the "Soul Saliva" album…let us know what you think, we do care of your opinion! Thanks again and rock on!
Links
MySpace * ReverbNation * Facebook * Google Plus * Twitter * Site
Latest Multimedia
6 color styles available:

Style switcher only on this demo version. Theme styles can be changed from Options page.