Browsing articles tagged with " pyre"
Label : Massacre Records
Review by Tony Cannella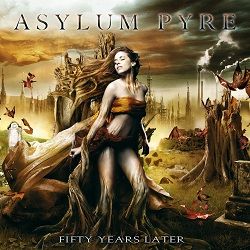 From France, the melodic metal band Asylum Pyre already made one hell of a first impression with their 2009 debut, "Natural Instinct?", now they have returned with their follow-up album "Fifty Years Later". Since their debut, Asylum Pyre has changed female vocals with Chaos Heidi stepping in and proving to be a great choice.
Everything about Asylum Pyre screams class, from the song writing to the musicianship and overall presentation, "Fifty Years Later" has really kicked it up several notches from their debut. The band does a great job in mixing songs with epic arrangements with shorter songs while still maintaining a melodic base – everything is just so solid. Lead vocalist Chaos Heidi has a strong and diverse voice. She is equally adept at straight forward metal singing as she is at singing the more epic stuff. Guitarist Johann Cadot helps out with male vocals, but the majority of the singing is handled by Heidi. The opener "Will You Believe Me?" is a nice, peaceful and pretty opener as that leads into the bombastic "Dead in Copenhagen". The riffs come hard and fast and this song definitely gets the blood pumping. It was at this moment that I realized "Fifty Years Later" could be something special and I was not disappointed. "The Frozen Will" keeps the power and momentum going. "The Fisherman's Day" reminded me a bit of "The Islander" by Nightwish and is a nice change of pace. Other highlights include: "These Trees", the 9 ½ minute "Any Hypothesis" and the closing 7 ½ minute "Fifty Years Later" which is ends things on a beautiful note.
The Femme Metal scene has never looked brighter, but it has become increasingly difficult to stand out from the pack, Asylum Pyre has managed to do just that with "Fifty Years Later". Asylum Pyre should become one of the top bands in the melodic power metal genre. I wrestled with whether or not I should give "Fifty Years Later" a perfect score, but after listening, how could I not? Continue reading »
Independent Release
Review by Tony Cannella
Asylum Pyre are a progressive/power Metal band from France. They include the female operatic vocals of Carole Alcantara and the male vocals of Johann Cadot who also plays Guitar. With their debut "Natural Instinct?", Asylum Pyre look to enter the increasingly crowded Female fronted Power Metal field. Is it a successful first attempt? Mostly, yes. "Natural Instinct?" begins with "Taken Away To The Asylum" and it is a good way to start things. You get a taste of both the male and female vocals. The male vocals provided by Johann Cadot are deep in tone giving it a Gothic type feel to it and of course Carole's style is operatic. "…Asylum" is a great lead-in for the next track "The Asylum Pyre" which is really more of an up-tempo number that features some more give-and-take between the two vocal styles. I have always been partial to long, epic type numbers, as long as they are interesting and Asylum Pyre have included a great one with the 11-minute "Different Sides, Same Thoughts", which is definitely my favorite song here, that is followed by another highlight with the 8-minute "Jester of the Power"."Natural Instinct?" is completed by "When We Are Wolves" which was taken from Asylum Pyre's 2008 demo. There are more great moments, like: "Laughing with the Stars", "Don't Waste It" and "Love Ecstasy". "Laughing with the Stars" in particular has a great melody to it and it is another favorite.A good first release from this talented French band. "Natural Instinct?" is a strong effort that showcases the bands talent and the strength of the songs. I like operatic female vocals as much as the next guy, sometimes they can be overdone though, but that is not the case with Asylum Pyre. Carole Alcantara is really an excellent talent, and her voice compliments the songs perfectly. Each song has it's own atmosphere and vibe going for it and for that reason Asylum Pyre are a band that is worthy of attention.
Rating – 85/100
Tracklist
Taken Away to the Asylum

The Asylum Pyre


Laughing with the Stars

Coral's Riff (Now Hell)

Don't Waste It

Love Esctasy

Different Sides, Same Thoughts

Jester of the Power

Whispers of the Jester

When We Are Wolves (from the 2008 demo)
Line Up
Carole Alcantara – Vocals

Johann Cadot – Vocals & Guitars

Hervé Schiltz –Guitars

Matthieu Scarpa – Guitar


Tony Decaillon – Keyboards

Julien Peuch – Bass

Emeric Amaudeau – Drums
Links
MySpace * ReverbNation* Facebook * Site
6 color styles available:

Style switcher only on this demo version. Theme styles can be changed from Options page.