Browsing articles tagged with " pythia"
Label : Queens of Sheba
Review by Davide Torresan
Mediæval Bæbes is a British ensemble of female musicians founded in 1996. The passion for Medieval music is what these girls have in common. You can understand it from the arrangements and the theatricality whereby they propose their music. Often their songs are nothing more than poems accompanied with the sweet melody of an harp, a violin, a flute, a lute and some low percussions.
In their texts they use several languages which are often unknown to some people (me for example) like Gaelic, Cadenet and many more. This feature makes their sound truly unique and original. Mediæval Bæbes boast an highly respectable discography. They even have placed three albums into the top of the classical charts. Their 7th studio album is called "The Huntress", and it's a double CD. Continue reading »
Interview by Roberta Ilaria Rossi
Pythia is one of the most famous British metal band and they come back in this 2012 with a new record for Golden Axe Records, called "The Serpent's Curse". We had the chance to exchange some little words with the amazing vocalist Emily Alice Ovenden and that's what she said to us!
Hi Emily, welcome to Femme Metal. Your new album, "The Serpent's Curse", will be released very soon. Would you like to share something with us?
"The Serpent's Curse" is brilliant! Buy it if you haven't yet!
In December, you released the single "Betray My Heart" and you also did a video clip for it. Why have you chosen this single to launch this new album?
We just felt it was the most immediate track and a good taster for the rest of the album. While I think there's plenty of variety on the album, this was as representative of the album as a whole as any of the songs on there. It was definitely a good choice as it's proved to be a big hit with fans live.
After the video, you streamed two more songs: "Just a Lie" e "Heartless", both taken from the new record. What can you tell us about those?
Those again felt like some of the catchier tracks on the album and seemed the right choice to get out there. They were our choices for tracks for the Rock Band game and as they were being made available that way, it made sense to stream them. They're also two of the fastest songs we've ever written so should be a challenge for people to perfect on Rock Band.
The album will be out on Feb 27th, via Golden Axe Records, who previously have released your debut album, "Beneath the Veiled Embrace". Have you had the chance to see (and to read) something from the critics and the press itself? If so, what was their reaction?
We've seen a number of reviews and so far the feedback has been overwhelmingly positive. Thankfully, most of the critics seem to be getting what the band is all about and enjoying how catchy some of it is but also finding out the layering and subtlety that we've put into the song writing. I'm also glad to read a lot of good feedback on my lyrics which I really put a lot into on this album and it's the best compliment to hear that people are really latching on to that.
Do you think that this album will be appreciated by Pythia fans?
We hope so! At this point, the album has now been released and it sounds as though the fans are really digging it. Without wishing to blow our own trumpet, I've heard nothing but positive feedback from the existing fans. And I think we've also picked up a few more fans since the album's release, which is just fantastic.
The artwork immediately caught my attention. Who created it?
It was done by a very well-known British artist called Brian Froud. I'm really lucky to have known Brian for a long time, since I was very young in fact and he was really up for doing the cover for us. He came up with a fantastic idea straight off the bat and was really open to our suggestions, leading to the final artwork we used on the album. I should also mention Gurdish Haugsdal who came up with the sleeve and inlay design, using Brian's artwork. Again, Gurdish did an amazing job of bringing our ideas to life so the end result was exactly what we were hoping for.
Where did the idea for the album title "The Serpent's Curse" come from?
It's a reference to the snake in the Garden of Eden, as well as retaining the serpentine theme of the name Pythia. One of the recurring themes of the lyrics on the album is the stand-off between Darwinism and the idea of Creation, so I suppose it's almost posed as a question to the listener – you decide!
If you were to define this new output with a word or an adjective, or even "a feeling", which word would you use to describe it ?
Metal!
Having given the album a quick, I felt I could hear it being influence by the Nightwish album "Oceanborn" album, mainly on the track "Cry of Our Nation". It seems like that maybe because of the keyboards who seem very "symphonic-oriented" or perhaps it is due to the hard and powerful guitars. Do you personally agree with this statement?
I don't think it's directly influenced, as none of us really listen to Nightwish or certainly haven't for a long time. As a metal band with a female singer we have unavoidably drawn those comparisons to Nightwish, so I guess we're closer to that earlier period of the band that was a bit thrashier – or so I've been told! I think if anything, we probably drew from the same influences that Nightwish did, so possibly that's why there are parallels.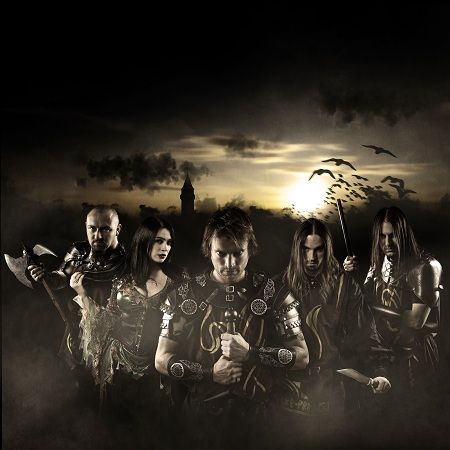 The record is quite multifaceted and quite catchy, sometimes it sounds like symphonic metal, but the thing that impressed me the most was the lyrical side of it. I know that write most of the lyrics for Pythia. What can you tell us about them? How's writing process been, where did the inspiration to write such lyrics come from?
I wrote all the lyrics and it's great to hear that they've come across well and people are enjoying them! I put quite a lot into them emotionally and in some ways it was almost a channelling process and I went to some very personal places with the lyrics. Really it all comes from my own experiences in life, love, relationships etc. As I mentioned before, there are also some philosophical questions in there, but again they come from my own personal perspective and view on the world.
Pythia is considered a metal band, even if I think personally that you're more gothic-classical oriented. Do you agree with this?
I think we are definitely a metal band at our core. The drums and guitars are unmistakably metal, particularly on the new album and I think it's something we're unashamedly proud of. As for the gothic and classical influences, those are also really important parts of our sound, but I think those are more closely tied to metal than a lot of people think. If someone like Beethoven had been alive today, I think he probably would have been writing metal as there are a lot of similarities in the virtuosity of the musicianship and the complexity and layering of the composition. As a lifelong fan of gothic literature, I think the gothic influence is also valid as I think, even sub-consciously, it influences my melodies and lyrics, at least.
Emily, I know that you also sing in Mediæval Bæbes and Celtic Legend. How do you manage to reconcile all your work commitments?
I only sleep 30 minutes a night! My secret is out! Seriously, it is hard work, particularly with now being a mother, but I think if you have the passion and enthusiasm for things, which I certainly do, then you make it all work and fit together. There's also the thing at the back of my mind that my voice isn't going to last forever so I want to make the most of it while I can!
You use an operatic singing style. What kind of vocal training did you have?
I started singing at a very early age and was very fortunate to go to a specialist music school when I was a teenager.
I know that this year you will play in London and as well as in Cardiff, along with Serenity. What do you think of this Austrian band?
They're a great bunch of guys and are deservedly making a name for themselves in Europe and over hear. Hopefully these shows should help them raise their profile further. I think what they're doing is very accessible but subtly different to a lot of 'power metal bands' in that they have a higher level of musicianship and a complexity in their songs that gives them an extra depth. A couple of the guys in Serenity actually collaborated with the Pythia boys on a charity concert in memory of Marc Dyos' brother Vincent, who sadly passed away in 2009.
What is your own relationship with the music you make and the stage?
As I mentioned before, I put a lot of personal emotion and energy into the lyrics, so I think I have a very close relationship with my music. As for the stage, it's really important to me to be able to perform my music as, while I think you can get a lot from listening on a CD or digital copy, you can only really feel the true energy of the music if you get to see it performed live.
I know that in 2010 you also played in Belgium, for an important festival called Metal Female Voices Fest, that has the only purpose to promote fronted female metal bands. Would you like to share something about this experience with us? How was it for you playing live in front of so many people that were coming for you from all over the world?
It was incredible! A really great experience and one that I hope we can repeat at some point in the future. It's a really well organised and put together festival and deservedly attracts a big, international crowd. It was amazing being able to interact with people from all over as well as share the stage with some great bands.
What do you think of fronted female metal genre? Is there any artist or band you like the most?
Apart from Pythia? Seriously, I don't really see it as a genre, as most of the bands that are classified as female-fronted metal sound completely different to each other. Aesthetically they may have similarities, but sonically Nightwish sound to me really different to Leaves' Eyes or Stream of Passion. And then I think we sound totally different to, say, Unexpected. I think the good thing about it being considered a genre is that it means people get to hear all sorts of different styles without maybe realising it. Hopefully they then go out and check out other bands in that genre, female-fronted or otherwise.
Your album will be released in Europe very soon. Is there something you would like to do after the promotion for the new record? Any hidden fantasy or dream?
Plenty of hidden fantasies, though none I'm going to share here

I'm hoping we get the chance to do more shows in Europe and spread the name around more. We've got a distribution deal in Japan so it would be dream come true if we got the chance to play out there at some point.
Are you going to go on a European tour soon? What future is in store for Pythia?
There are some things in the pipeline, but nothing that we can announce yet. Watch this space!
Thanks so much for the nice chat, Emily. Good luck with the band! Anything you'd like to say to your fans and our FM readers?
Check out "The Serpent's Curse" if you haven't already! See you on the road in the not too distant future…
Links
MySpace * ReverbNation * Facebook * Twitter * Site
Latest Multimedia
Independent Release
Review by Tony Cannella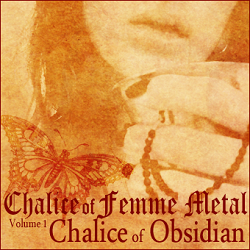 The new compilation from Chalice of Femme Metal is a pretty varied collection of songs from ten bands on the current Femme Metal scene. Among the 10-songs/bands presented here, the quality remains remarkably high throughout the 48-minutes. Things get off to a slower tempo start with "Salvation" by the always excellent Apparition. The orchestral Akoma is up next with "Forgotten Hero". The power metal riffing of Pythia highlights the next song "Tristan". "Shadows on the Tide" by Tainted Grace starts off with a cool, eerie guitar intro before the band joins in all guns blazing. Omega Lithium provides a modern metal sound with "Andromeda". Mask of Judas picks up the heaviness and intensity even more with the machine gun riffing of "To I Your Conscience". Fateless Tears showcases their brand of progressive Goth on "My Endarkened Self". Rhode Island Red brings more of a blazing hard rock slant with their offering "Kerosene". The symphonic Goth of Therion is up next with "Hellequin". A live bootleg recording of "World of Glass" by Tristania from Stuttgart in 2005 with Vibeke Stene on vocals is a great way to bring this compilation to a close. On "Chalice of Obsidian" I was familiar with some bands and others were new to me, which is always the best thing about compilations. With so much music out there and not enough hours in the day to listen to all of it, compilations such as these provides a great service to metal fans.

Rating – 90/100
Tracklist
"Salvation" – Apparition

"Forgotten Hero" – Akoma

"Tristan" – Pythia

"Shadows on the Tide" – Tainted Grace

"Andromeda" – Omega Lithium

"To I Your Conscience" – Mask of Judas

"My Endarkened Self" – Fateless Tears

"Kerosene" – Rhode Island Red

"Hellequin" – Therion

"World of Glass (Live)" – Tristania
Label : Savage Prod/Season of Mist
Review by Tony Cannella
This compilation is put out by the French web zine Des Filles et des Riffs and issued by the label Season of Mist. Featuring 34-songs and bands and over 2-hours worth of music spread out over 2-discs "Des et des Riffs" is packed to capacity and this is only volume 1. If you love female fronted metal, than this comprehensive compilation is well worth exploring. The main style that is put on display throughout this very thorough compilation is Symphonic and Epic type of metal bands. There is so much quality music to sift through on this comp and it would be a monumental task to go through each track song-by-song. The opener is one of the more familiar numbers, "Resign to Surrender" by Dutch metal legends Epica gets the ball rolling. Kells is next with very strong "Avant Que Tu". Mixed in amongst the Symphonic metal bands are Pin-Up Went Down, Adrana and Diablo Swing Orchestra who provides a change of pace with their unique quirkiness. November 7 is a band that I have not been familiar with and their track "Parasite" turned out to be one of my favorites. Soulmaker ("A Vide") and To-Mera ("Mesmerized") are two excellent bands that are represented. Some other lesser known bands like Dharma, Pythia, E-Nora, The Veil and Ozge Ozkan are quite impressive as well. Some of the highlights that can be found on disc 2 are: Dama, "Rainy Roads", Wildpath "Dark Mass", The Birthday Massacre "Looking Glass", Ellyose "Theogyne" and Factory of Dreams check in with "Slow Motion World". In short, "Des Filles et des Riffs, Vol. 1″ is nirvana for any female fronted metal fan. With so much great music made available to us it is quite difficult to stay on top of everything, so it is compilations such as these that provide a great service to metal fans. Mixed in with bands that you might be familiar with are other promising bands which you may not have heard before that also might be worth exploring. In that respect, "Des Filles et des Riffs, Vol. 1″ is a resounding success.
Rating – 90/100
Tracklist
CD 1
"Resign to Surrender" – Epica

"Avant Que Tu" – Kells

"Essence of I" – Pin-Up Went Down

"Nouvelle Ere" – Interria

"Closest To" – Dharma

"Try" – The Outburst

"A Vide" – Soulmaker

"Bulimiarexia" – Eths

"Crystal Eyes" – L'endevi

"Tristan" – Pythia

"Midnight Falls" – E-Nora

"Mesmerized" – To-Mera

"Labyrinth" – The Veil

"Parasite" – November 7

"Jerusalem" – Atmosfairy

"So Alone" – Iridyum

"My Cold One" – Ozge Ozkan
CD 2
"Flesh Drug" – Lezwieliza

"A Love Like Mine" – Ardor

"Rainy Roads" – Dama

"Dark Mass" – Wildpath

"Theater of Pain" – Auspex

"Secret Gathering" – Adrana

"A Tap Dancer's Dilemma" – Diablo Swing Orchestra

"What a Waste" – Fluxious

"Save Me" – Process

"Disarmed" – Alight

"Looking Glass" – The Birthday Massacre

"Theogyne" – Ellyose

"Slow Motion World" – Factory of Dreams

"Gimme Your Gun" – Akentra

"Blowin' rhe Wind" – Bel O Kan

"Elderberry and Lavender" – Lyriel

"Theatre of Life" – Weeping Silence
Links
Label: Golden Axe Records
From the UK comes Pythia. Their line up feature female vocalist Emily Alice Ovenden. And she is joined by Ross White (Guitar), Tim Neale (guitar), Marc Dyos (drums), Andy Nixon-Corefield (bass) and Richard Holland (keyboards). The music that can be heard on their newest release "Beneath the Veiled Embrace" is extremely melodic and very beautifully crafted progressive power metal with excellent musicianship. "Sweet Cantation" is the opening track and man it just tears through the speakers and delivers a shot of adrenalin that really kick starts this thing. "Sarah (Bury Her)" is next and is a definite highlight and a great choice of single. This is more of a mid-tempo track and is definitely a favorite. "Tristan" keeps things going on the right track. "Ride for Glory" is next and it really ups the heaviness factor. The song has a galloping like feel to it, that gives it a cool atmosphere. The vocals of Emily Alice Ovenden are perfect throughout the CD. She definitely has the talent to emerge as a force in the realm of female fronted metal in 2009 and beyond. "My Pale Prince" begins with a keyboard intro before a great, crunchy and heavy guitar riff joins in. Again Emily's vocals are quite strong and powerful on this one. The band's use of keyboards are well done and they give the songs some good atmosphere and a progressive feel. "Eternal Darkness" is just a straight forward, powerful track and another favorite. Other highlights include: "What You Wish for", "Army of the Damned" and "Oedipus". "No Compromise" is a great way to close this CD and it really leaves the listener wanting more. Of the 10-songs that are included on "Beneath the Veiled Embrace" there is not one bad song in the bunch. With "Beneath the Veiled Embrace", Pythia have issued a powerful, energetic, uncompromising, relentless and absolutely fantastic slice of metal.
Rating – 90/100
Tracklist
Sweet Cantation

Sarah (Bury Her)

Tristan

Ride for Glory

My Pale Prince

Eternal Darkness

What You Wish for

Oedipus

Army of the Damned

No Compromise
Line Up
Emily Alice Ovenden – Vocals

Ross White – Guitar

Tim Neale – Guitar

Richard Holland – Keyboards

Andy Nixon-Corefield – Bass

Marc Dyos – Drums
Links
MySpace * ReverbNation * Facebook * Twitter * Site
6 color styles available:

Style switcher only on this demo version. Theme styles can be changed from Options page.