Browsing articles tagged with " queensryche"
Label : Nomadism Records
Review by Tony Cannella
As far as Progressive Rock and Metal is concerned, you take the good with the bad. Some people love the intricate arrangements and endless songs, while others may find it somewhat of a bore. That brings me to Italy's Alchemy Room. I doubt this album – which features their 2009 debut, "Origin of Fears" and their brand spankin' new 3-song EP "A Matter of Time" – will do anything to change perceptions about Progressive Metal, fans of the genre should love this, non fans, not so much. The first 6-songs are taken from the bands 2009 debut "Origin of Fears", beginning with the intricate "Inside My Fear". Musically, Alchemy Room adds plenty of heaviness and classic metal style riffs to go along with the meticulously crafted songs. The second track is the monstrous epic "La Fin Absolue Du Monde". This song clocks in at whopping 15-minutes and really shows off the overall talent of these fine musicians, including vocalist Irene Mondino. The riffs come crashing in rapid fire succession. "Obsession Red Blood" and "Lost" are two more fine tracks, which lead us into the albums coup de grace with the two part "Waking the Child". The first part is 13-minutes long, while part 2 clocks in at close to 10-minutes. After that we have the 3-song EP "A Matter of Time". The songs on "A Matter of Time" are shorter and I think this is a more focused effort than "Origin of Fears". "Into the Deep" begins with a softer approach before the song slowly builds steam and eventually becomes a powerhouse of a track. The ethereal "Indigo" begins with a dreamy vibe to it and Irene Mondino turns in her best vocal performance. This track is a bit different from the other material presented here and really stood out for me, and also shows that the band is not afraid to spread their creative wings. The 7-minute title song continues with the softer direction, before the heavy riffs once again join the fray. This song also features a number of cool tempo changes. Musically, I would compare Alchemy Room to some of the heavier progressive metal bands like early Fates Warning (John Arch era) and early Queensryche. Alchemy Room is hampered by subpar production at times (mostly on "Origin of Fears", the production on "A Matter of Time" is much better), hopefully this is something that will be rectified on future releases. Judging by how the band has grown from "Origin of Fears" to "A Matter of Time", it really has me looking forward to their next full-length. I would highly recommend Alchemy Room to anyone who loves all things prog, epic and grandiose.
Rating – 71/100 - "Origin of Fears"
Rating – 85/100 - "A Matter of Time"
Tracklist
"Origin of Fears" (2009)
Inside My Fear

La Fin Absolue Du Monde

Obsession Red Blood

Lost

Waking the Child – Part I

Waking the Child – Part II
"A Matter of Time" (2009)
Into the Deep

Indigo

A Matter of Time
Line Up
Irene Mondino – Vocals

Fabio La Manna – Guitars, Keyboards

Mauro Mana – Bass

Andy O. Monge – Drums
Links
MySpace * ReverbNation * Facebook * Twitter
Independent Release
Review by Tony Cannella
Effloresce are a Progressive Metal band hailing from Germany. On their debut EP, "Shades of Fate" the band unleash 3-songs and almost 30-minutes worth of intricately played, complex Prog Metal with some aggressive moments present as well. The complex musical passages begin right away with the 11-minute opener "Birds of Prey". This is a great opener, and of the three songs featured, this is my favorite. The song features a number of tempo changes, which the band employ throughout the CD, Nicki even contributes Flute on the song. The next track "Sear" is almost 10-minutes in length and picks right up where the previous one left off. This song features a great (early) Queensryche-esque opening riff that really serves as catalyst for the song. The 8-minute, "Sunset in the Snowdome" brings "Shades of Fate" to a great conclusion. Nicki's vocals are simply soaring and clean. She even adds Death Metal growls to some songs, and it is hard to believe that it is actually the same person singing, but it is.The current line-up of Effloresce has only been together since 2009, so they were able to record and release this debut in a short amount of time. Despite that fact, "Shades of Fate" is an excellent first release that should hopefully get the band plenty of label interest. Even though Effloresce are sure to get lumped into the progressive genre, the band prove that they have more to offer and employ other influences as well. Fans of Dream Theater, Opeth, early Queensryche and Fates Warning should really give this band a listen.
Rating – 87/100
Tracklist
Birds of Prey

Sear

Sunset in the Snowdome
Line Up
Nicki Weber – Vocals, Growls, Percussion, Flutes

Dave Mola – Guitar, Mellotron

Tim Ivanic – Guitar

René Heinrich – Bass

Tobi Süß – Drums
Links
Label : Ravenheart Records
Review by Tony Cannella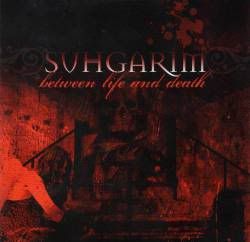 Hailing from Columbia, South Carolina, Suhgarim (pronounced sue-gair-im) play classic sounding Metal, with Hard Rock influences as well. Their new album – currently available via Ravenheart Music – is titled, "Between Life and Death" and it is a worthy to addition to the ever growing catalog from that great label. The band is fronted by Tricia Montfleury who adds a certain attitude and conviction to the songs. Among the 10-songs and 40-minutes worth of music present on "Between Life and Death", there exists a lot strong guitar work and vocals that characterize the complete body of work on this CD. "Dirty Little Sinner" is the adrenalin-fueled opener and from there the band are only getting warmed up, as the following tracks "Loser", "The Key" and "Hate" will attest to. The band simply rip on the tracks, "Straight Jacket Hands", "Fall in Line" and "Tragic". This is one of those albums, that you will find a new favorite track with each subsequent listen, for now, my favorite is the dramatic closer, "Portland". Just a great song with fittingly powerful lyrics. The vocals of Tricia are powerful and go straight for the jugular, while the rest of the band members add their talents, in particular the guitar work by Dave Sudak and Charles Traweek is stellar as the riffs just keep on coming. Suhgarim add the best elements of classic bands such as AC/DC, Guns N' Roses with the technical precision and musicianship of latter day Queensryche and Megadeth. The songs have a decidedly metallic edge to them that really put, "Between Life and Death" over-the-top for me.

Rating – 90/100
Tracklist
Dirty Little Sinner

Loser

The Key


Hate

Straight Jacket Hands

Fall in Line

Ayahuasca

Tragic


Decisions

Portland
Line Up
Tricia Montfluery – Vocals

Charles Traweek – Guitars, Keyboard & Backing Vocals


Dave Sudak – Guitar, Backing Vocals & Shaker

J.Leidy – Bass

& Backing Vocals

Patt Trikk – Drums
Links
6 color styles available:

Style switcher only on this demo version. Theme styles can be changed from Options page.