Browsing articles tagged with " reality"

Interview by Matteo Bussotti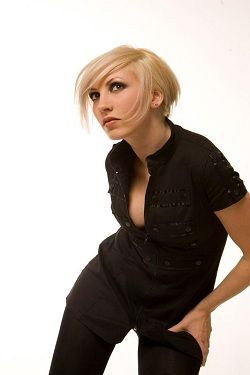 Their latest album hit us like a stone with its powerful mixture of rock, metal, and hip-hop/rap-like singing. They are Kontrust, and their album "Second Hand Wonderland" is pure gold: fun, entertaining and adrenalinic. Being so impressed, we decided to interview one their singers, Agata, to get a "closer look" at this band!
Hello Agata, and welcome to Femme Metal! First of all, are you satisfied with your latest album, "Second Hand Wonderland"?
Hello out there! The pleasure is all mine.Yes, I'm very happy with the new album. As a musician and as a band your always proud of your latest piece of work, but in this case I'm really happy.
Where does the album's title derive from? What's the story behind it?
"Second Hand Wonderland" is inspired by everything that happens around us. Events, emotions and of course a lot of fantasy that seems a lot more realistic than fiction. The wonderland we've created with this album allows you to escape reality, yet it's based on impressions from the real world, that get all twisted and mashed up, until you create your own wonderland… your second hand wonderland. Continue reading »
Independent Release
Review by Tony Cannella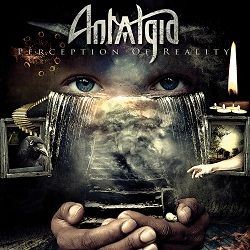 A lot of great female fronted metal bands are coming from Spain these days. With their debut full-length "Perception of Reality", the melodic hard rock/metal band Antalgia is out to take their place among Spain's best femme metal bands.
The 8-song, 47-minute disc opens with the fantastic "The Invisible Mechanism". Antalgia's use of keyboards (played by Xavi Sanchez) gives them a progressive metal influence at times. Lead vocalist Bella Dianez has got a high vocal range but is not operatic, she does have a strong voice and is definitely the focal point of the band. The next song "Realm of Pain" begins with a monstrous guitar riff and is a fast tempo song. This is one of the heavier songs, but like all of the others, Antalgia's songs are all pretty melodic and therefore can be accessible. Other highlights include: "Embrace of Death"(which begins with another huge riff), "Line of Life" and the 8-minute closing song "Memories". Guitarist Igna Jover does a great job throughout the CD and the interplay between guitars and keyboards is one the highlights of "Perception of Reality". The songs are all pretty much in the same up-tempo direction, but they all maintain a strong melodic base. Overall, I have to say that I was impressed with "Perception of Reality". Antalgia has released a strong and consistent full-length debut and proves to be a promising new voice in the realm of melodic hard rock and metal. Continue reading »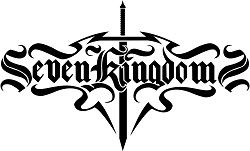 Interview by Alessandra Cognetta
Seven Kingdoms hail from the US and bring us into the world of George R. R. Martin's works by the means of female-fronted power metal. With three albums released (their latest effort "The Fire Is Mine" included) and a tour with Blind Guardian, we took the chance to have another chat with frontwoman Sabrina Valentine about the band, women in metal, the Eve's Apple community and Game of Thrones.
Hello and welcome to Femme Metal, Sabrina! It's a pleasure to have you with us again. How are you and how's it going with Seven Kingdoms?
Well Hello! Thank you for having us back!! I am great, Just back from my first over sea's experience at Female Metal Voices Fest! Me and my Band brothers are well, just waiting to see what comes from the release of our Latest album "The Fire is Mine".
A consistent part of your music and lyrical themes was influenced by George R.R. Martin's works. How much did you actually take from his books and how much (and in which direction) developed on its own "inside" Seven Kingdoms?
Well, on our new album "The Fire Is Mine", we dedicated 3 songs and 2 audio/narrative pieces to the book series. Mostly the songs lyrical content are written to fit the music, because the music is the what makes you think about the emotion we are trying to portray. The rest of the songs on our album were stories that we wrote as a group or on our own.
How was it, touring with no other than Blind Guardian? And how did the two bands get in contact in the first place?
Touring with Blind Guardian was the best moment we as a band have ever experienced. What better way to learn, than to be taught by the forefathers of Metal? They are a group of the most professional and down to earth men I have ever had the pleasure of knowing. Camden and Claus (our Manager at Intromental management) had tried to work something out for us to go overseas and tour with Blind Guardian but being a fresh new band, the financial backing was not there. Camden was determined, so they both discussed if they would be coming to America. It was half the cost to do it on our own territory and more feasible. We applied and Thanks be to the Gods, we were chosen.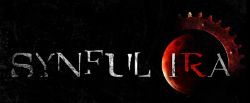 Interview by Ary R
Young and talented, the Italian band Synful Ira is proud and ready to introduce itself to the European metalheads with their first full length album, "Between Hope and Fear". After having signed a deal with the label logic(il)logic Records, this sturdy young sextet is ready to enter the International music biz, spreading their own symphonic-gothic metal sound. For the occasion, the lead singer Letizia addressed herself to our crew and she talked about the creation of the project and much more about the band and the record itself.
Today Femme Metal puts the lead singer of Synful Ira up. Welcome to our website Letizia and thanks for your precious time and to allow us this interview!
Thank you! It's really nice to answer your questions and to introduce myself to all the readers!
Let's break the ice starting our chat talking about your band, Synful Ira. It's an Italian gothic rock/metal band and of course you are the lead singer. Would you like to introduce the band and to tell us how did this project come to life?
I would like to introduce you all the members of Synful Ira:
Bass – my brother Emanuele Chiozzi
Guitar – Laura Balducci
Drums- Marco Renzi
Keyboards- Filippo Mantignano
Guitar- Fabio Balducci, project leader.
After several years playing "covers" we finally made something by ourselves. Fabio put into music the main phases of his life, his emotions, feelings, memories and he created the main character of our album "Between Hope and Fear" by taking out all the emotions people experience during their lives.
The band was born mainly as a Nightwish/Evanescence cover/tribute band. How did this choice of imprinting your sound on the wake on these famous bands in a first moment rather than some others?
At the beginning Laura proposed to form a Nightwish and Lacuna Coil cover band and meanwhile Fabio was trying to form an Evanescence cover band; when they told each other about their same ideas to form a gothic-metal cover band, they decided to combine them. This was the germinal try to set their dreams up.
Interview by Ary R.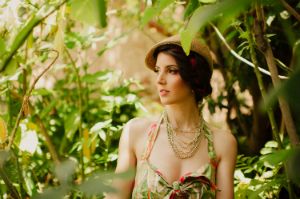 Some of you know this band thanks to Ryan Folden's work, After Midnight, some other got in touch with these guys on the occasion of the Dark Adrenaline tour by Italian act Lacuna Coil. Who are we talking about? The answer is here: American band THIS IS SHE, that in this 2012 enter the music scene with a well-respected EP, "Nobody Is Ok". As soon as the tour came to an end, I had the pleasure to exchange some chats with the sweet Alana Grace, that revealed something about this European tour and about the new goals of the band. This week Femme Metal hosts an interview with This Is She and we have the pleasure to talk with the singer Alana Grace.
Hi Alana, welcome on our website. How are you doing?
I'm doing great! I'm happy to be back from tour and relax into the holiday season. It's my favorite time of the year, and I'll get to see my family soon so it's a good time.
This Is She is an American music reality that slowly tries to introduce itself in Europe in the proper way. Would you like to share something about the band biography or about your musical careeer?
I met Christian and Ryan back in 2009 when I toured with the Vans Warped Tour. They were out with their band After Midnight Project at the time, and we all bonded together throughout the summer. Both bands had their ups and downs and in 2011 I think we were all ready to try something new for a change. I had an idea for an electronic rock band, and I was looking for players right as After Midnight Project decided to take a hiatus. So we hopped in the studio together and wrote for a few months before starting to play live. Finally we released our first EP in July of this year and have been trying to promote it ever since.
You've ended up the European tour recently, This is She was chosen as the support act for the Italian band Lacuna Coil. How would you describe this experience?
It was an incredible experience for us to go on tour with Lacuna Coil. They are so good live it was a little intimidating at first, but they were very nice to us and we became easy friends. I would say the crowds were awesome for us. They have a really dedicated fanbase who generally had checked us out before coming to the shows. It was so much fun to see some people were already familiar with our songs, and it really made us feel at home with their fans.
6 color styles available:

Style switcher only on this demo version. Theme styles can be changed from Options page.