Browsing articles tagged with " recordings"

Questions by Ed MacLaren
Collected by Edoardo Fiumi
Dutch singer Anneke van Giersbergen is never one to rest on her musical laurels. Since leaving The Gathering in 2007, she has been tearing up recording studios on three continents releasing a string of successful albums with Agua de Annique and as a solo artist – not to mention the lengthy list of incredibly diverse musical collaborations. The constant recording and touring to an ever expanding audience around the world is great news for her fans, and thankfully it shows no signs of slowing down. One of the truly unique voices in music, van Giersbergen is looking to break out big with her new album, "Drive". A heavy power pop album brimming with hooks, riffs and stellar vocals, "Drive" achieves the perfect balance with her metal roots and her ever-expanding musical palette. Femme Metal got a chance to talk to the groundbreaking singer during sound check on her most recent swing through Italy.
Continue reading »
Interview by Robert Brady
Intro by Miriam C.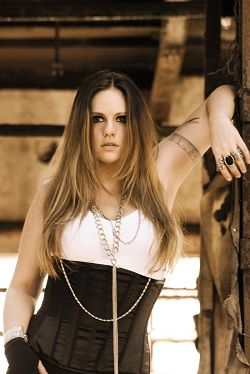 The last power progressive metal sensation comes from Brazil and it's called Vandroya and they are fronted by the majestic force (and vocals) of Daisa Munhoz. Although their debut album "One" was released at the beginning of the 2013 onto Inner Wound Recordings, we totally release that they deserve a bigger space then a review and so here served a nice and interesting interview.
Daísa welcome to Femme Metal Webzine it is a pleasure having you here. Thank you for your time. Vandroya is a very unique name for a band. Can you explain how the band settled on the name Vandroya?
It's my pleasure, thank you very much for this opportunity. There isn't a special story behind the band's name, actually. We started as a cover band and we rehearsed in the garage of our guitarist Rodolfo Pagotto and many people frequented these rehearsals, to drink beer, listen to heavy metal. So, we were turning news in our region and invitations for small presentations began to appear and we didn't have a band name. A friend of ours, Andre Deutern, suggested this name during a rehearsal and we adopted it, cause we thought it was a strong name. Continue reading »
Label: PIAS/Inside Out Music/Agua Recordings
Review by Luisa Mercier
Our dear Anneke is back with her fourth solo record, one year and a half after "Everything Is Changing". Since I was quite disappointed with the path she had chosen in "In Your Room", I welcomed the rock/metalish style that she sang on in the previous release and hoped she went on that way.
She partially met my expectations in "Drive", since the record is very uptempo and fresh, perfect to fit the positive vibes that Anneke emanates. I would advice to listen the album while on a short trip since it is perfect to accompany driving a car or while walking or running. Listen for example the opener "We Live On" which is absolutely perfect for the purpose just like the following "Treat Me Like a Lady". A bit slower is "She", but the chorus will make it up for that, plus I absolutely love the meaningful lyrics.  Continue reading »
Label: Legacy Recordings/Sony
Review by Tony Cannella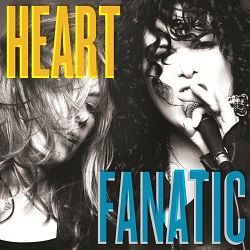 The Wilson sisters have been an iconic rock band for many years and they are one the first female fronted rock bands to have any lasting success. They have recently been inducted into the Rock and Roll Hall of Fame – which is a pretty cool thing, even the Rock Hall lost all credibility years ago, it is still good to see Heart get the recognition they deserve. On their new album "Fanatic", Heart remains as vital and inspired as ever.
It is good to see all of the endearing traits that Heart possesses are still in-tact. Vocalist Ann Wilson still is one of the most elite vocalists on the planet and is complimented by guitarist Nancy Wilson throughout the 13-track disc – which sounds very much like classic Heart with a few different nuances thrown in to keep things fresh and relevant. Heart balances classic rockers like "Fanatic" and "Dear Old America" with more ethereal softer type of songs like their duet with Sarah McClachlin on the song "Walkin' Good" and "Corduroy Road". Continue reading »
Interview by Alessandra Cognetta
When I was asked if I wanted to interview Einar "Kvitrafn" Selvik from Wardruna I had to stop for a good five minutes to register the news. If you don't know about Wardruna, you should immediately make up for that, for your own good. Wardruna is an ensemble of Norwegian musicians that combines runes, old and historical instruments, sounds produced by nature and a significant amount of talent to produce some of the most intense, primitive, magical (I could go on forever and I still wouldn't be able to describe it accurately) pieces of music you will ever hear. Kvitrafn is one of the main pillars of this extraordinary gathering of artists, delivering lyrics, vocals and instrumental performances since the first album of the "Runaljod" trilogy of albums, which is still in progress. Their second work, "Yggdrasil", has been released at the end of March and we took the chance to uncover some of the mysteries of their music. Read below for a nice conversation about music, shamanism, vikings, stereotypes and… well, just scroll down and see for yourself!
Hello and welcome to the 'zine, Kvitrafn! It's really a honour to have you here with us and put the spotlight on Wardruna. So, how are you and how's it going for Wardruna since the release of "Yggdrasil"? Continue reading »
6 color styles available:

Style switcher only on this demo version. Theme styles can be changed from Options page.