Browsing articles tagged with " records"
Label: Generation Prog Records
Review by Tony Cannella
Effloresce is a progressive metal band from Germany. Back in 2009 the band released their independent 3-song EP "Shades of Fate". Effloresce now presents their full-length debut entitled, "Coma Ghosts". Musically this band is a mix of several different genres – most notably prog – but there is also a classic metal influence to their sound. I would describe them as a cross between Dream Theater and early Fates Warning with a singer who is reminiscent (at times) of Cristina Scabbia from Lacuna Coil and then at certain points she unleashes this guttural, extreme black metal style – which is surprising, to say the least. She doesn't use this technique often, but when she does it is quite effective. Continue reading »
Label: Napalm Records
Review by Tony Cannella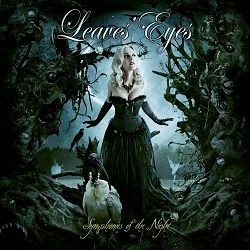 "Symphonies of the Night" is the title of the 4th full-length album from the German/Norwegian metal band Leaves' Eyes. The band – which is led by the duel vocals of Liv Kristine and her husband, Atrocity main man Alex Krull – has forged a pretty consistent and solid career for themselves based on an excellent body of work and "Symphonies of the Night" certainly rates right up there with their previous efforts.
The opening number "Hell to the Heavens" is simply awesome and my favorite track. What a great way to start things. Liv Kristine and Alexander Krull continue to be one of the most unique vocal tandems who use the "beauty and the beast" technique. Continue reading »
Interview by Laura Medina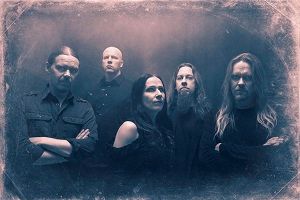 Susanna Vesilahti is the female vocalist of Unshine, a Finnish druid metal band from Finland. Unshine's third album, "Dark Half Rising" is currently out now via Massacre Records and features a more "stronger and powerful presence than ever." What I like most about Unshine's lyrics is that they are written about ancient histories of civilizations that existed long ago and they write about nature topics that make you want to continue listening. I got the chance to chat with Susanna about Unshine, "Dark Half Rising", her pre-concert rituals and much more.
Hi Susanna and welcome to Femme Metal Webzine! Thank you so much for allowing us to interview you today! I hope you are doing well today.
Hi Laura, nice to talk with you! Greetings from rainy Finland! Continue reading »
Label: In The Morningside Records
Review by Luisa Mercier
Trobar de Morte are back, three year after their latest full-lenth release and last year acoustic album. This time the album is inspired by Celtic mythology, by the ancestral goddess of the Earth in hymns like "The Silver Wheel" and "Riding The Wheel". Tales, legends and myths of ancient Celtic classics are masterfully interpreted in songs like "The Mist of Avalon", "Morgana", "Arianrhod", "Nimue" and the cover version of "Kyrie Eleison". Deeply rooted in paganism and Gaelic tradition are songs like "The Pagan Way", "Samhain" (the Gaelic Harvest Festival) and fantasy themes like "In the Garden of Serenity" and "Moonspell".  Continue reading »
Label: Woodhouse Records/Feuerbaum Records
Review by Tony Cannella
For anyone who still hangs on to the notion that metal is a limiting art form than I would direct them to the female fronted German trio Via Obscura and their new album "Gedanken". Make no mistake about it, this is not uplifting head banging metal, instead Via Obscura are little bit more on the dark and melancholic side.
The songs on "Gedanken" are ethereal, eclectic and emotional. The band fuses heavy doom-metal like riffs with the wispy melancholic vocals of Anne S. Thinius to create an alternative blend of some unique metal music. The tempo is slower paced for the most part and the vibe is foreboding from the very beginning of the opening track "Moment". The eerie sounding organ intros the next track "Dreck" as some monstrously heavy riffs joins in. Continue reading »
6 color styles available:

Style switcher only on this demo version. Theme styles can be changed from Options page.