Browsing articles tagged with " red"
Interview by Erwin Van Dijk
An interview with Ally from Ally The Fiddle. A fiddle in a metal band? Twenty years ago this would have been a ridiculous idea. But today there are many bands with a violin player. Think of Heidevolk and Stream of Passion. And Haggard of course. Ally, or Almut Storch – Hukriede is the violin player of the German Medieval Classical Deathmetal Band Haggard. She is also known for her work with Die Apokalyptischen Reiter or ASP although I doubt that there is anyone outside Germany who have ever heard of ASP. Ally The Fiddle is her solo band. Tony Cannella did a review of the album Red Unicorn and now it is time for an interview.
Did you have classical training or were you taught to play by ear like many violin players in the folk genre?
Well, in fact I studied violin at the academy in Rostock (North Germany) and have the diploma to work as a professional (classical) violinist. But to play Folk-Fiddle I took two or three lessons with the German Fiddler Bernd Lüthke ("Midnight Court" / Berlin) to come into it.
I did an interview with Maaike Peterse, who plays the cello in Kingfisher Sky and she started with the violin before switching to the Cello. Can you play other instruments besides the Fiddle & E Violin?
To study violin means you also have to play the piano. It is a really beautiful instrument and I started to practice a little bit more And I play a very little bit guitar. That helps me to compose and to understand Rock and Metal Music, because of its difference to the piano.
The violin seems to be an instrument typical for the folk & pagan metal these days (like Eluveitie, Korpiklaani etc). What type of violin/fiddle do you use?
I play an old classical instrument from the 19th century, combined with a pickup system (based on a capaciter microphone). I love that violin because of its warmth and tenderness. My E-Violin is a white Fender V8. Not even the best choice, because it is heavy.
For some reason most women in rock & metal bands (especially folk oriented bands) play the violin. (Marcela Bovio from Stream of Passion, Klaartje from Myrkvar etc). Do you think this means that the violin has become an instrument for women?
No, of course not! There are enough bands, who show us that this is not completely a ladies instrument: Koorpiklaani, Letzte Instanz, Haggard but maybe it is a way for women to take part in Metal Music. There are not many feminine rock singers or guitar- and bass players. On the other hand I personally feel the violin is a rather feminine instrument: intense and powerful but not rough.
To what kind of music do you listen yourself and who are your favourite bands and musicians?
My very favourite is the Canadian band The Tea Party; especially the oriental sounding songs combined with that deep sonorous voice of singer Jeff. And I am influenced by the Fusion violinist Jerry Goodman (formerly Mahavishnu Orchestra). He inspires me a lot and always puts me in a good mood! My favourite metal bands are: Killswitch Engage (my newest exploration – what a singer!!!), Symphony X, Iron Maiden, Opeth, Knorkator (a very funny German band) and Haggard (I love the new album "Tales of Ithiria"!). And of course ASP as my favourite Gothic band. There are very well known in Germany and you really MUST listen to them!!
Ally The Fiddle is an instrumental band and instrumental bands are quite rare. Record companies might this even consider a risk. Have you ever considered to use vocals on "Red Unicorn"?
Yes, that is a big issue for us! The record companies don't like to take the risk and we have to discuss a lot with those companies and booking agencies. So I can't exclude, that we would never use some vocals, but I'd love to try it first without! We made a compromise by using a speaker for one song – but for the companies and agencies it seems not to be enough….
And what made you decide to start a solo band?
I am working with many bands in many different styles and in many different studios. So I think it is natural, that you wish to make your own music. On the one hand you always have to make musical compromises; on the other hand your instrument rarely gets the chance to be shown in its full beauty. So at least I wanted to know, how I sound.
Where do you get the inspiration for the songs, and can you tell us something about the songs on the EP?
"Catharsis":
I was playing that tune with different folk bands. But I always thought, that sounds like a real metal song! So I will rerecord that tune in a harder and faster version on our following album – on "Red Unicorn" I added a second melody to make a rocky but poetic version. By the way: the tune was composed by the American fiddler Amy Cann and brought to fame by the great American fiddler Natalie McMaster.
"Glenglass":
I always listened to that tune while I was in the gym. It was written by the guys from Wolfstone(Ireland) and grew to a really unforgettable! So I created my own epical version with hard guitars on one side and the soft violin, viola and harp on the other side.
"The Mason's Apron":
That's a well known traditional tune, that I heard in a similar but traditional version by the brothers Skirm and Dezi Donnelly. To record that song I thought to myself, which components I would want to hear on a violinist's solo album. And one of them is of course some the virtous stuff in that piece. So, that's it!
"Days of Thunder":
These lines have been in my ear for a long time. When I met my guitarist Rob I could make the song complete. Especially with his marvellous solos at the battle part between guitar and violin. Days of Thunder tells about a "final day", the "judgement day". So is the medieval "Dies Irae" – a sacred musical theme – the red line of the whole song.
"Red Unicorn":
Now we are in the mystical Ireland. I'm sure, there is no saga about a Red Unicorn, but such a powerful and divine animal seemed for me to be the best creature to transport that story. It's the only song with lyrics and speaker. Here I used two Irish Tunes: Paddy Ryan's Dream and A Bunch of Keys. I really love that "gothic" song and it tells much about my view of human beings….
The EP was released in 2008, almost a year ago. Are you working on a full length album?
Of course we are! But we are in a need of a record company to finance and to promote it.
And what can we expect from Ally The Fiddle in the future?
We hope to inspire you on many festivals and to spoil you with many beautiful albums!
And the last question, is there anything the reader should know that I have not asked?
Not at all. But if there are any questions more, please ask us: mail@ally-fiddle.de
Links
ReverbNation * Facebook * Twitter * Site
Label : Red Rivet Records
Review by Tony Cannella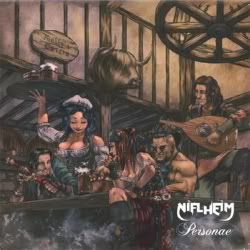 Hailing from France, the Symphonic Folk Metal band Niflheim formed around 2003 under the name Potatoes (seriously?), after changing their name to the better and more metal sounding Niflheim the band released a demo in 2006. In 2008 they released their debut full-length called "Once Upon a Cow" (again, seriously?). Now the band has returned with their newest piece of Symphonic Folk mayhem called "Personae". The first thing that hit me is the fact that violinist Clara Danchin has a significant role within the band as the instrument is prominently featured throughout the duration of "Personae". The power riffing of the opening number "Rock the Harem" gets things started and the song also features brief moments of extreme male vocals, but the majority of the singing goes to Aurore Gauthier. To be honest her voice does not strike me as anything out-of-this-world, but that is not to say that she is not a good singer. She is and she fits in perfectly within the frame work of Niflheim. The next track – and my favorite – is the ultra melodic "Holy Mushroom", which starts off with a huge Running Wild-esque guitar riff before settling into a beautifully melodic mid-tempo metal groove. Of course ever present once again are the violins. "Deep" is next and has a bit of a 70s rock feel to it and shows the band is capable of some diversity. Moving along, "Birth of a Succubus" is a huge sounding song and has an epic feel to it. Other highlights include: "Spirits", "The 13th Warrior" and "Blacksmith". If you have a problem with violins as a main instrument in metal, than you may want to bypass this one. Fortunately the violins do not sacrifice any of the metal-ness on "Personae", to the contrary this is pure metal and Niflheim are potent metal band.
Rating – 75/100
Tracklist
Rock the Harem
Holy Mushroom
Deep
Spirits
The 13th Warrior
The Blacksmith
Watery Grave
Birth of a Succubus
Sailing South
Happy Drunk Friend
The 13th Warrior (Symphonic Version)
Molly's Tavern (Bonus Track)
Line Up
Aurore Gauthier – Vocals

Hicham Taoufik – Guitars

Sébastien Le Bruchec – Bass

Clara Danchin – Violin

Emmanuel Chouart – Drums
Links
Independent Release
Review by Tony Cannella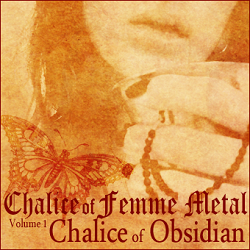 The new compilation from Chalice of Femme Metal is a pretty varied collection of songs from ten bands on the current Femme Metal scene. Among the 10-songs/bands presented here, the quality remains remarkably high throughout the 48-minutes. Things get off to a slower tempo start with "Salvation" by the always excellent Apparition. The orchestral Akoma is up next with "Forgotten Hero". The power metal riffing of Pythia highlights the next song "Tristan". "Shadows on the Tide" by Tainted Grace starts off with a cool, eerie guitar intro before the band joins in all guns blazing. Omega Lithium provides a modern metal sound with "Andromeda". Mask of Judas picks up the heaviness and intensity even more with the machine gun riffing of "To I Your Conscience". Fateless Tears showcases their brand of progressive Goth on "My Endarkened Self". Rhode Island Red brings more of a blazing hard rock slant with their offering "Kerosene". The symphonic Goth of Therion is up next with "Hellequin". A live bootleg recording of "World of Glass" by Tristania from Stuttgart in 2005 with Vibeke Stene on vocals is a great way to bring this compilation to a close. On "Chalice of Obsidian" I was familiar with some bands and others were new to me, which is always the best thing about compilations. With so much music out there and not enough hours in the day to listen to all of it, compilations such as these provides a great service to metal fans.

Rating – 90/100
Tracklist
"Salvation" – Apparition

"Forgotten Hero" – Akoma

"Tristan" – Pythia

"Shadows on the Tide" – Tainted Grace

"Andromeda" – Omega Lithium

"To I Your Conscience" – Mask of Judas

"My Endarkened Self" – Fateless Tears

"Kerosene" – Rhode Island Red

"Hellequin" – Therion

"World of Glass (Live)" – Tristania
Independent Release
Review by Tony Cannella
Rhode Island Red are a London, England based unit. Their self-titled debut has just been issued and it features 10-songs and 41-minutes worth of classic sounding hard rock, led by the soulful and quite expressive vocals of Lyla D'Souza. Musically, Rhode Island Red is a bit of a throwback to classic rock bands of the 70's. Lyla D'Souza has a bit of a Bluesy quality to her voice. Their songs have been described as The Cult meets Garbage, and that is a fair assessment I suppose. The songs have a definite raw energy and power to them, but the band also has shown some great attention to the melodic end of the spectrum. Highlights include: "Kerosene", "Slip Away", "Over & Over" and the acoustically ballad "Fate Insists" which closes the CD. With their debut album, Rhode Island Red has released a strong rock record that pays homage to a bygone era, while still keeping their feet planted firmly in the present.
Rating – 78/100
Tracklist
Kerosene
Slip Away
Stalemate
Over & Over
Hollow Man
Little Wizard
Too Far Gone
Untouchables
Supernatural
Fate Insists
Line Up
Lyla D'Souza – Vocals
Dave Garfield – Guitar
Andrea Basiola – Guitar

Mike McGinness – Bass

Marco Tiano – Drums
Links
Rhode Island Red : MySpace * Facebook * Site
Kill for Eden : ReverbNation * Facebook * Twitter * Site
Label : Red Rivet Records
Review By Tony Cannella
From Indonesia comes the neo-classical, Symphonic Metal band Blodwen. On their debut album, "Black Symphony", Blodwen displays their outstanding talent throughout the course of the 53-minutes worth of music featured here. First thing, guitarists should love this band. There is plenty of inspired Yngwie-esque guitar virtuosity going on here courtesy of Alexander Lexy. The vocalist Bernice Nikki is quite impressive as well. Okay, getting to the CD, this album is a bit of a throwback in style (and I don't mean that in a derogatory way at all). It reminds me of a time when guitar heroes were prominent. From the opener "World As One" and the second track "Midnight Fairytales" (my favorite), Blodwen put their musical chops on full display. The third track "Cry Out to Me" is a mid-tempo number and it is also a huge highlight. "White Noise" is an instrumental that lasts about 3-minutes and it reminds me of something that might be heard on Yngwie's "Marching Out" or "Trilogy" albums. "Pengakuanku" is up next and is sung in Indonesian. The pace picks up on "Into The Darkness" and vocalist Bernice Nikki really shines through and really sings her heart out on this one. Other highlights include: the beautiful ballad "Flower Song" and "Night – Black Symphony". Overall, I thought this was a very good release. Blodwen strike a perfect balance between musicianship and good songs. It is not all about musicians trying to show off. The solos make sense in the framework of the songs. On "Black Symphony", Blodwen delivers a powerful metal opus that should appeal to musicians and non-musicians alike.
Rating – 89/100
Tracklist
World as One
Midnight Fairytales
Cry Out to Me
White Noise
Pengakuanku "My Confession"
Into the Darkness
Flower Song
Night – Black Symphony
Your Wings (Japanese Version)
Two Notes
Your Wings (Romantic Guitar Version)
Night – Black Symphony (Orchestra Version)
Line Up
Bernice Nikki – Vocals, Keyboards
Alexander Lexy – Lead Guitar, Keyboards
Marcellus – Rhythm Guitar
Vhan Tandi – Bass
Ronald Mikhail – Drums
Links
MySpace * ReverbNation * Facebook * Twitter
6 color styles available:

Style switcher only on this demo version. Theme styles can be changed from Options page.