Browsing articles tagged with " released"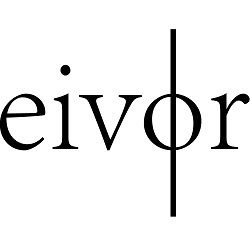 Interview by Alessandra Cognetta
Eivør Pálsdóttir
is a singer songwriter from the Faroe Islands. With her incredible voice, she has created music in a huge variety of genres, always challenging herself and pouring all her passion into her songs. Her latest effort is a collaboration with Lennart Ginman, "The Colour of Dark", a mesmerizing album that showcases her great vocal skills. Eivør is about to release her new solo album, "Bridges", about which we have exclusive news, and kindly lent us some of her time for a nice, in-depth chat about her music and much, much more. The result of this long, friendly conversation involves everything from songwriting through beatboxing (no kidding!) to the Hobbit, from her role as Marilyn in an opera to her thoughts about women in the music industry, where she also kinda interviewed me back. Eivør is a sincere, authentic artist, whose works I cannot recommend enough, and I think this interview stands as good evidence for my case.
Hello and welcome to Femme Metal Webzine, Eivør! It's a pleasure to have you with us. What have you been up to, lately? Continue reading »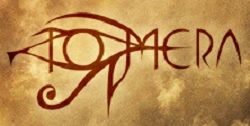 Interview by Alessandra Cognetta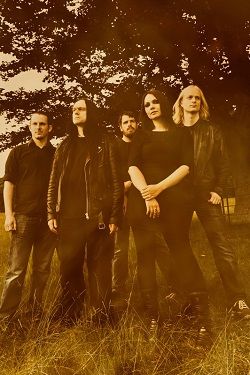 One of the most varied and well-crafted albums of 2012, To-Mera's "Exile" has already been praised in our "Reviews" section and is definitely one of the best records from last year. We took the chance and got in touch with lead vocalist and original founder member Julie Kiss to ask her some questions about the band, her career, Egyptology (!) and the current state of the music industry. Scroll below and dive in to read more!
Hello and welcome, Julie! First of all, a belated wish for a Happy New Year from Femme Metal! How are you and how has 2012 been for To-Mera?
Thanks, likewise. I'm great thank you, life is good right now. As you know, To-Mera have recorded a new album so it's been pretty exciting. All the more so because the album almost never got made… Then when it did, we recorded and produced it all ourselves which was a very new but immensely rewarding experience.
To-Mera's latest effort, "Exile", is a blessing for the ears and an infinite source of surprises (definitely one of my favourite albums of 2012, and I swear I'm a neutral party!). There's plenty of reviews to read around, but if you had to review it by yourself, track by track, from the point of view of someone who saw the record come to life, what would you write?
I think I would refuse unless I had a lot of time on my hands

there is so much going on but the songs are all connected: they follow a plunge into a deep dark place that ends in a sort of spiritual enlightenment… Continue reading »
Interview by Matteo Bussotti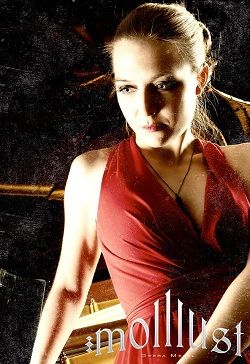 After the release of their first full-length, "Schuld", Molllust are now ready to answer some questions; so we couldn't let escape this chance to ask the newest, most interesting "opera metal" band! Well…there isn't much to say, since Janika explained pretty much all we needed to know (and even more!) in the interview…so…we hope you'll enjoy it as much as we did!
Hi Janika! Welcome to FemmeMetal! How are you feeling now that your first album has been finally released?
Hallo Matteo! My feelings concerning the album are a bit hard to describe. Of course, I was very proud to hold it in my hands – but there is much more. All the memories related to the CD – the time in studio, the rehearsals, the meetings with our designer – the joyful moments, when we had a good take in studio. And also the sorrows, when something didn't work as planned. The fear to send a work full of personal emotions out into the world – and the hope to reach people who feel like me when they listen to the music.
Interview by Vard Aman
To rise from the sea of Female Fronted Symphonic Metal and stand out as a band that is both of an exceptional quality as well as something that is distinctly different from the rest takes quite an act; and Lanewin, from St. Petersburg, is just such an act. They are fronted by Anna Belaeva – a multi-talented, versatile and highly imaginative vocalist; if you listen to their newly released masterpiece "Eclectic Tour", you'll hear what I mean. I was honoured to interview her recently.
Hi Anna, welcome to FMW! First of all, tell us a bit about your singing career before Lanewin? When did you start singing? What inspired you?
Hi! I'm glad to be here and answer your questions! Honestly I didn't have any singing career before Lanewin. I started singing at the age of 18 and immediately formed Lanewin, because I was not able to live without music and singing. What inspired me? Well, one evening heard amazing song that my friend sang to me. It was Nightwish's "Sleeping Sun". I was so impressed by that music, that the same day I listened to all their songs, and straight after that I started listening to music, before that day I didn't listen to it. And several days later I tried to sing with Tarja's voice, and soon realized that singing is what I want to do in my life. Continue reading »
Interview by Lindz Riot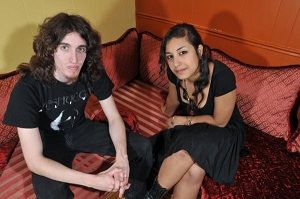 When people hear of Quebec, Canada they immediately think of Montreal, but to the east lays Quebec City where many good things are happening for Metal and Ambient experimental music alike. There you will find a gem, a diamond in the rough by the name of Manahil. Arabic for "The Sources" they are a duo that describes themselves as "Ambient music for Metal Heads" and from listening to them you can hear the concept. It is very refreshing! Fronted by the soulful and exotic voice of Hind Fazazi alongside piano wiz and musical visionist Mathieu Fiset, they are definitely adding something new to the music world. During their Ontario, Canada tour I have had the privilege to house them and sit down with them to get into their minds about what Manahil is and what they are doing that is so different.
Welcome to Femme Metal guys! Thank you so much for doing this interview with us. It's a real pleasure. So how are you two liking your Ontario tour so far?
Mathieu: Great ! So far only one show down, but we played here last October with Stream of Passion and Unexpect and that was great. I can't wait to play Toronto tonight and Oshawa next week with Mary and the Black Lamb and Modified.
Hind: I cannot judge for the moment! But at least, people here are friendly …let's see if the Toronto gig tonight will be as nice!
How did you two meet?
Mathieu : Through a friend of ours. I asked Hind to come up to record a Steven Wilson cover song just for fun, but we ended creating music with an ambient instrumental track I had. This first song is the opening track of our first album.
Hind: I was fifteen years old at that time, and I already knew Mathieu was a great piano and keyboard player. We tried some covers together, in English first, but then we rapidly decided to experiment something new in Arabic, because we both were curious, open-minded and tired of traditional music!
How did you decide on your sound? Was it a vision or something that just came out through jamming together?
Mathieu: We never planned anything really, but of course with the knowledge that she could sing in Arabic and the fact that I love exotic music, we just ended up doing lots of oriental stuff in the beginning. But later we added the pop, rock, electronic and progressive stuff.
Hind: We just ….let ourselves do whatever we wanted to. We knew that our two energies were going to give something unique. We jammed a lot in the beginning to see what we could create together, and then just continued that way until now!
What are your musical backgrounds?
Mathieu: As a kid I was in love with the soundtracks of my favourite movies and then the music of Alegria from Cirque du Soleil really had an impact on me when I was 5 or 6. I took some piano lessons then stopped because the lessons were not what I imagined it would be. Later on, when I was 14, I started listening to metal so my interest in music came back. At 15 I joined my first metal band and slowly became a professional musician.
Hind: When I was a young little girl living in Morocco, I loved…Celine Dion! Then, when I moved to Quebec, I switched radically to thrash metal, Nu Metal and female fronted metal bands! Slayer, Sepultura, Korn, Within Temptation, Evanescence…afterward, I began to listen to Opeth and opened my mind to non-purely metal music, such as Nine Inch Nail, The Cure and Indian music.
What artists have really influenced Manahil?
Mathieu: That would be a long list! But I can say that my favourite bands are Tool, Nine Inch Nails, Porcupine Tree, Opeth but also some other artists have had a major impact like Peter Gabriel, Rachid Taha and Hans Zimmer.
Hind: For me, singers like Amy Lee, Tori Amos, Norah Jones and Susheela Raman, a folk-indian artist, influenced my interpretation.
You say you are ambient music for metal heads, what do you mean by this statement? Are you both heavily into metal?
Mathieu: Yeah, as you might guess by now, we both listen to a lot of rock and metal music, but we need something to balance it all, so we create kind of an ambient or electronic version of the metal music we want to hear.
Hind: As I have already said, we LOVE metal and listen to metal bands, but we hate to categorize ourselves as metal heads. Also, we don't want to get bored by doing the same old style all the time and we absolutely adore oriental music and mixing styles that every open-minded metal head should appreciate.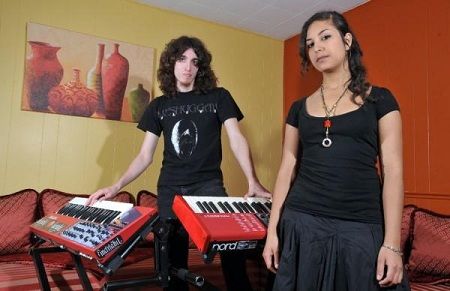 Would you ever consider making Manahil a full band project?
Mathieu: No, because from the beginning we decided Manahil was the two of us, the creative force we are, and not a musical style.So even if we often have collaborators and live musicians, we prefer to keep the basic of Manahil as the two us.
Hind: Manahil, in Arabic, means The Sources, it's only us two and we are the sources of the music we create!
What has the respond to your music been like in the Province of Quebec?
Mathieu: I don't really know, to be honest. It's a positive response for sure, but since it's a really personal music, everyone feels different to it.
Hind: It's particular! Manahil is a very introspective music and in a show context, where people are used to scream, it's weird. It's as if the crowd finds it special to just listen and let the music enter in their hearts.
Do you think you will be well received in Europe?
Mathieu: I guess!
Hind: I really think so. The North American audience is definitely different. The expectations are different, and I think, honestly, that the cultural aspect will be positive for us. We are a non-typical band, and maybe, I say maybe, it will be fully understood in Europe.
Why do you feel the metal scene in Quebec has been progressing so rapidly as of late compared to the rest of North America? Do you agree with this statement?
Mathieu: I guess it's mainly because there's a lot more metal heads in Quebec so with a bigger crowd, you can have more bands, more shows…but I mostly feel there's too much of the same thing. We certainly have some of the best extreme metal bands in the world.
Hind: I agree with Mathieu on that, particularly in Quebec City…Quebec, metal city! But yeah, there is too much of the same: too much black metal bands, classic Hardcore bands… it's not very diversified!
Tell me a bit about your new album, where did you record it? Who produced it? What can we expect to hear?
Mathieu: I produced, recorded and mixed it myself, mostly in my home studio but you'll like to know that we recorded the vocals in Cardinal, Ontario. Musically, it's a new experiment, more than a new direction. As much as we love the new album, we won't do the same for the next album, just like every recording we've done and will do. It's even more "Ambient music for Metal heads" than the first album. It's a deeper, more sophisticated production which I'm really proud of and we went in musical areas that we never dared to explore yet, opening the door for more experiments in the future. We're growing up I'd say!
Hind: Yeah, the composition of this album was a nice and refreshing experience. First, Mathieu sent me what he had done…the musical tracks sounded less melodic and more electronic to me… I didn't know, at first, what I could sing on that! Then I experimented to write my melodies in a totally different way, and the result is amazing: a mix of very melodic vocals mixed with dark-electro-industrial-oriental music!
I noticed a hint of a Jazz influence on your most recent EP, can we expect to hear something like that on your next album?
Hind: No, or maybe inconsistently in a few back vocals. We both love jazz, but we already explored what we could do with that on "From Roots to Clouds", "Alouanou Sama" is totally something else!
Last question: Outside of music, what are your lives like from day to day living?
Mathieu: Music is my day job, but I'd say I don't play as much as I'd like to. Doing lots of planning, booking, promotion, paper work, I don't take much time off, but I like to change my mind from time to time playing games and watching stuff on YouTube. I'm a complete nerd, so I don't have of a much social life.
Hind: I'm going to University, studying philosophy and politics. Those subjects are my main passions with music. I am involved in my community, and I try to be active to promote a provincial political party by the name of Quebec Solidaire. I'm a part time musician, but a full time good citizen, I think. I read a lot and love to party with friends!
Photo Credit
All the photos by Fred Laroche
Links
6 color styles available:

Style switcher only on this demo version. Theme styles can be changed from Options page.