Browsing articles tagged with " rerelease"
Opera di recupero per il demo "Spectra" datato 1985 di Hurtful Witch, band di culto antesignana del metal occulto ed estremo, capitanata dalla singer torinese Roberta "Morgana" Delaude. La data prevista per l'uscita è gennaio 2013 in solo vinile e tiratura limitata.
I tre pezzi originali "We're fire", "Lost Angel" e "Behind my eyes" sono stati remasterizzati mantenendo però il fascino ruvido di quegli anni che hanno segnato la storia del metal underground.
Contatti e ordini:
https://www.facebook.com/HurftfulWitch
————————–
In order to recover the debut demo Hurtful Witch's "Spectra" dated 1985, Italian cult band precursor of an occult, extreme metal, fronted by Roberta "Morgana" Delaude" on January 2013 will released on vinyl only and in a limited press.
The three original songs containted in the demo "We're fire", "Lost Angel" e "Behind my eyes" have been remastered but preserving that rough sound that have marked the history of Italian metal underground.
Here below the trailer
Orders and infos:
https://www.facebook.com/HurftfulWitch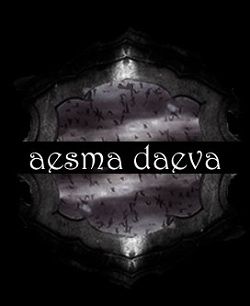 .
Interview by Erwin van Dijk
On June 1st the compilation double CD "Demonic and Divine" is released by Femme Metal. The CD is to support the Macmillan Cancer support and Cancer research UK. Aesma Daeva appears with the song "The Loon – Thalassa mix". This song originally appeared on the album "The Thalassa Mixes". Aesma Daeva is a symphonic metal band from the USA. Most people in Europe will know this band because former Visions of Atlantis singer Melissa Ferlaak was a member of this band and Therion singer Lori Lewis is the singer of Aesma Daeva. This interview is with John Prassas – Composer/Guitarist of the band.
Did you always wanted to become a guitar player?
Only for a short time did I want to be a guitar player – after that I started to see guitar as a compositional tool.
Where did you get the inspiration for the music?
Nature is a big influence for me. Sometimes life experiences – but I try to not focus on my own experiences as much as I try to focus on the experiences of others.
And to what kind of music do you listen yourself?
I listen to a lot of different music – I find it changes with the seasons. Lately I have been listening to Leo Kottke Blue Man group, Dan Swano, and S.U.P.. When fall hits I will probably start to something slower.
Did you have any other bands before Aesma Daeva?
No not really, I have a few things I am working on that will not be released under Aesma Daeva. They have yet to be completed though.
How do you work together with Michael Platzer, the lyricist of the band? Do you have a general idea about the lyrics before he starts writing or is Michael free to use his own imagination?
Both – "The Loon" – is adapted from a poem he had written. Where as "The Bluish Shade" was a song where I gave him just a few lines and phrases.
Aesma Daeva is an unusual name for a band. What does it means?
Shining One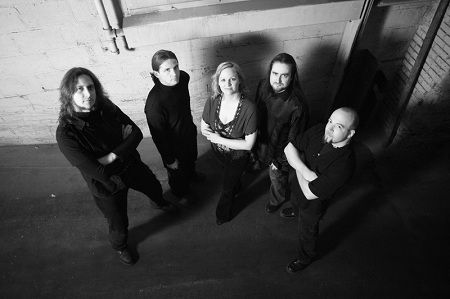 How would you describe Aesma Daeva's music? Because many bands describe themselves as Gothic – Metal – Progressive and the name of your website is "symphonicmetalband".
I think of it as Symphonic Metal – Mainly because I have so many classical and symphonic influences. Especially when it comes to colour and dynamics. We can debate all day as to what bands are symphonic and what ones are not.
Can you introduce us to the other members of the band?
Lori is the main vocalist, Chris plays bass, and that is about it for main members. I have been working with a lot of guest guitarists and musicians. At the moment I write 90% of the music, but they certainly are good at bringing it to life (which is not something that easy to do).
Aesma Daeva contributed a song to the "Demonic and Divine" double CD. This song was "The Loon". Why did you choose this song for the album?
It was the only new track I have under 5 minutes.

Thalassa is Greece for "sea" and the goddess Thalassa was the personification of the Mediterranean Sea. And another Greek connection is "The Garden I Long For" which is performed by classical guitarist Kostas Grigoreas. How did you get in touch with him and what are the differences between this version and the original version?
Kostas and I have been friends for a while. I suppose the main difference is that this version is played and recorded much better than the original. I also adapted it to have a bit more "water" influence.
What is the idea behind this EP and why did you choose these songs for it ?
I was in Greece visiting friends and family. I did not have much for musical ideas, but when I left I found I was thinking about the sea and all of the colour's within the sea. My original idea was to make a remix that would give the impression of the sea. Like "Le Mer".
Speaking of Greece again, does the band have something with this country because the album "Dawn of the New Athens" which was released in March 2007 has also a very Greek name. Or is it about New Athens in Ohio (USA)?
No, it is about the "New Athens Colony" in the book "Childhoods end" by Arthur C. Clarke. However to assume it had something to do with Greece is completely understandable since so many other things I have done are influenced by Greece. Arthur C. Clarke is the writer of "2001: A Space Oddyssee". Together with Isaac Asimov he is one of the most important SF writers of the 20th century.
When can we expect new Aesma Daeva music?
We are re-releasing our first album with a bunch of bonus material. However at the moment I am working hard at a new approach to music. Which means working with different singers and musicians. The new material probably will not be released under the band name Aesma Daeva.
And will it be different from your previous work?
Very much. I hope you can always stop by our web site symphonicmetalband.com. Their you can go to my personal web page where you can hear bits and pieces of new material. Thank you for the interview and support!
Credit Photos
Single photo by Jill Vansickle
Band photo by Debbie Stiller
Links
MySpace * Facebook * Twitter * Site
Interview by Miriam C.
Trascription by Kassandra Ortmann
I know, I know what are you gonna say "What's this, that's too short and we want more!". I totally understand you but the occasion was too much inviting to let it go so I took the chance, also for really short but quite, I admit to say, inviting interview with Lzzy Hale from the American new hard rock sensation Halestorm during their unique Italian gig in Milan. For sure there will be another occasion to do an interview but for the moment enjoy this exclusive! For this interview I really thanks for her collaboration and help Mrs. Morandi Anna Marzia from Roadrunner Italy/Warner Italy.
I was asking you about your second album, "The Strange Case of..". I am wondering when you started to compose this album?
Ah well, we um, we didn't have a whole lot time to think about this record and to prepare for it. We had been touring on the last record, um for nearly three years and basically got off tour, had 24 hours to pack and then went right to California to start making the record. We had a handful of ideas, ah, none of them were really finished yet. We had a couple of serious songs. We didn't really know what we were doing yet. Basically we just had to dive in and chase after whatever got us excited. And try not to think to hard about the pressure of making a record. Um, we ended up doing for the first half of the record writing probably the most aggressive songs we have ever written. A lot of riff driven songs, I'm being obnoxious and screaming my head off. And then uh, half way through um, I started really opening up and writing some of the most intimate songs that we've ever written. And it ended up to be, the finished product ended up to be this strange duality of sorts. And just the light and dark, the soft and strong but somehow it still all went together, which was surprising to me. And hopefully the message on this record is that you can be both. (LAUGHS)
I have read here and there some of your lyrics, and some of them are really straight-you-in-the face? What are the facts or things that inspired you during the song writing process?
Oh, it can be anything. First of all I live with uh, anywhere between four to nine boys at any given time, so there is always (LAUGHS) something strange going on (LAUGHS), that sometimes the guys will say something that I will have to write down because it is a little over the top. But um, to be honest, a lot of the recent inspiration especially for this record, came from the fans actually. And uh, we definitely keep in touch with our fans with Twitter and Facebook, and all of the social medias but um we started to get physical letters actually to the studio while we were making this record. And it just so inspiring to hear their stories, to hear what are fans are going through and what our music means to them. I think when we went in to make this record we really had a great idea of who we were actually singing to and um they were giving us alot of fuel in order to make a record they really deserved. In all honesty, Inspiration can come from anywhere though. I mean, I love watching people and I consider myself an observer and a sponge of sorts. So really it could be anything somebody says to you, you write it down, or somebody will be telling you a story and you say "Ja, I should write a song for them". In a lot of ways whether it's my personal experience or somebody else's, it's fun, it's fun because there is no real one way that you can write a song.
I saw "Private Parts" is a bonus track. It features the participation of James Michael. Who was working in singing with him?
He is wonderful, I love James so much. Originally he wasn't planning on singing on the record. He and I wrote the song together. And uh, he had all these ideas about who could sing this song with me was excited to see who it ended up being. And at the last minute I called him up and saying, "You know what James, nobody can sing this as well as you can". Because it is from his heart as well, so um, he ended up singing it with me and it was just wonderful cause he has such an amazing voice and he's such a great guy. So it was a great bonding experience actually.
The "Strange Case of", in the US was published by Atlantic Records and in Europe by Roadrunner Records. How about this collaboration. Any plans for the European market to re-release your past discography. For example, your debut self titled album?
Yes, I definitely think that will happen in Europe. The wonderful thing about Roadrunner Records overseas is that they are such amazing people. Even though things are kind of shaken down right now, (LAUGHS) everybody is so talented. They really knew what they were doing overseas. So the partnership between Atlantic and Roadrunner, really helped give us a leg up in Europe. Because we had come over here a couple of times with different bands and I noticed we had never really had a whole lot of press (LAUGHS) until we started working with Roadrunner Records. And uh, then we came over here for the last tour, and everyday we had something to do, and we were meeting all of these people and doing all these meet and greets. And I was like. "WOW! This is how its supposed to be!". So, I definitely think that more of our material to be released in Europe, especially considering we most likely will be doing a live CD as well as another EP. You can't really limit us to any one thing I think we, uh, we start itching to do something new after every couple of months. So there will be definitely more coming over here.
I don't know if you heard the question about Nightwish and the former singer. I don't know if you read the news. It happened that the singer has quit the band because of too long tours. I ask you, aren't you afraid to feel physically and mentally drained. I read on your website that you do a lot of touring. Are you not afraid to be tired mentally and physically?
Uhm, its definitely a battle, in fact as we speak right now I actually have a cold. But the show must go on, and we're gonna do a show tonight and rock it out anyway. Um, I think that for me the hardest is making sure that you take care of yourself, and you're honest with yourself. That when you are tired you go to bed instead of staying up till 4 AM. (LAUGHS) Or um, making sure you remember that your body is your instrument. A lot of it is just common sense, you know. If it hurts don't do it, uh, you know you try to eat right, try to get a little bit of exercise in everyday. That type of thing. Because unfortunately for singers, and this what I feel with Jacob and a lot of the other singers that are struggling now, is that you cant just go to a music shop and get a new one. (LAUGHS) We don't have that technology yet! (LAUGHS) Like a guitar player if a string breaks, you replace the string, but with singers you can't really replace whats yours, what is inside of you and your body. So, um, its just something you have to keep in mind. I know in past years I struggled, because I am very stubborn at times. So I'll want to be invincible, like, "No! I can do it!", you know, I'll stay up all night and I'll party and do the show. Maybe I could have down that when I was a young teenager (LAUGHS), but not anymore! (LAUGHS)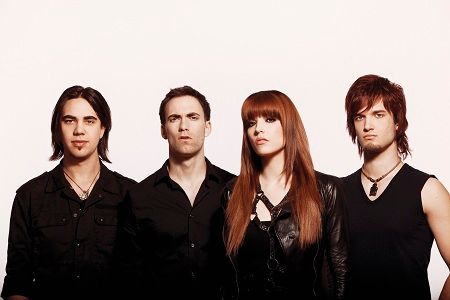 Congratulations for winning the "Hottest Chick in Hard Rock" . How do you feel about it?
I am actually quite flattered. I know there are a lot of women that look at that in a negative light. I never really did. I enjoy the attention. I enjoy dressing up. Um, obviously I am no stranger to the high heels and the short skirts. But I do have one rule and that is to make sure that if I am getting all of this attention for you know, being a girl and being sexy and the rock and roll then I have to make sure that I take care of myself. And that I am good at my instrument and good at what I do. Um, and have something to back it up! You know, because we cant ride solely on the sex because that is going to go away at some point. And one point in time I am going to be a sixty five year old woman and no one gonna want to see me in a short skirt. (LAUGHS) So I have to make sure I am good at what I do!
So you take the advantage now for the time being?
Yeah! (LAUGHS)
Unfortunately we are at the end. We thank you for this short interview and I am really, really happy to have had this talk with you? So … thanks again.
Thank you so much for taking the time for me darling. Its been an absolute pleasure talking to you.
Thank you so much!
Hopefully I will get you meet you one day!
Me too, I hope to meet you but unfortunately today I am not in Milan, I am quite far away from Milan but the best I can get today is to interview you!
No worries, we will be back. I promise you that!
So we are at the end, thank you so much?
Thank you so much! Darling. Bye.
Credit Photos
Photos by Chris Phelps & Alex R. Kirzhner
Links
MySpace * Facebook * Twitter * Site
Latest Multimedia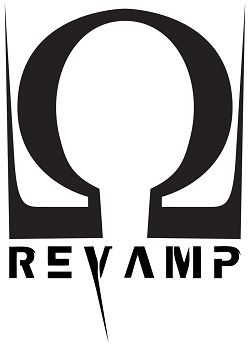 Interview by Miriam C.
Transcription by Tony Cannella
Interview Floor Jansen it's one of my countless dream that I've fullfilled, it was fantastic know that her she's back with ReVamp but at the same time it was hard to ask for me ask some questions about After Forever, I've felt, during the interview, her rage talking about Transmission Records and as a fan and chief editor I feel very sorry for this bad story. In the end she was very happy to talk with our webzine. I want say only one thing before you start to read the interview, for all you After Forever fans overthere : Floor has told us (better had begged me) not to buy the new re-release of "Prison Of Desire" because this release it's practically illegal or better not officially recognized by the band.
Your first album, with Revamp is available from the 26th of May and the first album of your come back since the After Forever split. What was the genesis of this album and what was the right moment when you realized it was the right time to begin this new adventure?
After Forever stopped a year ago now, over a year ago, in the beginning of 2009. I did need some time to sort of mourn that, I was very sad that we stopped. I didn't want to stop making metal, I did need some time to recover and to think what was next because I studied a lot of different styles, I like a lot of different styles. I had so many amazing reactions from all over the world, asking, "okay, what are you going to do now ?", that gave me a lot of strength and energy to start working on Revamp, which was April or May of last year, I am very proud that within a year I managed to get from a concept and an idea to an actual release.
I read through Twitter that you were ill?
Yes, I was. It was nothing serious actually, it was just a lump in my throat – not a very pretty story – so I wasn't really sick, there was just a little thing in my throat that disabled me to sing. I sounded horrible, I sounded as if I would never sing again. It sounded but it didn't feel bad. I really doubted if I'd be able to sing again. It took over the weekend for me to get back, I don't even have my full voice back now, I'm just trying to shut up as much as I can (laughs) and take it easy, live healthy and then I'll be fine on Friday. Yeah, it's one of those things that when you work hard, your body becomes tired, it loses its resistance, and then all of a sudden, there you are. If I was doing anything other than being a singer then I would have no problem.
Good luck for the release party with the Red Limo String Quartet.
Yeah, I'm so happy they are joining. I really wanted this evening to be special and so many people had a positive response to the shows that I did with them before even though they were After Forever songs, I'm very sure people will appreciate it.
I know that's hard to talk about and I can understand if you don't want to answer questions about After Forever anymore.
No it's okay, I mean for 13 years it was part of my life and part of the reason why Revamp can become successful is because of After Forever. I know a lot of people felt the end came very sudden. We put our explanation on line and a lot of people felt like it wasn't enough, a lot of people wanted us to do a good bye show and none of that happened. I can imagine that a lot of people are kind of in the dark, how After Forever stopped then you start with something new and it's not weird that people want to hear that part of the story.
After Forever is and will forever be one of my favorite metal groups, along with Nightwish and Within Temptation. The only thing that's missing is an After Forever live DVD. Never got a temptation to film one?
We had a many. We had a record company for our first four albums, Transmission Records.
That label, Epica had problems with them too.
Well, Epica had problems, but believe me, we had way worse because we were with this label for much longer, and we couldn't get away. We wanted to make a live DVD but the label just made it impossible and by the time we were able to when we were with Nuclear Blast, and the time we can start planning for that we stopped playing live. I understand that people want a live DVD; I would have really liked to have it as well. I was hoping we could do a farewell show or farewell tour, but you need six people to agree on that, and the rest didn't want to.
In the future, will there be any official re-releases of the early After Forever albums?
I don't know. I honestly don't know. The guy who went bankrupt is still in charge of the rights of the CDs, so it is up to him if he wants to release something again or not. That is a very frustrating thing as an artist, to see that your albums are not being made or distributed anymore, or he makes a re-release and he re-masters something or puts more crap on it then re-sells it, he puts After Forever on it but then it is something we never really wanted. I don't know how the future will look when it comes to this, because the guy who owns it, I'm sorry to say, but he's crazy. I don't know, I have to admit that it got to such a negative energy that I stopped running after it, because it is useless, there is nothing to do about it.
I have a question about the cover. Who is the creator and what does it symbolize to you?
Well, it's not a literal symbol for something. It's more that I wanted the cover to be very aggressive and dark with a feminine edge with a lot of bright colors (white and pink). I saw a picture in a magazine actually, where that was one image with more pictures morphed into one, I really liked that idea, so I asked the team who made that picture, "can you do my art work?" so yeah they created that image out of pictures of me. I never wanted to be on one my own albums, but the way it's done now, it's not like typical singer on the cover thing, and it's really integrated artwork. I'm really happy with it.
If I define your style as Gothic or Symphonic metal, is that right or is there something you would add?
We can be Gothic as far I am concerned. I never understood what Gothic or our music has to do with each other (laughs).
Can you talk a little about the lyrics behind the songs?
The lyrics all have different subjects. Some are more written by personal subjects, others are written about what is happening in the world. Three are connected to one theme though, "In Sickness Till Death Do Us Part", they are three songs that deal with the subject of a person being very sick without ever being healthy again. The only thing left for him or her is death and this process is seen through different eyes and different moments in those three songs. "I Lost Myself" for instance, the piano ballad at the very end of the album that is a more personal song.
The album has three guest stars on the album. Russell Allen of Symphony X, Bjorn Strid of Soilwork and George Oosthoek formerly of Orphanage. How was working with them?
With all three of them I didn't work personally with them. George came to the studio on a day I couldn't be there, but he did come to the same studio that I did my vocals at here in the Netherlands. He sings on the song, "Here's My Hell" which was basically done but we felt we were missing something, we missed growls. I called him because I knew him when he was in Orphanage. Russell Allen I met on the Arjen Lucassen's Star One tour in 2003 and we stayed in touch ever since. We've always had the intention to record something together and when I was writing, "Sweet Curse" it felt like the perfect time for that. Bjorn of Soilwork I never actually met before, I am a big Soilwork fan though, it was actually the record company who recommended him for that part, they contacted him and I got a message from him the very same day that he really liked the song and liked my voice and was happy to work on it. So that was very cool.
Do you have any promotional video clips planned?
No, nothing yet.
Let's talk about the present line-up. Are they only live members or in the future will they be considered the definitive ReVamp Line-up?
Yeah, the ReVamp members that I played with live today are the ReVamp members. I started with them more as a project. I got the name, I had a plan for the art work and the music and I thought, "okay, how do I get this done fast and good", so I started to work with two other songwriters that I knew, of course it is never a guarantee that it will work, but fortunately for me, it did. We also recorded the album together with a studio drummer and at the same time we started to look for band members, and the guys who are now in the band are the ones that I want to continue with. ReVamp is not a solo thing, but it is initiated by me, I am sort of the captain of the ship. We are doing this together and hopefully we will be able to write the next album together.
Talk about your plans for the future…
I have some things in the pipeline but nothing is concrete yet. The main thing we are focused on is doing a tour in Europe – hopefully Italy as well. It is definitely important that ReVamp crosses the border soon and we probably will be supporting a bigger band in Europe, and there is a lot of interest coming from South America as well. Nothing is 100% yet.
Never thought about just publish a live album with the Red Limo String Quartet?
I did, but because After Forever just stopped, it wasn't something that was on my main priority list. I was working hard to set up a new band and After Forever stopped. To release something with After Forever songs, the rest of the guys didn't really want that.
Thank you for the interview, Floor.
Thank you spreading the ReVamp word in Italy.
Links
ReVamp : MySpace * Facebook * Twitter * Site
Floor Jansen : MySpace * Facebook * Twitter * Site
Interview by Ed MacLaren
In the last few years, female-fronted metal has turned into a revolving door for vocalists. To satisfy the bands and their fans, vocalists have to be able to do justice to the older material plus have the potential to take the band in new directions. We've seen bands conduct highly publicized searches across countries and continents trying to find that next great singer. In the case of Chile's Six Magics, they had to look no farther than their band manager. The smoldering contralto of Elizabeth Vásquez officially debuts on "Behind the Sorrow", the excellent new album from Six Magics. Femme Metal got a chance to speak to Elizabeth about "Behind the Sorrow", how saying "No" can get you the job anyway and what we can help the victims of the recent earthquake in Chile.
"Behind the Sorrow" is a re-release of your 2008 album "Animal" with a new track and new packaging. Why did you choose to re-release the material?
Well, "Animal" was just a promotional CD that we made for Chilean friends and fans. It was something very small and we did it because people were crazy asking and asking about our new material. We were looking for a good label at that time so we decided to edit a limited amount of copies here. So our real third album release is "Behind the Sorrow".
You spent years as Six Magics' manager before you became the vocalist. How did you get the gig? Was this your plan from the beginning – do the manager thing for awhile and then strike when the opportunity appeared? Were you the first choice or did you have to convince the band to give you an audition? Perhaps you didn't even give them an option.

Ha-ha! Yeah, that could be a good strategy but I was too young when I started with the band as the manager so that never was on my mind. I started with the band seven months after they decided to have a band. I did all the stuff managers do. I was very proud of them because they were very talented and the band had started to be well known here too. When they recorded the second album, "The Secrets of An Island", which contains a lot of voices on it because of the choir, Erick Avila, the composer, was crazy looking for a contralto voice. As it was so hard because most of the girls were soprano, he asked me to sing in the choir and record the lines with them. After that I was also asked to sing some female parts live because it was also needed for two songs. When Sergio Dominguez decided to leave, we were looking for singers even in Argentina and the States but it was hard to find a foreign singer who fulfilled all the requirements the band asked. So, when I was also looking for a singer, Erick had the idea to ask me if I could do it. My answer was no: I was very impressed and I thought it was an insane idea!!! So as I wanted to free myself from this, I told him I would record a song – the most difficult song. I recorded "Behind the Sorrow" and when they listened to my version it was just silence. I thought, "Cool. I did it!" but then Erick said, "It's amazing!! I love it!. Send it to (producer) David Prater to know what he thinks!". The band liked it and David Prater said he was impressed and that I was what Six Magics needed to be complete! Everything was unexpected!
Considering the band was established for many years, why did the band choose to change directions and move from a male singer to a female one? Was it considered a risky move?
Fortunately, the band was always taking risks with everything: the performances, lyrics, etc., so when Sergio quit they thought it was a good opportunity to get another singer better than him so it wasn't a traumatic situation for them. They just wanted to solve the problem soon because Sergio quit when he had already recorded four songs. They never thought about having a woman singing because they thought that having a girl among them could be a problem because of her requirements, or because she would be a soprano singer or something like that. As the band was very recognized and valued here, they thought it could be hard – not for them – but for fans to understand it. The guys did what they had done before: not to be afraid about the risk and they were very convinced that this was the best for the band.
How was it for you to step into a male singer's shoes especially in a recognized band with a large repertoire of songs?
As I am a contralto, the band's songs weren't a problem for me – the thing was to be respectful with each song and show this to the fans. I didn't change the songs for me; I still sing the old songs in the same way Sergio did it. I think fans understood that and they felt good about it too. At the beginning, we thought that when the news about my arrival to the band was published, fans would be annoyed or something but on the contrary, they were surprised but happy. It was really crazy! We thought that as they (the fans) have always trusted in the band's decisions, fans (would think) that if the band decided to have a female singer now, it was because it was the best for the band and they would respect that. People were very, very, kind with us since the very beginning. I think it was also because they knew me from when I was the manager! Personally, I have a lot of respect for all the guys in the band. It was amazing to share the stage with these monsters. All of them are well recognized here as virtuosos and all of them are music teachers. So it has been an honor for me to be with them.
Was there an adjustment period for you, the band, and the fans while you learned to make the music your own?
Just musically speaking, because we had known each other for 10 years! We had a lot of rehearsals because I knew all the songs perfectly but we needed to understand each other with my new role. I was ready after a month of rehearsal. I must say all of them were very generous and they always showed me they were happy to have me with them. The problem was then to find another manager. Ha-Ha! Erick is the main composer and our musical director. He was very, very, demanding, but it wasn't in a dramatic situation. Erick started taking advantage of having a female voice and we started to make some new melodies for the new material, etc.
Six Magics' music is very atmospheric and dark with many heavy and progressive elements. Being from Chile, is there a sound associated with South American metal that makes it distinct from the rest of the world? Have you made it a part of your music?
In the second album of Six Magics, you can find a lot Latin-American elements: the lyrics are about a Chilean island and their mythological stories, musical rhythm, and also in the instruments the guys played. At that moment, we wanted to save our roots and record an album with all these elements. It was a very well recognized album here and the band was considered as a contributor to the music and Chilean culture too. After that, we decided to record a third album with a different point of view, musically speaking. I think as Erick loves classical music, and in the band we all have different musical likes, it's easy to find different influences in our music too. I think Pablo Stagnaro, the drummer, is responsible for the Latin-American patterns we play live sometimes.
You tagged David Prater of Dream Theater fame to produce "Behind the Sorrow". How did you get him on board and what did he bring to your music?
A couple of years ago we decided to record a new album. Our main idea was getting this new album considering other sounds, rhythms, melodies and lyrics. He had recorded another band here in Chile some years before and as we knew these guys we could contact him rapidly. We wanted this third album to be different from the previous ones. We also thought it would be a good idea to reach this goal if we worked with a producer. With all of this in mind, we contacted some people to take this job and after some months we decided to produce the new material with David Prater. He wanted to work with us because he thought the band had enough potential to get good results and the idea of working with him was quite attractive to us because, talking about music, he wanted the same we wanted. I mean, we were lucky because we found a producer that didn't want to change our music as his wish and we wanted to do the same he wanted! It was a long time in which many things happened: since his arrival with the band, we had almost everything recorded and the singer quit the band. So then I took his place and David had to come to Chile again to record the vocals with me having a very serious illness etc… At the end of the process, we realized that everybody was very happy with the result and that all the sacrifices were absolutely paid with this new album. I think what he brought to our music was the idea of simplicity, the previous albums had thousands of notes sounding at the same time and the musical spirit went more for having a lot of complex arrangements working together at the same time. Fortunately we wanted to do something more simple too.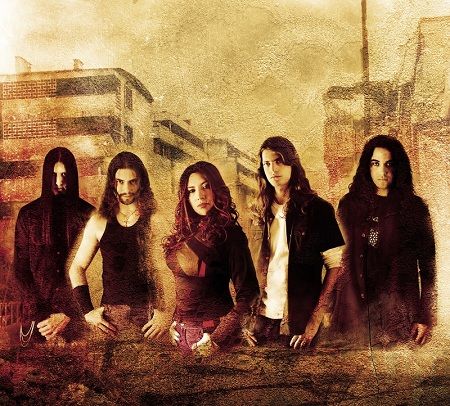 South America is crazy about metal music. What is it about metal, especially European bands that South Americans respond to?
Yes. Latin-American people love metal bands from Europe and they used to go to their concerts too. In Chile, we have the chance to see almost every band so I think people are losing their capability of being surprised: one day we have Metallica, next month Iron Maiden, then Blind Guardian, Sonata Arctica, Slayer, Dream Theater etc…so sometimes we need to save a lot of money to go to the concerts – especially because they cost a lot. Chile is one of the most expensive countries to have a concert; even small band's gigs are expensive. About language: Chile is a bit different from other Latin-American countries: people love bands that sing in English but in other places I know they prefer bands that do it in Spanish. As Chile is more influenced by the USA and Europe, that's not hard to understand. Here we have a lot of good bands but as we don't have a "metal industry", it's always difficult to make music and live from it.
Your vocals on "Behind the Sorrow" are very sultry, very low and ominous. The vocal heat really adds a level of seduction to songs like "It's Not the Way". Your voice also allows you to easily stand out from the upper-register operatic singers in so many other female-fronted metal bands. Were you always a singer or did you come to it later in life?
Thank you so much for your kind words and I'm happy to see you have listened to our music carefully. I have been listening to music since before I was born! Music was also my favorite subject at school and I was asked to sing every time I could do it. As I like jazz and rhythm & blues, I had some cover bands where I learned a lot. As I told you before, I like R&B and jazz and metal of course! My favorite singers are Aretha Franklin, Ella Fitzgerald, Peabo Bryson, Freddy Mercury, Dio and many other metal singers, so I used to sing this music too. When someone asks me to sing something from the 80s pop or rock I don't have any problem. Sometimes I sing bossanova or jazz depending on the moment and feelings. All music gives you something special but what metal is for me is part of my entire life!
"Run" implies there was more to the World Trade Center bombing than another terrorist attack. This track is a bit of a misfit lyrically among the rest of the tracks on "Behind the Sorrow". What was the inspiration to write the song? Does the band have a political edge that fans don't know about yet?
Not really. Chile was under a dictatorship for almost 20 years but we were children then. We belong to the generation that lived that but we don't have a political view of certain things. Politicians are really worried because of the lack of interest of Chilean youth. I think we are tired of politics because for many years after democracy was set in 1990 we have listened to a lot of (political) discussions in our families and also seen it on TV. And as our album is very realistic and we talk about things we really believe in, that's a song we wanted to write but we didn't know how, then the idea of making something related to this topic was very strong. What really motivated us to do this was that all of us think we shouldn't believe everything we are told. Sometimes we can lie and make other people believe we are the victims but we are not. We wanted to talk about different topics we strongly believe and we had the opportunity to record two previous albums where we didn't want to do it, but we talked about a fantastic world or mythological being from our country instead. This time, as a natural process in life, we wanted to do something different. It was also motivating because we had David Prater with us and we could share a lot of experiences about this topic, his feelings and thoughts, so it was really nice to share the ideas of an American guy with our own beliefs.
We're starting to hear of more and more bands from South America making an impact internationally. Should we prepare ourselves for the next wave of metal bands? Who are the top female-fronted metal bands we should watch out for?
I think music is a nice way to join people, countries and cultures. We have lived that! You can see how people who don't know you can have an effective approach to you just because your music could reach their heart. So I think if music is sincere it doesn't matter where it comes from. Unfortunately, I don't know too many bands from Latin-America. It can be curious, I know, but I still listen to the old ones like Angra and their derivations (ha-ha) Sepultura and Criminal from Chile.
Releasing "Behind the Sorrow" must give the band some time to work on new material. Are you working on a new album? What can we expect to hear?
The album was released just last month and, of course, we are interested in recording another album soon but now we are just concentrating on the next promotional tour and supporting our label with everything we have to get "Behind the Sorrow" the best results. We wanna enjoy this album completely first! We will see about a new record during the second semester of this year and I will let you know for sure!

A new album means a tour. Where is Six Magics performing in 2010? Are you staying close to South America this year or can we expect to see you in Europe and the U.S.?
Yes, a new album means a tour. We understand that and we love it, too! We have been working with some people to have our promotional tour in Europe next semester. We are still booking the gigs so you will hear about them soon. We want to go to the USA too and we have got some invitations so maybe we will have good news very soon.
The recent earthquake in Chile was a tragedy and we at Femme Metal send our condolences and support to the Chilean people. There are many metal bands that have a close relationship with their Chilean fans and are raising money by performing in Chile or in their own countries. Does Six Magics have any performance plans to help raise funds or to participate in relief efforts?
Thanks for that and we know many bands like Chile and its people. We really thank all the bands that are trying to help or are simply sending their support. We have got many emails from different parts of the world. Fans and other bands have sent us their valuable support. It's a so sensible situation for all of us. We had returned from our promotional trip in Germany and after nine hours the disaster began. It was really scary and we are still having news about the real consequences of this tragedy. It has been something that has affected us in different ways – mainly psychologically speaking. Feeling our houses or apartments so vulnerable and feeling hundreds of aftershocks has been very hard. Emotionally, we are still affected and I think it will take a lot of time to be totally recovered. Life has changed for all of us since that day, no matter if our house was or was not destroyed or if we have relatives missing or not. As many of us are teachers so the professional situation hasn't changed too much, but our students are also affected. It's a circle, but we are trying to stand up. We have seen a lot of tragedy in our country and you suffer when your country is suffering too. We have been collaborating with different foundations as a band and also individually. We are always available to do benefits too. It's also a way to cure our souls when you can help others and you realize you must be grateful to be alive and have all your family with you. If readers want to donate to the relief effort what is the best way they can contribute? As you can imagine, there are many ways people can support Chile. If they really want to do it they will find the best way. Fortunately, Chilean foundations are very confident. One is Hogar de Cristo (Christ Home) at and here you also have another interesting link. Thank you very much for your patience and support. God bless you all guys. With love, Elizabeth and Six Magics.
Links
6 color styles available:

Style switcher only on this demo version. Theme styles can be changed from Options page.