Browsing articles tagged with " rereleased"

Interview by Si Smith
Alchemy Room are a Italian progressive rock band born on 2007 and have already on their discography 2 EP that, now thanks to Nomadism, are out. The first one is a re-release of the first EP called "Origin of Fears" released in 2009 and the brand new EP "A Matter of Time". While waiting for a uncoming full lenght, we have spoken with Irene, the singer for unveil us more about the history's band.
First of all thank you for talking to us, and a warm welcome from all at Femme Metal Webzine. Fabio La Manna started the project in January 2007, how did you get involved in the beginning, and what were you expecting or hoping at the time?
I met Fabio at the beginning of 2009; I was in a Europe cover band and was looking for something more interesting and challenging to put my voice to the test. So I answered Fabio's announcement and met him, Andy and Tommy to listen to "Origin of Fears" songs that were already written and ready to be registered. I loved the vocal lines as soon as I heard them and decided to join Alchemy Room. My expectation was to make music with someone who could appreciate my vocal skills and at the same time make me grow as a singer and I'm happy with my choice because I also found good friends.

The ideas and visions for the band seem to have originally come from Fabio's head. What is it like inside his head? Have you guys managed to work him out yet?
He is impossible to understand what's going on in Fabio 'cause he's totally crazy. Anyway we are focusing on what we.re doing together as a band and we're following the same path knowing where we want to go.

The name "Alchemy Room" suggets a place where different elements are brought together to create something new and unique. How well does this describe the band itself?
From our biography I could say: Alchemy Room Is a place where everything can happen,when different elements united.sometimes we feel this happens in our hearts, in our minds. Art is usually created by a single, in a chamber or in his personal studio. Everybody's got his personal place that is very important, more important than any other place of the world, 'cause a strange alchemy exists there In alchemy every part has its proper place, what would you say are the essential parts that go into creating an Alchemy Room song? The original album "Origin of Fears" (2009) seems to have had an impact on some reviewers who were expecting Alchemy Room to be the average female-fronted symphonic prog-metal band. It is clear that the band is more than that. Has the new material advanced the band in any way? Is there anything new in there for us to discover?
"Origin of Fears" is a wonderful work entirely conceived and written by Fabio, so it belongs more to his way of composing instrumental structures and of writing lyrics even though the rest of the band put something personal in the execution. The new material is the attempt for us to write something as Alchemy Room, an experimentation in a way trying to find Alchemy Room's sound.

On the first album there was quite a focus on Fabio's guitar solos. Did you ever feel you wanted more singing and less guitar soloing?
I would lie if I said that I'm happy to sing for the first 3 or 4 minutes of a song that lasts 15 minutes! "Origin of Fears" songs are the result of the development of Fabio's creative path and I think it.s more natural for a guitarist to explain himself in songs through instrumental parts than by singing. And it sounds much more natural also when you don't know if you will
find someone able to sing those songs.
Dream Theater and Pink Floyd are both names that seem to crop up in comparison to Alchemy Room. Do you think these are fair comparisons? Are there any bands YOU like to listen to?
I'm really pleased to hear that someone compared us to Dream Theater and Pink
Floyd. Surely these bands inspired us and are points of reference as for the goals we want to reach. I started thinking that I could sing when I was 6, listening to music with my brothers; I became more convinced when I discovered Queen at the age of 12. Freddie Mercury was for several years a sort of vocal coach. So Queen is the band I love the most and that I listen to often. I also like listening to Joan Baez, Carole King, Johny Mitchell and all the classic bands of the 60-70s, but also Tool, Nightwish, Iron Maiden (Bruce Dickinson is something powerful). For me "Waking the Child" was one of the highlights from the first CD. Is there a particular concept in mind when you sing this song?
Both "Waking the Child I & II" are among my favourites "Origin of Fears" songs. I feel a real pleasure in singing them. "Waking the Child I" grows from a grey, sad and delicate atmosphere into a powerful one. When I sing "Waking the Child II" I feel a real sense of tenderness and peace. And so onto "A Matter of Time", which has no extended songs over 13 minutes, but shorter songs apparently making just as much impact. Have you any favourite among the new material?
I'm affectionate to all the songs of "A Matter of Time", but my favourite is "Into the Deep" because is my first attempt to write a song.

"Into the Deep" seems to be much more like a classic song structure than some of your progressive epics. Was this a deliberate attempt to write a more "straightforward" song? Or to include less of the musical meanderings?
The explanation is much more simple. Into the deep reflects my way of writing and my way of being; I like to be linear, both as for the structure as well as for the content of a song. Also in life I go straight to the point.
"Indigo" starts with a slow minimal backing over which you begin to sing. How does a song like this end up in its final form? Do the words come first or the music?
Fabio wrote first the lyrics, then he brought them in studio with a draft of the instrumental line that was developed with Andy and me. We wanted to express a dreamlike atmosphere as the lyrics inspire. Andy came in studio one day with the initial baking and Fabio and I liked it. The rest of the song came alone. The longest of the new songs is "A Matter of Time", which has quite philosophical lyrics. Are these philosophical thinkings Fabio's territory alone, or do you all share in the motivation behind the lyrics?
"A Matter of Time" deals with the consciousness of the existence of other life forms (maybe alien populations) besides humanity. I do not completely share this position, but I believe that there can be a contact with other entities (maybe the departed) who send signals to us in the everyday life. There must be something more than humanity and its madness!

Finally, it is very clear that you fit well into the band – but what would you be doing if you were not in this band? Any other dreams you have?
I would be surely singing in another band because it's part of me. Thanks so much for talking to us, we wish the album success in the future. Thank u for all! Hope u enjoy our album and keep in touch with us!
Links
Label : Sonic Attack Records
Review by Tony Cannella
Formed in 2006, Poland's Pathfinder play Epic symphonic power metal with fantasy based lyrics and songs with intricate arrangements, in the vein of such established acts as Blind Guardian and Rhapsody of Fire. While not strictly a Femme Metal band, their debut album "Beyond the Space, Beyond the Time" features significant contributions from a number of talented guests including Polish Female opera singer Agata Lejba from the band Electric Chair. The Movie Soundtrack like score of the intro "Deep into That Darkness Peering" starts us off. I can see this kicking off their live shows as well, it just has a 'wait what's coming next' feel to it. As the intro reaches its crescendo the band launches into "The Whisper of Ancient Rocks" and we are drawn into their fantastical epic world. This opening song is definitely a high tempo, "Keepers…" Helloween era style number and does a great job in setting the stage for what is to follow. The song slows down about half way through; this part kind of reminded me a little bit of Queen, before the track speeds up again. After a brief 1-minute piano interlude ("Vita Reducta: Through the Portal"), "Pathway to the Moon" is next. This song begins with some classical style piano before the band dives in with some more symphonic metal mayhem. The band also shows off their classical influences on this one and throughout the CD, and a huge choir dominated chorus is definitely the highlight of the song. Opera singer Agata Lejba makes an appearance on this track. Her inclusion definitely helps to give the songs some depth and character. Next is the excellent "All the Mornings of the World", this song has a bit of a Kamelot vibe and once again the inclusion of Agata is well done. Other highlights include: "The Demon Awakens", "The Lord of Wolves" and the 8-minute "Stardust". The album is completed by the epic almost 11-minute title song. This song is a multi-textured gloriously tour de force of a song and a great way to end things. I liked the fact the that the usage of Agata plays an important role on "Beyond the Space, Beyond the Time" and she is not used on just one or two tracks. Some may find Pathfinder a little over-the-top, but who cares this is not for them anyway. There is no doubt that Pathfinder has their symphonic metal sound down pat and even though this is only a debut the songs have the feel of a veteran band. Pathfinder is obviously very sincere about their chosen musical path and that comes through loud and clear on "Beyond the Space, Beyond the Time". If you are impressed with Agata you might want to check out her full-time gig Electric Chair.
Rating – 85/100
Tracklist
Deep into That Darkness Peering…

The Whisper of Ancient Rocks

Vita Reducta: Through the Portal

Pathway to the Moon

All the Mornings of the World

The Demon Awakens

Undiscovered Dreams

The Lord of Wolves

Sons of Immortal Fire

Stardust

Dance of Flames

To the Island of Immortal Fire

Beyond the Space, Beyond the Time

What If…
Line Up
Simon Kostro – Vocals

Agata Lejba Migdalska – Female Vocals (Guest)

Arkadiusz E. Ruth – Bass

Gunsen – Guitar

Karol Mania – Guitar

Slavomir Belak – Keyboard

Kamil Ruth – Drums
Links
Label : AFM Records
Review by Tony Cannella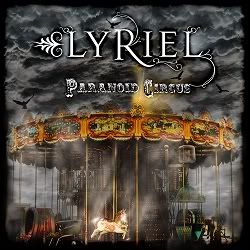 Germany's Folk Celtic Metal band has been in existence since 2003. Their debut album "Prisonworld" was released in 2005 followed by a DVD in that same year and then their sophomore effort "Autumntales" in 2006. Their 3rd album "Paranoid Circus" originally saw the light-of-day in 2009, but since Lyriel signed with the prestigious German label AFM it has been re-issued with bonus tracks via their new label. The first track "Opening" starts us off with a narrative intro in German and segues into the proper first song "Welcome" that really gets the ball rolling. "Like a Feather in the Wind" and "The Regret" keeps this Folk Metal juggernaut on course. "Elderberry and Lavender" is a bombastic track that quickly became a favorite. "Lullaby" is a pretty ballad that brings the tempo and pacing of "Paranoid Circus" down a few notches, before picking up once again with the powerful "Foeman's Bride" and violin heavy, dramatic track "The Wolf". Other highlights include: "So Long, My Love" (another killer ballad), "The Wheel of Fortuna" and "The Way To Nowhere". In addition to new cover art, this re-issued version also comes with two bonus tracks: and orchestral version of "Paranoid Circus" and a re-mix of "The Regret". Throughout the course of this 55-minute CD Lyriel weaves a magical tale that is enhanced by their use of such non-metal instruments as violins and cellos (which they employ full-time). "Paranoid Circus" is one of those special albums that one can only hope is the start of something exceptional for Lyriel. Since this album is two years old, I would suspect that it is only a matter of time until this promising outfit releases album number four.
Rating – 93/100
Tracklist
Opening

Welcome

Like a Feather in the Wind

The Regret

Elderberry and Lavender

Lullaby

Foeman's Bride

The Wolf

So Long, My Love

My Unawakened Soul

Paranoid Circus

The Wheel of Fortuna

The Way to Nowhere

Another Time

Conclusion

Paranoid Circus (Orchestral Version) (Bonus Track)

The Regret (Machin8 Remix) (Bonus Track)
Line Up
Jessica Thierjung – Vocals

Oliver Thierjung – Guitar & Backing Vocals

Linda Laukamp – Cello

Joon Laukamp – Violin

Martin Ahmann – Keyboards

Sven Engelmann – Bass

Daniel De Beer – Drums
Links
Label : Nuclear Blast Records
Review by Tony Cannella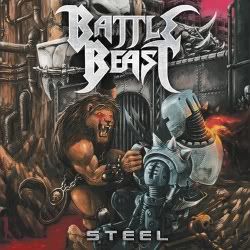 You like true heavy metal? If bands like Manowar, Crystal Viper, Holy Hell, Zed Yago and Accept are your speed, than this band is must-listen metal. They are Finland's Battle Beast and they have just released their excellent, gloriously over-the-top heavy metal debut "Steel". To put it quite simply, "Steel" is an album will not relent. It just keeps hitting you over the head with loud, heavy guitar riffs and all things heavy metal. The opener "Enter the Metal World" is great and a perfect introduction to Battle Beast. Just by looking at the song titles, you can pretty much tell what this band is all about and where their inspiration lies. "Armageddon Clan" is next and is quite simply phenomenal. Is that Udo Dirkschneider on male vocals? No it isn't it's one of the other members of the band (not sure which one, sorry) but he does sound a lot like Udo to go along with Nitte Valo's vocals that remind me – at times – of Jutta Weinhold from the criminally underrated band Zed Yago. "The Band of the Hawk" is next and features some tempo changes and a catchy and memorable as all hell choruses, that reminds me of Accept in their "Restless & Wild" glory days. Nope, there is no let up with this song either. "Justice and Metal" is next and starts off with a bit of Uriah Heep vibe maybe? All be it, much faster and heavier. This song is just a straight-forward, head banging heavy metal anthem. The opening riff to the next track "Steel" has a bit of a similarity to "Balls to the Walls".This is another great anthemic track which the band does very well. Battle Beast is not just a group of people living out their heavy metal fantasies. The songs on "Steel" are good and musically well played. Just check out the songs: "Die Hard Warrior", "Cyberspace" and the excellent "Savage and Saint" which starts off as a ballad before bringing back the metal half way through and vocalist Nitte Valo offers her most passionate vocal performance. I really grew to love the directness of Nitte's vocals. Her vocals are just pure in your face metal vocals. The final track "Victory" ends "Steel" as it began in a blazing glory of heavy metal thunder. Battle Beast will surely not appeal to everyone, but there is always a fan base out there for a heavy metal band like Battle Beast. There is no doubt that they sound like they could have existed in another era, but that doesn't make them irrelevant today. On "Steel" Battle Beast proudly and loudly flies the flag for heavy metal and in the process has released a damn good debut.

Rating – 95/100
Tracklist
Enter the Metal World

Armageddon Clan

The Band of the Hawk

Justice and Metal

Steel

Die-Hard Warrior

Cyberspace

Show Me How to Die

Savage and Saint

Iron Hand

Victory
Line Up
Nitte Valo – Vocals

Anton Kabanen – Guitar & Vocals

Juuso Soinio – Guitar

Eero Sipila – Bass & Vocals

Janne Bjorkroth – Keyboards & Vocals

Pyri Vikki – Drums
Links
Label : Metal Blade Records
Review by Tony Cannella
The band Bitch, led by Betsy (Weiss) Bitch were one of the few female fronted metal bands that existed in the early 80s, they were also one of the more polarizing. Some people loved their straight-forward, in-your-face approach, while others were turned off by their overt references to s & m and sexual innuendo, never mind the fact that the band manage to deliver much of the material with tongue firmly planted in cheek – that went over a lot of people's heads (Tipper Gore for example). But almost 30 years later there is no denying that Bitch were pioneers to the Femme Metal genre, okay maybe there is some deniability since it didn't really catch on until much, much, much later, but still Bitch were one of the first to feature a dominant female vocalist and along the way they developed a devout cult following that exists to this day. Now the bands label Metal Blade has re-re-issued their 1982 EP "Damnation Alley" together on one disc with their 1983 debut full-length "Be My Slave" , remastered by Bill Metoyer and a bonus DVD featuring some live footage and other cool stuff for a new generation of Femme Metal fans to discover and enjoy. The first 10-songs are from 1983's "Be My Slave". By this time Bitch had a demo and an EP under their belt so the songs are more confident and the sound is more focused. "Right from the Start" gets the party started and is followed by what was to become a Bitch classic, "Be My Slave". There is no lack of abrasiveness here in both music and lyrical subject matter as the band tears through songs like "Leatherbound", "Heavy Metal Breakdown", "In Heat" and "Make It Real (Make It Rock)", which is a bitch repetitive but still a monster of a track. The majority of the material is very raw and tough – Betsy definitely had the tough girl, 'I am in control' attitude going. The last 5-songs are taken from the "Damnation Alley" EP, which spawned another Bitch classic "Live for the Whip" which still gets the audiences going to this day. "Let's Go" concludes over one hour of music, this was never released before to my knowledge, so it is a cool way to end things. Bitch went on to release two more full-lengths and one EP before fading into obscurity for many years. In recent years however, Betsy has returned once again with Bitch as the band continues to deliver kick ass shows in both the U.S. and on the European festival circuit. Listening to these albums is like being revisited by an old friend. It's been so long since I've heard them, and maybe the sound is a little dated (okay a lot dated), but the heart and spirit behind the music remains to same. It remains to be seen if Bitch will ever record again, even if they don't at least they have left an enduring legacy – much to Tipper Gore's chagrin.
Rating – 83/100
Tracklist
Right from the Start

Be My Slave

Leatherbound

Riding in Thunder

Save You from the World

Heavy Metal Breakdown

Gimme a Kiss

In Heat

Make It Real (Make It Rock)

World War III

Saturdays

Never Come Home

Damnation Alley

He's Gone

Live for the Whip

Let's Go
Line Up
Betsy Bitch – Vocals

David Carruth – Guitar

Richard Zusman – Bass on the "Damnation Alley" EP

Marc Anthony Webb - Bass on the "Damnation Alley" EP and "Be My Slave"

Robby Settles – Drums
Links
6 color styles available:

Style switcher only on this demo version. Theme styles can be changed from Options page.