Browsing articles tagged with " retrospective"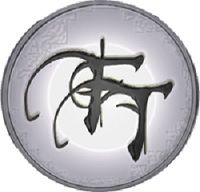 Interview by Si Smith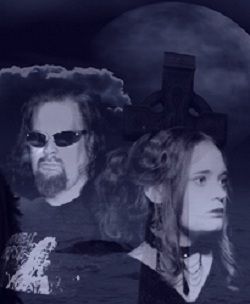 Fateless Tears hail from New Mexico, and considering that their first release was in 2005, it is no mean feat to have released their FIFTH full-length in 2010. When you throw into the mix a number of successful singles and an active side project, the illustrious pairing of Richard and S.Lee proves to be a phenomenon of great substance in the metal world. Femme Metal stole some of their precious time to uncover more….
Having featured on our "Ferocity and Femininity" compilation, and been reviewed and interviewed by Femme Metal already, there must be still some more we need to know! For a start, it is clear from your back-catalogue that you both have great musicality. How did you both get involved in the music at the start? Did you always know that this was what you wanted to do?
Richard: I knew pretty early on that music was something I wanted to pursue. I have several relatives who have played guitar and sang. One of my uncles has released a few country music albums, while another co-wrote and played on a couple of country music hit singles back in the '70s. I knew that I wanted to carry on their tradition, albeit doing it my own way in rock and metal instead of country.
S. Lee: I do not think that I have ever known a world without music and song. My mother sang to me, around me and with me. Wandering around singing little songs that I had heard, learned, or thought up are some of my earliest memories. As soon as I could write well, poems and lyrics as well as short stories and drawing became central focuses of my free time. I am not assured that any of these activities were truly separate from one another. I am told that I often sang in my sleep as a small child.
I believe that since we last spoke to you Paul has now joined you as a full member of the band. How has that affected the dynamic of the band, in the writing, recording and also the live setting?
Richard: Funny how that works… while Paul was a full member for "The Chaise", he went back to being a guest artist on our albums shortly after its release. Unfortunately, due to his very busy schedule, he was unable to be part of FT full-time. He is one of my closest friends and he will continue to have guest spots on our albums. Regrettably, he doesn't have the time to be more than a listening ear and helping hand. Chris from Amadeus & Demise of Gideon also guests on our albums covering vocal duties and some guitar. They are both very important to S.Lee and I, and we really appreciate their help on our music.
Richard, you have been active on The Demise of Gideon recently. Would you like to tell us about it? How does it relate to your work in Fateless Tears?
Well, one day I looked into my "Riffs" folder and I had a whole album worth of riffs that I felt were more in the vein of old school thrash metal. I didn't feel that they worked well for FT. At the same time, Chris and I started talking about doing a project together. Four months later, the album was done. It ended up being sort of an old school thrash/prog/death album. "Twingence", the 28 minute, seven-part epic, is one of my proudest moments as a composer/songwriter. Through it, S. Lee provided vocals on "Adagio", "Rondo" and "Coda". "Adagio" became part of the new album, because it is very much in the FT vein and we felt it would be a nice addition to the album.
The first song on the new album, "Primary" is a new song. Could you tell us a little about it?
Richard: "Primary" was originally written for the new FT album, on which we are currently working. When we signed with Blue Freya, Karl, S. Lee, and I wanted to get something new out there, especially out in digital shops like iTunes and Amazon. Consequently, we pulled "Primary" from the new album, as it was the song most completed and pushed it forward to HWYHBM.
S. Lee: The lyrics in "Primary" are very much a reflection on the dichotomy between the subconscious and conscious world within one's mind, thoughts and actions. I hope that they convey the truth of pieces of ourselves that we must subsume and the duality of faces we must assume to cope with and navigate the pressures, uncertainties, and pitfalls in the waking world. For me, "Primary" captures the essence of our true self, an ideal self, that is only unrestrained and dominant in sleep wherein we reconnect with who we are and rejuvenate to face daily life challenges.
The other songs on the album are all "retrospective". What criteria did you use to choose these songs in particular?
Richard:
Well "Cages" and "Inner Sanctum" were tunes that we both felt needed to be redone for various reasons. "MEDS", "Mesmerized", "Flicker" and "Cycles" are songs that are most often referred to as our best or favourite tunes by listeners. "Adagio" was included for two reasons: it was a new tune to FT's audience, by and large, and we felt it would fit better as a single for FT as opposed to DoG.
"Flicker" begins and continues with a quite striking keyboard "riff". How does a Fateless Tears song get birthed? And how does it begin to form itself from a simple idea into a complete song?
Richard:
Earlier I mentioned that "Riffs" folder. Every time I practice, I spend some moments just working on new riffs and those that emerge are all recorded, catalogued, and transcribed to the folder. That folder has a wealth of material in it ranging from metal to rock to you name it. Generally, I place things I think suitable for various projects in their place.
S. Lee:
I frequently write short pieces of verse, potential lyric lines, and random phrases in notebooks, a Lyrics folder, or scraps of paper lying around. Often, these snippets or full lyrics sets or poems emerge as Richard is writing and recording. I love to listen as a song takes shape and give feedback on different sound qualities and recording passes.
Richard:
In general, all of the music is written and then I give S.Lee finished mixes around which she tailors her final vocal lines, melodies, and lyrics. For the new album, S.Lee is working on a couple songs where she is creating all of the vocal melodies first and then we will work on arrangements together.
"Adagio" first appeared on The Demise of Gideon album. Did you change it much to turn it into a Fateless Tears song?
Richard:
By and large, the two versions are the same. I remixed it for FT, so, for instance, the rhythm guitars are eq'd differently and the drums are also a bit altered. Basically, it's just the difference between mixing it as a solo song compared to a part of a 28 minute story.
You have recently signed with Blue Freya Media Group. How will this affect the band in the future do you think?
Richard:
Karl is a great guy, and we are very proud to be part of BFMG. The only affect I can see has already started in that our music is now available in more places than ever before. Karl is a great promoter and he works very hard for his artists
.
Your last full-length album "The Chaise" was very topical, dealing as it did with economic crisis and how it affects the world. Are there any other topics you would like to get your creative hands on in the future? Any prospects of a completely new Fateless Tears album any time soon?
Richard:
The new album is currently underway. Due to the recording schedule of the studio, we are getting the music tracked now and then will go back in and track vocals and guitar solos in July. As part of the continued plan of us releasing our back catalogue in a unique way, there will be an album of our ballads from the first 4 albums titled "In the Midst of Sleep" that will be a digital release through BFMG. All of the old material has been remixed and remastered. It will also include two new tunes, one of which is an acoustic version of "Stasis" that is part of the new album along with the BFMG compilation "Born of Sand & Snow".
Just too completely throw in an odd question, I recently listened to "Dark Seasons of Sorrow" by Frozen Mist and noticed both your names in the credits. How did your involvement with Frozen Mist come about?
Richard:
Jamie and I met through MySpace, formed a friendship, and at one point we were both thinking of signing with Mournful Moon Production. Halfway through the recording of DSOS, things went south with his old band mates and they decided to leave mid project. He and I talked and we decided that S. Lee and I could help him finish that album. Jamie is a good guy and I was happy to help him out. I also played lead guitar on the next two FM albums.
S. Lee:
We are always happy to help out a friend and I find Jamie's lyrics intriguing in their visual imagery, so the experience was rather engaging.
Five albums on, this might seem a great time to look back over your musical repertoire and see the high and low points. As you look back, what have been the greatest and the worst moments of Fateless Tears' life? Any favourite song or lyric?
Richard:
Well, I think a couple of the high points are the inclusion of "My Doom Box" on several top albums of the year lists of radio stations in our genre and the worldwide reception of "My Endarkened Self". My favourite tune, including lyrics, is "Tapestry". I think it is a wonderful blend of S. Lee's voice and lyrics.
S. Lee:
I enjoy writing and singing, so recording, once I get past my initial self-consciousness in front of the microphone, is always a high point. The low point is finding enough time in the day to get everything done to a point where I can focus on our music. As for a favourite tune or line, I cannot truly name one as I generally find a line or turn of phrase that came out of a vocal take in each song that stays with me from the moment it is captured. One of my professors often spoke of "teachable moments" where the context of a moment leads to understanding. I think that these occur as we are recording when a vocal moment turns outré, teaches me something more about myself and crystallizes into an emotive vocal presence captured in the song.
I am sure many fans would love to hear the music performed live. Do you intend to do any live appearances on the strength of this new album? Or will you wait until a completely new full length?
Richard:
We have never been a live band. FT has always been studio only. This is due to multiple reasons, but the primary is that S.Lee and I both have jobs that require our attention daily. Taking any extended time to play live is simply out of the question.
S. Lee:
The daily grind and responsibilities of the modern world necessitate our studio only status for the foreseeable future. At least the experiences therein provide a wealth of material for future incorporation in our music.
There was also talk of a video of "Adagio" to accompany the new album. Did this come to fruition ?
Richard:

Yes there was, but it was shelved. There is a video for "Allegro"; however, we decided that to create what we wanted for "Adagio" and how it relates to the story simply wasn't feasible. Currently, a video for "Flicker" is being done. The song is being used in the movie "Dark of the Moon" and there will be a video released which ties in with the movie. We are hoping to have that available to people this summer.
Finally, it only leaves me to say a great thank you for answering to Femme Metal once again. We wish you success in 2011 whatever it may bring to Fateless Tears!!
Richard:
Thanks to you for giving us the opportunity to reach folks with this interview.
S. Lee:
We always appreciate the chance to talk about what we do and our enjoyment in sharing our music. We are grateful to you for extending another opportunity to do so.
Links
MySpace * ReverbNation * Facebook * Twitter * Site
Label : Ravenheart Music
Review by Tony Cannella
It is rare when a band releases a "retrospective" compilation after only releasing one album. It's unheard of in fact. Well, that is what U.K. based Gothic metal band Apparition has done with "Ghosts of the Past: The Story So Far". In all fairness Apparition released their debut album "Drowned in Questions" in 2006, and I am not sure if this album still available. So, "Ghosts of the Past…" is an album that allows new fans to get up to speed and entices older fans with previously unreleased material. Ever since Apparition's inception they have had many line-up changes with bassist David Homer being the only original member. It is good to see that the band soldiers on after a few years of silence following their debut. The first of three unreleased songs, "The Dream Where I Cannot Go" opens the album. I loved this song and it is easily my favorite of the new songs. Sure it's a melancholic sort of love song – or maybe it's a song about longing for love – in any event the female vocalist and newest member Samantha Smallwood sings her heart out on this song and it just gave me chills, she is amazing. Next is the pure metal-ness of "I Don't Know" from the band's debut "Drowned in Questions". Next up is another heavy one, the 'demo' version of "Elysium". Since "Elysium" isn't on their first album, I am assuming it was on an earlier demo? But I could be wrong. Still, this song absolutely kills, and it also features some male Goth-like vocals near the end (sorta like Peter Steele). Another unreleased track "Salvation" follows and it is another forlorn ballad-ish type song, that also has some heavy parts but maintains a mid-tempo pace throughout and the orchestration only enhances the song. Four songs from the debut are next and are followed by the final unreleased song "The Path to Eternity". This is a 9-minute epic that tends to drag a bit, but it is still a really good song. The demo version of "Traitors Gate" and the piano version "The Dream Where I Cannot Go" brings "Ghosts of the Past…" to its conclusion, although I think I prefer the electric version of "The Dream Where I Cannot Go", but this track is still buoyed by Samantha's great vocals.. I always have a difficult time grading albums, and this one was harder than most since half of it was material that has already been released, I decided to give "Ghosts of the Past…" a 90 based on the new material. Since this album was released in 2010 and very little has been heard from the Apparition camp I certainly hope that Apparition still exists because the new music and line-up certainly should give their fans some optimism about where the band is headed musically.
Rating – 90/100
Tracklist
The Dream Where I Cannot Go (Unreleased)

I Don't Know

Elysium (Demo)

Salvation (Unreleased)

Frozen Roses

Forever Guilty

The Pain Lives On

Defenders of the Faith

The Path to Eternity (Unreleased)

Traitors Gate (Demo)

The Dream Where I Cannot Go (Piano Version)
Line Up
Samantha Smallwood – Vocals

Owen Hill – Guitar

John Yates – Guitar

David Homer – Bass

Adam Challice – Keyoards

Ian Bently – Keyboards

Paul Collins – Drums

Rob Swinnerton – Drums
Links
Label : BlueFreya Media
Review by Tony Cannella
New Mexico's female fronted Gothic Progressive Metal duo Fateless Tears has been plying their trade since 2005. In the span of 5-years Fateless Tears has managed to release four albums. For fans who may be new to Fateless Tears, the band has just issued an 8-song retrospective CD titled "Hear, What You've Been Missing". "Hear, What You've Been Missing" begins with the one new song included on this collection. "Primary" is a pretty good track to start things, it is centered around a infectious riff and a killer melody. After that it's a stroll down memory lane as each album is represented. "Cages" from "My Doom Box" is one of the stronger tracks, as Fateless Tears display their knack for writing a powerful, melodic tune. "Inner Sanctum" from "NightBorn" is next and is a solid ballad that gives the listener a change of pace. "Flicker" and "Cycles" both from the last Fateless Tears album "The Chaise" are up next, "Flicker" in particular, is a huge favorite and one of the very best songs this collection has to offer. Other highlights include: "My Endarkened Self", "Mesmerized" (both from "My Doom Box") and the closer "Adagio" from "The Demise of Gideon". At only 37-minutes long "Hear, What You've Been Missing" is a brief retrospective look into the career (so far) of this talented duo.
Rating – 75/100
Tracklist
Primary
Cages
Inner Sanctum
Flicker
Cycles
My Endarkened Self
Mesmerized
Adagio
Line Up
S. Lee Baysinger – Vocals
Richard J. Baysinger – Vocals & Instruments
Paul Evans – Lead Guitars (Guest Member)
Chris Riggins – Melody Guitar on "Adagio" & backing vocals
Links
MySpace * ReverbNation * Facebook * Twitter * Site
6 color styles available:

Style switcher only on this demo version. Theme styles can be changed from Options page.