Browsing articles tagged with " reuver"

Photo by Roberta Ilaria Rossi
Gig Review by Marcy Bell
It's clear: Epica and Italy are entwined. The concert at the Alcatraz in Milan on the 27th October was a huge success for Simone Simons and her fellows. Stage B was almost full, there were more fans and friends than in the previous tour. As in 2008 Epica were supported by the Finnish Amberian Dawn and in this new tour also by the brand-new German band: Sons of Seasons lead by Oliver Palotai. The Dutch band presented live some songs of the new album "Design Your Universe" but most of the show was made with hits from the past such as "Black Infinity", "Cry for the Moon", "The Phantom Agony" and "Consign to Oblivion". The gig started with the new "Resign To Surrender" and then it went into the old mood with "Sensorium", hands up with Simone and the whole band with the beginning of "Quietus" and then the Oriental style of "Fools of Damnation". It was time for "Design Your Universe" and the first single "Unleashed", the beat of Ariën on drums started very loud running through "Martyrs of the Free World". Epica's classic "Obsessive Devotion" led the central part of the show, as it's always a pleasure listen live this song with Mark on growl and Simone running back and forth the stage in a seven minutes Epica-old-style-vibes. "Tides of Time" showed all the deep and sweet part of Epica with Simone solo in all her vocal talent and Coen on piano: a moment that gave you shivers on your spine. The band went again on stage with the last three songs: "Black Infinity", "Mother of Light" and the techno-version of "Phantom Agony". The latter was an enjoyable surprise for the crowd that started dancing with color lights as in a dance floor. Good point for Epica indeed. The encore was with "Cry for the Moon", "Sancta Terra" and the final "Consign to Oblivion". The show was good, the crowd really enjoyed it and finally we can say that Epica are improving themselves live in every tour.
Links
MySpace * ReverbNation * Facebook * Twitter * Site

Interview by Erwin Van Dijk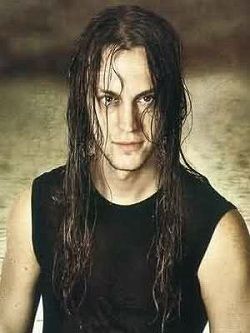 An interview with Mark Jansen from Epica. The band Epica does not really need an introduction. 2009 was a busy year for the band. Epica did a festival tour this summer and released a live album,"The Classical Conspiracy – Live in Miskolc, Hungary". Even better is the news that Epica will also release a new studio album in October. This interview is with Mark Jansen, the mastermind behind Epica.
Did you always wanted to become a guitar player and singer?
No, I wanted to become a cyclist and I also have a master degree in psychology but none of these made it to a profession. When I was 15 years old I went to a show of the Dutch death metal band Gorefest and from that moment on I knew I wanted to be on the stage as well. By then I didn't have the intention to become a singer. I started playing guitar and that was fun enough but when the male singer of my previous band After Forever left I started singing as well.
And did you have any other bands before After Forever?
No, After Forever was my very first band and Epica my 2nd. I never played in any other band.
How do you see yourself, as a guitar player that can do some grunts or as a singer who also can play the guitar?
As a guitar player that does some grunts as well. But above all I see myself as a composer who plays the guitar (… and do some grunts as well haha).
And did you follow any singing/grunt lessons?
No, it was more or less trial and error, grunts should not hurt your throat but everybody who tries to grunt for the first time won't feel comfortable doing it, you just need to find the right way and there you go

What kind of guitars and amplifiers do you use?
We just signed an artist deal with V-empire guitar amps, it's a Polish company and they make damn good amps. We were using Mesa Boogies before and they were good as well but when you have the possibility to sign a deal and get all these great amps for free you just have to grasp that chance with both hands

To what kind of music do you listen yourself and what are your favorite bands?
I often listen to bands which I liked when I was a teenager: Dream Theater, Megadeth, Guns N' Roses etc, it brings back nice memories. A band that I discovered 5 years ago and listen to a lot is Opeth. Besides that I also like to listen to film scores and classical music.
Is it difficult to combine Epica with your personal life?
It's a challenge and I need challenges in my life. My girlfriend lives in the US, so you can imagine it's not easy to combine, but nothing is impossible. At the moment we are 1 year and 8 months together and we see each other quite a lot in spite of the distance. Besides making music, we also manage the band ourselves, we don't want to throw money in the pocket of a lousy manager. The disadvantage is that there's a lot of extra work. But I still manage to have some free time and during this free time I like to enjoy the beauty of nature, sport and watch football

What are your favorite Epica songs?
It's hard to choose as I like many of them. But if I'm forced to make a selection with a shotgun pointed on my forehead I would say: "Cry for the Moon" ("The Phantom Agony" – 2003); "Consign to Oblivion" ("Consign to Oblivion" – 2005); "Fools of Damnation" ("The Divine Conspiracy" – 2007); "Kingdom of Heaven" ("Design Your Universe" – 2009)
I think that the trouble with Transmission Records was without doubt a negative experience for Epica. But what are the highlights so far?
There are many highlights, to name a few: – Lowlands and Pinkpop, playing these great festivals in the Netherlands were highlights; Wacken Open Air (2009) Germany, for me a dream come true to finally play the biggest metal festival of Europe; – "The Classical Conspiracy" and the show itself with orchestra and choir, the biggest highlight so far; Signing with Nuclear Blast, the record company I always wanted to be on since I started playing guitar; Being the first metal band from abroad to play in Tunisia, people were crying of joy, I will never forget that.
And do you have any updates about the Transmission Records situation?
Yes, the label owner signed a deal with Nuclear Blast to re-release the old albums and the previously unreleased "Live in Paradiso DVD".
Epica has two new band members now, both from God Dethroned. The God Dethroned music is very different from the style Epica has. Will the new blood in the band have much influence on the new songs? This is because I've noticed at live gigs (like Wâldrock) Epica has far more energy on stage.
You're right, since these two guys joined us we are a way more energetic band, not only music wise but also the stage performance has become more energetic. The guys have also an influence on the songs as everybody in the band influences the songs so some differences are due to them. But I like it this way, new blood means also the chance to integrate new elements (like solo's) and we did

Where do you get the inspiration for the music and lyrics?
Inspiration is a fantastic thing, you don't know where it comes from and what causes it, it's a mystery

What is the idea behind the name of the album?
"Design Your Universe" basically refers to the capacity to take control over your own life and create your universe. Many people don't live their dreams as they think it's unrealistic and out of reach. I am one of the many prooves that you can succeed, don't fear the unknown and take risks

And can you tell us something about the songs on "Design Your Universe"?
We went quite deep into the details this time. We want to make improvements on every album and as "The Divine Conspiracy" got great critics by press and fans we had to come up with something better this time and that's quite a job! haha. So we worked our asses off to try to make an even better album. My favorite song is "Kingdom of Heaven" a very long song but we managed to keep it interesting, long songs can easily get boring but I think we finally found the perfect ingredients for the longest song of Epica 'till now.
Three songs on "Design Your Universe" are a part of the "A New Age Dawns" saga. This saga has now six chapters. What is the relation between the "Design" chapters and the "Oblivion" chapters?
The relation is that we need to make a change, we lost contact with nature, each other and the earth. We need to get rid to some of our addictions which will destroy us in the end. Like our addiction to earn more money than our neighbour, money is the "antichrist" of our civilization..
You have also recorded a song with Tony Kakko from Sonata Arctica. How was it to work together with him?
Great, we toured with Sonata in Europe and asked him one of these days if he would be interested to record a song with us. Fortunately he was and with his very unique voice he lifts the "White Waters" song to a next level.
There are plans to record DVD at the Metal Female Voices Fest in October. What can we expect?
We will record DVD material, so whatever turns out great will reach a future DVD but if we're not satisfied nothing will happen. The facts are that we are gonna do a big show there, probably the biggest we have ever done. So probably you'll find at least some of this footage on a future DVD together with other concerts. MFVF made advertisements with the message that we will record a DVD there but we don't want to disappoint our fans as long as we're not sure.
Besides the upcoming tour, what else can we expect from Epica in the future?
We don't look to much ahead of us, so I don't know but until the summer of 2010 the whole schedule is fixed already so for like 1 year we know already what to do haha.
And the last question, is there anything the reader should know that I have not asked?
Erwin, you covered it all

Thanks a lot!
Links
MySpace * ReverbNation * Facebook * Twitter * Site
Latest Multimedia
Label : Nuclear Blast Records
Review by Tony Cannella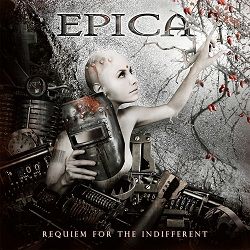 Whether you like them or don't, the one thing that you have to admire about Epica is that they never 'half-ass' it. Not when it comes to the song writing, lyrics, production and overall presentation of their new material; they are all-in. Their albums are always packed to the fullest and that trend continues on their newest album "Requiem for the Indifferent", which features 14-songs and a playing time of 77-minutes. There is something to be said for knowing what you are going to get from a favorite band and Epica is one such band that delivers on what their fans have come to expect. Not that they are predictable or contrived, but you know you are going to get quality as well as quantity. "Requiem for the Indifferent" sets the scene with the opening intro "Karma – Prelude" and leads into the blistering – and dare I say awesome, "Monopoly on Truth". Simone Simons sounds great as always and delivers another awe inspiring performance, as does extreme growler/screamer Mark Jansen –but in a different way of course. Next is the equally potent yet more subdued and accessible "Storm the Sorrow" which the band shot a video for. "Requiem for the Indifferent" is classic Epica mixing grandiose, symphonic epic songs with shorter, more easily digestible material. Probably the crowning achievement on this here release is the 10-minute "Serenade or Self-Destruction". This song is like a musical journey with peaks, valleys and tempo changes. It is what is great about Epica crammed into 10-minutes; it may actually be their most ambitious song to date. The rest of the album is not bad either: "Delirium", "Internal Warfare" and the 8 ½ minute title song should please long time fans and new ones alike. So, is this the best Epica album ever? I would never say that, but it sure as heck stacks right up there with their best work. I love the new Epica album and I think it rates right up there with the rest of their audio outputs. "Requiem for the Indifferent" seems to follow the same blueprint that the band has used over the years, but hey, it works and the band continues to fire on all cylinders, and deliver their music with a sincerity and passion that cannot be faked.
Rating – 95/100
Tracklist
Karma – Prelude

Monopoly on Truth

Storm the Sorrow

Delirium

Internal Warfare

Requiem for the Indifferent

Anima – Interlude

Guilty Demeanor

Deep Water Horizon

Stay the Course

Deter the Tyrant

Avalanche

Serenade of Self-Destruction

Twin Flames (Soundtrack Version)
Line Up
Simone Simons – Vocals

Mark Jansen – Rhythm Guitars, Grunts & Screams

Isaac Delahaye – Lead Guitars

Coen Janssen – Synths & Piano

Yves Huts – Bass

Arien van Weesenbeek – Drums
Links
MySpace * Facebook * Google Plus * Twitter * Site
Label : Nuclear Blast Records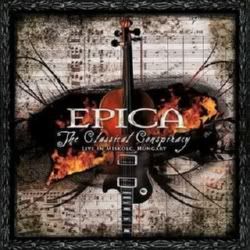 On June the 14th 2008, Holland symphonic metal legends Epica played a very special show in Miskolc, Hungary. The concert was dubbed "The Classical Conspiracy" and it saw the band backed by a full orchestra for the entire gig and it was no small production as you can tell by the contents of this two disc set. Most of the first disc is comprised of classical favorites, while the last 6-songs of disc 1 and all of disc 2 are made of Epica performing their classics backed by the orchestra. There is a lot of music contained on this collection, so let's get right to it. The CD opens with a Yves Huts (bass player) composition called "Palladium". Straight away, it shows you how multi talented the band is when they can include a classical piece that they wrote to include amongst the other classics here. "Dies Irae" and "Ombra Mai Fu" are definitely worthwhile tracks, and the 9-minute "Adagio" is also very well done and quite the musical journey. The band and orchestra are at their best when playing music soundtrack stuff, like the "Spiderman Medley". I have always felt that Epica's music lent itself quite well to the cinema, so it is appropriate to hear them doing some movie stuff. "Presto" and "Montagues & Capulets" are also nice additions. To me the highlight of the symphony part is their rendition of "The Imperial March" (aka Darth Vader's theme from the Star Wars movies), in my opinion this is one of the coolest pieces of music ever written and the band succeed in doing it justice and respect. Other highlights include another Yves Huts composition "Unholy Trinity" and the final number "In the Hall of the Mountain King", I am sure that most people will recognize this song even if you didn't know the title. With the orchestra portion of the show complete, the disc one is completed by some Epica classics while the band is still backed by the orchestra. The intro track "Indigo" from "The Divine Conspiracy" starts things as the band launches into the great track "The Last Crusade". The favorites keep on coming as that is followed by "Sensorium", "Quietus" and the 8-minute track "Chasing The Dragon". The first disc is concluded with one of the very underrated ballad "Feint" from "The Phantom Agony". It's cool to hear the band dust this song off and play it live. The second disc begins with a couple of songs from awesome "The Divine Conspiracy". First up is the albums first single "Never Enough" and that is followed by the equally lethal "Beyond Belief". Front woman Simone Simons is in fine voice here and it is easy to see why many fans consider "The Divine Conspiracy" Epica's best recorded work to date (although that is certainly debatable). The band delve into their past a bit for "Cry for the Moon" as the crowd reacts favorably to this live favorite, the chemistry between Simone and Mark Jansen is really on display here as Mark adds his grunts to this one. "Safeguard to Paradise", "Blank Infinity" (from the excellent "Consign to Oblivion") and "Living a Lie" are next. The highlight of all highlights comes on "The Phantom Agony" from their debut album of the same name. This is just a big epic song that is made to be played with an orchestra, it is just a great song that I am sure will be played at every Epica show and the audience just eats it up. The final three songs "Sancta Terra", "Illusive Consensus" and the 12-minute "Consign to Oblivion" brings things to grand, satisfying conclusion.I would say that this CD is a huge achievement for the band. It definitely shows another side to them and their cohesion along with the orchestra is seamless. Even if you are not into the symphony stuff, there is a lot of their own material included and that definitely makes it an essential release for any Epica fan.
Review – 80/100
Tracklist
Disc 1 – The Classical Set
Palladium

Dies Irae (from Giuseppe Verdi: "Requiem")

Ombra Mai Fu (from George Frideric Handel: "Xerxes")

Adagio (from Antonín Dvořák: "New World Symphony")

Spiderman Medley (from Danny Elfman: "Spider-Man")

Presto (from Antonio Vivaldi: "The Four Seasons")

Montagues and Capulets (from Sergei Prokofiev: "Romeo and Juliet")

The Imperial March (from John Williams: "Star Wars Episode V")

Stabat Mater Dolorosa (from Giovanni Battista Pergolesi: "Stabat Mater")

Unholy Trinity

In the Hall of the Mountain King (from Edvard Grieg: "Peer Gynt")

Pirates of the Caribbean Medley (from Hans Zimmer/Klaus Badelt: "Pirates of the Caribbean")

Indigo

The Last Crusade

Sensorium

Quietus

Chasing the Dragon

Feint
Disc 2 – Epica Set

Never Enough

Beyond Belief

Cry for the Moon

Safeguard to Paradise

Blank Infinity

Living a Lie

The Phantom Agony

Sancta Terra

Illusive Consensus

Consign to Oblivion
Line Up
Simone Simons – Vocals

Mark Jansen – Guitars, Scream & Grunts

Isaac Delahaye – Guitars

Coen Jansen – Keyboards

Yves Huts – Bass

Ariën Van Weesenbeek – Drums
Links
Label : Nuclear Blast Records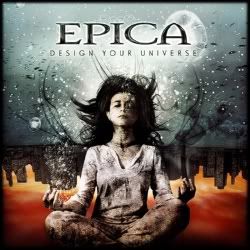 It is hard to believe that the long running Dutch band Epica released their debut opus "The Phantom Agony" only 6 years ago. Since then they have really progressed and evolved in a big way. You can hear the band grow in leaps-and-bounds from album to album, with each release being more ambitious than the last. With their newest outing "Design Your Universe" Epica have really – and I mean really – outdone themselves. In the world of symphonic, epic, power metal, this is about as good as it gets. As is the case with most Epica releases, there is plenty of music to be found on "Design Your Universe" – 13-songs and over 74-minutes to be exact. The CD starts off with the very cinematic intro "Samadhi" before going into the riff heavy opening track "Resign to Surrender (A New Age Dawns Part IV)". The duo of Mark Jansen (harsh male vocals) and Simone Simons sound as good as they ever have – with Simone able to go from operatic to a lower register, she is really becoming one of the best singers in all of metal. This song also features a cool part with a choir. It is really a solid opening track that really sets things off on the right foot. "Unleashed" continues things in a heavy fashion. The riffs are heavy but this is a solid, melodic, mid-tempo tune that sees Simone taking on the vocals here. After two more solid tracks "Martyr of the Free Word" (a great melodic track) and "Our Destiny", it is time for the the first truly epic number on the CD. "Kingdom of Heaven" clocks in at over 13-minutes long and it is a a definite highlight for me. Over the years the band has perfected the long, dramatic number and this might be their best . Other highlights include: "Burn to a Cinder", "Tides of Time", the moving ballad "White Waters" (which features a duet with Simone and Tony Kakko of Sonata Arctica) and the fantastic 9-minute title track "Design Your Universe". The CD was produced once again by longtime collaborator Sascha Paeth – I guess at this point it would be odd if the band worked with anyone else. One thing you have to admire about Epica is that they rarely repeat themselves. Each CD has it's own feeling and vibe and they are not afraid to take on new horizons. Deciding which album is the best from any artist is a matter of opinion and a subjective thing, but right now, as of this moment I think this is the best work this band has done to date. "Design Your Universe" is definitely a release worth getting excited over. Quite possibly the best release of 2009.
Rating – 100/100
Tracklist
Samadhi (Prelude)

Resign to Surrender (A New Age Dawns Part IV)

Unleashed

Martyr of the Free World

Our Destiny

Kingdom of Heaven (A New Age Dawns Part V)

The Price of Freedom (Interlude)

Burn to a Cinder

Tides of Time

Deconstruct

Semblance of Liberty

White Waters

Design Your Universe (A New Age Dawns Part VI)
Line Up
Simone Simons – Vocals

Mark Jansen – Guitars & Harsh Vocals

Isaac Delahaye – Guitars

Coen Jansen – Keyboards

Yves Huts – Bass

Ariën Van Weesenbeek – Drums
Links
6 color styles available:

Style switcher only on this demo version. Theme styles can be changed from Options page.