Browsing articles tagged with " revealed"
Italian Symphonic Visual Metal band Silent Opera has announce the departure of Aria, their singer, read thier press statement below :
"Unfortunately the best things don't always last forever… We have to announce that our singer, Aria, decided to leave the group due to personal reasons. So the road we took together just one year ago, has come to an end. We wish her the best, success and satisfactions. "Symphony of Time", our new single, is ready to be released, with our new singer, who'll be revealed soon! We apologize our fans, and all people who work with and for us, but we promise your waiting will be repayed with big great news!"
For more infos check :
http://www.facebook.com/Silentoperaitaly
Interview by Robin Stryker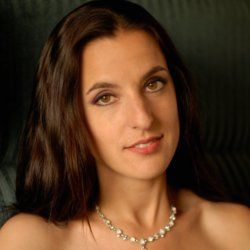 After more than six nail-biting months of anxiously awaiting the sophomore album from Dutch progressive rock band, Kingfisher Sky, I finally got a copy in my grubby paws on "Skin of the Earth". There is no second album slump here … the songs are tighter than ever, with plenty of the progressive elements and folk influence that made their debut album such a joy to listen to. Femme Metal webzine caught up with vocalist/songwriter, Judith Rijnveld, to get the inside story on Kingfisher Sky.
Hello Judith, and welcome to Femme Metal webzine! Congratulations on Kingfisher Sky's sophomore album, "Skin of the Earth", debuting on both the Dutch top 100 album chart and the top 30 alternative chart. Did you do anything special to celebrate?
Haha, we went out for Sushi!
"Skin of the Earth" has a nice ring to it. What does the album title mean?
It describes the mood of the songs on this second album. We felt that crawling through the dirt figuratively speaking and rising from the ashes of the band we started out with was the main theme of the album.
If I understand correctly, when you and Ivar de Graaf wrote Kingfisher Sky's first album, "Hallway of Dreams", you did not have a complete band yet. Was it different writing the new album with specific band members and instruments in mind, like Maaike Peterse on the cello?
It wasn't really a big difference. Sometimes we thought "this is a good part for the cello" but there are songs that haven't got any cello in it. On
"Hallway of Dreams"
, we had two violinists and now Maaike played a lot of strings that melted beautifully with the keyboard strings. We did write parts specifically for two guitars and I went a little easy on the choirs because we would have to hire 4 singers or play a tape live and that's not us.
The iPhone videos that Ivar takes are hilarious peeks behind-the-scenes at Kingfisher Sky's gigs and recording sessions. Would you introduce your bandmates and tell us a bit about their personalities?
Ivar can make everybody laugh, especially me, is very genuine, kind, intelligent, charming and he's a musical genius. Eric is a very calm and down to earth person, he is great at the business side of the band and he has great technical knowledge and he's an expert in sound engineering. He is a steady and great bass player and he is funny too. Edo is a very sensitive guy, very sweet and such a great guitarist. Just like Ivar, he knows an incredible lot about music in general and specifically about his own instrument and his musical heroes. Maaike is an angel on stage and a sweet friend in life, she is classically trained and knows everything about classical music and theatre. David is a very sweet guy, very shy and that makes him even sweeter, he draws cartoons and is a perfectionist where his music is concerned. He is very driven. Oh, and he enters the dressing room door like Kramer (Seinfeld) does and that is really funny. Chris is also a sweet and enthusiastic guy, who can be very funny too. He has a great imagination and he doesn't realise how good he is as a guitarist, which makes him even cuter.
You and Maaike seem to have a special bond. What is the best thing about having a musical sister to hang out with?
Maaike and I can read each other like a book, we can tell each other everything and when we have an argument we can tell each other the truth, the whole truth and nothing but the truth and that has been forgiven by each of us the same second. When I'm worried or stressed out before a show, she always knows how to cheer me up and ease my nerves. I trust her with my life.
Four or five people is the typical size for a rock band, while Kingfisher Sky has seven members. Do you ever have trouble fitting everyone on the stage for live shows?
Only when we are supporting, but then it's great that we like each other a lot J
The band was quite cryptic about any details regarding "Skin of the Earth" until shortly before its release date in late September. For example, in the updates on recording the album, the tracks were only referred to by their initials instead of by name. Why did the band keep the details under wraps?
It was just like parents that don't want to tell the name before the child is actually born, I guess, and it was funny to see what people made out of it. In the end I think it made the release a bit more exciting.
Kingfisher Sky really took their time recording the new album. Does having a home studio give you more flexibility to get the exact sound that you want? Has the "barking seal" gone away for good?
Hahaha I sure hope so, I have learned to spare my voice in front of the classroom for ever. When we take our time to record, we also have the time to endlessly doubt every little detail, so sometimes that's even harder than when you only have a couple of hours in a studio.
As a husband and wife team, is it sometimes hard to "switch off" being in music mode?
Music is such a big part of us that it is something that is always there and is integrated in our lives. So we don't really need to switch that off

How did it feel to hold your new creation in your hands, when the album was finally mixed, mastered, and completed?
So weird. All of the hard work in one lovely package. When I saw the tracklist on the back and realized the songs where actually on there it made me cry, and then we opened a bottle of prosecco.
Comparing "Hallway of Dreams" and the new album, there seems to be more contrast between the soft acoustic passages and the heavier metal-infused passages. What effect was Kingfisher Sky going for with "Skin of the Earth"?
No effect, we just continued writing and wanted the album to contain even bigger contrasts, more roughness and we wanted it to be more progressive, intelligent and adventurous.
The cover art, with primary colours and bold graphics, is also more aggressive than the soft watercolours on the first album. Care to elaborate?
My mother already knew the songs quite well when she started the creative process of the artwork. Just like with "Hallway of Dreams", I made moodboards and we talked about the lyrics,the stories and the "colours" of the songs. We came up with an idea of the cover, thinking about the elements earth and fire as a beautiful contrast with the first album. Richard Hilgeman, our friend and photographer,came up with great ideas for the photoshoots and made beautiful pictures that completed the whole thing.
Have you ever considered trying your hand at painting the cover art for Kingfisher Sky?
Yes, but my mom is better at it, hey.. but I can sing better than she does J
What do your teenage art students think about you being the vocalist and songwriter for a progressive rock band?
They know me as their art teacher wearing jeans and a black T-shirt and then all of the sudden they see me singing in a video! That is weird for them, children want their teachers always to be the same, sometimes they can't believe it's me when they hear or see Kingfisher Sky. In general they think it's cool to have a Rocking teacher, and they are really proud and sweet.
"Hallway of Dreams" was inspired by movies, mythology and real world situations. What were some of your lyrical inspirations for "Skin of the Earth"?
Exactly the same actually.
If you could go back in time and give your 13-year-old self one piece of advice, what would it be?
To start a band with Ivar de Graaf and not to be so hard on myself.
Is Kingfisher Sky planning a tour? We'd love to see you in the UK and US. J
Me too. We want to play as much as possible and reach as many people as possible. The album will be released internationally, so who knows?
Judith, thank you so much for taking the time to talk with us today. Do you have any parting words for your fans at Femme Metal webzine?
Thank you all so much for your support, it means the world to us!
Photos by Richard Hilgeman
Links
MySpace * Facebook * Twitter * Site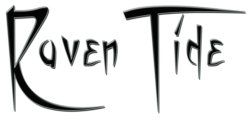 Interview by Connie Bach
Raven Tide offers an energizing, yet soothing blend of driving guitars with a strong bass line, and balanced orchestra. The result is dark, warm, dreamy, and flowing.
Hello, Cheryl. "Ever Rain" is an awesome EP. I can't wait to check out the new album.
Hi Connie! I'm very glad that you gave me the chance to talk about raven tide and it's awesome to hear such good words about our songs!
What's going on with the band these days?
Good question Connie!! This is a very intensive period for us. We're trying to find the better way to promote "Ever Rain", choosing few but relevant events where we can show what raven tide really is. We're also working for new songs and our days are full of studio sessions and writing. It's not easy, in fact, to spend energies in the right way, especially when you have so much to do in so little time!!!

Raven Tide has been featured on several compilations. "Doom Revealed" will appear on "Beauty and Brutality" and "Lucifer Bliss" appears on "Rock for Haiti". I love the charity aspects to these two compilations. What made Raven Tide decide to contribute?
It's wonderful. I think the idea of creating compilations of good music and use the cash to charity is a wonderful initiative. In fact, you get a double benefit. For the bands is certainly an excellent opportunity for visibility and expression, while using the music and its power, you bring more people to a social problem, making them participate by simply listening to a song.
in the past we have often thought of organizing lives and events for a charitable purpose but it is not easy for band to be able to set up this type of event…so when the opportunity to participate in this initiative came, we didn't think twice!! Especially when it comes to a quality product like "Beauty and Brutality".
Raven Tide is such a young band, yet has such a polished sound. What brought the members and their various skills, together?
Indeed, although the moniker Raven Tide is dated 2009, all of us for many years were part of a previous musical project, a tribute band that has enabled us to acquire over time a deep musical and personal understanding and improving through long live experience. Over time, of course, came the need to express ourselves with original music and create something where everyone could put their ideas and influences.

Turning to the recent release of your EP, it is a lovely taste of what is to come in the future. The name Ever Rain suits it. Where did the name come from?
Ever Rain was, in truth, the first moniker of the band, replaced with Raven Tide for reasons of homonymy with another band. After this, we decided to use it anyway, as the title of our first EP, maintaining continuity with our first idea. The reason for both names is, however, to evoke a particular image that remains a feature of all our work.

MySpace says that "Ever Rain" is a preview of a full-length album in the works. Why did the band decide to release a "preview"? I love when bands do that, it is kind of like the smell of baking before the bread comes out of the oven.
To be honest, we've never thought of "Ever Rain" as a preview…. it was simply a demo cd to present what we are. Then, he started receiving more and more confirmations becoming an EP and with the precious support of our promotion agency (Alkemist Fanatix Europe) was distributed in most of Europe and the major online music sites overseas. It was a good surprise!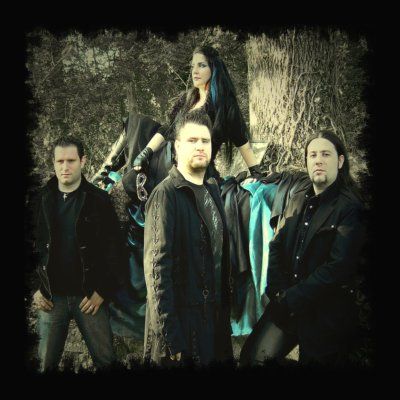 I love the song "Lucifer Bliss". What is the story behind the lyrics?
The message of "Lucifer Bliss" is that everyone in this life hae to face bad moments and suffering and sometimes, when the pain get deeper, there's an instant in which we wish to get heartless and we're tempted to lose ourselves denying the good we have inside. I guess is another way to describe the fragile nature of humanity, and the constant danger to fall down to Lucifer. Especially in these violent days, it seems easier for us to forget what's important in our existances. Sometimes lucifer may seem enchanting but if we look inside ourselves, love is always the better way… How did it come about that you and Joe Bardazzi worked together? His growls and clean vocals are demonic in feel, perfect for "Lucifer Bliss".
This sounds like "the answer is in the question" Connie!! Since the writing of this song, Lucifer was a sort of dialogue between good and evil. We were looking for a voice that was deep and strong enough to play the "lord of night" part. So, during a live show in a pub of our town, we listened Joe's performance and we just undesrtood he was perfect! We talked with him right that night and he was immediately ready to go! Amazing!

"Stillness" is purely orchestral and is a nice opening. Why did Raven Tide decide to include a bag pipe solo in this song?
It gives it a lovely celtic feel. We really think that bagpipe sounds are extremely powerful and absolutely perfect for an "ouverture". "Stillness" in a sort of hymn, where we've tried to mix our gothic inluences with the idea we have to create something new using electro samples and movies soundtrak effects. We're really happy you like it!! I have the feeling that live shows are pretty explosive. What is one experience you will carry with you from performing for the rest of your time?
Well…thinking about it, I can't really say which of my live shows I will carry with me forever…
each one have won a special place in my heart, ' cause everytime there's a different mix of sensations and everytime you get back home with a different vision…
What I know is that I've always done my best to reach the heart of people, no matter if i was on a little stage of a little town or in front of the crowd of a great location.
I must admit that I'll always remember our shows at Alcatraz in Milan. We performed there before Raven Tide's birth with the tribute band and it was exciting, I was scared to death before my entry on stage!!! Now i'd be very happy to back there and present Raven Tide…who knows??? Where is the one place you dream of performing at? What makes it special in your mind?
Oh …I really adore big festivals like Rock Am Ring, Wacken etc…
I think it's a common dream for rockers to sing in front of such a crowd but personally I also think that nothing is more evocative than an acoustic set with an elegant design, soft lights and contact with the people. We'll try to provide both experiences with our music, just keep on follow us!!!
Cheryl, you have considerable talent. Where did you learn the skills you have?
I've always been music addicted. I've always "needed" music. At fourteen I completed piano and composition studies privately, then i've been part of a poliphonic choir as half soprano for 8 years. During that period i've always had experiences in rock bands, as singer or playing piano then it came the tribute band and finally… Raven Tide.

"Ever Rain" brings amazing images to mind. I'd like everyone in the band to contribute to this one if possible. What is the symbolic value of music? Why is it so valuable?
I think it is undeniable that music is an indispensable element in the lives of everyone. It's like a constant soundtrack that follows us even if we don't pay attention or are busy in our business. It has the great power to communicate with our intimate and it does so without barriers, nothing can stop it. I think this is the great magic of music. Shark: Hello Connie, is a pleasure to talk with you! Well, I agree with Cheryl about the importance of music, personally I could not think of my life without music, is simply a great form of expression, perhaps the most universal. Mark: …and even more understandable. Only listening it can give strong emotions but even more amazing is when you can create music! Fred: …especially when you realize that what you wanted to convey through your work came straight to the heart of someone. This is fantastic.

"Ever Rain" is a great taste of what is to come and I'm definitely excited. Cheryl, thanks for your time. It's been wonderful talking with you.
Thank you so much for this special occasion Connie!! It was great to share with you part of our world! Thanks to femme metal for the wonderful work and for believing in us! The Raven Tides promise you all big news shortly! Keep on following us and…stay metal!!!
Links
MySpace * Facebook * ReverbNation * Google Plus * Twitter * Site
6 color styles available:

Style switcher only on this demo version. Theme styles can be changed from Options page.