Browsing articles tagged with " ricardo"
Label : Free Minds Records
Review By Tony Cannella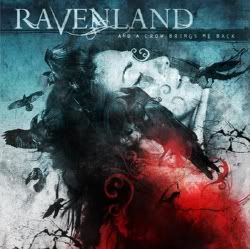 It is hard to believe that Brazil's Ravenland have been in existence since 1997. Even though it has been 13-years since the band first got together, they are only now releasing their debut full-length. They have beforehand released a number of demos and EPs, but "…And A Crow Brings Me Back" is their second full-length effort. Ravenland features the duel male/female vocals of Dewindson Wolfheart and Camilla Raven. The male vocals of Mr. Wolfheart are very similar to Fernando Ribeiro of Portuguese Goth legends Moonspell and Camilla boasts a powerful and dramatic voice. The two vocalists are split pretty evenly throughout the album. Musically and lyrically the songs on "…And A Crow Brings Me Back" paint a definite conceptual picture that certainly holds the listeners attention and makes for an interesting listen. The CD also includes a video of one of the best songs, "End of Light" is a pretty cool looking clip that was filmed in a castle and shows the band performing the song. The songs also have a darkly romantic quality to them. "…And A Crow Brings Me Back" is a 15-song, 60-minute dark, Gothic journey of a full-length by Ravenland, that fans of Moonspell and old school Goth will surely love.
Rating – 76/100
Tracklist
After the Sun Hides

She Will Bleed Again

Presage

The Last Sunset

The End of Light

Velvet Dreams

Burning for You

Soulmoon

Nas asas do Corvo

The Crow

Tragic Romance

Till Death Unite Again

Zodiac

Regret

Soulmoon (Bonus track)
Line Up
Camilla Raven – Female Vocals & Violin

Dewindson Wolfheart – Male Vocals

Albanes Gonçalves – Guitars

João Cruz – Bass

Fernando Tropz – Drums
Links
Label : Raging Planet Records/Ravenheart Music
Review by Tony Cannella
From Lisbon, Portugal, CineMuerte is the band featuring vocalist Sophia Vieria (who guested on the last album by Moonspell and she also toured with them as well) and Joao Vaz. They have just issued their second release titled "Aurora Core". The line-up for this CD is completed by Ricardo Amorim of Moonspell on guitars and Pedro Cardoso from Fever on drums. The band generated some positive feedback with their 2006 debut "Born from Ashes" and are now looking to expand on that with "Aurora Core". The first thing that caught my eyes is the beautiful way the CD is packaged. It comes in a nice glossy digi-pack format with some cool looking cover art. When listening to the CD I was very impressed with the big vocal style of Sophia Vieira, she really delivers an inspired performance throughout "Aurora Core" and the musicianship is top notch as well. The music on the CD veers towards Gothic/progressive metal with some elements of classic rock and metal present as well. The overall vibe to the CD is dark, but the songs are very melodic and mid-tempo. Highlights include: "A Taper Light", "Up For A Fight", "Air" and "I'm a Fool but I Love You". For me, the best track is "The Night of Every Day" which was written by Fernando Ribeiro of Moonspell. It's all pretty powerful and moody stuff and a great effort from this Portuguese band.After listening to "Aurora Core" it is quite obvious why Sophia was tapped for the Moonspell "Night Eternal" album and tour. The sound of the CD is also quite good, the band chose to produce themselves but the CD was mixed and mastered in Germany by the legendary Waldemar Sorychta. Overall, a good second effort by this excellent young band.

Rating – 85/100
Tracklist
A Taper Light

Up for a Fight


Air

I'm a Fool but I Love You

The Night of Every Day

Slightly Mad

The House of the Past

Dave

The Call
Line Up
Sophia Vieira – Vocals

Ricardo Amorim – Guitars

Joao Vaz – Bass, Samples & Keyboards

Pedro Cardoso – Drums
Links
6 color styles available:

Style switcher only on this demo version. Theme styles can be changed from Options page.