Browsing articles tagged with " rip"

Interview by Roberta Ilaria Rossi
Debut albums have the goal of introducing a band in the best way possible. Nowadays, music biz has a varied range of bands, who are constantly trying to spread their word around the globe, introducing theirselves to the big metal audience, trying not to make false steps. This is the case of the German act Beyond The Bridge, that recently released the debut album via Frontiers Records. We've got the chance to exchange a nice chat with the front-woman Dilenya, who kindly explained us some little thing…
Today our website welcomes Dilenya, the lead singer of the German band Beyond The Bridge. Hi Dilenya and welcome to Femme Metal

. How are you?
I am fine. Thank you. I am looking forward to an eventful time with Beyond the Bridge. Very exciting things to come!
Let's begin our chat introducing our fans a bit of your biography. Beyond the Bridge was born in a first moment in 1999 as Fallout, when the band members decided to start the band, formed then in 2005, year in which you have changed the band name in Beyond the Bridge. What can you say further? How have you manage to get in touch with your colleagues?
I have not been part of the band or the bands history since Peter met me in a Jazz bar in 2008. Yes, that is true it was already 2008! I think Peter, Christopher and Dominik started playing music together in a school band. They were called Fallout I guess. But Peter and the others were not too happy where the band was going so they decided to split apart from the others. When Peter asked me to join the band they still did not have a band name. It was in summer of 2010 when they came up with Beyond the Bridge. I think that the name fits perfectly to the music. Great choice in my opinion. When I first met Peter in 2008, he was introduced to me by a friend of mine. I was singing some Jazz tunes in a local Jazz club in Munich. Peter came to the concert and after the show he tried to convince me to sing in his band. I mean, he was kind of brave to ask a Jazz singer whether she would like to join a heavy metal band ; ) He tried his best to convince me that they have connections to a highly professional recording studio. He went one with all the great bands that recorded in the studio (Epica, Rhapsody, Edguy, Avantasia, etc…). Unfortunately back then I did not know any of these bands as I am more familiar with the Jazz and Soul business. To be honest I was just about to throw Peter's demo tape in the trash. But he had tried his very best to convince me that he is a professional composer and guitar player which I found quite charming. After all I gave his demo tape a try and was immediately blown away. The compositional design and the lyrical concept is something that in my opinion many jazz masters could learn from. I am glad I joined the band and Peter was right. We have a professional and awesome studio, a famous record label and great musicians. And Peter is still handsome, isn´t he? ; )
After so many sacrifices and efforts, finally you signed a deal record with Frontiers Records, an Italian label that promotes lots of new bands in the best way possible since years. Would you like to share a few details about the cooperation with this label?
Well, it is great. Frontiers has a large business basis, I guess. They are able to reach many people. We would never get this attention if Frontiers wasn't there. The working atmosphere is very friendly and respectful. I am glad to work with this great company and nice people.
Hhm, a deal that has allowed you to publish your debut album, "The Old man and the Spirit". For those who still don't know, this is a concept album. Could you please explain what is there behind this concept? What does it talk about?
Hhm, well. That is not so easy for me to answer. I asked Peter many times to explain the story to me in detail. I want to understand it perfectly as I am performing the part of "The Spirit". Now I understand it perfectly, but back then I remember that the first thing that Peter did is to put on his charming smile and explain the story to me as if I was a little child. He said: "My lovely Dilenya, once upon a time there was a young girl, Anna, just as pretty and innocent like you but very anxious to find out all the secrets about Santa Claus and his magical elves. Anna got really desperate that no one in her family and none of her friends could help her with this issue. Just right before she gave up, one of Santa Claus´ magical elves suddenly appeared and offered her a trade of. The elf said: "Anna you can just become like me and fly around the north pole as much as you like discovering everything you can imagine about Santa Clause and his magical elves. But you can not do this as the pretty little girl you are. You have to become an elf. I know a great magic spell which transforms you in me and me in you." Dilenya, you have to know that Elves do not get presents on Christmas. And they are not allowed to eat candy and chocolate. Our album, my lovely Dilenya, tells the tale of young Anna and how she decides about the elves offer. She will either become an elf or remain a girl happy and thankful for every present and for all candy she gets". You know, Peter is a bit crazy sometimes. But this helped me to get a good glimpse into the story. Of course over time he dropped this explanation for a more serious one. A short version can be found here. To dig deep into the story you have to read the lyrics and make your own thoughts. Good luck and have fun ; )
Actually, I've discovered that the tracks that compose this record were already written and drafted in 2005 and you've spent 7 years to create a very good work. What's the reason behind this choice? Why have you chosen to wait for so long to release your very first record? Was it due to the fact you were looking for a record label or was it something else behind?
Well, as I said I was not part of this long story from the beginning. Peter always says that they had to wait for Simon and Christopher to finish with their university studies. Here in Germany one is able to make a diploma degree in recording and producing music. This takes 5 years. In these 5 years they composed the music and wrote the lyrics. In the following years they found the other musicians including Herbie, Fabian and me. Then we recorded the album and found Frontiers. Here we are now promoting our album with an upcoming live show in Frankfurt, Germany, and on the amazing ProgPower festival in Atlanta, Georgia!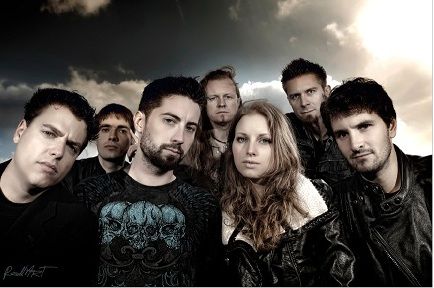 Beyond the Bridge is a German progressive metal band. Indeed, I've seen some recall from bands like Dream Theater, Circus Maximus and Vanden Plas in your sound. I assume you're fans of these bands… but what were your biggest influences?
Sorry, my influences are not in the metal business. But the others always talk about Pain of Salvation, Spocks Beard, Van Halen, Paul Gilbert and some more. Dream Theater and Vanden Plas are also mentioned in the rehearsals. From Circus Maximus I know that they are also signed with Frontiers. I think Peter said that we should check them out.
Recently, I've discovered that Simon Oberender, beyond being your keyboard player, has worked for Gate Studios. What could you tell about it?
Ohh, that is a huge misunderstanding. Simon is our producer more than our keyboarder. When I met him it was not even clear that he will support us on stage with keyboards or guitar work. He did not play anything on the record itself. But he recorded and mixed everything! The mastering was then done by Simon and Sascha Paeth together. I have never met someone with such an accurate ear and deep musical understanding. It felt as if Simon could bear the responsibility for all the musical decisions. That is all a band can hope for in a producer. I wish him a great career. He deserves it!
Your partner in music Herbie Langhans and you create a great vocal duo in the band. How do you manage to work together? Do you create the so called team work?
Yes, we try to complement one another on stage and on the record. We are two extremes which is great for the record and for our on-stage appearance. For me it's always a great experience to be on stage right beside this energy-charged man!
The International metal scene has lots of very effective bands in the most varied genres nowadays. As I mentioned before, you are in the progr metal scene. What does differ you the most compared to the other fronted female bands?
Well, at first sight the songs are written in a Progressive Rock/Metal style. They contain virtuosity in both the playing and the compositional design. So, people that like this kind of music will definitely like our album. With the two singers and especially with the way of arranging the songs and vocal lines we have created something which has been rarely heard before. I think that my voice and style of singing, for example, is very unusual in the Rock/Metal genre and it adds something to the music which is fresh and indeed progressive. The idea of a "concept album" is taken really seriously. It is not only that the lyrics tell a continuous story but you will also find musical connections between passages spread over the whole album. There are many melodic lines that appear intentionally at certain passages in different keys, tempi, time signatures and so on. The songs sound as if they describe the scenes. "The Struggle" sounds like a conflict between the two parties. "All a Man Can Do" composes the strength and pride but at the same time the limitations and imperfections of mankind. Overall the music and the lyrics merge and create one story. We feel that "The Old Man & The Spirit" really gives consideration to our ideal of a "concept album". But it is more important to say that the songs themselves will excite the listeners. Nothing is just made for showing off technical skills. The music is touching. It will even touch you in a different way each time you listen to it. Inspiring and ambiguous lyrics with combination of a large variety of musical styles will accompany the listeners through the story of the conceptual album.
Now you have your record released all over Europe. What will be your future goals?
We are working every day on arranging upcoming live shows. Overall we will focus on more live playing and a new album. We want to become a real studio and touring band with all the things a band like this has to do.
Is there any chance to see you on the road soon?
There is a show in Frankfurt, Germany, on the 19th of August 2012. And then we play together with Epica, Symphony X, Nightwish and many more at the ProgPower festival in Atlanta, Georgia. Hopefully we will come up with a few more live plans.
Ok, this was my last question. Thanks for your time Dilenya. Femme Metal gives you the chance to say something to our readers and to share some words with your fans!
Thanks to everybody for reading this interview. Thanks to Femme Metal for giving me this great opportunity. Keep on rocking and always go beyond the bridge…
Links
Interview by Si Smith
From the retro feel of Girlschool to the heavier riffage of Kittie, all-girl bands are slowly becoming more prevalent in the metal scene. More and more we are seeing the aggressive side of metal being represented with vocalists like Angela Gossow and Morgan Lander flying the flag for feminine brutality. Crashing into the scene like a juggernaut come Frantic Amber, a true international phenomena with members from Sweden, Norway, Denmark and Japan. Vocalist Elizabeth took some time off screaming at the mike to tell Femme Metal more about the band…..
Firstly I would like to welcome you to the Femme Metal webzine and thank you for speaking with us about the band.
Thank you, it's my pleasure!
Casting your mind back to 2008, how did the band start and how did your involvement with the band begin?
Well Frantic Amber was a project Mary started in 2008 and went from project to band march 2010 where we completed the full line-up. I joined forces with Mary in fall 2010 where we recorded the first demos of "Bloodlust" and "Unbreakable". With the new demos we started looking for new band members and I must say that I feel lucky to be in Frantic Amber with these wonderful girls!
The encyclopedia tells me that "Amber warning lights provide effective illumination in the darkness, and are known for providing bright, powerful beams that are still easy on the eyes". The similarities speak for themselves! If you could convey a message to the world through Frantic Amber, what would it be?
Be yourself! Don't let anyone tell you that you can't do something, because you can! You can do whatever you put your mind to!
You describe your music as "Brutal female metal from Sweden". Is being an all-girl band important to you and your mission?
Yes, no boys allowed! *laughs* Well it's what we decided to do at the beginning of Frantic Amber and we just have so much fun together! We want to be an inspiration for other girls to play heavier music.
Ok, before we get on to the serious stuff I have to ask: you have just come back from Russia – how did the gigs go out there? Please tell us some stories!!
There seems to be much vodka and "Red Devil" involved…..It went really great!! We loved Russia and the fans there where totally and wonderfully crazy!*laughs* Yes Russians love their vodka and are very keen to toast! Sandra especially enjoyed the Red Devil drinks and it even matched her hair

I don't drink much or often but I did get to party a bit on the last day after all the gigs and it was so much fun!
You guys seemed to get on well with your tourmates Hysterica. Is this a relationship that will continue in the future? Are there any other bands you have enjoyed playing alongside?
Yes, definitely! They are our sisters in metal and we really had fun together! We will of course continue our friendship and we hope to stir up more trouble in the future!
On your band page Emlee is listed as drummer – yet we see you borrowing drummers for your live gigs – what is the deal with the drummer situation?
Emlee left Frantic Amber so the seat of the drummer is vacant at the moment. We work with live and session drummers now to gain experience and keep on gigging. It's been great to work with both Jocke Wallgren (Valkyria) and Erik Röjås (Decadence, Netherbird) while looking for our match in a girl drummer!
The EP now out is entitled "Wrath of Judgement" .Do you remember the first song the band ever wrote and worked on? How did the process develop until the finished song?
Yes of course! The first song ever to be made in Frantic Amber was "Bloodlust" and was also the first lyrics I wrote for the band. This was the track that Mary sent me to audition in the first place. I remember I was impressed by the musical skills so I was really nervous when I met her and the former bassist to show my work. The first edition of "Bloodlust" was mostly clean vocals with only a little bit of growl so Mary asked me if I could do it only with growl vocals instead and I was very doubtful at first! But I then went home to research growling and started experimenting with my voice and then "Bloodlust" became what it is today. I'm still continuing to develop my vocal technique and I'm proud to see that we are all evolving together as musicians, as friends and as a band. Since we became a full line-up the music now gets written faster than ever. Someone comes with a riff or an idea and then it gets worked on. Sometimes it's even a full song. We all give each other feedback and continue to work with the track until we feels it's done and then I get it to write the lyrics. I write from my own personal experiences, feelings, thoughts, themes and stuff that comes to my mind. – Therefore our songs are very close to my heart and on stage the feelings just wash me over! Once I've finished the lyrics I bring them to the band, do a fun mini performance and they give their feedback. So as you can see we all pitch in, we all give constructive feedback so we can get better. The track is officially done when we all are satisfied with the outcome!
Immediately in the first track (also the title track) it is clear that Frantic Amber is no "ordinary" metal phenomena. "I do what I want…..I make my own way…I will not change". These are very self-empowering lyrics. As singer do you always feel this way when you get on stage and sing the lyrics? How would you like to affect those who listen to your music?
Off stage, no I don't always feel that way but when I go on stage I become what I sing. I project the feelings I had when I wrote the song and I stand behind every word. I would like the listener to gain strength from "Wrath of Judgement" and understand that it's ok to just be yourself. Growing up I had a hard time finding my place and I'm still all confused and young but I never want to be anyone else but rather get to know myself and discover who I am. I would like to inspire people to stop caring about what everybody else thinks and stop just doing whatever is expected of you. Be yourself and keep growing as a human being finding your own way in life.
On all tracks of the EP I must say that you manage to sound brutal yet also understandable! It is rare to find a brutal vocalist with such a clear diction, it is great to be able to hear and understand what is being sung. And you sing it with such passion! Did you have any musical training? Are there any particular exercises you do to keep your voice able to produce the sounds you need?
Thank you! That really means so much to me!! Well I have a history of music mostly in classical and jazz. When I lived back home in Denmark I was a part of the local music schools "talent-program" where I had piano as my major and the saxophone as my minor instrument. Later I also took some singing lessons but I continued to develop on my own. My growling is self taught though. I've been singing my whole life naturally just because I love it but when I got more into metal I started experimenting more with my voice and that's where I found my growl. I still have fun finding new ways to sing and will probably never stop evolving my skills. To keep up my growl it's important that I practise and keep getting stronger because it takes a lot of physical endurance and strength to use vocals like this. Support and correct placement of the voice box is crucial to not getting hurt. I enjoy to do Melissa Cross's warm ups and making up my own stuff as I go along.
In "The Awakening" you sing "There's something inside of me raging to get out" – what is it inside of you that drives you to sing and/or write the way that you do? Do you ever want to sing a nice gentle ballad about love and peace?
Sometimes there are just too many feelings going on inside of me and it really feels like they are raging and I don't know where to place them or what to do about them. In "The Awakening" I describe them as a beast because it feels like it is clawing and ripping me apart. As you may guess these feelings are not of the positive kind but filled with rage, hatred and aggression. *laughs* Sure! I would love to sing a nice ballad, there are always two sides of a person and even I have a soft and nice little girl somewhere in there as well! Though I don't know if it would suit with ballads about love and peace but that's why I make a lot of music on my own as solo projects. I have a very broad spectre in music and like everything from classical to the hardest black metal! In my opinion there are two kinds of music: Good music and bad music, period! So for me it doesn't matter which genre it is but rather how good it is!
The final song on the EP is "Doomed to Walk this Earth" which seems to be brimming with social and political comment. Would you like to take us through the rationale behind this song?
This song is based on the theme of war. It's everywhere, has always been there and will probably continue to exist as long as humans roam this planet. I don't know why is has to be like this and I don't like that people get hurt and killed for stupid reasons as politics, money or power! Of course world peace would be nice but also very unrealistic so as I express in the lyrics of "Eternal War", pointless bloodshed is always going to be here but that doesn't mean that I like it!
As well as producing quality metal, your mission statement includes the vision of "building an army". You certainly seemed to get lots of positive comments from your Russian gigs in your guestbook! How have listeners been responding to the music in general? What is the best way for fans to communicate with Frantic Amber?
We create music and want to share it with the world and hopefully inspire some along the way! We are all very grateful for all the loving support we've been getting and it really warms my heart when people come up to me after a show with big excited eyes expressing their appreciation. I think the best way would be to come to one of our concerts! – From home the fans can also find us on Facebook and MySpace.
Finally, what is the next stage for Frantic Amber? Now Russia is conquered, have you any plans on how to conquer the rest of the world?
Oh yes! We will continue on our path to world domination! *laughs* We plan to play live around Stockholm in April, record our next demo/EP in May and then see what happens during the summertime. We are all hungry for development and we intend to keep up our tempo! Hopefully there will soon be more international tours to come!
Thank you so much for talking to us at Femme Metal, Elizabeth, we wish Frantic Amber great success in their attempts at world domination!! Any last words?
You are very welcome and thank you!I would also like to thank all of our fans out there for the amazing support and I want each and every one of you to know that you are highly appreciated and I hope to see more new faces in the crowd! Stay metal!
Links
MySpace * ReverbNation * Facebook * Twitter * Site
Latest Multimedia
Interview by Marc "Peston" Sels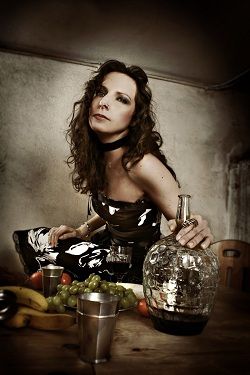 Elis is a band from Liechtenstein and was formed in 2003 after the split from Erben Der Schöpfung. In 2006, on July 8, their vocalist Sabine Dünser died of a celebral hemorrhage. She was replaced by Sandra Scheleret, well known as guest-singer on some Samael-cd's and ex-vocalist of Dreams of Sanity. It is with this Austrian musician that I had this interview.
How is the Beauty and the Beast tour going?
The tour was really nice! I think it is very rarely that you have so many nice people together without any exception. We enjoyed it a lot. I even had the chance to join Atrocity for the tour as a guest vocalist. This came very surprising as it was a spontaneous idea, but I had lots of fun.
Can you tell us something about the new album "Catharsis"? Some favourite numbers?
"Catharsis" is very important for me, the reason is that it is like a new chapter, a new beginning for me. About a year and a half before I joined Elis I got the diagnosis Morbus Hodgkin which is a kind of lymph node cancer. In the months that followed I had to go through chemo- and radiotherapy, and it was a very hard and harrowing time for me. I completely changed my way of living, and since then I see things totally different. When I started working on the vocals for "Catharsis" all these feelings broke their way to the surface, and so most of the lyrics are very closely connected to what I experienced at that time. All songs are very dear to me but I guess my favourite numbers are "Firefly", "Mothre's Fire" and "Das kleine Ungeheuer".
Was it hard to replace Sabine, emotionally and musically talking?
Yes it was hard, I think for all of us. When somebody passes away so young and so unexpected it is hard to continue. Although we really liked eachother a lot from the beginning on, for me it was difficult to find my own place in the band, and for the guys it was hard to start a new chapter. We took some time to find together. Musically wise it was not that difficult because Sabine's lines are nice to sing and her lyrics touched me a lot, so I feld connection to the songs very quickly.
Is it easy to produce the same sound on stage as on the albums?
No, I wouldn't say so. In the end it is very difficult to get a good live-sound. Mainly it depends on the sound engineer, and we are not often able to bring our own one.
"Griefshire" was a concept CD. Isn't it difficult to play some songs live, or don't you use these songs on stage?
We are playing the "Griefshire" songs life, but never in the context of the concept. It is not so difficult because we see each of them as an indipendent individual, with it's own message. For example "Show Me the Way" has a great statement.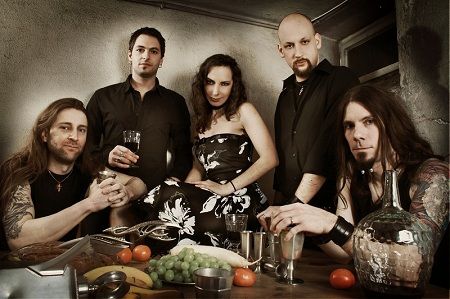 With the digipack edition of "Catharsis" comes a DVD from the gig at the MFVF 2007. What memories you have of that festival?
It was very touching because the audience welcomed us so well. The were happy with us that Elis is back on stage again, and we felt very comfortable that evening. I'm happy that this was the concert that was recorded for the live-DVD!
The band keeps the tradition of putting a few German songs on the album? Do you think non-German fans can enjoy this?
We hope so! Just see how people can enjoy Rammstein…hehe In the end the German language simply has a very different sound than English and it is tempting to use it as a stylistic device.
You also sing in Siegfried. How do you keep both bands apart?
As Siegfried was not so active in the last years there was never any problem for me. It is just coincidence that both albums were released at the same time. I do not do the lyrics for Siegfried and just contribute some vocal lines, so there is no "creative problem";). It is very nice to have the chance to show also another side of my voice, and the guys from Siegfried are really cool people, we have lots of fun when we are working together!
Is Elis, like a red somewhere, from the Greek Elis, land of Helia, or is there another explanation?
The name comes from the poem from an Austrian poet (Georg Trakl) "An den Knaben Elis" (to the boy Elis). Sabine made a successful song about this when she and the guys still were calling their band Erben der Schöpfung. They then decided to rename the band after this song.
What are the plans for 2010? Touring? A new cd? Etc…
So far nothing concrete but we are working on this! Touring would be very nice and of course we have to work on new material.
Links
Label : BadMood Bad Music/Solitude Productions
Review by Tony Cannella
From Ukraine comes the Doom Metal band Sideris Noctem. Having already released a demo, Sideris Noctem has just issued their debut album "Wait Till the Time Is R.I.P.". What you get here is 50-minutes worth of somber and melancholic Doom Metal. The mournful intro "First Day" starts the CD. It is a beautiful sounding intro that leads into the heavy, doom riffs of "Wait Till the Time Is R.I.P.". Right away the listener is treated to some fairly technical doom metal and the brutal vocals of Pavel definitely take center stage here.I really like the way the male vocals are done here, as you can understand almost every word he sings. The two vocalists work as a cohesive unit with female vocalist Anna providing a clean, diverse vocal style throughout the CD. Some clean male vocals are presented throughout the CD. "Binary" became my favorite track, as the pace is slowed just a little bit on this and the band present more dark, somber doom. Other highlights include: "Behind the Mirror of the Winters Fall", "Moonlight Snakes" and a cover of the Katatonia song "Without God". The outro "Last Day" brings this nearly an hour's worth of doom to a close. Sideris Noctem has created an albums worth of worthwhile Doom that fans of the genre should come to appreciate.
Rating – 80/100
Tracklist
First Day (Intro)
Wait Till The Time Is R.I.P.
Binary
Behind the Mirror of the Winters Fall
Time Comes To An End
Moonlight Snakes
Without God
Потерявшиеся в обломках прошлог
Last Day (Outro)
Line Up
Anastasia Sverkunova – Vocals (Session)
Pavel Razvodov– Vocals
Anton Vorozhtcov – Vocals (Session)
Evgeniy Chebotarenko – Vocals (Session)
Valentin Chernyak – Guitar
Valentin Falin – Guitar
Alina Vinokurova – Keyboards
Anna Vydrygan– Bass
Denis Badaev – Drums
Konstantin Zmievsky – Drums (Session)
Links
Label : Metal Mind Productions
Review By Tony Cannella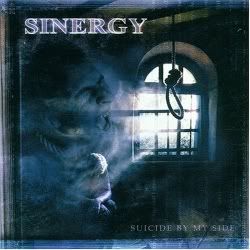 "Suicide By My Side" is title of the third (and final?) release from Sinergy, this re-issue was recently put out by Metal Mind Productions out of Poland. Of the three CDs that this Finnish band produced, it is this one that features their best material (in my humble opinion). Each Sinergy album was better than the last and that trend continued with "Suicide By My Side" which was originally released in 2002. The songs on "Suicide…" features some of hungriest, heaviest and angriest music that the band recorded – it was on this CD where it all came together.The great opener "I Spit On Your Grave" is one of the true highlights and it is an appropriate way to begin things. The trio of songs "The Sin Trade", "Violated", and "Me, Myself, My Enemy" are just so relentless and fierce with Kimberly Goss's biting lyrics. Kimberly really brings up the intensity with her singing and does some of her best work on this CD. My favorite track is the mid-tempo "Written In Stone", it is slower than the previous ones, but still has it's heavy moments. There really is not one bad song on this CD: "Nowhere For No One", "The Suicide By My Side" and "Shadow Island" (featuring duel vocals with Kimberly and Alexi Laiho) are a testament to the strength of the material. As with the first two re-issues there are a number of bonus tracks included here. The first one is Sinergy's version of the Scorpions classic "Rock You Like A Hurricane" which is followed by a cover of the ABBA song "Gimme, Gimme, Gimme". These two songs had previously been released on tribute albums. The third and final bonus track was a surprise, it is their version of the great Pat Benatar song "Invincible" which came out originally in the mid 80′s, I believe. It was a real pleasure re-visiting this great CD and kudos to Metal Mind for the re-issues and hopefully exposing this band to a new audience. All three re-issues come with in a beautiful digi-pack with liner notes – Metal Mind put a lot of care into the packaging and that is to be commended – plus, the bonus tracks are cool as well. I have been hearing about a fourth Sinergy release for years, said to carry the title of "Sins Of The Past". Let's hope that it will see the light-of-day at some point in the future, but if "Suicide By My Side" is the bands swan song, than they went out at the top of their game.
Rating – 100/100
Tracklist
I Spit On Your Grave

The Sin Trade

Violated

Me, Myself, My Enemy

Written in Stone

Nowhere for No One

Passage to the Fourth World

Shadow Island

Suicide By My Side

Remembrance

Rock You Like a Hurricane (Scorpions Cover) (Bonus Track)

Gimme, Gimme, Gimme (ABBA Cover) (Bonus Track)

Invincible (Pat Benatar Cover) (Bonus Track)
Line Up
Kimberly Goss – Vocals

Alexi Laiho – Lead And Rhythm Guitars

Roope Latvala – Lead and Rhythm Guitars

Marco Hietala – Bass and Backing Vocals

Tommi Lillman – Drums
Links
6 color styles available:

Style switcher only on this demo version. Theme styles can be changed from Options page.