Browsing articles tagged with " river"

Interview by Erwin van Dijk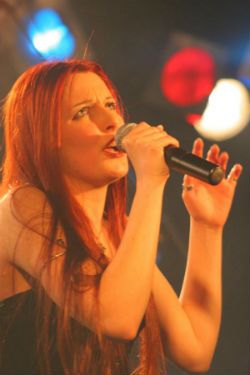 An in-depth chat with Chiara, the soprano singer of the well-promising Italian Gothic Metal band Lust for Oblivion about their debut demo "Black Moon" and their musical future.
Did you always want to become a singer?
I've always loved music and my first experience with it was at the age of nine, when I started playing the piano, but I've always loved singing, too, since when I was a child, so, some years ago, I started taking opera singing lessons.
And to what kind of music do you listen yourself?
I listen to classical music, especially opera and piano compositions and also to metal music.
And who are your favorite bands and musicians?
Bands like Dark Tranquillity, Moonspell, Within Temptation, Lacuna Coil, Tristania are my favorite, but I've surely forgotten some…obviously I adore Tarja Turunen!!!! My favorite classical musicians are W.A.Mozart, F.Chopin and K.Orff.

Interview by Luisa Mercier
I had the pleasure to review the debut of Delta Rae, talented band from Duke, North Carolina. Their sound draws from several genres, ranging from rock, to gospel and bluegrass giving birth to an experience that will take you over!
Hi from Italy Brittany! Welcome on Femme Metal Webzine. First of all, I truly love your voice and your record! I was not much into this kind of music, but you really conquered me!
Ciao! Yay for allowing yourself to be conquered!

And thanks so much.
May you introduce yourself to our readers? How was the band born?
Sure! My name is Brittany Hölljes and I am one of four vocalists in Delta Rae. The band was a dream of my brothers' (they are the two male voices in the band) who have been writing music together since the were 10 and 12 years old. By 2008, they were writing songs that they knew needed women's voices. So they emailed Liz in Peru and called me, in Italy, (Firenze! I loved it!) and asked us what we were doing in the fall of 2009. By the next September we had all moved into a big fixer upper in the backwoods of Durham, NC. We found Mike and Grant in the local scene and asked them to join up. And thus Delta Rae was born!
Your main influences?
As a band, we've drawn inspiration from Fleetwood Mac, Mumford & Sons, Coldplay, Bruce Springsteen, Sweet Honey in the Rock, Billy Joel and Jeff Buckley and even Les Miserables and Jesus Christ Superstar. Our influences are as varied as our sound.
Have you got a formal music education?
The only member of our band who was formally educated in music is our bassist, Grant Emerson, who went to UNC-W. Mike grew up in a very musical household, his parents are both full-time musicians and music teachers. And Liz's dad was a fantastic vocalist/musician/songwriter, she totally got his ear and voice. The three siblings grew up in a house of artistry and creativity, but neither of my parents are particularly musical. We all learned to sing by belting along to our parents' awesome '70s albums. Eric taught himself piano when he was 7, Ian picked up guitar in college. I think one of the reasons we work so well together is that our music isn't about technicality as much as it's about feeling, it comes from our guts.
Speaking of writing, how does a Delta Rae track come together? Your vocal harmonies are great!
My brothers, Ian and Eric, write all of Delta Rae's songs and I don't think I will ever get over how original, honest, and smart their writing is. It never gets old. They usually start songs on their own and once they have the bones of it, they'll bring it to the rest of the band to flesh it out. The harmonies are the backbone of the band's sound. They usually just fall right into place.
What are the inspirations you draw from to write lyrics? Sometimes I get a mysterious, like magical vibe!
Wow! That's a big compliment. Thank you! I think Delta Rae is capturing something that truly is magical. Our songs can be warm and euphoric, but we also embrace their darkness and mystery. Our songs are stories, usually about our lives, our history, our families, and our ghosts. Their origins are earthy and we sing and play them viscerally and with abandon. For us, music and magic go hand in hand. Then again, I DID study paganism and astrology in college, so this kind of talk is my jam… you don't even wanna get me started

You are two brothers and one sister. How does the all-in-the-family vibe affect the work you guys do?
I think it has been a really helpful thing for this band. We love each other of course, but the really key thing is that we three siblings also LIKE each other! We fight sometimes, but I think it only serves to make us a stronger unit. We fight because we care. I personally wouldn't be doing this without my brothers, they are my inspiration and my whetting stones, and I am always myself with them around. I'm really lucky.
I have watched a lot of your live clips on YouTube, your show are great! What can your audience expect?
Thank you! I'd say audiences should expect a swampy-stompy, sing your lungs out, punch in the face, tongue-kiss of a show! You're hearing four-part harmony, banging on trash cans, melodic piano riffs, driving guitar and bowed, electric upright bass. It is A LOT of new sounds and to spice things up even more, we have four lead singers. So we keep the audience on their toes. At the same time, our main goal is to bring people in emotionally. We bare our souls on stage. Overall, it's a roller coaster. I always feel electrified after shows, I hope we are doing the same for our listeners.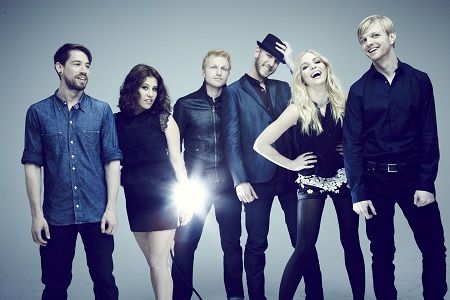 I can hear a lot of Southern influences, how your hometown, its history has influenced you?
Well we have kind of a unique story. The three siblings grew up around the south until we were about middle school age. Then we moved to northern California where we met Liz. Liz is a chameleon and could travel anywhere and fit in, but the Holljes kids always felt like we would be drawn back to our southern roots. So we planted the band in Durham, NC, where Ian and Eric were born, and where our mom spent her whole childhood and college years. Our sound definitely has southern flavor, we pull on elements of bluegrass, gospel, country, and blues. Going back to the question of magic in our music, I think we also live in a part of the country that has magic in its nature. Just being in a place that's home to huge summer thunderstorms, gobs of fireflies and kudzu devouring whole forests, has an impact on our sound. Epic yet cozy. Warm but mysterious.
The "Bottom of the River" video. How does the song's subject matter relate to the video?
Well, in truth it doesn't, aside from the dark, swampy, stompy, southern vibe. The lyrics of the song tell a baptism/exorcism story of a woman trying to rid her son of a "demon" by drowning the evil spirit, but drowning her son in reality. When we were thinking of concepts for the video, a witch trial seemed like a good parallel story, as women used to be tortured and killed when accused of witchcraft and associating with the devil. Our video however, is infused with serious lady-power, and I, the witch, get the better of my accusers… that makes the video MUCH more fun!
I know you performed on Leno on 25th June, how did it feel?
I can't say enough for the people who work on The Tonight Show and Jay Leno himself. They were all SO nice and they made us feel very at home. That being said we were all still sick with nerves and excitement! It was just so surreal and such an honor. I was relieved that we sang "Bottom of the River", which is a song we have performed thousands of times. On the street, on boats, in subways, to no one, and to thousands, so it's ingrained deeply in us. Even national TV can't phase that

I found the song "Rain Down on Me" on YouTube. It is amazing! Do you plan to release it in the future, maybe together with some of your cover songs (I love "Rolling in the Deep")?
So glad you like it! "Rain Down on Me" is one of our absolute FAVES! We are definitely putting it out someday, though I don't know when yet. I don't know if we will ever get a chance to record or release covers, we have so much original material that we've got to get out into the world first! But I love singing "Rolling in the Deep". That song is tough! But the soul is palpable. If we do record any covers, you better believe we will put a Delta Rae spin on it and it'll ooze soul!
Have you thought of hitting Europe somewhere in the near future? I would love to have "Carry the Fire" released here.
WE WOULD TOO! We are hopeful that there will be a European release but we are still focused on the States for now. It would be an absolute dream to travel through Europe, singing what I think is very authentic Americana music and I personally would LOVE to watch the emotionality of our music cross cultural and lingual divides.
That's all, Brittany! Thank you for your time and all the best!
These questions were so thoughtful and fun to answer. Thank YOU!
Credit Photos
Photos by Shervin Lainez & Smallz and Raskind
Links
Latest Multimedia
Interview by Eetu "Ene" Niskanen
An Interview with Heidi, the soprano singer of the Finnish Metal Band Amberian Dawn. During this interview, we'll talk about about the new album "The Clouds of Northland Thunder" that is coming this summer.
You just released your second album "The Clouds of Northland Thunder" with Amberian Dawn, how much work did it take?
Our front man Tuomas had already started the composing the new album when the "River of Tuoni" album was released and some of the song were already ready. Almost everything was recorded before the Epica European tour 2008 but some choir and vocal parts had to be done straight after the tour. It took lots of work from everyone and especially from Tuomas who almost lived at the studio during the recordings. I did all the choir parts except the "Incubus" male role so I had quite a lot to sing too.
Is there an lyrical concept behind the album?
Not a clear one. But of course I wanted to bring a bunch of exiting stories to this album and also pour some Finnish cultural heritance into the lyrics too. Some of the lyrics are based on the Finnish national epic Kalevala as also on our previous album. On the "Clouds" album the Kalevala songs are "Kokko- Eagle of Fire" and "Birth of the Harp". But there are also lyrics based on my own stories and legends or even fairytales.
How the band has grown from the debut "River of Tuoni"?
The biggest growth has happened in the bands skills and of course our lineup has changed too. First came Kasperi to replace the former guitarist Sampo and just recently Tuomas decided to retire from guitar-business, at least the live guitars, and his replacement was Emppu with his wild hair. The sound of the new album is in my opinion more solid and there is more variation in musical ways.
What is your personal favourite song from the album?
Hard question because I kind of like them all but from different reasons and it is really hard to put them into any order. But maybe I would say "Sons of Seven Stars" because in my opinion the story and the music go so well together in this song. The story linkes quite remotely to the book about Seven Brothers of Aleksis Kivi, a Finnish author. But in this version of the story, the seven brothers were born in the ancient times from the alliance of a bear and a human. The bears left the land to their sons and moved to the stars. The seven sons grew up under the constellation of Ursa Major and the North star and persistantly and with vigor they plowed the frozen land and peopled the cold and dark North. They could have also been the forfathers for Finnish people.
How did you joined Amberian Dawn?
I was a keyboardist and a backing vocalist in a metal band called Iconofear from the year 1997. During the ten years with Icono-boys I developped my singing skills and felt that is was time to retire from the keyboards. I simply felt I was better as a singer than a keyboardist and I could give most on that area. So it was 2006 when I started to search a band as a singer. Tuomas and Tommi spotted my ad and I did some singing samples and also the lyrics for "Passing Bells" from "River of Tuoni" album as a test. I think I got the job…;)-
How long have you been singing?
I went on a music oriented school and I started taking singing lessions when I was 14 years old. By that time I didn´t even think about being a singer one day. I wanted to take some lessions because I felt tensions and pain in my throught when singing. I wanted to emprove my tecnique to get rid of the tentions which made my singing unpleasant. I enjoyed singing a lot and I wanted it to stay that way too. I joined a choir at the age of 14 and after that I have sang in various choirs and some ensembles too. I´m still taking singing lessions and trying to develop my skills – I feel that it´s an neverending project…..but I don´t mind as long as I keep developping!-
How would you describe your voice?
I'm a classically trained soprano and some would say I'm a soubrette soprano. – The soubrette voice is light with a bright, sweet timbre, a tessitura in the mid-range and with no extensive coloratura. The soubrette voice has a lighter vocal weight than other soprano voices and a brighter timbre. Many young singers start out as soubrettes but as they grow older and the voice matures more physically they may be reclassified as another voice type-.
What kind of music do you listen yourself and how often?
I listen to a lot of different kinds of music from heavy metal to classical. I don't listen too much music because I´m not too much at home. But when I do I first listen to my mood and then I choose the right music for it.
Do you think it's easier to rise as metal band on big metal country such as Finland?
Finland is the promised land for metal but because of that the competition is hard and the level is really high. You have to have a good concept, skilled musicians, good compositions and production, some luck, reliable and hardworking people to work with and a great team to built everything up. And not to forget the hard work from everyone. Sounds like recipe for a cake doesn't it! Bake it in 666 degrees to make it metal…hahhah

-
You did big european tour with symphonic metal band Epica last year, how was the experience?
It was a great experience and we all grew up as musicians during the four week on road. The Epica people were really fun to work with and everything went really as planned. Except we all got a bit sick on the tour and I was in a terrible flue for almost 3 weeks from the 4 weeks tour…there were mornings I didn´t have almost any voice but duringthe day I managed to get some of my singing voice back. In Germany I went to a doctor but I only got some herbs and allready in France I needed to see a doctor again who gave me antibiotics and some cortizone. I missed a lot of scenery because of being sick but none of the shows so I must be content.
There are a lot of female fronted metal bands in the world at the moment, how Amberian Dawn is different from them, how do you keep unique?
We play fast tempo, guitar driven metal with purely classical female vocals. To continue the baking theme I would say : the ingredients have been used before but not in this kind of mixture.
What are the plans of Amberian Dawn for the future?
We are planning a new European tour for the fall 2009 and maybe some touring also for the spring 2010. Tuomas has also started to compose new material for the becoming third album.
Links
Interview by Tony Cannella
The band Eklipse is made up of four ladies playing classical interpretations of pop and rock songs. Their debut album is titled "A Night in Strings", and while it may not be strictly a metal album, there is no denying the talent that this band possesses; besides they are opening for Nightwish, which is a cool thing. Recently, the Viola player Viola was kind enough to answer some questions and give us more info on Eklipse.
First of all, congratulations on a unique album ("A Night in Strings"). For those who don't know, how would you describe the music of Eklipse?
Thanks for the compliment on our album. We are a string quartet playing the beautiful themes of the great bands and composers of contemporary music.
How did Eklipse first get together?
We met at a festival in St. Petersburg. We got to know each other at a party and immediately knew that we had something in common. We searched for a way to combine our classical background with our love for pop music. It's wonderful how everything came together that night and how well it is going ever since.
How do you feel about getting press from metal publications, even though Eklipse are not really a metal band?
During our musical career each of us did a lot of different musical styles. We have a strong connection to the gothic and metal scene, so we are proud and very happy that our music seems to fit so well.
You covered a wide variety of rock and pop songs. Some well known, some not. How did you decide which songs to cover?
Each of us has ideas which songs she wants to cover and we try a lot of different songs before deciding which one works the best. It's important that there is a story behind the songs; something that connects us with it.
Are there any songs you would have liked to cover for "A Night in Strings", but didn't get around to it?
Yes, there are many. We tried a lot and we still have some arrangements that are waiting to be recorded. At the moment, we are concentrating on our live performance, but our next album is already planned.
Might those songs end up on your next album?
They might. But right now we are discussing what the album will be about. We are thinking we might do a theme or try a slightly different concept. But nothing can be announced yet. So, you have to be patient. ?
You were chosen to open for Nightwish. How excited are you about this opportunity?
We are very excited. We like Nightwish very much. It's an amazing band which over the years managed to stay unique. That's something that is not easily done and we hope for ourselves to be that lucky.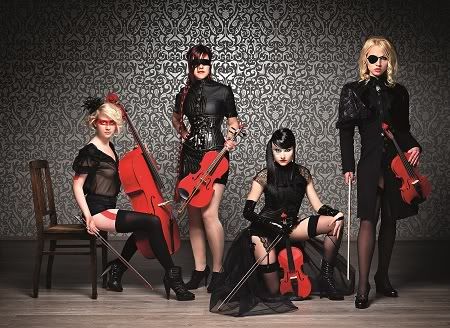 What can fans expect when they come to see Eklipse live?
We are always as passionate as possible in everything we are doing. We want to create a mythic atmosphere on stage. For us it is very important that everyone can drown in their own imagination.
Do think you will ever add guest singers to some of your songs like Apocalyptica does?
We have many ideas on what to do and we don't want to decide yet. But for now, we are not done with our recent concept and are very excited for the things to come.
You filmed a video for your cover of the Justin Timberlake song, "Cry Me a River". Why did you choose this song?
It's a beautiful song! It's very percussive and it was a challenge to transfer it to the strings. Also, the strings emphasize the melancholy of the song. It's always a miracle how a song changes in the process of arranging.
Musically, there is no doubt that the members of Eklipse are very talented. Please tell us a little about your musical training.
We started playing as children and had classical training. We all had a lot of different musical experience over the years and always wanted to find something unique, something we can relate to in many different ways. Eklipse is a perfect project for the four of us because we can be creative on more than the musical level. Our optical output – the photos, the videos, our outfits and everything to come – is very important to us because it is one more creative need that we are able to fulfill.
How has the reaction to "A Night in Strings" from the media and fans been?
It is just fantastic. Most of the reactions we get are very positive and enthusiastic. There had been a few pretty critical reports and comments on the internet, but that's great too. We are happy that we are not just another "nice" band but actually have a controversial side.
Are you afraid that the media and fans may focus more on your sexy image rather than the music?
No, we are not afraid of that. As we said before, the outfit is part of how we want to present the strong emotions of the songs. We don't want our private lives to be strongly involved, so instead of telling our personal background, we have chosen this way to reveal parts of our personality.
Who are some other musicians and bands that you are influenced by?
We love all kinds of music. It's quite a wide range of musicians and bands that are important to us.
What are your plans beyond the Nightwish tour?
We are playing some festivals in the summer and maybe there will be another tour soon.
Thank you for taking the time to answer these questions. Is there anything you would like to add? The final words are yours.
Thank you. We hope that we will entertain a lot of people with our music.
Links
Latest Multimedia

Interview by Alessandra Cognetta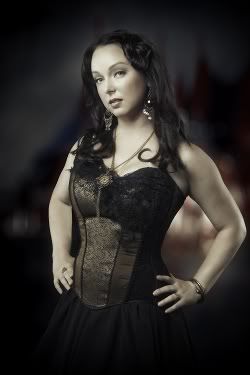 Heidi Parviainen is the lead singer of the Finnish Amberian Dawn. Their latest album, "Circus Black", has been released on the 29th of February in Europe, USA and Canada. We took this chance to ask her (and Tuomas Seppälä, AD's songwriter and keyboards player, as well as one of the founding members) some questions about the band, their latest work and more.
"Circus Black" is yet another step forward for Amberian Dawn. What do you think changed, was added or improved from your previous works?
Heidi: "Circus Black" is the most singable album from AD so far and I really like it.
This is the first album to feature a real orchestra and choir, which I must say is one of the additions I enjoyed the most. Was it already in your plans for earlier releases or is it an element you chose to implement only for "Circus Black"?
Tuomas: To be quite honest…we haven't afford to use real choir before…now we had a chance to try it and it was great...
The Album Sampler states "strongest line-up so far": what does every member bring to AD's sound as a whole, both in studio and live?
Tuomas: We have gathered the best musicians possible so that we can achieve the very sophisticated and highly techninally advanced sound. Every band member needs to be a true virtuoso with his own instrument. I write all music for AD, including guitar riffs, vocal lines etc. but still there's always some free space for every musician to color the music with their own way of play.
Another highlight is the once again stellar guest appearances. Can you tell us about these collaborations?
Tuomas: We have always used some guest vocalists or musicians on our albums. I like to to do it, because that's how I can get more variations out of AD's music. Those guest singers on this albums are "hand-picked" and I tried several different singers and selected the most suitable for each and every song.
Heidi, you write all the lyrics for the band, often taking inspiration from Finnish mythology. What's behind the lyrics of "Circus Black" and what is your usual writing process?
Heidi: On "Circus Black" there are no Kalevala lyrics at all. I wanted to take a step into a different direction with the lyrical work and this album has a kind of a psychological vibe since some lyrics talk about our fears, bad relationships etc. But there is some folklore too and even light horror. Tuomas always (except once with "Lionheart") composes all the music first and sends the ready melodies to me and I write the lyrics.
You've also recorded songs in your mother tongue ("Virvatulen Laulu" from "End of Eden"), it's surely a very different experience, for you as a singer and for the fans as well. Do you prefer singing in English or in Finnish?
Heidi: I prefer singing in English because we mostly perform to a foreign audience and it is importat that the audience understand what the lyrics are about. But it is really fun to break the rules sometimes and do something different. Who knows if there will be a new Finnish song someday…
What's the concept behind the video for your new single, "Cold Kiss"?
Heidi: The story of "Cold Kiss" is a kind of a "Twilight" spirit lovestory between a vampire and a human.
AD recently toured Europe with Tristania, Xandria, Serenity and Van Canto, how was it sharing the stage with all these very diverse female fronted bands?
Heidi: Yes. It was! All the ladies on tour were a great company and it was kind of refreshing to once work with so many women. We had a lot of fun together. The only this I missed was a song together with all the ladies!
"Circus Black" was released for the first time in USA and Canada, too. What do you think this will mean for the band? Are there any plans for an overseas tour in the future?
Heidi: All the plans are still open and we hope to be able to tour soon. It would be lovely to go over seas but let´s see.
What's your favourite song to perform live and why?
Heidi: From our previous albums I like "River of Tuoni" because it is the most popular song from AD so far and the audience know the lyrics and melody so they can sing along. But ther are many other I also like to sing.
Have you ever thought about pursuing a career as an opera singer, or singing something different from Amberian Dawn's repertoire?
Heidi: Not really an opera singer but I do study classical singing at a conservatory and I also do some classical concerts. Who knows what the future will bring, I´m all open to it!
You're often compared to other female fronted bands, like Nightwish for example. What is your opinion on this matter?
Heidi: Well. As I often say. Maybe ther are still too few female fronted metal bands that people need to compare the bands to the only one who really has reached the big succes in this genre. Still there are much less female fronted bands that male fronted. No one is really wining about their singing styles which sound quite same to my ears in their rock technique. It doesn´t bother me but it is quite weird that is still happens after these six years and four albums with AD. In my opinion there a quite few similarities with Nigtwish and nowadays even less after Nightwish started to work with Anette. Does really the singing techique of the singer make everything- includind songwriting, other istruments- sound similar? I don´t think so.
With the new album and single out since less than a month, what do you see in the future of Amberian Dawn?
Heidi: I hope lots of gigs and touring and hopefully a wider audience too and better sales!
Thanks for taking the time to answer our questions, greetings from your Italian fans!
Heidi: Grazie mille! Baci a voi!
Credit Photo
Band photo by Toni Härkönen
Links
MySpace * Facebook * Twitter * Site
Latest Multimedia
6 color styles available:

Style switcher only on this demo version. Theme styles can be changed from Options page.