Browsing articles tagged with " rob"
Interview by Si Smith
After releasing two album, Touchstone is back with their third multifaceted progressive-rock album called "The City Sleeps". Femme Metal got the chance to interview Kim, the singer of the band, and it turned out to be extremely interesting as she guides us through secrets and intricacies of the band's brand-new album.
Hi Kim. Thank you for taking the time for this interview. Let's get started. First of all, how are you?
I am very well, thank you!
Your new album has been released recently. Can you tell us why you chose "The City Sleeps" as the title of your album?
"The City Sleeps" felt like a good sequel title to "Wintercoast", especially as the last words on the "Wintercoast" album were "The City Sleeps – I am Awake!" It was a good way of carrying across the stories and themes from previous albums and songs.
What is the concept behind this brand-new record?
There isn't a concept behind the album as a whole but some stories have been continued from different albums and we wanted to carry those on. When "Shadows Fall" carries on from "Shadow" from our first full-length album "Discordant Dreams" and "The City Sleeps" follows on from "Wintercoast". Otherwise, we just wanted to use more of our individual influences and see what came out of it. Continue reading »
Label: SPV/Steamhammer
Review by Tony Cannella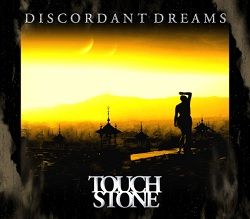 The U.K. based band Touchstone does a wonderful job in walking the fine line between over-the-top progressive rock and more mainstream rock music. Some of their songs have a flair for the intricate and grandiose, whilst others fall in the category of more accessible rock. The band formed in 2003 and in 2007 released their debut EP "Mad Hatters" and followed that in the same year with their full-length debut "Discordant Dreams". After inking a deal with SPV/Steamhammer records, Touchstone released "The City Sleeps" last year, which proved to be a favorite amongst prog rock fans worldwide. Now, thanks to the good people at SPV, their back catalog is getting the re-issue treatment with bonus material. Not a bad deal at all. There is not much – if anything – to dislike about Touchstone (for me anyway), their songs are well thought out, meticulously crafted and grandiose melodic prog rock music with sweeping arrangements at its best. In a way, their music is a throwback to some of the great prog rock bands of the 70s, but with a modern edge. "Discordant Dreams" also features the debut appearance of female vocalist Kim Seviour – who continues to sing for the band to this day. The opening "Intro" leads us right into classic melodic rock style of "Discordant Dreams".
The two vocalists pretty much sings the lyrics in unison throughout most of the song, which makes it kind of unique. The two vocalists Kim and Rob work well together, many times one will sing the lead part, while the other adds harmony and backing vocals like on the song "Curious Angel". The 7-minute song "See the Light" is next and is just an excellent song. The track is mostly up-tempo, and a melodic prog feast, but the slower more moody parts had sort of a Pink Floyd-ish vibe to it. The band does a good job in mixing shorter songs "Being Hannah", "Black Tide" and "Dignity" with longer more epic songs like the wonderfully grandiose 11-minute epic "The Beggars Song – Part I". In addition to the regular album, this version "Discordant Dreams" also includes two live songs ("Winter Coast" and "Strange Days"). The total duration for the CD is over 70-minutes. Continue reading »
Label : SPV/Steamhammer
Review by Tony Cannella
The U.K. progressive rock outfit Touchstone's second full-length album "Wintercoast" was originally released in 2009. Now, thanks to SPV it has received the re-issue treatment. Two live bonus tracks complete this 80-minute journey of classy, melodic, progressive rock. This was the second album to feature Kim Seviour and she is fitting in quite nicely at this point and has become firmly entrenched as the female voice of Touchstone. Her style meshes nicely with the David Gilmour/Roger Waters-esque vocals of keyboardist Rob Cottingham.
"Wintercoast" starts with a "Prelude" featuring narration from world renowned actor Jeremy Irons. This is a great starting point and segues into the epic "Wintercoast". It's somewhat of a rarity when the longest song opens an album but this 11-minute track is a great choice. Throughout the album there are plenty of shifts in tempos and atmosphere. From the Van Halen-ish opening guitar riff of "Strange Days" to the moody "Original Sin", there is a little bit of everything. Other highlights include: "Voices", "Solace" (a great, haunting ballad), the symphonic prog of "Line in the Sand" and the two part opus "The Witness Part I and II". "Wintercoast" is concluded with two live songs "Shadow" and "Joker in the Pack" raps things up nicely. Out of all of their albums, I think "Wintercoast" may be their most ambitious and therefore challenging albums to listen to, but once it is allowed to grow, "Wintercoast" fits right in there with the rest of the Touchstone catalog. Continue reading »
Label : SPV/Steamhammer
Review by Tony Cannella
In 2007 the progressive/AOR rock band Touchstone, first came on the scene with this – their debut EP "Mad Hatters", which has now been re-issued by SPV. Their melodic prog style is on vast display, with one difference from their albums that followed – this is the one and only appearance of female vocalist Liz Clayden; she was replaced by Kim Seviour following the release of "Mad Hatters".
In the later years the female vocals has become more prominent with Touchstone. Rob Cottingham does the lion's share of the vocal work, with only occasional vocals from Liz – mostly in a background or support capacity, like on the 8-minute "The Mad Hatters Song". This song has a lot of nuances, twists and turns and tempo changes; it is as huge and grandiose as what was to come after. Beyond the 8-minute epic, the rest of the songs fall in the 4-6 minutes range and are all very intelligent and well crafted songs. Like on the other re-issues, "Mad Hatters" comes with two bonus tracks, live versions of "Original Sin" and "Dignity" close out this 31-minute CD. I really like Touchstone's music but I would have to say that "Mad Hatters" is my least favorite, but it is still a worthwhile release for anyone who is just discovering the band. Continue reading »

Interview by Danny Robertson
We caught up with Maledia's singer Loo to discuss their background, their current album "She and Her Darkness" (released in January 2009) and future plans.
What themes/ideas inspired your lyrics on these songs?
Firstly thanks for this interview. Each song for me is a new journey, when the melody is ready usually I listen to her a lot of times thinking of where it leads for me. On this album I also wrote about some things which happened in our and my life, maybe in some hidden words, using some ideas and symbols which reminded me of some particular sensations. But, I have to say that everytime I have to write new words for a new song, it's always a new challenge and a new journey through feelings.
How would your describe your sound?
Our sound is very powerful but very, very melodic and emotional. It's full of our influences, we are five musicians very different to each other, but in love with the same thing – Music .
Which other vocalists do you admire, past and present? Would you say any of them have inspired your own style?
I love a lot of vocalists, but I can say that any of them have inspired my own style. I think that a real artist has to give their personal and own touch to their style, this is the only way to be truly appreciated, judged and loved, not only compared to someone else. However, my favourite vocalist (in the gothic metal scene) is surely Tarja Turunen, she is the biggest voice and personality I have ever seen on a stage.
Who/what are the band's main influences as a whole?
Many. As I said, our influences are various; in fact each Maledia member has got favourite bands and music background inspirations, very different from each other. But the main influences are Nightwish (Old Style), Cradle of Filth, and many songs coming from the horror dark projects of a lot of movies' soundtracks.
What normally gets written first – the music or the lyrics?
Usually we write the music first. This part is often "addictive" to the band (except me). I contribute obviously to the creation of the music, but very less in this part, because my real work is the creation of the lyrics and their melody. But this is not the only way we use. I can say that the creation of each newborn song is always different from the past one.
Tell us about the production behind the current album – how long did it take to write and record? Did you experience any difficulties in its' creation?
It was as difficult as fantastic. It took more than three months to record the complete album with voices and choirs. But unfortunately we met a lot of difficulties in the period after the creation, I mean production itself and in the coming out. It took more than one year to make "She and Her Darkness" available for all our fans. We still apologize for this to all our fans. We hope that the long wait was rewarded for each one of them, I will thank them forever.
MySpace * ReverbNation * Facebook * Site
6 color styles available:

Style switcher only on this demo version. Theme styles can be changed from Options page.