Browsing articles tagged with " roberta"
Interview by Roberta Ilaria Rossi
What a great year for Battle Beast! After a great tour that has seen them supporting Nightwish and a huge change in the lineup, where the singer Nitte Valo decided in parting ways, this band from Helsinki comes back with a super news. Having announced the new vocalist Noora Louhimo, these guys embarked on a new European tour, supporting Sonata Arctica, and they focused themselves on the second (and of the same name of the band) record, already acclaimed by the press as a new masterpiece, so we've got the chance to exchange some words with the beautiful Noora, for a very simple chat.
Hi Noora and welcome to Femme Metal. Let's start our chat with the very first question: would you mind to introduce yourself to our readers?
Hello dear readers, I'm Noora Louhimo. I'm a singer from Finland and been singing since I was 4 years old. My passion has always been music and different ways of expressing myself as an artist. I do many things in music including heavy metal, soul, rock and blues and everything between heaven and hell. Different influences keeps me in balance and inspires as a singer. Continue reading »
Label : Andromeda Relix
Review by Tony Cannella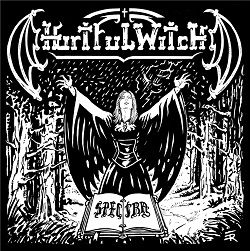 There is no doubt that the 80s were an exciting time in the history of metal. Long before there was an internet, Facebook, MySpace, etc. the only way one could hopefully come across new bands were via underground fanzines, underground tape trading or if you were really adventurous about parting with your hard earned cash you could buy an album based on cool cover art. I stumbled upon many a cool band based on this method (I was also burned a few time too, not that I'm bitter or anything – live and learn and move on). The early to mid 80s were definitely a "do-it-yourself" era for metal and the Italian metal band Hurtful Witch is a perfect example of this. This band features a pre-Morgana, Roberta Delaude on vocals and if I am not mistaken this was her first band. Continue reading »
Interview by Roberta Ilaria Rossi & Miriam C.
Young and talented, with a big desire of doing lots of new things, the Canadian band Mortillery is proud their second album "Origin  of Extinction", a pure thrash old school metal quite inspired by Overkill sound. In occasion of the official release sponsored by Napalm Records, we've got the chance to exchange a few words with the frontwoman of the band, Cara McCutchen, who brought us in a world of powerfull riffs and guitars that spit fire. Here's our chat!
Today our website has the great pleasure to welcome Cara McCutchen from Mortillery. Welcome Cara. How are you doing?

I'm doing awesome! Thanks so much for having me here!
For those who still don't know anything about you, would you like to introduce a little biography of yourself/of the band?
Sure! I am the singer for the band Mortillery from Edmonton, Canada. I started singing in metal bands 10 years ago. It has always been my and Mortillery's intention to play old school thrash metal. Continue reading »
Interview by Roberta Ilaria Rossi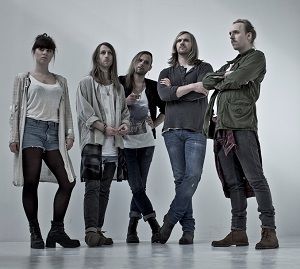 Indie pop music always has been a bit undervalued but it hides lots of great new acts most of the time. This is the case of the Swedish band You Say France and I Whistle, that already got the chance to perform at the Fashion Week in Milan and that got a bunch of surprises. Here you can find what the lead singer Ida Hedene said to us!
Today FM has the pleasure of having Ida Hedene from You say France. Welcome Ida.
Thanks, nice to be here.
So, let's start the chat talking about your band. It's a Swedish indie-pop band called You Say France and I Whistle. Would you like to introduce us the biography of the band and how was this project born?
The band was born out of the frustration to be cool. All the bands around us were really cool. We more wanted to release joy. So all become to be spreading joy. Continue reading »
Interview by Roberta Ilaria Rossi
AC/DC, Metallica, Five Finger Death Punch and so on. These are a few names that inspired the New Jersey band Spider Rockets, back on the metal scenes with the new record "Bitten", which is welcoming the band to return soon in Europe. A record that already obtained lots of great feedbacks and much more. The kind and pleasant Helena Cos is proud to introduce a couple of things that no one did not know yet.
From New Jersey, we welcome Spider Rockets' lead singer Helena Cos. Welcome Helena. Let's start our chat talking of the band. Spider Rockets was born as a duo, formed by Johnny Nap and you and then some other band members joined the band later. Would you like to tell us how was this project born?
Johnny and I started doing cover gigs as a duo, playing every dive bar in NJ and New York. We played our original songs in between covers of GNR, AD/DC and Metallica. I remember playing this one gig in Asbury Park on New Year's Eve where we played 5 sets and finished at about 4 AM. Soon we expanded to a full lineup and released the band's first CD. We've played all over the USA, performed in Europe and can't wait to do it all again to support our new CD, "Bitten". Continue reading »
6 color styles available:

Style switcher only on this demo version. Theme styles can be changed from Options page.