Browsing articles tagged with " rock"
Label: V2 Records
Review by Tony Cannella
From The Netherlands, theNAME are a hugely underrated band. They formed in 2000 and have just issued their fourth album, "Unchained". The sound is a mix of hard rock and metal with groove-laden riffs. They have toured extensively throughout Europe with some of hard rock and metal's biggest and best acts – most recently theNAME has shared the stage with Tarja Turunen.
From the opening track "Draw the Line", the riffs are so damn infectious and the songs boast a lot of power and energy which are contagious as well. The songs have a certain groove metal quality with the riffs. The production is very clear and in-your-face. Continue reading »
Label: Metal Mind Productions
Review by Tony Cannella
Wallner & Vain is the collaborative hard rock/metal project put together by English guitarist Will Wallner (former White Wizzard ) and Croatian power house vocalist Vivien Vain. Despite both being from Europe, Wallner and Vain met in America and secured a star studded line-up of guest musicians for their debut, "Rising".
While "Rising" boasts a ton of talent, the most important thing is the material and fortunately the songs are definitely well written and recorded. Each song stands on its own and with the likes of the Appice brothers on drums, Tony Franklin, Rudy Sarzo and Derek Sherinian to name a few, how could you go wrong. Throughout the 38-minute disc, Wallner & Vain delivers 9-songs worth of some guitar-driven classic style hard rock and metal. Will Wallner certainly brings back the guitar hero vibe that is missing from so much current metal. Continue reading »
Independent Release
Review by Tony Cannella
Forever Still is a melodic hard rock band with a decidedly fierce metal edge. Hailing from Copenhagen, Denmark the band was formed in 2009 and in the time that they have been together, they have already been receiving positive press and recognition. After listening to their debut 4-song EP, it is easy to see why.
So we begin with "The Key". It opens with a bit of electronic music before the heavy guitars come in. My first impression is the singer Maja. She's got a truly captivating voice. Near the end of the song comes this hell-ish screaming vocal part from Maja, which is quite impressive. "The Last Day" is a solid mid-tempo number with another bit of screaming from Maja. It is really disarming because it seemingly comes out of nowhere. Continue reading »
Interview by Miriam C.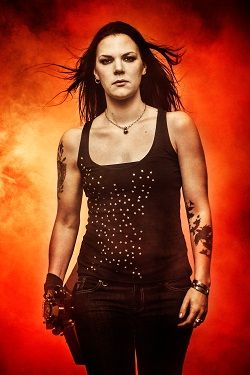 "In the Red"
, beside being the fourth album released for the Swedish explosive heavy metal quartet Crucified Barbara, it shows how the band, through its path, has matured, enhanced and enriched its musical palette. Yeah, don't get me wrong, I love the 'booze & party' themed songs but trying to improve and evolve stylistically is part of the natural flow for a band, probably in this particular case CB were helped by the fact that were able of counting on a reliable partner as their new label Despotz Records but let's read what the singer Mia has to say about it…
Hi Mia, first of all welcome back to Femme Metal Webzine. How are you?
Thank you! I'm fine! Right now I'm in a dressing room in Italy. We're playing at a club called Rock Planet in Pinarella di Cervia. We're out on the In the Red Europan Tour with Supercharger and Junkstars since 17 days and we're just about to finish a set of 13 days in a row with no day off so I'm a bit tired. Starting to mix up lyric lines and stuff on stage but the important thing is that my voice isn't that affected about it, which I'm very happy about. We've never done so many shows in a row before. And today I went to the beach 2 times during the day, very appreciated! Continue reading »
Label: Napalm Records
Review by Tony Cannella
In addition to her main gig with Leaves' Eyes, Liv Kristine has forged a prolific solo career for herself in recent years. This actually began in 1998 with her debut solo effort "Deus Ex Machina", but it wasn't until 2006's "Enter My Religion" that she began to regularly release her solo material. In the past, her solo work has had a more organic, rock and even a pop-ish feel to them. With her newest release "Vervain" Liv has gone in a heavier direction, incorporating all of the elements of her previous works whilst adding heavier, doomy guitars and a gothic vibe to the songs.
"Vervain" features 10-songs and 43-minutes worth of music and I believe this is Liv's most focused solo material to date. "My Wilderness" is a solid opening track. It is an up-tempo song with a great opening riff that just pounds away. Continue reading »
6 color styles available:

Style switcher only on this demo version. Theme styles can be changed from Options page.
Archives
Calendar
November 2014
M
T
W
T
F
S
S
« Oct
1
2
3
4
5
6
7
8
9
10
11
12
13
14
15
16
17
18
19
20
21
22
23
24
25
26
27
28
29
30