Browsing articles tagged with " rock"
Label: Despotz Records
Review by Alysha Hayden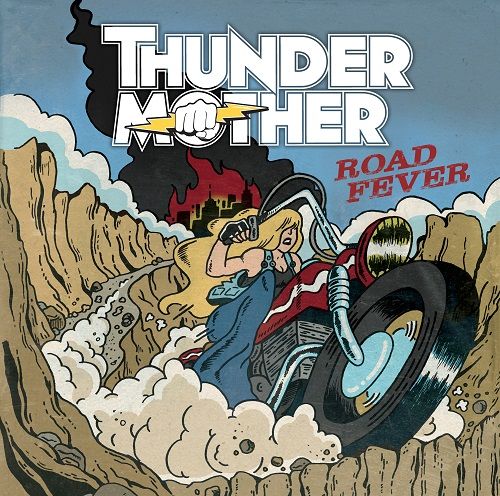 ThunderMother = a Swedish based quintet of badass rock n roll chicks! Main vocals are by Clare Cunningham, on lead guitar we have Filippa Nässi, Linda Ström on bass, Giorgia Carteri on rhythm guitar and Tilda Stenqvist on drums. From the moment you press play on this album you can expect a big rock sound with lyrics that you'll be dying to sing along to the next time you're behind the wheel. Think of AC/DC with feminine power. "Just a Tease" is the first track and this sassy song is sure to get you grinning slyly while you toss a finger wave at the hottie in the car beside you. I recommend you check out the video, the ladies shot for a visual taste of their brilliant dynamic. Just around the bend is "FFWF (Fight Fire with Fire)" which kicks it up a notch and settles us in the ThunderMother's fast paced sound that'll have you pushing that throttle a little harder. Continue reading »
Interview by Tony Cannella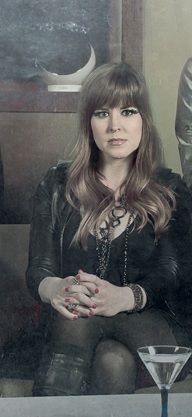 District 97 is a progressive rock band hailing from Chicago. The band has received much (well deserved) critical acclaim for their releases – in particular, their latest opus "In Vaults", which was released earlier this year. Lead vocalist Leslie Hunt was kind enough to take the time to answer some questions. Here is what she had to say…
Welcome to Femme Metal Webzine. Thank you for taking the time to do this. Your new album "In Vaults" has just been released. It is very good. How would you describe it to those who have yet to hear it?
Thank you very much! I would say that "In Vaults" is our sludgiest, grittiest and most dynamic album to date. The songwriting is more developed, the performances are at their most passionate and the quality of the recording is superb. We pulled out ALL of the stops for this one and we are all extremely proud of how it turned out.
What has been the reaction from the fans and media?
Everyone seems to be thoroughly enjoying it! Haven't read any negative reviews yet. The consensus is sort of similar to what I stated above. People are picking up on the "next level" factor of this record. Bill Bruford himself even wrote an in-depth rave review for us to tuck in our hats. Continue reading »
Label: Relapse Records
Review by Warren Mayocchi
Royal Thunder have let our ears tune into what seem like songs of personal and emotional experiences. Looking through the lyrics and attempting to choose a theme, I will go with – freedom. There are many ways that a person may enter a crucible, however on exit there can be a few emotions, but a common one would have to be a sense of relief at having survived the experience and being free to live again. MLny Parsonz, Josh Weaver, Evan Diprima and Will Fiore show us emotions from the crucible and then the poignant relief of survival. The band is very competent, they will be a powerful force on stage, but the highlight for me is the voice of MLny Parsonz.
On "Crooked Doors" the band provide several musical styles, I would say that they generally have an alt rock sound. Continue reading »
Interview collected by Tony Cannella
Questions by Miriam C. & Tony Cannella
With her latest album "Taiga", Zola Jesus (AKA Nika Roza Danilova) presents the listener with an eclectic potpourri of music that ranges from rock, pop, electronic, goth and more. It really is an interesting and entertaining listen. Recently we caught up with Nika to discuss "Taiga" and more.
Back in 2014, you released your fifth album, "Taiga". What can you tell us about the making of the album?
Well, first, I moved to this island called Vashon Island in Washington and I set up a studio in a house on the island. I just started writing every single day and tried to figure out what I wanted to do for my next record. I wrote so many songs and so many different types of songs. When I look back there was a theme running through many of the major songs that I had written and they all kind of tied together, and so I started following the trajectory of those songs and that was mostly lots of brass and beats and really clean vocals. The concept was about man's relationship with nature, our alienation with nature and how we kind of separate ourselves from the world in our own way. It is kind of exploring that in a sonic and a lyrical way. Continue reading »
Label: Sacred Bones/Tissue
Review by Warren Mayocchi
There are some albums that require effort to appreciate. Consider the opening track on "Apocalyse, girl" by Jenny Hval. The track is called "Kingsize", it has a spoken word vocal with minimal music and sounds as backing. Bananas feature regularly within the lyric for "Kingsize", "I rock the bananas gently/Move back and forth/Don't wake them". The track continues and later we hear, "I beckon the cupcake/The huge capitalist clit". Are you intrigued? Do you want to hear what else happens on an album with this type of opening?
Beauty is in the ear of the listener and you will likely love or hate what Jenny Hval has created. Each song is a unique sound landscape that at times has the collage approach of "Revolution 9" by The Beatles, at times the musical beauty of the Goldfrapp album – "Felt Mountain", at times the diversity that you could expect from Emilie Autumn. Continue reading »
6 color styles available:

Style switcher only on this demo version. Theme styles can be changed from Options page.