Browsing articles tagged with " rock"
Label: Atlantic Records
Review by Warren Mayocchi
"Into the Wild Life" takes Halestorm into familiar and new musical territory. The band continue to rock hard, however this album features notable additions to their previous material. There is a wider exploration of the rock sound, perhaps paying tribute to past masters.
Every time that I have listened to the first couple of seconds on "I Like it Heavy", I think that Deep Purple's "Smoke on the Water" is about to begin, but an anthem about rock music continues which reminds me of "I Love Rock n' Roll" by Joan Jett and "We Will Rock You" by Queen. There is a short, vocal only, soul style song at the end of that track that continues the lyrical theme – 'If there's a church it's rock and roll'. Later in the album, "What Sober Couldn't Say" has a 60′s/70′s keyboard sound in a short musical passage that begins, and is at times within the song. The lead vocal is almost country rock, and there are also backing vocal touches reminiscent of the era as well. Continue reading »
Independent Release
Review by Tony Cannella
When it comes to female fronted metal, the awesome country of Italy has produced some of the best. To this point it's been mostly symphonic, operatic, power metal (with a few exceptions). Well, the band Never Trust offers something a bit different to the mix. Their debut album, "Morning Light" has more of an edgy, punk-ish, alternative metal vibe.
The opening track "Fade Away"comes flying out the gate like a shot of adrenaline. For 11-songs and about 39-minutes, Never Trust maintains a consistent, straight-forward approach. The songs are aggressive yet still maintain a catchy, basic rock and roll vibe. "Worthless" is another powerful song. The third track, "Rebound" is a cool mid-tempo number which has a ready-for-radio vibe – and is therefore – one of the more accessible tracks we have here. Continue reading »
Interview by Michelle Henriquez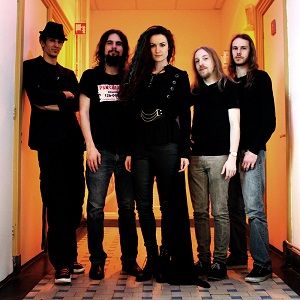 There are many hidden treasures in the Netherlands and ReSolve is definitely one of them. The progressive metal band originated in The Hague has been on the hunt for a new singer for a long while now and finally stumbled upon a very special lady with an extraordinary voice; her name is Radina Dimcheva. Her deep, sullen and powerful voice captivated both the members of ReSolve and the recruiters for Epic Rock Choir. There is no doubt that Arjen A. Lucassen always finds a place for unique talent that is out of this world.
Shortly after the Bulgarian singer Radina entered the project for The Theatre Equation, she joined ReSolve. At the moment ReSolve is in the recording process of a debut album and on the 20th of February 2015 Femme Metal Webzine took the opportunity to interview both Radina Dimcheva and founding member Lennert Kemper.
Continue reading »
Independent Release
Review by Tony Cannella
I first heard of Flowing River by way of their initial single "Poison Rose" back in 2010. At the time the band was located in Portugal, now – I guess – they have relocated to England. Whatever the case, there is not much info on the internet about this band. This is why I really wish bands would include a bio or something when sending in their stuff for review, so if I got any of the background on Flowing River wrong, I apologize, but next time please send a bio. Now, on to their debut EP "Inner Strength". As I mentioned earlier they have only previously released a one song single. With "Inner Strength" the band has released 20-minutes and 5-songs, so I feel this will probably be a better sampling of their style. And what is their style? I would say they band has a sort of dramatic, gothic vibe, not unlike say, Evanescence. Continue reading »
Label: InVogue Records
Review by Tony Cannella
Courage My Love is a powerhouse pop/punk trio from Kitchener, Ontario, Canada. The band is led by the twin sisters, Mercedes Arn-Horn (Guitar/Vocals) and Phoenix Arn-Horn (drums and vocals). Bassist Brandon Lockwood completes the trio. CML were formed in 2009 and in 2011 released their debut EP "For Now" and since then have released several more EPS including "Becoming" which has been re-released with more material thus making it a full-length for our listening pleasure.
The intro "All We Are" opens the disc and gives way to the excellent "Skin & Bone". This song has a great melodic heavy pop vibe to it and is one the standout tracks on "Becoming". For the next song "Cold Blooded" the band ramps up the power and it becomes an instantly likeable Paramore style rocker. Continue reading »
6 color styles available:

Style switcher only on this demo version. Theme styles can be changed from Options page.