Browsing articles tagged with " rock"

Interview by Ary G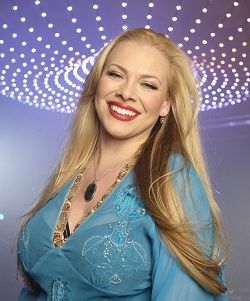 The corresponding commitments seem not to stop the couple (only in professional terms) Kiske/Somerville, that, after almost five years of silence, comes back with the second album of this project. On the occasion of the upcoming release of "City of Heroes", we had the opportunity to have a chat with the beautiful Amanda Somerville about future plans and this brand new, highly anticipated record.
Ciao Amanda

Ary's here! Welcome back to Femme Metal.net! First of all, I'd like to congratulate with you and your husband and I'd like to congratulate for the baby!

We've discovered that you'll be a great mom so congrats, really I guess you're super happy!
Ciao Ary! Thank you for having me once again.

And thank you for the well wishes! Yes, Sander and I are very happy. Continue reading »
Label: Frontiers Records
Review by Warren Mayocchi
Amanda Somerville and Michael Kiske have released a collaboration with a heroic title and similarly themed lyrical content. This is a fun album – combine a couple of great voices with a solid backing band, give them songs of heroism and inspiration, then listen to the powerful output. The music on the album stays with the rock sound displayed in the couple of videos that have been created for "City of Heroes" and "Walk on Water". To my ears, the latter is the best track on the album.
There is variety in the sound of the band with regular musical highlights from all musicians. Mostly the album has an energetic melodic hard rock approach. Continue reading »
Interview by Miriam C.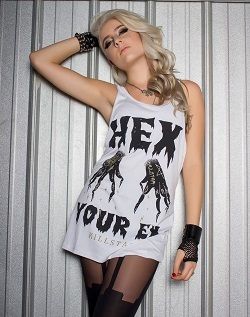 Los Angeles based singer Diamante, despite her young age, shows the power and grit of an experienced artist. It would be strange to you but Diamante, aside of a huge PR machine, has completely self-released her new debut EP called "Dirty Blonde" so we caught up the girl herself, just back from her successful Revolver's "Hottest Chicks In Hard Rock" tour. 
Hi Diamante, first of all, how are you and thank you for this special interview, we know that you are very busy promoting your new upcoming debut EP "Dirty Blonde". How life is treating you nowadays?
Life has been rad! I just returned from tour about a week ago and I've been soaking in as much of Hollywood as I can before I leave. It's been great seeing everyone and being able to rest, but I am excited to go back out on the road again. Continue reading »
Label: Prophecy Productions
Review by Warren Mayocchi
Les Discrets are a French band which is plainly obvious given their name and the fact that their songs are performed in French. Do not let that deter you though. If you do not understand French, your experience of the music may well be closer to the band's intention – to hear a moody landscape in which voice is but one instrument.
On the label's website the band are described as "playful Post Rock permeated by massive Doom Metal and some folkloristic details". I am not sure that gives you a good idea of what they sound like on "Live at Roadburn". So, how can I describe their sound? Take Pink Floyd with Eric Clapton in an experimental mood, add a restrained, sombre Robert Smith (The Cure) and have them perform songs written for them by Gary Numan and Nick Cave. Perhaps that may give you an idea, hopefully not the wrong one! Continue reading »
Label: Svart Records
Review by Crix
Impressive songs, atmosphere and a progressive sound, this is what you can find in the Uhrijuhla's new album, "Jokainen on vapaa lintu" (translation from the Finnish: "Everyone is a free bird"). The album starts with the slow and emotional "Syksy" that throw us back to the autumn weather then  it's a birdsong chirping introduces us to "Uhrilehto" and  we feel like we're in the middle of the woods. "Pohjoinen", without any doubts, is the best track of the whole album thanks to the catchy and rock flavored voice of Kauko Röyhkä . If you are stressed out by the daily routine take a seat and enjoy a good cup of tea and relax with "Hiljaisuuden luostari"; and believes us all your problems will disappear in a nanosecond.  Continue reading »
6 color styles available:

Style switcher only on this demo version. Theme styles can be changed from Options page.