Browsing articles tagged with " rock"
Interview by Miriam C.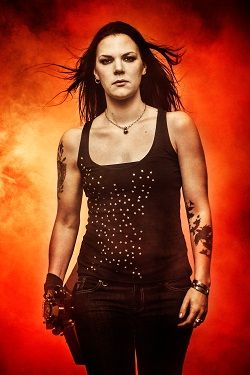 "In the Red"
, beside being the fourth album released for the Swedish explosive heavy metal quartet Crucified Barbara, it shows how the band, through its path, has matured, enhanced and enriched its musical palette. Yeah, don't get me wrong, I love the 'booze & party' themed songs but trying to improve and evolve stylistically is part of the natural flow for a band, probably in this particular case CB were helped by the fact that were able of counting on a reliable partner as their new label Despotz Records but let's read what the singer Mia has to say about it…
Hi Mia, first of all welcome back to Femme Metal Webzine. How are you?
Thank you! I'm fine! Right now I'm in a dressing room in Italy. We're playing at a club called Rock Planet in Pinarella di Cervia. We're out on the In the Red Europan Tour with Supercharger and Junkstars since 17 days and we're just about to finish a set of 13 days in a row with no day off so I'm a bit tired. Starting to mix up lyric lines and stuff on stage but the important thing is that my voice isn't that affected about it, which I'm very happy about. We've never done so many shows in a row before. And today I went to the beach 2 times during the day, very appreciated! Continue reading »
Label: Napalm Records
Review by Tony Cannella
In addition to her main gig with Leaves' Eyes, Liv Kristine has forged a prolific solo career for herself in recent years. This actually began in 1998 with her debut solo effort "Deus Ex Machina", but it wasn't until 2006's "Enter My Religion" that she began to regularly release her solo material. In the past, her solo work has had a more organic, rock and even a pop-ish feel to them. With her newest release "Vervain" Liv has gone in a heavier direction, incorporating all of the elements of her previous works whilst adding heavier, doomy guitars and a gothic vibe to the songs.
"Vervain" features 10-songs and 43-minutes worth of music and I believe this is Liv's most focused solo material to date. "My Wilderness" is a solid opening track. It is an up-tempo song with a great opening riff that just pounds away. Continue reading »

Interview by Miriam C.
Italian label Frontiers Records  is synonymous of good quality for the hard rockers/AOR fans and it's not the first time that Frontiers commits in discover and promote new and exciting bands. A blatant example is Sweden's Adrenaline Rush  whose debut album was produced along with one of the best talent of this recent years, Erik Martensson from Eclipse and W.E.T. Without further ado, let's  the singer Tåve tell us more about AR's debut and her career…
Hi Tåve, first of all welcome to Femme Metal Webzine. How are you?
Hi. All good, thank  you.
Later this year, Frontiers Records launched AR with the release of your first video/single "Change" in late April and then you were invited to play at the Frontiers Rock Festival in Milan. But, let's take a step back: could you introduce the band to us from the beginning? How Adrenaline Rush was born? Continue reading »
Indepedent Release
Review by Tony Cannella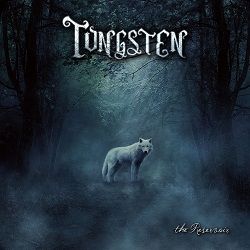 Man, there is so much great, diverse metal music coming out these days. It looks like the scene has never been healthier when it comes to the quality of the music. Some killer bands have been releasing some cool music in all genres, sub-genres and categories. This particular band is called Tungsten. They hail from Philadelphia, PA and are a female fronted progressive metal band. Their debut album is called "The Reservoir" and it is the perfect blending of progressive metal and rock and epic metal. I would sort of describe them as classic Dream Theater meets John Arch era Fates Warning meets Iron Maiden backstage at a Uriah Heep concert.
"The Reservoir" features 8-songs and over 50-minutes worth of music. In true prog fashion, several of the songs clock in at over 7-minutes. Continue reading »
Label: Spinefarm Records/Universal
Review by Tony Cannella
With their 3rd album, Sweden's Amaranthe returns with their patented blend of hard rock, metal, metalcore and pop. It's an infectious brew and one that you will hear in all its glory on "Massive Addictive".
Amaranthe has steadily seen their stature grow with each album and "Massive Addictive" is sure to see that trend continue. From the opening track, "Dynamite" it is clear that Amaranthe are at the top of their game. The guitar riffs are crunchy and the ever present triple vocal attack is still there. Next we have the fantastic "Drop Dead Cynical" which the band has also done a video for. This – in my opinion – is one of the best songs the band has done and gets instantly stuck in your head after one listen. It is always cool how the band manages to toe the line between almost pop-like melodies with heavy guitars, electronic sounds and metal. Continue reading »
6 color styles available:

Style switcher only on this demo version. Theme styles can be changed from Options page.
Archives