Browsing articles tagged with " rodriguez"
Independent Release
Review by Tony Cannella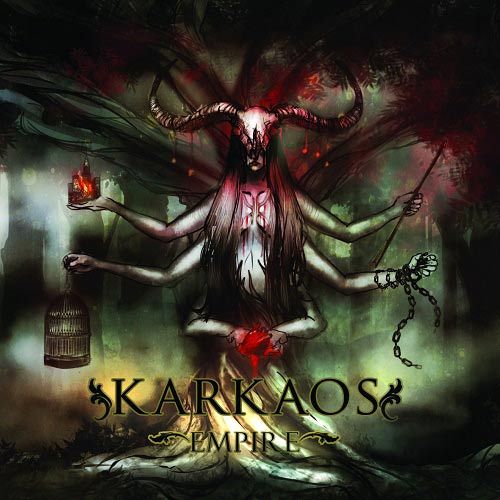 Karkaos is a melodic death metal band from Montreal, Canada. They formed in 2003 and released their debut EP "In Burning Skies" in 2011. Now the band returns with their debut full-length "Empire". Since the release of "Empire", Karkaos has parted ways with lead vocalist Veronica O. Rodriguez and replaced her with Viky Boyer. It remains to be seen how this will affect the band going forward but on "Empire", Karkaos delivers a staggeringly hungry debut.
After the intro "Ode to La Resistance" the opening track "Leap of Faith" kicks in. To put it quite simply Veronica's vocals are quite fierce and intense, that fact is driven home with a huge exclamation point on the song "Leap of Faith". She shifts effortlessly from extreme metal vocals to a more of a power metal style. Continue reading »
Independent Release
Review by Davide Torresan
It's always nice to discover new bands like this one. Clair De lune tries with this "Introduction to…" to make itself known outside of their country, El Salvador. After some changes in the line-up and in the band's name, they reached a stable line-up. Their musical style is certainly not classic since they can boast the presence of a violinist, an opera singer and a growler in the group. From these 3 elements I was expecting a gothic metal band, but I was wrong. They do a particular type of symphonic metal with a touch of ordinary madness. I'd say that we are dealing with an avant-garde metal band.
"Introduction to …", whose cover immediately reminded me the one of "Angels Fall First" by Nightwish, is a demo with only 4 songs that explain directly to the listener the abilities of Clair De Lune. Although the band name is clearly inspired by "Moonlight Sonata" of Beethoven, the atmospheres of this demo are not really calm. After a short orchestrated "Intro", the very first song makes its appearance: "Soul Mirror". Continue reading »
Independent Release
Review by Tony Cannella
Karkaos are an interesting band to come out of Canada. On their debut 6-song, 25-minute EP the band comes at you fast and heavy with an aggressive metal sound. Their vocalist Veronica Ortiz Rodriguez does an excellent job in going from death growls to clean vocals ala Alissa White Glutz from another Canadian band The Agonist. Karkaos has been described as Death Metal or Metalcore which I'm not sure is fully accurate. It no doubt stems from the vocals – even though Veronica Ortiz Rodriguez has way more to offer than just senseless death grunts, you can just feel the aggression in her voice. Musically there is a bit of a classic metal influence, some guitar harmonies and a full time keyboardist which is rare for this type of band. Sure "In Burning Skies" is pretty much straight forward, no fooling around metal, but they also add some melodic touches into the mix. After the brief intro "Catharsis", Karkaos launch into the aggressive "Awaiting the Clock's Last Turn". This is the perfect introduction to Karkaos. The classic metal riffs are there and Veronica is an excellent front woman who packs plenty of power in her voice. Next we have "Ashes", which is slower in tempo but still heavy and the inclusion of keyboards gives the song a pretty cool atmosphere. There are also some clean male vocals included in this song. "The Last Stand" is next and is my favorite. It starts off with a bit of a Celtic influence before blasting into full on heaviness. The final two songs "Lie for a Lie" and "The Tempest" brings "In Burning Skies" to satisfying conclusion. While "In Burning Skies" is just a taste of what Karkaos has to offer. The real test however, is when they release a full-length album to see if they can sustain the level of consistency on "In Burning Skies". "In Burning Skies" is good – not great – but it is a nice start for this young Canadian band.

Rating – 80/100
Tracklist
Catharsis

Awating the Last Clock's Turn

Ashes

The Last Stand

Lie for a Lie

The Tempest
Line Up
Veronica Ortiz Rodriguez – Vocals

Francis Tremblay – Guitars

Vincent Harnois – Guitars

Michel Pelequin – Keyboards

Guillaume Vaillencourt – Bass

Normand Martel – Drums
Links
Label : Avispa Music
Review by Tony Cannella
Spain's Cuatro Gatos formed in 2001. Thus far, they have released three full-length albums and now their newest acoustic album, which is called "Me Arriesgaré". Incidentally, the name Cuatro Gatos when translated into English means Four Cats, yet there are six members in the band, go figure. Among the material you will find on this release is 52-minutes worth of mostly acoustic music, all of which is sung in the bands native Spanish language. The majority of the vocals are handled by the male vocalist, Juanmi Rodriguez (he is quite the instrumentalist as he also contributes keyboards and guitars). Female vocalist Covadonga Martínez is not featured as prominently as the male but she does a great job when called upon. The biggest surprise for me was the song "Al Final del Mundo", which is a cover of the Nightwish song "The Islander" sung in Spanish. Aside from that the majority of the material is quite strong and consistent for the most part. Spain keeps contributing some great bands to the Metal universe, and while the newest release from Cuatro Gatos is not strictly metal, it is beautifully done. It definitely has me curious about their earlier material.
Rating – 73/100
Tracklist
Es Tu Momento
Más allá de la Realidad
Me Arriesgaré
Sálvame
Lo Que Hay Detrás
Siembre Viento
Al Final del Mundo (The Islander)
En Tierra de Nadie
Tocaba Correr
Adios
Hermano Enemigo
Line Up
Juanmi Rodriguez – Vocals, keyboards, guitars and acoustic guitar
Covadonga Martínez – Voices and choirs
Arellano Joaquin "Boy"- Drums, vocals
Oscar Salas "Cherokee" – Bass and vocals
Ismael Filteau "Filth"- Keyboards, vocals
Pedro Vela "Peter Candle" – Guitars, vocals
Links
6 color styles available:

Style switcher only on this demo version. Theme styles can be changed from Options page.