Browsing articles tagged with " rome"
Label : Ravenheart Records
Review by Tony Cannella
From Rome, Italy the Gothic metal band Maledia released their debut album "She and Her Darkness" in 2009. It was quite impressive for a debut and now finally three years later they follow that up with a 7-song 38-minute EP "Your Angels Cry".
At 38-minutes it is obviously longer than your average EP but not long enough to be considered a full-length. "Your Angels Cry" is a heavier album than their debut and a bit darker, and injects their Gothic sound with a bit of a Black Metal influence. This is never more evident than on "Obscura" which sees one of the more bizarre vocal duets of the year, with female vocalist Luana Imperatore teaming up with the Italian Black Metal growler Agonia Blackvomit. Continue reading »
Italian Doomsters RAVING SEASON has published video preview of the upcoming album "Amnio"  that was recorded and mixed by Federico Truzzi at Lemonhead Studios  and mastered by Esoteric mastermind Greg Chandler at the Priory Recording Studios. Check their Facebook for the latest updates. Continue reading »
Interview by Si Smith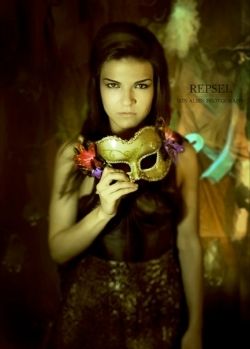 After the 2007 line-up change of the band's original 2003 members, the band started writing and composing the first album called "The Double Mask of Human Kind"
, released on 8th February 2011. The new album differs completely from the two previous demos called "At the Gates of Arcan" and "Darkness and Confusion" by introducing a new, guitar-oriented sound. "The Double Mask of Human Kind" describes the two faces of war, the hopes and fears of the people living in war zones as well as the sarcastic complacency of the people who lead wars according to their personal economic and political interests. Femme Metal got the chance to talk to Marta Iacoponi, singer and violinist from Repsel.
Hi Marta. First of all, thank you for talking to us, and a warm welcome from everyone here at Femme Metal.
Thank you, it's a pleasure to be interviewed by Femme Metal!
The band started in 2003 under the name Repsel being an acronym of the original members' initials. Who was in the band at that time and how has the band changed up until now?
Well, Paolo, the drummer, and Lorenzo, the guitar player, are the band's only remaining founding members. The band had initially another vocalist. I joined the band in 2004 and we started recording our first demo the same year. The line-up remained the same for almost four years, but on October 2007 Giorgio replaced the former guitar player. Soon after, we began working on the new album, "The Double Mask of Human Kind". The band changed up another time in January 2010. Alessandro, the bass player, was the last to join the band. Continue reading »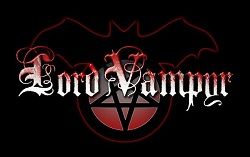 Interview by Erwin van Dijk
There are basically two branches of Black Metal: the ones with the corpse paint and great visual shows like Dimmu Borgir and Watain (but Watain is also very smelly) and the bands who compensate their lack of special effects with a cold self hatred like Skitliv and Shining. Lord Vampyr belongs to the first group. True to the genre everything seems to be shrouded in thick mists. For example, the website under construction and Myspace offers besides the names of the band members only very little info in Italian (a beautiful language but I do not speak it) but we have Wikipedia these days. Lord Vampyr (real name Alessandro Nunziati) used to be the singer of legendary Theatres des Vampires and Lord Vampyr is his solo project. This year the band has released their latest album called "Carpathian Tragedies".
Vampires seem to be very popular these days in the cinema. Do you watch those movies yourself?
Yes, but I'm not satisfied, cause all seem like a teen-movies and not a serious movies on the world of vampires.
Most of us know you as the singer from Theatres des Vampires. But have you been active in other bands before Theatres des Vampires?
Sure, my first band was Sepolcum (then called VII Arcano). Sepolcum was one of the first death metal band from Rome, then the band became more gothic style close to Tiamat, Paradise Lost, My Dying Bride.
You have been active in the music business for many years now. What are the high lights so far and what is still on your "to do" list?
If you ask me what I want to do yet, well many things. Probably put on a short project with our keyboard player, something pop-rock like 30 Seconds to Mars, The Rasmus and Muse.
As said before, you used to be the singer of Theatres des Vampires. Why did you left the band?
There were many personal problems and then on the music. Continue reading »

Interview by Danny Robertson
We caught up with Maledia's singer Loo to discuss their background, their current album "She and Her Darkness" (released in January 2009) and future plans.
What themes/ideas inspired your lyrics on these songs?
Firstly thanks for this interview. Each song for me is a new journey, when the melody is ready usually I listen to her a lot of times thinking of where it leads for me. On this album I also wrote about some things which happened in our and my life, maybe in some hidden words, using some ideas and symbols which reminded me of some particular sensations. But, I have to say that everytime I have to write new words for a new song, it's always a new challenge and a new journey through feelings.
How would your describe your sound?
Our sound is very powerful but very, very melodic and emotional. It's full of our influences, we are five musicians very different to each other, but in love with the same thing – Music .
Which other vocalists do you admire, past and present? Would you say any of them have inspired your own style?
I love a lot of vocalists, but I can say that any of them have inspired my own style. I think that a real artist has to give their personal and own touch to their style, this is the only way to be truly appreciated, judged and loved, not only compared to someone else. However, my favourite vocalist (in the gothic metal scene) is surely Tarja Turunen, she is the biggest voice and personality I have ever seen on a stage.
Who/what are the band's main influences as a whole?
Many. As I said, our influences are various; in fact each Maledia member has got favourite bands and music background inspirations, very different from each other. But the main influences are Nightwish (Old Style), Cradle of Filth, and many songs coming from the horror dark projects of a lot of movies' soundtracks.
What normally gets written first – the music or the lyrics?
Usually we write the music first. This part is often "addictive" to the band (except me). I contribute obviously to the creation of the music, but very less in this part, because my real work is the creation of the lyrics and their melody. But this is not the only way we use. I can say that the creation of each newborn song is always different from the past one.
Tell us about the production behind the current album – how long did it take to write and record? Did you experience any difficulties in its' creation?
It was as difficult as fantastic. It took more than three months to record the complete album with voices and choirs. But unfortunately we met a lot of difficulties in the period after the creation, I mean production itself and in the coming out. It took more than one year to make "She and Her Darkness" available for all our fans. We still apologize for this to all our fans. We hope that the long wait was rewarded for each one of them, I will thank them forever.
MySpace * ReverbNation * Facebook * Site
6 color styles available:

Style switcher only on this demo version. Theme styles can be changed from Options page.