Browsing articles tagged with " rylin"
Label : AFM Records

Review by Tony Cannella
When a band releases such a phenomenal debut, the task of coming up with a comparable follow-up can be a daunting one. Such is the position that the Swedish hard rock/metal band The Murder of My Sweet find themselves in. Their 2010 debut "Divanity" was one of the best debuts I've heard in a long time, since then the band has changed guitar and bass players and now they return with their sophomore effort "Bye Bye Lullaby". First off, lead vocalist Angelica Rylin sounds as good as she did on the debut. Her vocals are wonderful throughout "Bye Bye Lullaby" and they soar on each song. "Bye Bye Lullaby" contains more killer melodies that helped make "Divanity" such a great release, starting with the heavy – yet melodic – "Armageddon". The next track "Fallen" has a theatrical vibe to it, and "Unbreakable" has an electronica style opening, it starts off as sort of a ballad before transforming into an up-tempo song with a great melody and a memorable infectious chorus. My two favorite songs came at the very end of the album with the duo of "Black September" and "Phantom Pain", before that some of the highlights were "I Dare You", "Violently Peaceful" and "Resurrection". It is really not fair to compare the two albums. The problem is, The Murder of My Sweet set the bar so incredibly high with "Divanity" that it would be difficult for any band to live up to those lofty expectations. Still, when taken as its own entity "Bye Bye Lullaby" is pretty good in its own right.
Rating – 75/100
Tracklist
Armageddon
Fallen
Unbreakeble
I Dare You
Violently Peaceful
Meant to Last Forever
Idolize
Kind of Lousy
The One
Resurrection
Waiting for the 27th (Booh Prologue)
Black September
Phantom Pain
Line Up
Angelica Rylin – Vocals
Christopher Vetter – Guitar
Teddy Westlund – Bass
Daniel Flores – Drums
Links
MySpace * ReverbNation * Facebook * Twitter * Site

Interview by Roberta Ilaria Rossi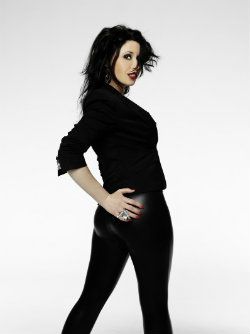 We've got to know them thanks to their debut album "Divanity". Now the Swedish band The Murder of My Sweet comes back with a new record, "Bye Bye Lullaby", released via AFM Records. To introduce better this new effort, the lead singer Angelica spoke with us and she explained with details something concerning this new record and her own work inside the band.
Hi Angelica and welcome to Femme Metal. Let's begin this chat talking about the band you sing in: it's the gothic metal band from Sweden called The Murder of My Sweet, which has been founded in 2007. Would you like to tell us something about your biography?
Hi guys! Yes, it's true that we started out in 2007. I got a phone call from drummer Daniel Flores that September and he asked me to come by his studio and listen to a couple of songs. I instantly fell in love with the project, and about two years later we released our first single shortly followed by our debut album "Divanity". We spent 2010 and 2011 playing festivals and venues and combined that with writing and composing for our second album "Bye, Bye Lullaby", which we recently released!
The band's name refers to a noir movie of the '40s called "Murder, my sweet" by Edward Dmytryk. How did happen the choice for the band's name? Are you a fan of noir movies?
Yes…. When Daniel and I started to work together and got to know each other better we soon realized we had a common interest in movies and movie scores. One of our passions is the art form 'film noir', so we wanted to include that element in our music and our appearances.
You're currently promoting your second record, "Bye Bye Lullaby", that has been released two weeks ago. What could you share with us about this latest album, starting f.e. from the original title of the album?
Well, it was hard at first… I had to struggle to get back into writing mode and to feel inspired 'cause we'd been really busy in the intervening years. The time before and after the release of our debut album was so intense and we wrote so many songs, both for our own band and for other bands and projects, that I felt I had nothing more to write about. It's really silly but I guess I was slightly burnt out? "Bye Bye Lullaby" sort of represents my way back; finding inspiration and joy again! We came up with an album that is a bit more contemporary but darker and in my opinion, heavier at the same time.
This is your second record. Your debut album, "Divanity", came out in 2010 and it has got a good success. If you were to describe this album with your own words, which adjectives would you like to use?
Aware, heavy, contemporary and dark, with an artistic twist in the last three songs.
Your sound style is described as "cinematic rock". Could you provide some more information?
I think the "Cinematic" rock description evolved from the fact that when we compose the symphonic parts of the songs, we do it in the same way that they do it in movies so that every song on a given album could also be part of a movie. The fans have picked this up too and there are a lot of fan made videos on youtube, where our songs are featured with video games and TV series…
Your label allowed us to take a listen to the album. From the premises offered by the card presentation, it seemed that this album had many innovations, which, unfortunately, I have not seen since the first listening. Actually, the sound seems a normal gothic metal sound combined with a touch of symphonic metal, instead of being "cinematic rock". What did cause the choice of adding electronic effects into your sound?
If you have been to the movies lately and seen, for instance "Tron; Legacy" or "Inception", there are a lot of electronic sounds and effects going on. We got hugely inspired by that. Going to the movies is a big part of our research for writing new songs, so I would say we still do Cinematic rock. The art form is evolving though and so are we…
As I've seen in some other bands, you've put some little orchestral arrangements in your sound. Will we ever see a third chapter of your discography that will star a real orchestra, like many bands like Epica or Nightwish did in their career?
It would be a dream come true to record and perform with a real orchestra, but sadly that sounds really expensive. Considering the situation in the music industry today, I don't see that for us. But you never know!
There are some great guests in this record: in fact we could notice the presence of Jesper Strömblad (In Flames), Peter Wichers (Soilwork) and Fredrik Åkesson (Opeth). This last guest really made me curious. How did you feel like working with these people and, especially, with Fredrik?
It can be a really mind blowing journey, or a completely flat feeling, inviting other musicians into your creative sphere but this time it definitely was the former. These guys are 3 very talented and experienced musicians, all, top of the line. You might say I was a bit star struck!
Will we ever see a bizarre duet between Opeth and The Murder of My Sweet?
Wouldn't that be sweet? Again, you never know…
Originally, there were 30 tracks composed for this new album, but they were reduced to 13. Was it hard to choose the 13 tracks that would have create your second album?
It is always hard to kill your own 'darlings, but it has to be done. Eventually, when you listen to all the songs together you soon, naturally hear which match together and which don't.
What happened to the remaining tracks? Do you think that you will use some of them in one of your future work, perhaps as bonus tracks?
Well, we have a great plan for our next album that will take off from right where we ended "Bye, Bye Lullaby", so keep your eyes posted. We intentionally composed the last three songs, "Waiting for the 27th", "Black September" and "Phantom Pain", as a mini saga that will bloom into full grace on the next record…
We can find a bit of everything in this record. There's a ballad ("Meant to Last Forever"), groove songs like "I Dare You" and so much more. What could you tell us about the song-writing and about the music process? How did you create these songs?
Either Daniel comes up with a groove or an idea for a chorus (and we start working from that perspective), or I come up with a story or an interesting sentence and we get off from that. And of course, as I've already said, we spend a lot of time doing research by going to the movies, etc…
To better promote this album, you have also shoot ​​the video for the single "Unbreakable", which will be out soon. Can you please reveal us something about it?
We actually shot the video in an abandoned rail tunnel and that put a really magical atmosphere on the set. It was freezing cold in there and we shot for about two days, which gave me a really bad cold afterwards, but I would do it again and again because it was so much fun. You can watch it here.

How are you living this great music experience? Do you have any expectation for the future?
I have great hopes and dreams for the future although the music industry is going through some rough times. I will try and stay floating and hope that our fans will continue supporting and sharing our web sites to everyone they know. The power of the fans is not to be underestimated!
Do you have several different projects on the go? You mentioned a lot of writing…
No, at the moment we all focus on The Murder of My Sweet and our latest release; and then, it's time to start composing the next album, so we're all concentrating on this!
This was my last question. Thanks for your time, Angelica. Feel free to share something with our readers and your fans!
Thank you for following us and reading this interview. You know we love you all and cherish the support and feedback you give us. Help us get our music out there and visit us at www.themurderofmysweet.com…. The sweetest rock and kisses!!
Links
MySpace * ReverbNation * Facebook * Twitter * Site
Latest Multimedia
Label : Frontiers Records
Review by Tony Cannella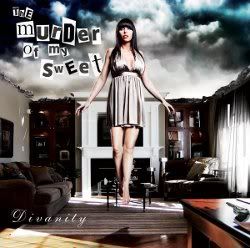 I realize that 2010 is only a few weeks old, but the debut release from the Swedish band The Murder of My Sweet is the best album I have heard so far this year. Okay, maybe that's not saying much given the fact that the new year has only just begun, but "Divanity" is also as good as most anything I heard in 2009 as well. The style that prevails throughout the CD is hard to nail down. "Divanity" features some truly complex pieces of work, but the band is also quite skilled at playing melodic hard rock and metal. The songs throughout "Divanity" are delivered with a great deal of passion, energy and conviction. From the very first track, I was hooked. This 53-minute opus really delivers from the very first song "No Evil" and there are hardly anything that can be considered fillers. The songs flow together nicely and the lyrics are really interesting as well, as they seem to tell stories within the songs. The vocals of Angelica Rylin are really excellent as well. Some favorites include: "Follow the Rain" and "Bleed Me Dry" (the videos for these two songs can be viewed at their official My Space profile), "Chemical Attraction", "Kiss of Death", "Revolution" and "Valerie". The final track "Death of a Movie Star" is a masterpiece that brings "Divanity" to a hugely bombastic conclusion, with it's complex, orchestral arrangement and it's "Bohemian Rhapsody" kind of feel to it. This song is literally all over the place and just an overall big rock track. When all is said and done The Murder of My Sweet have delivered a huge sounding CD in "Divanity" that melds listener friendly hard rock with melodic metal and complex musical arrangements. It is a perfect combination that never fails to succeed and "Divanity" is a release that never fails to impress.
Rating – 95/100
Tracklist
No Evil

Follow the Rain

Bleed Me Dry

Chemical Attraction

Kiss of Death

One Bullet

Tonight

Storms of the Sea

Destiny

Revolution

Valerie

Death of a Movie Star
Line Up
Angelica Rylin – Vocals

Daniel Palqvist – Guitars

Andreas Lidahl – Keyboards

Johan Niemann – Bass

Daniel Flores – Drums & Strings Arrangements
Links
MySpace * ReverbNation * Facebook * Twitter * Site
6 color styles available:

Style switcher only on this demo version. Theme styles can be changed from Options page.