Browsing articles tagged with " same"
Interview by Ary R.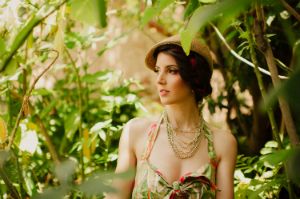 Some of you know this band thanks to Ryan Folden's work, After Midnight, some other got in touch with these guys on the occasion of the Dark Adrenaline tour by Italian act Lacuna Coil. Who are we talking about? The answer is here: American band THIS IS SHE, that in this 2012 enter the music scene with a well-respected EP, "Nobody Is Ok". As soon as the tour came to an end, I had the pleasure to exchange some chats with the sweet Alana Grace, that revealed something about this European tour and about the new goals of the band. This week Femme Metal hosts an interview with This Is She and we have the pleasure to talk with the singer Alana Grace.
Hi Alana, welcome on our website. How are you doing?
I'm doing great! I'm happy to be back from tour and relax into the holiday season. It's my favorite time of the year, and I'll get to see my family soon so it's a good time.
This Is She is an American music reality that slowly tries to introduce itself in Europe in the proper way. Would you like to share something about the band biography or about your musical careeer?
I met Christian and Ryan back in 2009 when I toured with the Vans Warped Tour. They were out with their band After Midnight Project at the time, and we all bonded together throughout the summer. Both bands had their ups and downs and in 2011 I think we were all ready to try something new for a change. I had an idea for an electronic rock band, and I was looking for players right as After Midnight Project decided to take a hiatus. So we hopped in the studio together and wrote for a few months before starting to play live. Finally we released our first EP in July of this year and have been trying to promote it ever since.
You've ended up the European tour recently, This is She was chosen as the support act for the Italian band Lacuna Coil. How would you describe this experience?
It was an incredible experience for us to go on tour with Lacuna Coil. They are so good live it was a little intimidating at first, but they were very nice to us and we became easy friends. I would say the crowds were awesome for us. They have a really dedicated fanbase who generally had checked us out before coming to the shows. It was so much fun to see some people were already familiar with our songs, and it really made us feel at home with their fans.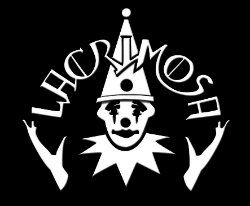 Interview by Miriam C.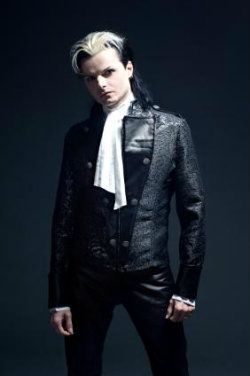 After four three of silence gothic/darkwave Swiss duo Lacrimosa are back! So we took the chance to ask a few question to the mastermind Tilo Wolff about on "Revolution", the new album out on Hall of Sermon.
Hi Tilo, first of all thank so much for reply at our questions. How are you??
Pretty fine. We are on tour in Germany right now, have the last five shows ahead and so far we are pretty happy with everything that happend during the tour!
"Revolution" comes after a three year break with "Sehnsucht", how was the album's genesis, when have you started to nail down the first lyric?
Actually the first lyric for "Revolution" was "This Is the Night" which I wrote in Bejing right after we played there in 2009. So the first seed for this album was planted while we were still on tour with "Sehnsucht" which might also be the reason why this new album sounds like the conclution of the previous one.
For this last album you have worked with Mille Petrozza (Kreator) and Stefan Schwarzmann (Accept), how's this collaboration was born and how was working with them?
It was quite spontaneous. Mille was at my house visiting me and I played him the track "Revolution" in a version recorded by myself. He instantly liked it and asked if this would be the final version. "Why?" I replied and he said that he'd like to play this song himself. Of course I had nothing against it and then he played more and more songs getting really into it! Afterwards I asked Stefan if he'd like to participate on the production since we already some time ago talked of doing something together, and well, so it developed.
Will you shoot any videoclip from the "Revolution" album? What songs will you choose?
Yes, we made a short clip for "Irgendein Arsch ist immer unterwegs" and a live clip for "Revolution" which is in the post production right now.
How is to be your self entrepreneur of your music? What are, in your opinion, the pros and cons? Also I've read that you have taken the decision to not sign anymore external band like has happened with Sandra Schleret's Dreams of Sanity, why?
The pros are that there is no-one telling me what I shall do and what I shall not do. I can write and produce exactly the music I want to free from any commercial aspects! This is essential for me! The cons are that I don't have much free time. This is also the reason why it always takes so much time from album to album. While other bands are on tour their record labels are preparing the next album and taking care of the promotion while I'm just busy traveling and playing.
Between "Sehnsucht" and "Revolution" are passed 3 years, there's something that you'll change in "Sehnsucht" and, in your order of ideas, what are the differences between the last album and this one?
I improved in the production and mixing matter but I love "Sehnsucht" as it is. Pure and majesticaly unpolished while the new one is straight, direct und uncompromising – so far my favorite album!
What is the lyric in "Revolution" that you are more fond of/attached to? And why?
"Weil Du Hilfe brauchst". Here it all comes together for the album. If we don't realize that we have needs that need to be fullfilled and that there are people around us that might need our help, if we don't realize that we all are sitting in the same boat and will only survive if we row together and not against each other, than we might be lost!
In your long musical career what is/are the thing(s) that you regret the most and there's something that you'll change?
Of course when you are doing all by yourself and have no adviser you make mistakes here and there but all in all I am pretty happy with everything and if things would have been different I wouldn't be where I am right now and where I am right now makes me thankful, so no need to regret anything so far!
How should consider the status of your other band Snakeskin? Something is going on or all is quiet and would be for a long long time?
Well, it's all a question of time. Since years I want to make a new album for Snakeskin but I just don't come to it. Maybe in the end of next year, let's see.
Maybe this question can sound harsh to you but I hope to explain well what I would like to ask : what you can tell me about Anne's musical background and, if I recall right, in 1994, what was triggered the decision to insert/add her in the line up? In the end what was the thing that you have been hit/intrigued about her?
Since I started with Lacrimosa I was trying to find a female voice suiting my voice. Already on the first album I recorded with some but never was so completely happy. When I heard Anne plus she playing after I never had a good live keyboarder I asked her in for some test recordings and musically and personately it worked perfectly.

Well, dear Tilo, I really thank you for this interview, hope you'll finding it entertaining and interesting. I would ask you now to greet your fans and our readers. Thanks
Thank you and take good care!
Links
MySpace * Facebook * Twitter * Site
Label: Shark Records
Review by Tony Cannella
Germany's Dawn of Destiny have previously released two full-length CDs. Their first was titled (appropriately enough) "Begins" and they followed that up with, "Rebellion in Heaven" in 2008. Now the band have returned with their third full-length, titled "Human Fragility" and it is packed some pretty relentless symphonic, power metal that should please fans of Helloween. What makes Dawn of Destiny a bit different than their contemporaries is the lyrical subject matter that can be found on "Human Fragility". Rather than sing about fantasy themes (which is also cool), the band take on real subjects with their lyrics, such as human relationship, diseases, dreams and fears. On the lyric sheet main songwriter/bass player Jens Faber offers a bit of an explanation of what each individual song is about, another cool thing about the lyrics is that they have a hopefulness and optimistic quality about them, they don't beat you over the head with the negative. That in and of itself is admirable. "Human Fragility" lasts for 15-songs and well over 60-minutes long, so you are definitely getting your money's worth from Dawn of Destiny. The vocals Tanja Maul are another positive aspect of this CD, she has a good range that she utilizes to it's fullest on "Human Fragility". Two of the best songs on the CD are helped out by two guest stars: Axxis vocalist Bernhard Weiss shares vocal duties with Tanja Maul on "Unborn Child" and Elegy frontman Ian Parry joins in on the excellent title track. Other highlights include: "Destiny Unknown" (which has a "Keepers… era Helloween-ish chorus), "In a Heartless World" and the great melodic track "Learning to Fly". In my opinion the main highlight comes with Egyptian themed "Ten Plagues of Egypt". The band really flex their muscles on this one and the chant along chorus and the extreme male vocals add a nice touch to the song. One thing I have found in the time that I have been reviewing CDs is that there are a lot of good power metal bands from all over the world, and contrary to popular opinion a lot of them have something different and unique to offer the listener. Dawn of Destiny are one of the best, that I've heard in quite awhile. The songs are so wonderfully crafted, mixing crunchy metal riffs with the symphonic and melodic bombast of say and early Helloween or Savatage. This German band may have what it takes to break out from the crowded power metal pack and really make a name for themselves – if that doesn't come to fruition, there is no denying the fact that they've made a great album..

Rating – 95/100
Tracklist
Decadence of a Heart

Silent Suffering


Unborn Child

In a Heartless World

Learning to Fly

A Better Time to Come

Human Fragility

Destiny Unknown

Ten Plagues of Egypt

Dying Alone

End of Pain

Blown Away

One Heart

Unchained Someday

For Love
Line Up
Tanja Maul – Vocals

Veith Offenbächer– Guitars

André Reis – Guitars


Dirk Rackiewicz – Keyboards

Jens Faber – Bass

Patrick Klose – Drums
Links
6 color styles available:

Style switcher only on this demo version. Theme styles can be changed from Options page.