Browsing articles tagged with " sara"
Label: Inside Out Music
Review by Tony Cannella
Arjen Anthony Lucassen released the last album on the Ayreon moniker back in 2008. Since then he has kept his creative spirit alive working on various other projects. Now he returns with the latest Ayreon opus entitled, "The Theory of Everything" and for someone who has a long career based on big, grandiose epic productions, "The Theory of Everything" may just be his biggest and most thoughtful yet. It is always interesting to see some of the musicians Arjen uses on the Ayreon albums and "The Theory of Everything" is no different. Some amazing singers make appearances here including: Tommy Karevik from Kamelot, Marco Hietala from Nightwish, John Wetton from Asia, King Crimson and Uriah Heep, Cristina Scabbia from Lacuna Coil and Sara Squadrani from Ancient Bards. Continue reading »
Label : Sire/Warner
Review by Luisa Mercier
Tegan and Sara is a Canadian duo of twin sisters that play alternative, indie music. As far as I know previous records leaned more on the alternative rock side, but definetely this last records is more electro.-pop rock oriented and heavily influenced by synths and '80s music. I have to say that some tracks clearly reminded me of mainstream pop (Britney Spears, Katy Perry), like for example "I Was a Fool" and the first single "Closer".
Despite the electronica and the overall pop feeling in the musical part of the album, lyrically is much more intense since it deals withe the pain of not requited love, breakup and the general wild feeling you get when your lover messes with you.
Of course not all the tracks try to imitate bubblegum pop, "I'm Not Your Hero" opens with pumping bass and the rock is back again always mixed with electronica symbolizing the mix of love and reality. Summing it up, this album (at least arrangements wise) is a mixture of typical Tegan and Sara stuff and more accessible stuff, so it is recommended to everyone, really.
Interview by Scott Johnson
If Battlelore and Nightwish got in a fight and Celine Dion were the referee then a big meteor fell from the sky and smashed them all together the survivor would be called Ancient Bards. Their EPIC songs and beautifully hand crafted musicianship plus the not of this world vocals of Sara Squadrani make for a combo that would fire up any battle weary warrior and help him find new energy to slay a thousand dragons. I had a chance to talk to Sara and to eneter the world of Ancient Bards.
Hello Sara, so nice of you to give me this oppritunity to talk to you today. I would like to ask you if a person were to ask you to descibe the music of Ancient Bards what would be the first thing that would pop in your head?
Hi Scott! Well Limb described us as a Symphonic Epic Power Metal band and I think this label suits our music pretty well but I would add the word "imaginary" or maybe "fictional" because every time I hear the tunes I can perfectly picture the deeds of the heroes we're talking about. This is some kind of magic Daniele does when he writes, I starts by thinking about what's happening in the story and then the music comes out naturally from his fingers playing the piano!
How long has the band been together?
We became an actual band in the summer of 2007, it seems like it was yesterday! Daniele was looking for musicians to join his project, he found me through MySpace; he wasn't really searching for a female vocalist but when he first heard me he thought that he could give it a try!
Have you been with them from the beginning?
I've been with them from the beginning. Daniele had tried before to form a band though but with no results, as he coulnd't find people who shared his same visions and had the same aims.
What is the metal scene like in Italy?
In Italy the metal scene is nothing like the ones of the other European countries. Here metal music is followed by few, it never went mainstream and good metal bands too often remain underground realities. It's just that it isn't part of our culture, here Italian pop music has a long story and people are not attracted to heavier sounds, they're not interested and I'm afraid that there can also be a little prejudice towards those who listen to metal, as ignorance can easily lead you to make the logical association metal=satan (I'm not saying Italians are ignorant, I just meant to say that whenever one doesn't have the curiosity to really get to know something he accepts the common judgment). That's too bad!
Taking a listen to the album, Who are some of your personal influences as a singer?
My personal influences are very particular for a metal singer… my first choice would be Celine Dion, ever since I heard her singing "My Heart Will Go On" I literally fell in love with her, she is a strong woman with an amazing voice she can do everything she wants with! She is also very versatile as we can see in her last album "Thaking Chances". Celine is like my beacon but I also love Whitney Houston, Aretha Franklin, the amazingly talented Jessie J, I adore Adele and Giorgia Todrani, the best Italian singer of all times I think. I obviously take inspiration from female singers, though I "steal" something from Gavin DeGraw too.
Have you ever been compared with Celine Dion before as far as singing style? I love her.

Once someone wrote a comment on an Ancient Bards YouTube video saying "Celine Dion is that you I hear?" and that made me go crazy! It was and it still is a huge compliment for me to be compared to my vocal hero. Of course I don't have her warm and lovely timbre but I grew up listening to her every song so I must have absorbed her singing style a bit.
I noticed that the musicianship of everyone in the band is very very technical and wonderfully detailed. Have you all been studying music and all of the centain instruments for a long time?
The guys started studying when they were kids and they all took lessons in academies (some of them now are teachers). In our kind of metal you need to be very prepared technically and my boys are really good, because the all have a great passion for music, which make it easier to find the strength to practise and practise and practise…
I really love all of the elements within the band. From the epic big full over all sound to the choir to all of the beautiful notes flying from the guitars and the thunderous drums and especially your voice that gives me utter goosebumps every time you open your mouth to sing. Where did the idea to tie all of these elements together come from?
Everything comes from the mind of Daniele, when he composes he can imagine all these elements together and the rest is the natural consequence of the fusion of our different personalities, our diverse musical tastes and our different musical aptitude. All these elements create our particular sound.
Can you explain the concept of the Black Crystal Sword Saga?
I honestly don't know everything about the saga, only Daniele knows the whole story, he just gave me a few hints but I don't know exactly how it's going to end. It's all about this Black Crystal Sword and all the people that happen to know about it. In the first two chapters the story is entangled enough so I suggest you to go on our website (www.ancientbards.com), in the download tab you'll find a pdf file with all you need to know about what happened so far!
Let's talk about "Soulless Child" which was released last November. What is the over all story and message with this album? Is it a continuation of the Black Crystal Sword Saga?
Yes, "Soulless Child" is the second chapter of the first part of the Saga, that was created by Daniele when he was just a kid (he was like 16 or something) and right because Daniele was so young that the story is full of that naïvety which is typical of the pureness of a young heart. The characters are virtuous, never-failing, brave and fearless but also so so human! I think the great message is this, in this world we need heroes and we look for them everywhere but the real thing is that anyone can be a hero just by being the best person one can be!
What character from the saga do you relate too the most?
I relate to Shena because she's the only female character of the story so far and I'm the only female musician among the bards! I like her because she's a tough woman, she has the responsability of her realm on her shoulders so she needs to be flawless and blameless even when it's not easy to… I wish I could be as brave as her (I'm doing my best)!
Are all of you big fans of fantasy fiction?
Not really, the ones into fantasy fiction are Daniele, Martino and Federico, they are the experts in those things. I personally was never attracted too much to these kind of things.
How many parts of the story do you think there will be?
I don't know precisely as Daniele himself is not sure of it. The only thing I know is that there will be three parts, each one divided into (I don't know how many) chapters
Will there be a tour for the "Soulless Child"?
Nothing sure yet, we will be having a few gigs around Italy and we will attend a few festivals we'll soon give news about. For an emerging bang is still very hard to play abroad, we need to wait for one of those chances that happen only once in a while and take it!
Is Daltor dead??????

It's what we are let to believe at the end of TAOTK… but at the beginning of "Soulless Child" it's clear that maybe it takes more than some dragon bites to kill a hero!
I can't wait for us to find out what is next in the story of the Black Crystal Sword Saga and in the story of Ancient Bards. I would like to thank you for your time Sara and do you have anything that you would like to add?
It's always an enormous pleasure to talk with Femme Metal, I wanna thank all of you guys who bring on this beautiful webzine! I hope to see you all from the stage soon! Cheers!
Links
MySpace * ReverbNation * Facebook * Twitter * Site
Latest Multimedia
Label : Nonesuch Records/Warner Music
Review by Luisa Mercier
"Sun Midnight Sun" is the second solo effort of Sara Watkins, violin and fiddler player, plus singer and songwriter, once part of the bluegrass band Nickel Creek. Even though all the songs have that folk-country old feeling around them, only two are actually oldies: "You're the One I love" in which Sara is joined by her friend Fiona Apple. The song is muche faster than the original one and it sounds angry more than loving. The other cover is Willie Nelson's "I'm a Memory". This time the guest is Jackson Browne. They added to the song a hook that was missing, making it an ultra catchy tune! The chosen single is "When It Pleases You", written by Semisonic Dan Wilson. The song is quite long, seven minutes, and it is a mid-tempo power ballad with some rock hints and Sara's sweet violin. The rest of the album was written by Sara, alone or with her producer Blake Mills. The intro "The Foothills" somehow links Sara to her previous work with Nickel Creek, even though the distorted violin is more rock than country. Another worthy composition is "Be There", a ballad quite sad and hopeless. I loved it. Even though the title suggests differently "Impossible" is slightly more lively and joyful. Sara is doubtless matured since her Nickel Creek times and people will love this record when will listen to it.
Rating – 75/100
Tracklist
The Foothills

You and Me

You're the One I Love

When It Pleases You

Be There

I'm a Memory

Impossible

The Ward Accord

Lock & Key

Take Up Your Spade
Line Up
Sara Watkins – Vocals, Violin, Fiddler & Acoustic Guitar
Links
MySpace * Facebook * Twitter * Site
Independent Release
Review by Tony Cannella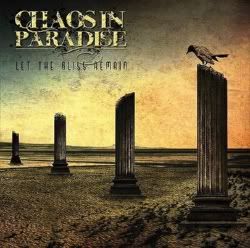 From Portugal, Chaos in Paradise had previously released a 4-song demo. They now return with a 6-song 26-minute EP called "Let the Bliss Remain". Their style blends straight forward heavy metal with aggressive thrash metal like rhythms. After opening with the 2 ½ minute intro "Inertia", Chaos in Paradise comes tearing out of the gates strong with "Sign of Deliverance". Lead vocalist Sara Valente alternates between a clean vocal style and a more aggressive approach ala Maria Brink from In This Moment or Alissa from The Agonist. It is a pretty forceful approach and packs a huge impact on songs like "Awareness", "The Hunter" and "Beyond the Horizon". One thing is for certain, there is no shortage of energy or aggression on "Let the Bliss Remain". On "Let the Bliss Remain", Chaos in Paradise picks up where their demo left off. With a demo and an EP under their belt, hopefully a full-length isn't too far off in the future for this cool Portuguese band.
Rating – 75/100
Tracklist
Inertia

Sign of Deliverance

Awareness

The Hunter

Beyond the Horizon

Sanzu River
Line Up
Sara Valente – Vocals

Alexander Andrade – Guitar

Pedro Almeida – Guitar

19 – Bass

Quik – Drums
Links
MySpace * ReverbNation * Facebook * Twitter * Site
6 color styles available:

Style switcher only on this demo version. Theme styles can be changed from Options page.