Browsing articles tagged with " sarah"

Interview by Laura Medina
MindMaze is an American traditional, progressive, power metal band from Pennsylvania. They released their debut album,"Mask of Lies" that is out now and has received promising reviews to date. They are making a name for themselves by touring with acts like Saxon and providing fans with an experience that will keep fans coming back for more. I got the chance to chat with Sarah Teets, lead female vocalist of MindMaze about her first memory of performing, MindMaze's debut album "Mask of Lies", her musical influences, and more.
Hi Sarah, welcome to Femme Metal Webzine. I hope you are doing well today and thank you for allowing us to interview you today.
Hello!
Sarah, you have been singing since your childhood. What was your very first memory of performing on-stage?
Continue reading »
Independent Release
Review by Tony Cannella
From Allentown, Pennsylvania MindMaze play power metal and have just released their stunning, mesmerizing (insert adjective here) debut album "Mask of Lies". There are a lot of great metal bands out there, but sometimes along comes a band that brings things to a new level. For me, MindMaze is one such band.
Straight away from the pounding and soaring opening track "Never Look Back", "Mask of Lies" is as consistent and powerful a debut as I've heard in quite some time. "Breaking the Chains" keeps the momentum going full throttle. Lead vocalist Sarah Teets is simply awesome and her vocals are the perfect mix of fire and passion to go along with riffs that keep coming fast and furious. Continue reading »
Former AMBERIAN DAWN singer Heidi Parviainen has launched a a new project called DARK SARAH. She plans to release a promotional CD with two songs in early 2013 along with a music video for the song "Save Me".
Says Parviainen: "I used to look at the world with blue eyes, I used to love with an open heart but I was naïve; the world needed to show it to me. I got angry for my weakness and angry with the world. In the darkest swirls of my mind, I got stronger and meaner and started to change. I worked with my fear and I became DARK SARAH. I'm not bitter, I'm just bittersweet."
A teaser for the "Save Me" video can be seen below.
Label : Nettwerk Music Group

Review by Luisa Mercier

Delerium are the masters of electro/dream pop and their enchanting melodies are immortal for all of us, ambient music lovers. After so many masterpieces, the combo decided it was about time to release an acoustic album containing all their most successful songs in a new and unreleased version plus three never heard tracks. The opener "Send Me An Angel" is one of them and it has a heavenly feeling. The mood is calm, dreamy, the chorus is catchy. Feels like floating in the sea in a summer day. The vocals are delivered by Miranda Lee Richards; they soar over the music creating an angelic atmosphere. "Dust in Gravity" is the first of the old songs here proposed as acoustic version. The original had a distinctive pop, modern sound thanks also to Kreesha Turner vocals. The acoustic has a slight jazzish, bluesy taste and it is as enjoyable as the song featured on "Remixed: The Definitive Collection". Another unreleased is "Too Late, Farewell", so sad, melancholic. The piano and guitar notes highlight the nostalgic feelings that are in Butterfly Boucher's vocal lines. Really an outstanding piece of music. "Silence" is maybe Delerium's greatest hit and it has been rearranged by several DJs during the years, for example by Tiesto. The present version is piano, strings and percussions based and it has an exotic mood to it. Sarah McLachlan's vocals shine once again throughout it. Another successful song is "Innocente" and the acoustic version has retained the folk-Middle Eastern feeling of the original coupled with Leigh Nash's sweet voice. Last brand new song is "Vienna" featuring Elsiane on vocals. Her voice is quite strange at first listen, she recalled me the Belorussian singer/pianist Leandra, but it's just a matter of getting used to it, I guess. Piano, strings and acoustic guitar make the track another perfect Delerium gift to their fans."Lost and Found" has Jael from Lunik on vocals and it has the same pop sound of the original, though more elegant and refined thanks to strings and piano. A more ethnic style is the one chosen for the acoustic version of "Flowers Become Screens" with the ethereal vocals of Kristy Thirsk. "Love" has become even more refined in the acoustic version with the distinctive voice of Zoe Johnston as perfect complement. A simple piano and vocals arrangement for "After All" with lovely Jael again, while the chill-out/lounge mood of "Orbit of Me" becomes a nice ethnic beat. Last track is "Touched" featuring Rachel Fuller which becomes a nice classic ballad with piano and strings. The romantic atmosphere of this track closes this beautiful album. A must for all Delerium fans.
Rating – 85/100
Tracklist
Send Me An Angel (featuring Miranda Lee Richards)
Dust In Gravity (Acoustic) (featuring Kreesha Turner)
Silence (Acoustic) (featuring Sarah McLachlan)
Innocente (Acoustic) (featuring Leigh Nash)
Vienna (featuring Elsieanne Caplette)
Lost And Found (Acoustic) (featuring Jaël)
Flowers Become Screens (Acoustic) (featuring Kristy Thirsk)
Love (Acoustic) (featuring Zoë Johnston)
After All (Acoustic) (featuring Jaël)
Orbit Of Me (Acoustic) (featuring Leigh Nash)
Touched (Acoustic) (featuring Rachel Fuller)
Line Up
Bill Leeb – Founder, Writer & producer
Michael Balch – Co-founder, Co-writer & co-producer
Rhys Fulber – Co-writer, co-producer
Chris Peterson – Co-producer
Miranda Lee Richards – Vocals
Kreesha Turner – Vocals
Leigh Nash – Vocals
Jaël – Vocals
Kristy Thirsk – Vocals
Elsieanne Caplette – Vocals
Zoë Johnston – Vocals
Rachel Fuller – Vocals
Links
Independent Release
Review by Tony Cannella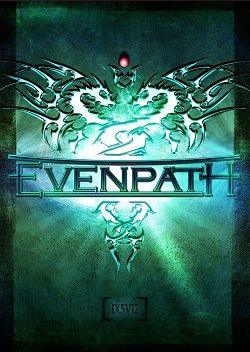 From France, the symphonic power metal band Evenpath features the powerful vocals of Sarah Liodenot. Their debut EP is out now and goes by the interesting title, "IX5VI2″ and is 4-songs and lasts approximately 18-minutes. The prog-metal style of "Glory" gets us started. This song keeps a steady tempo with lead vocalist Sarah doing a stellar job, in combination with the intricate song arrangements and tempo changes. Sarah can sing in an operatic style but also manages to bring it down to more of a clean, soaring power metal vocal, so I don't think she can necessarily be classified as an operatic vocalist, but she can definitely go there if the song calls for it. The next song "Mess'anger" has a slower, yet still quite a heavy tempo and a killer melody, with Sarah singing mostly in an operatic style on this one. The third track "The Nightmare" Sarah goes with a raspier and a straight-forward metal style, which complements the heaviness of the song. Her vocals are quite diverse and it is really one of the highlights of "IX5VI2″. The final song "Haven" is another straight-forward all out power metal assault and one hell of a way to end the EP. "IX5V2″ is nothing that hasn't been heard before, but the presentation and songs are put together very well and it makes this EP worth owning for fans of the genre. I can definitely recommend Evenpath, and it should be interesting to see where they go from here.
Rating – 80/100
Tracklist
Glory

Mess'anger

The Nightmare

Haven
Line Up
Sarah Liodenot – Vocals

Quentin Belverge – Guitars

Nicolas Deplanche – Keys

Kevin Montoya – Bass

Alexis – Drums
Links
MySpace * ReverbNation * Facebook
6 color styles available:

Style switcher only on this demo version. Theme styles can be changed from Options page.