Browsing articles tagged with " sarah"
Former AMBERIAN DAWN singer Heidi Parviainen has launched a a new project called DARK SARAH. She plans to release a promotional CD with two songs in early 2013 along with a music video for the song "Save Me".
Says Parviainen: "I used to look at the world with blue eyes, I used to love with an open heart but I was naïve; the world needed to show it to me. I got angry for my weakness and angry with the world. In the darkest swirls of my mind, I got stronger and meaner and started to change. I worked with my fear and I became DARK SARAH. I'm not bitter, I'm just bittersweet."
A teaser for the "Save Me" video can be seen below.
Label : Nettwerk Music Group

Review by Luisa Mercier

Delerium are the masters of electro/dream pop and their enchanting melodies are immortal for all of us, ambient music lovers. After so many masterpieces, the combo decided it was about time to release an acoustic album containing all their most successful songs in a new and unreleased version plus three never heard tracks. The opener "Send Me An Angel" is one of them and it has a heavenly feeling. The mood is calm, dreamy, the chorus is catchy. Feels like floating in the sea in a summer day. The vocals are delivered by Miranda Lee Richards; they soar over the music creating an angelic atmosphere. "Dust in Gravity" is the first of the old songs here proposed as acoustic version. The original had a distinctive pop, modern sound thanks also to Kreesha Turner vocals. The acoustic has a slight jazzish, bluesy taste and it is as enjoyable as the song featured on "Remixed: The Definitive Collection". Another unreleased is "Too Late, Farewell", so sad, melancholic. The piano and guitar notes highlight the nostalgic feelings that are in Butterfly Boucher's vocal lines. Really an outstanding piece of music. "Silence" is maybe Delerium's greatest hit and it has been rearranged by several DJs during the years, for example by Tiesto. The present version is piano, strings and percussions based and it has an exotic mood to it. Sarah McLachlan's vocals shine once again throughout it. Another successful song is "Innocente" and the acoustic version has retained the folk-Middle Eastern feeling of the original coupled with Leigh Nash's sweet voice. Last brand new song is "Vienna" featuring Elsiane on vocals. Her voice is quite strange at first listen, she recalled me the Belorussian singer/pianist Leandra, but it's just a matter of getting used to it, I guess. Piano, strings and acoustic guitar make the track another perfect Delerium gift to their fans."Lost and Found" has Jael from Lunik on vocals and it has the same pop sound of the original, though more elegant and refined thanks to strings and piano. A more ethnic style is the one chosen for the acoustic version of "Flowers Become Screens" with the ethereal vocals of Kristy Thirsk. "Love" has become even more refined in the acoustic version with the distinctive voice of Zoe Johnston as perfect complement. A simple piano and vocals arrangement for "After All" with lovely Jael again, while the chill-out/lounge mood of "Orbit of Me" becomes a nice ethnic beat. Last track is "Touched" featuring Rachel Fuller which becomes a nice classic ballad with piano and strings. The romantic atmosphere of this track closes this beautiful album. A must for all Delerium fans.
Rating – 85/100
Tracklist
Send Me An Angel (featuring Miranda Lee Richards)
Dust In Gravity (Acoustic) (featuring Kreesha Turner)
Silence (Acoustic) (featuring Sarah McLachlan)
Innocente (Acoustic) (featuring Leigh Nash)
Vienna (featuring Elsieanne Caplette)
Lost And Found (Acoustic) (featuring Jaël)
Flowers Become Screens (Acoustic) (featuring Kristy Thirsk)
Love (Acoustic) (featuring Zoë Johnston)
After All (Acoustic) (featuring Jaël)
Orbit Of Me (Acoustic) (featuring Leigh Nash)
Touched (Acoustic) (featuring Rachel Fuller)
Line Up
Bill Leeb – Founder, Writer & producer
Michael Balch – Co-founder, Co-writer & co-producer
Rhys Fulber – Co-writer, co-producer
Chris Peterson – Co-producer
Miranda Lee Richards – Vocals
Kreesha Turner – Vocals
Leigh Nash – Vocals
Jaël – Vocals
Kristy Thirsk – Vocals
Elsieanne Caplette – Vocals
Zoë Johnston – Vocals
Rachel Fuller – Vocals
Links
Independent Release
Review by Tony Cannella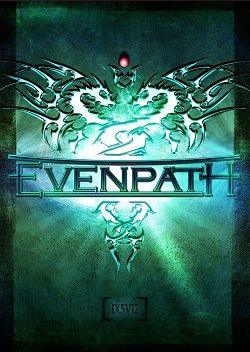 From France, the symphonic power metal band Evenpath features the powerful vocals of Sarah Liodenot. Their debut EP is out now and goes by the interesting title, "IX5VI2″ and is 4-songs and lasts approximately 18-minutes. The prog-metal style of "Glory" gets us started. This song keeps a steady tempo with lead vocalist Sarah doing a stellar job, in combination with the intricate song arrangements and tempo changes. Sarah can sing in an operatic style but also manages to bring it down to more of a clean, soaring power metal vocal, so I don't think she can necessarily be classified as an operatic vocalist, but she can definitely go there if the song calls for it. The next song "Mess'anger" has a slower, yet still quite a heavy tempo and a killer melody, with Sarah singing mostly in an operatic style on this one. The third track "The Nightmare" Sarah goes with a raspier and a straight-forward metal style, which complements the heaviness of the song. Her vocals are quite diverse and it is really one of the highlights of "IX5VI2″. The final song "Haven" is another straight-forward all out power metal assault and one hell of a way to end the EP. "IX5V2″ is nothing that hasn't been heard before, but the presentation and songs are put together very well and it makes this EP worth owning for fans of the genre. I can definitely recommend Evenpath, and it should be interesting to see where they go from here.
Rating – 80/100
Tracklist
Glory

Mess'anger

The Nightmare

Haven
Line Up
Sarah Liodenot – Vocals

Quentin Belverge – Guitars

Nicolas Deplanche – Keys

Kevin Montoya – Bass

Alexis – Drums
Links
MySpace * ReverbNation * Facebook
Interview by Connie Bach
Bel o Kan has an interesting combination of elements. There is the romance of symphony, an eighties flare created by the guitars, and a folk element Over it all.
Hello, Sarah.
Hello!! I'm happy to answer this interview.
Sarah, what is the story behind "Birth of a Queen"? How do you relate to it?
This album includes songs written a long time ago ("Dark and Light", "Utopia", "Salem") and the other composites a little bit before the recording ("Children Call", "Blowin'", "Ten Thousand Milliard"). The band is created in 2001, so when I took the singer place in 2005, some songs were already composed, we chose our 11 favorite song between the 18 we had. There are different songs in this album, for example, "Blowin' the Wind" is very different from "Six Men" or "Too Late". I wrote the lyrics of "Too Late" and it was easier to record it because it's my words and my feelings I sung. It was difficult for me to record this album because it was my first time in a studio, I was afraid and I think you can hear it when you listen to the album.
Can you tell me, with some detail, how the album came together?
We recored guitars, drums, bass and keyboard in a different studio than the voices. The voices were recorded in Dedy studio with André Bermudez who made the mix and we made the mastering in Alto studio…a funny detail when I recorded voices it that André was always hurting me for fun with a little paper book when I told him that I couldn't sing anything or anything else…
The name Bel o Kan seems to have something to do with ant society, according to your Myspace. Can you elaborate?
Bel o Kan is the name of the ant hill in the book "Les Fourmis" (ants) of Bernard Werber.
Our first drummer Lionel who created the band chose this name because "Les Fourmis" is one of his favorite books. Bernard Werber has our album and he likes "Too Late".
Different people describe an artist's sound different ways. How would your perception, as Bel o Kan's singer, differ from mine (introduction) ? It is interesting to compare perceptions, and the reasons why they differ.
Each person has his perception of our music, I could read that we played, symphonic metal, heavy, prog, power, celtic…. in my opinion, we play heavy metal melodic. Denis (bass), Fox and Khrys (guitars) like Iron Maiden, I love Epica, After Forever, Doro…even in the band we've many different sources of inspiration. So we compose a music varied of our different style.
Where does your musical experience come from, (I.e. your background as a singer)?

I started to sing in a musical when I was 10. I sung Edith Piaf, Maurice Chevalier…I was also dancing there for exemple, tap dancing like Shirley Temple (I love her). The musical stopped when I was 15 and I continue to sing in different places but nothing very interesting. I've read in a newspaper that a melodic metal band was looking for a new singer, so I tried and i'm always here.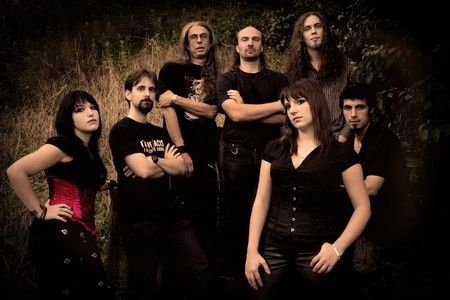 Marion
is a choir singer who provides backup vocals for
Bel O Kan
. The contrast between your two unique styles is something not often seen. How did it come about, that the two of you work together? Her voice compliments yours well; some bands would try to find a backing vocalist who sounded similar to their singer; this makes
Bel o Kan
unique.

Marion was the singer of another band before enter in Bel O Kan, when she left this band we called her to sing with us. We don't want a similar voice in choir, we would that everyone can here two voices, it's better for the music we play! Marion left the band 6-8 months ago because of her school, she hasn't enough time to continue the band. Carole took her place in the band 6 monthes ago, you could hear her voice on the future album!
This is a question, for each band member to contribute an individual answer to. What is the best moment during a show? (I.e.: beginning of a set, set-up, or when the crowd's energy is at it's highest?) What goes through your minds at this moment?

Fox: We start every show with the symphonic introduction "Birth of a Queen" from the album, while we wait to get on stage. I think this particular moment is my favorite. There is so much tension, the anxiety and desire to go on stage mixed altogether… Of course, I also love when the public is going mad, full of energy and headbanging to what we play but I guess it is a common feeling for every Bel o Kan members so my personal choice is this climax just before going on stage.

Sarah : My favorite moment is just when I feel that the spectators are receptive at our music, when they come to see us after the shows to tell us it was great… I want to play music to give fun and enjoy people!

Bruno : The second part of set-list, when we play the faster songs ("Run Away", "Ten Thousand Billions") and when the public and the group give themselves completely for the final highlight!

Sarah, what goes into coming up with the costume, or outfit, you will wear for a show?
I love to wear clothes that I can't wear outside of the stage! I love to put corsets or dresses a little special, I love to make up with special colors, strass and red lipstick. Be on stage is for me like to be an actress, you're on stage, you're yourself but you dare everything, you enter in your other character! It's a magical moment, the moment when you can be free! I feel so great when I'm on stage and it's also a moment before the show to be alone, make up me and enter in my other me! I'm not at all on stage the same that when i'm in real life!!

Bruno :
I choose my most beautiful socks, the whitest (what? this question is not for me??)
Everyone in the band has different techniques, and brings his or her own element. This is one for individual answers from everyone. Who is the strongest influence in the musical path, style, and goal of each band member?

Bruno :
I think that the musician who influences me most would be Daniel Zimmermann, a drummer of Gamma Ray and Freedom Call

Sarah :
Simone Simons, Floor Jansen and Doro, are my main influences, I try to mix différents styles and I try to have my own character

Carole : Floor Jansen, Anneke van Giersbergen and Sharon Den Adel

Nico : Tuomas Holopainen and Tony Kakko

What is one story you can tell me Sarah, regarding your fans?
One day, my cousin came in a show with a friend of him who he's bass player and his friend bougth our album, he's so fan of ours that he learned all music at the bass! He come to see us at all show and once he told to Denis : "Hey, I know all bass parts from the album", it was funny!! An other day, in stage I've forget the lyrics of a chorus in a song and I saw in the spectators a friend of us who knew the song so I gave him the microphone and he sung for me (I know it's bad to forgot lyrics on stage but he saved me !)

What is the next step for the band, since the release of "Birth of A Queen"?

The next step for us is preparing shows in France or in foreign coutries, it's important to make shows if you want that more people know our music, if you record an album to stay in your studio all day it's not very interesting. We want to be on stage often that it's possible.
People say a band is like a family. What (besides music) gives all of you a connection to one another,and brings everyone together?
We call us when one need of the Bel O Kan, otherwise Denis comes to make repairs our bathrooms when we have a problem, we can call him (he is a plumber)

. When someone organize a party or just dinners, he calls the other! We try all to arrive early in repetition and we leave later to have time also to discuss and to share other things that the music
Sarah, thanks so much for your time and energy. Merci to the rest of the band as well.

Thanks to you ! I wish a long life to Femme Metal Webzine !! And thanks to all people who like our music and who give us the strength to go on !!!
Links
Label : Listenable Records
Review by Tony Cannella
England's Sarah Jezebel Deva is a true veteran in the world of metal. Her journey started in the 90s as the female vocalist for Black Metallers Cradle of Filth and saw her participate in various other projects. Now, her journey continues with the release of her second solo album "The Corruption of Mercy". After a brief symphonic intro, the opening song "No Paragon of Virtue" blasts through the speakers with breakneck like intensity. The duo of "The World Won't Hold Your Hand" and "A Matter of Convenience" are next and there is simply no letting up. The hauntingly orchestral next track, "Silence Please" is a bit of a change of pace and quickly became a huge highlight. One thing that is apparent to full effect is the fact that Sarah Jezebel Deva is one excellent vocalist. The grindingly powerful "Zombie" is next and another highlight. The pretty piano ballad "Pretty With Effects" follows. Some other highlights that can be found on this 43-minute disc are: "Sirens", "The Eyes That Lie" and "The Corruption of Mercy". That's pretty much the whole album. Sarah Jezebel Deva is sure to give each song its own feel, which helps to give "The Corruption of Mercy" a diverse vibe. I really liked her first solo album, "A Sign of Sublime" but I love "The Corruption of Mercy". This is SJD firing on all cylinders, her voice sounds great, the writing is superb and the band is excellent. All the way around, "The Corruption of Mercy" is a satisfying sophomore effort from this underrated talent.
Rating – 95/100
Tracklist
No Paragon of Virtue
The World Won't Hold Your Hand
A Matter of Convenience
Silence Please
Zombie
Pretty With Effects
What Lies Before You
Sirens
The Eyes That Lie
The Corruption of Mercy
Line Up
Sarah Jezebel Deva – Vocals
Dan Abela – Guitar
Jonny Gray – Guitar
Ablaz – Bass
Jamie Abela – Drums
Links
6 color styles available:

Style switcher only on this demo version. Theme styles can be changed from Options page.