Browsing articles tagged with " sascha"

Interview by Roberta Ilaria Rossi
Debut albums have the goal of introducing a band in the best way possible. Nowadays, music biz has a varied range of bands, who are constantly trying to spread their word around the globe, introducing theirselves to the big metal audience, trying not to make false steps. This is the case of the German act Beyond The Bridge, that recently released the debut album via Frontiers Records. We've got the chance to exchange a nice chat with the front-woman Dilenya, who kindly explained us some little thing…
Today our website welcomes Dilenya, the lead singer of the German band Beyond The Bridge. Hi Dilenya and welcome to Femme Metal :). How are you?
I am fine. Thank you. I am looking forward to an eventful time with Beyond the Bridge. Very exciting things to come!
Let's begin our chat introducing our fans a bit of your biography. Beyond the Bridge was born in a first moment in 1999 as Fallout, when the band members decided to start the band, formed then in 2005, year in which you have changed the band name in Beyond the Bridge. What can you say further? How have you manage to get in touch with your colleagues?
I have not been part of the band or the bands history since Peter met me in a Jazz bar in 2008. Yes, that is true it was already 2008! I think Peter, Christopher and Dominik started playing music together in a school band. They were called Fallout I guess. But Peter and the others were not too happy where the band was going so they decided to split apart from the others. When Peter asked me to join the band they still did not have a band name. It was in summer of 2010 when they came up with Beyond the Bridge. I think that the name fits perfectly to the music. Great choice in my opinion. When I first met Peter in 2008, he was introduced to me by a friend of mine. I was singing some Jazz tunes in a local Jazz club in Munich. Peter came to the concert and after the show he tried to convince me to sing in his band. I mean, he was kind of brave to ask a Jazz singer whether she would like to join a heavy metal band ; ) He tried his best to convince me that they have connections to a highly professional recording studio. He went one with all the great bands that recorded in the studio (Epica, Rhapsody, Edguy, Avantasia, etc…). Unfortunately back then I did not know any of these bands as I am more familiar with the Jazz and Soul business. To be honest I was just about to throw Peter's demo tape in the trash. But he had tried his very best to convince me that he is a professional composer and guitar player which I found quite charming. After all I gave his demo tape a try and was immediately blown away. The compositional design and the lyrical concept is something that in my opinion many jazz masters could learn from. I am glad I joined the band and Peter was right. We have a professional and awesome studio, a famous record label and great musicians. And Peter is still handsome, isn´t he? ; )
After so many sacrifices and efforts, finally you signed a deal record with Frontiers Records, an Italian label that promotes lots of new bands in the best way possible since years. Would you like to share a few details about the cooperation with this label?
Well, it is great. Frontiers has a large business basis, I guess. They are able to reach many people. We would never get this attention if Frontiers wasn't there. The working atmosphere is very friendly and respectful. I am glad to work with this great company and nice people.
Hhm, a deal that has allowed you to publish your debut album, "The Old man and the Spirit". For those who still don't know, this is a concept album. Could you please explain what is there behind this concept? What does it talk about?
Hhm, well. That is not so easy for me to answer. I asked Peter many times to explain the story to me in detail. I want to understand it perfectly as I am performing the part of "The Spirit". Now I understand it perfectly, but back then I remember that the first thing that Peter did is to put on his charming smile and explain the story to me as if I was a little child. He said: "My lovely Dilenya, once upon a time there was a young girl, Anna, just as pretty and innocent like you but very anxious to find out all the secrets about Santa Claus and his magical elves. Anna got really desperate that no one in her family and none of her friends could help her with this issue. Just right before she gave up, one of Santa Claus´ magical elves suddenly appeared and offered her a trade of. The elf said: "Anna you can just become like me and fly around the north pole as much as you like discovering everything you can imagine about Santa Clause and his magical elves. But you can not do this as the pretty little girl you are. You have to become an elf. I know a great magic spell which transforms you in me and me in you." Dilenya, you have to know that Elves do not get presents on Christmas. And they are not allowed to eat candy and chocolate. Our album, my lovely Dilenya, tells the tale of young Anna and how she decides about the elves offer. She will either become an elf or remain a girl happy and thankful for every present and for all candy she gets". You know, Peter is a bit crazy sometimes. But this helped me to get a good glimpse into the story. Of course over time he dropped this explanation for a more serious one. A short version can be found here. To dig deep into the story you have to read the lyrics and make your own thoughts. Good luck and have fun ; )
Actually, I've discovered that the tracks that compose this record were already written and drafted in 2005 and you've spent 7 years to create a very good work. What's the reason behind this choice? Why have you chosen to wait for so long to release your very first record? Was it due to the fact you were looking for a record label or was it something else behind?
Well, as I said I was not part of this long story from the beginning. Peter always says that they had to wait for Simon and Christopher to finish with their university studies. Here in Germany one is able to make a diploma degree in recording and producing music. This takes 5 years. In these 5 years they composed the music and wrote the lyrics. In the following years they found the other musicians including Herbie, Fabian and me. Then we recorded the album and found Frontiers. Here we are now promoting our album with an upcoming live show in Frankfurt, Germany, and on the amazing ProgPower festival in Atlanta, Georgia!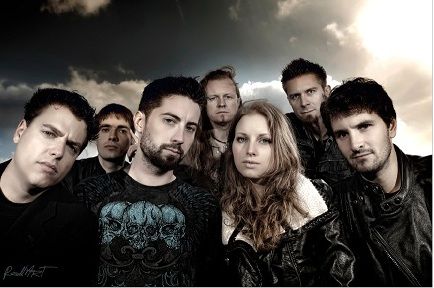 Beyond the Bridge is a German progressive metal band. Indeed, I've seen some recall from bands like Dream Theater, Circus Maximus and Vanden Plas in your sound. I assume you're fans of these bands… but what were your biggest influences?
Sorry, my influences are not in the metal business. But the others always talk about Pain of Salvation, Spocks Beard, Van Halen, Paul Gilbert and some more. Dream Theater and Vanden Plas are also mentioned in the rehearsals. From Circus Maximus I know that they are also signed with Frontiers. I think Peter said that we should check them out.
Recently, I've discovered that Simon Oberender, beyond being your keyboard player, has worked for Gate Studios. What could you tell about it?
Ohh, that is a huge misunderstanding. Simon is our producer more than our keyboarder. When I met him it was not even clear that he will support us on stage with keyboards or guitar work. He did not play anything on the record itself. But he recorded and mixed everything! The mastering was then done by Simon and Sascha Paeth together. I have never met someone with such an accurate ear and deep musical understanding. It felt as if Simon could bear the responsibility for all the musical decisions. That is all a band can hope for in a producer. I wish him a great career. He deserves it!
Your partner in music Herbie Langhans and you create a great vocal duo in the band. How do you manage to work together? Do you create the so called team work?
Yes, we try to complement one another on stage and on the record. We are two extremes which is great for the record and for our on-stage appearance. For me it's always a great experience to be on stage right beside this energy-charged man!
The International metal scene has lots of very effective bands in the most varied genres nowadays. As I mentioned before, you are in the progr metal scene. What does differ you the most compared to the other fronted female bands?
Well, at first sight the songs are written in a Progressive Rock/Metal style. They contain virtuosity in both the playing and the compositional design. So, people that like this kind of music will definitely like our album. With the two singers and especially with the way of arranging the songs and vocal lines we have created something which has been rarely heard before. I think that my voice and style of singing, for example, is very unusual in the Rock/Metal genre and it adds something to the music which is fresh and indeed progressive. The idea of a "concept album" is taken really seriously. It is not only that the lyrics tell a continuous story but you will also find musical connections between passages spread over the whole album. There are many melodic lines that appear intentionally at certain passages in different keys, tempi, time signatures and so on. The songs sound as if they describe the scenes. "The Struggle" sounds like a conflict between the two parties. "All a Man Can Do" composes the strength and pride but at the same time the limitations and imperfections of mankind. Overall the music and the lyrics merge and create one story. We feel that "The Old Man & The Spirit" really gives consideration to our ideal of a "concept album". But it is more important to say that the songs themselves will excite the listeners. Nothing is just made for showing off technical skills. The music is touching. It will even touch you in a different way each time you listen to it. Inspiring and ambiguous lyrics with combination of a large variety of musical styles will accompany the listeners through the story of the conceptual album.
Now you have your record released all over Europe. What will be your future goals?
We are working every day on arranging upcoming live shows. Overall we will focus on more live playing and a new album. We want to become a real studio and touring band with all the things a band like this has to do.
Is there any chance to see you on the road soon?
There is a show in Frankfurt, Germany, on the 19th of August 2012. And then we play together with Epica, Symphony X, Nightwish and many more at the ProgPower festival in Atlanta, Georgia. Hopefully we will come up with a few more live plans.
Ok, this was my last question. Thanks for your time Dilenya. Femme Metal gives you the chance to say something to our readers and to share some words with your fans!
Thanks to everybody for reading this interview. Thanks to Femme Metal for giving me this great opportunity. Keep on rocking and always go beyond the bridge…
Links
Label : Frontiers Records
Review by Tony Cannella
Until recently, Amanda Somerville has been most notable for her work with Epica and Avantasia, but in the last few years she has released a solo album ("Windows"), an album with ex-Helloween singer Michael Kiske, and now her new melodic metal project Trillium. The debut from Trillium is called "Alloy", and is another great showcase for Amanda's beautiful vocals, but she also shows different sides to her vocals and music that she has not shown on previous albums. First thing is that Trillium is a melodic metal masterpiece, lyrically and vocally Amanda displays anger and an attitude, but also vulnerability throughout "Alloy". Some of the lyrics have an edge to them and the vocals follow suit. "Alloy" opens with the aggressive "Machine Gun" which is about as subtle as a machine gun. "Coward" follows and is rightfully the first video from "Alloy". "Purge" is next and opens with rapid fire guitar riffs and I would love to see this be the next video – my favorite song, without a doubt. Amanda is joined by a wide array of musicians. Sascha Paeth handled the production duties as well as guitar, bass, keyboards and he also co-wrote many of the songs with Amanda. Another big name is guest is Jorn Lande who adds his distinctive vocals to "Scream It" on a duet with Amanda. This song lulls you into a false sense of serenity before the song picks up the tempo and Jorn and Amanda work well together. Other highlights include: the moody, tempo changing "Utter Descension", "Bow to the Ego" and "Path of Least Resistance", but I could mention every song, I don't think there is a weak moment on "Alloy". It is one of those rare albums that starts off strong, finishes strong and everything in between is just as strong. With 2011 coming to a close, I suspect that "Alloy" will be at the top of many yearend lists. In a word – and I don't mean to oversimplify things – "Alloy" is awesome and one of the best albums I have heard all year. Amanda Somerville is fast becoming one of my favorite singers and I can't wait to hear what she does next.
Rating – 100/100
Tracklist
Machine Gun

Coward

Purge

Utter Descension

Bow to the Ego

Mistaken

Scream It

Justifiable Casualty

Path of Least Resistance

Into The Dissonance

Slow It Down

Love Is An Illusion
Line Up
Amanda Somerville – Lead Vocals

Sascha Paeth – Guitar, Keyboards & Drums

Olaf Reitmeier – Acoustic Guitars

Sander Gommans – Guitars

Michael Rodenberg – Arrangements and Keyboards

Simon Oberender – Keyboards

Robert Hunecke – Drums
Links
MySpace * ReverbNation * Facebook * Twitter * Site
Interview by Roberta Ilaria Rossi
Many are her collaborations in the metal scene, such is her reputation in Europe. After having released an album for her new project, Trillium, the peppery Amanda Somerville is back to town. We had the pleasure to chat with the blonde American singer, who told us many things about her latest work. Here is what she has revealed to us!
Hi Amanda and welcome to Femme Metal.net. Recently, you've released the album "Alloy" for your last metal project, Trillium. In my honest opinion, it is a very good album. Would you like to share with us something more about this project, for those who haven't listened to the album and/or to be updated about your last work(s)?
Thank you very much; I'm happy and honored that you like it! I tend to call the music on Trillium singer/songwriter metal" because most of my songs started out as piano/vocal demos from me and have a lot of emotion and heart in them, in addition to the hard edge and heavy guitar riffing that's so typical of metal. Also, since I've traditionally been a singer/songwriter and have worked in the metal scene for so long, it was bound to happen. I think there are several subgenres of metal represented here, as well as rock. Elements of melodic, gothic, doom… I like diversity! Still and all, this is the single most straight-forward album I've ever released, stylistically speaking. Being that I'm as much a writer as I am a musician, the lyrics are of utmost importance to me as well as the music that goes along with them. My songs are always very emotional because I don't believe in writing or performing anything you don't totally believe in or can't make people feel along with you. On the most basic level, they're all about human struggles and relationships; something we can all relate to, but many of the songs have a very violent streak in them. All of my songs are personal-based, whether it was something I went through or a dream that I had or someone/something that inspired me. My songs are little windows into the innermost workings of Amanda Somerville.

Which is the concept behind the creation of this band?
It's debatable whether to call this a project or a band. For me, it's simply a new facet in my work as a musician. I wanted to keep it separate from what I release under my name for the simple fact that I'd like to keep it as "pure" as I can, genre-wise. For years now, I've been asked by fans who know me from my work in the metal scene when I would either form my own metal band or release a metal album. The idea had to grow on me because I simply wasn't ready for it until just the past couple of years and I don't do anything I don't believe in 100% and can give 110%!
Was the Trillium project born randomly or was something already created in your mind since a long time ago?
I think I kind of summed up that answer in #2, however the true turning point in the desire to make my own metal album came when I was working on HDK with Sander Gommans in 2007. I loved writing and performing metal music (which only continued to grow after I went on tour with Epica in 2008 to fill in for Simone Simons when she was ill and then with Avantasia) and had planned to make my next solo album more uniformly in that direction. But after some careful consideration, I decided to make it a project to keep it totally separate from my solo music so that I can still put a jazz ballad or Jamaican drinking song on my next solo album and not have to explain or apologize to anyone. 😉 It's still 100% me and those who know me as a solo artist are used to me being rather musically schizophrenic, but since I'm relatively new in the metal scene, I wanted to keep it more clear-cut. The ideas kept coming together and about a year and a half ago, I had everything lined up the way I wanted it to be and Trillium as it exists today was born.
Listening to the album, I've been surprised about the second "half" of this record and I've noticed that there's a great cooperation with an artist I really admire: Jorn Lande! I know that there's a good friendship and a professional relationship with him, moreover he also took part in the Avantasia project. How was the cooperation with him born? What did make you choose him for the track "Scream It"?
Since working with him on Avantasia and touring with him, he's become a very good friend and won my utmost respect as a musician and vocalist. The man is an incredible talent and I adore his voice! He's also a wonderful person and can play a role perfectly. I had him in mind when I wrote the antagonistic role in "Scream It" because his voice and character fit so well and I was fortunate enough to have him gladly take part. He did an incredible job and it was exactly what I had in mind!
How did you choose your music partners? I know that there's a strong feeling between you and Sasha Paeth (since early days with "Virgo") since so many years now…
I've been working with Sascha so long now and we know each other so well, both professionally and personally, that our work flow is always very smooth. Sascha's the "Big Boss" and so we all (everyone involved with the Gate Studio) owe everything to him. He's absolutely brilliant and one of the hardest working guys I've ever known and I love, appreciate and respect him dearly. Miro and I have a similar taste musically and being that we're both keyboardists, he catches on very easily to whatever I deliver to him demo-wise. I can give him a very rudimentary piano-vocal demo and it seems like he reads my mind in terms of what I'm imagining arrangement-wise. Robert Hunecke and Olaf Reitmeier I met in 2001 and we've done lots of things together, both in the studio and playing live. Those guys can play anything!! Simon Oberender came into our team around 2004, I believe, and he was an amazing asset to our team. Mat Sinner and I got in touch through Kiske-Somerville and we've also toured together with an outfit called "Rock Meets Classic". He's a powerhouse, a good guy and a big talent and has come to be another close friend of mine in the scene. Sander Gommans and I have worked together for nearly 9 years and we complement each other quite well as songwriters, even though we're so completely different in the way we approach songwriting. I guess opposites attract and this particular constellation works out beautifully in our cooperation with one another! Sascha and Sander add a totally new aspect to my songs very much of the time for the simple fact that they're guitar players and take a different approach to song structure and instrumentation than I typically do. It's a great balance!
I've noticed that, inside your crew, there's also Sander Gommans, ex After Forever former guitar player. How are the working relationship with him that, however, has been a good member for a band that made history in the Dutch metal music?
Yep, he's pretty great. I call him my Riff King and anyone who knows After Forever, HDK or Kiske-Somerville can hear what an incredibly talented songwriter/musician he is. But I rambled on about that in the previous answer!
Is there a song taken from "Alloy" to which you feel more connected to? If so, why?
I'm really bad with "favorite" questions because my songs are like my children and it just doesn't seem fair to call one out over the others. That being said, it's also difficult for me because each is special in its unique way and I'm constantly changing my moods. So one day, I'll be like, "Man, "Coward" is seriously such a great song!! I think that might be my favorite yet," because it's so decadent and the line, "Justice comes to dance upon the graves of cowards" so aptly sums up my belief in karma. Then the next day, it'll be "Justifiable Casualty" because it's so emotional and makes me cry every time I hear it, especially the line, "She said there's no one who can declare a war on warfare." I don't know why – it gets me every time!!! Then another day it'll be "Scream It" because Jorn really nailed the metal "Romeo & Juliet" tragic love story vibe I was going for and it turned out so perfectly. Then the next day, it'll be "Machine Gun" for its powerful imagery and empowering anger it encompasses Then the next day… do you see a pattern here? 😉 Anyway, I love and treasure each song in a different way for a different reason because each one also has its own unique story and personal connection for me.
How the recordings have been so far? How long did they last? How long it took to write the lyrics and music?
Some songs I wrote already a couple of years ago, some I started working on just before we started on the production. All in all we were demo-ing, recording, mixing & mastering from March until August 2011.
On a technical level, "Alloy" is an album based on a deliberately obscure and chilly production, ingredient that combined with the songwriting process could already predict a masterpiece itself, sounding pop/rock, which also shows a great elegance. If you were to describe the album just with three words, what adjectives would you use?
Emotional. Loaded. Dark.
You will start a tour with Trillium in the next months and you will visit so many cities in Europe next to another Dutch band, which was born in these last years: Delain. How did the choice to support this band for the very first Trillium tour happen?
Sander and I have been in touch with them for a while regarding various aspects. I think they're a good fit to Trillium and it's something new, so I'm really looking forward to the collaboration.
What are the expectations for this tour?
I'm not a person who believes in having expectations. I like having a blank slate and filling in the spaces as I go along. In my opinion, expectations can only get you into trouble. If you let yourself simply enjoy the experience as it comes along, it's much more fulfilling and you'll never be disappointed.

I'm just looking forward to the tour and am grateful that I have the opportunity to do what I love to do and share the experience with some great people. I hope for the best and that's all.
What do you expect from this band?
Ah, yes. See my previous answer on the subject of expectations.

Besides being an excellent mezzo-soprano and composer, you're also a vocal coach. You've been the teacher of many singers (like, for example, Simone Simons from Epica), what have you learned from your pupils? What is it left of each of them inside you?
First of all, thank you very much for your kind words. I must correct the statement, however, that I'm a mezzo-soprano. Though my range is actually all the way from tenor to soprano, I feel most at home as an alto.

I'm not quite sure where this whole"mezzosoprano" description came from that someone placed on my Wikipedia page but I can assure you that's not the case. And that being said, I'm a student of life. Each person I've worked with, each project I've been involved with has presented me with new challenges to change and grow, both as a person and as a musician. I think it's important to always find new stimuli to keep you on your toes and strive to always be better. In the same turn, I also learn about how I would not like to be and things I definitely don't want to do. It works both ways!
You've started singing from the early age. How your passion for music was born? How did it happen?
I grew up in a very musical family where music was a very basic and essential part of life. According to my mother, I was singing before I was talking. It was always a "learning-bydoing" process and I was fortunate to also have very good music mentors in both my family and at my elementary school, so I learned to read music and play piano at a rather young age. There was no sudden moment or conscious decision in my wanting to become a musician; that's all I ever wanted to be and do. All throughout my life, I was giving concerts, performing in talent shows and competitions, even DJ-ing, hosting karaoke & singing in cover bands and jazz combos to earn money when I was in university. It's just always been a part of my life!
Which are the artists or bands who have most influenced your artistic growth, your music and your Arts education?
I never did study music formally, nor was I classically-trained in singing. My grandmother taught me how to read music and gave me the basic foundation that I still use for composing today. As far as turning points go, the big milestones were: starting to work with Sascha and the Gate Studio team and releasing my first solo album in 2000; then writing "Aina" in 2002-2003; doing more and more work for and with metal bands; writing thrash metal in HDK with Sander Gommans; getting involved in Avantasia; releasing "Windows" and now working on Trillium. I'd say those are the big ones!
We could say that you have a great long path behind. You've worked with artists like Kamelot, Michael Kiske, Epica, Avantasia and so on. What these people have given to you on an artistic level and/or a personal level?
Every new album, each new project or band or artist I work with or write and record is a further step in my growth process as a musician and as a person. So each one has changed my life because it left a lasting influence on me that's led me to who I am today.
How do you feel, at this point, in your career? Are you satisfied about the work done until now? Do you have some other expectations or some other project you would like to do in your artistic career?
I'm very satisfied. I get to do what I love to do, travel all over the world, meet and work with some wonderful and amazingly talented people and I can pay my bills from that. I don't think anyone could ask for anything more fulfilling on a professional nor on a personal level. I would love nothing more than to just keep the ball rolling!
As I've said before, you are best known for having worked with so many bands, in particular one of these bands reflects your fame: Epica. How do you feel like working with this famous Dutch band?
I've been working with them since before they were even called Epica (back then, they were Sahara Dust and had Helena Michaelsen as their singer!). They've joked that I'm the not-so-secret 7th member of the band and it's been great being involved.
In 2008, you've had to replace Simone Simons, who was facing a serious illness which has forced her to retire herself from the music scene for a while. How did you feel like replacing one of your most famous pupil? I remember that, in the same year, you both performed together in Italy (for the festival called Rock In Field) in a beautiful duet. What could you tell us about it?
It was certainly a logical choice for them to ask me to fill in for her since I'd co-written all of their songs, coached Simone, produced the vocals and sung on every song. For me to agree to it was because I didn't want my friends to have to miss out on a huge opportunity because the tour was going to be a very important one for them. It wasn't easy, however, because I had no idea what to expect from the fans, whether I'd get tomatoes thrown at me or what because it's always a tricky thing to replace a lead singer and not everyone is interested in the details or background story. However, it all worked out great and the fans were very gracious. Our duet in Italy was simply natural since we were both playing at the same festival; Epica and Avantasia. We had a good time!
Having mentioned one of the most famous female fronted metal bands of Europe, what is your thought about bands with female singers? Are you in favour or against the bands that use a girl for their own music? Which is your thought in general?
Haha!! Is this supposed to be a "new" concept, having a woman fronting a musical event? Being a "girl" myself, why on earth would I be opposed to it?

I think the term "femalefronted" is a rather laughable one, to be honest. You never hear the term "female-fronted pop" or "female-fronted jazz", or "female-fronted R&B", right? So what's the big deal about it in metal? I think some guys need to get over themselves a little because chicks rock just as much as – and sometimes, quite frankly, even more than – dudes do.
Talking about collaborations and cooperations, in 2010 you've released an album with another famous partner: Michael Kiske and last year, you've also took part in the new Serenity album, called "Death & Legacy", where you've played the role of the Queen in the amazing song "Changing Fate". How was for you interpreting musically speaking a so important historical role? Which were your impressions when this Austrian band asked you to cooperate?
I loved the song and thought the musical portrayal was beautiful. I'm a bit of an actress and a lot of a romantic, so it was fun and fulfilling. I think Serenity is a very talented band and wish them tons of success.
As I've quoted before, you are also a great composer. In 2003, you've been the backbone of the band Aina, for the album "Days of Rising Doom", in which you've done most of the work: you wrote the lyrics and the music and you've also taken part as a singer. What do you remember about this experience? Was it hard to do everything by yourself?
It was scary but extremely exciting. That was my first real, big project I did in the metal scene and I had no idea how I was going to do it, I just thought, "I'm going to accomplish this, come what may!". And I did. I didn't do everything by myself, just the concept, story and lyrics and I co-wrote a minimal amount of the music. That was my initiation into the Gate Studio team and I proved myself and was soon a steady member.
How does a work, created by Amanda Somerville? Where does the inspiration for the music and lyrics come from?
I've never really been able to force a song. I don't believe in doing anything contrived, especially when it comes to songwriting. I think it's a blasphemy to one's art. Music is my emotional outlet and I let it take me wherever it leads. If I have an idea that's just not moving further, I set it aside and wait for it to "speak" with me again. Some songs have taken months or even years to finish for that reason; they just need their time. And sometimes, a deadline can be a miraculous motivator. 😉 As far as songwriting goes, I don't really have a "normal process". Sometimes a song will begin as a chorus or a verse, or just a melody, or some chords. Sometimes it's just lyrics and the body of the musical composition comes later. And sometimes a song will come to me from start to finish in its entirety; chords, vocal lines, lyrics and all! So every time, it's different. Being that I'm as much a writer as I am a musician, the lyrics are of utmost importance to me as well as the music that goes along with them. My songs are always very emotional because I don't believe in writing or performing anything you don't totally believe in or can't make people feel along with you. On the most basic level, they're all about human struggles and relationships; something we can all relate to, but many of the songs have a very violent streak in them. All of my songs are personal-based, whether it was something I went through or a dream that I had or someone/something that inspired me. My songs are little windows into the innermost workings of Amanda Somerville.

Which is the most beautiful part in creating an album, entirely written by you?
My albums, my songs are like children to me. It's a huge labor of love, filled with soaring highs and sometimes horrible depths. Music is my highest form of emotional and personal expression. It's very fulfilling to see everything come together and wind up being a work of art and rather a snapshot of myself at a particular stage in my life.
Do you have already something new in your mind after the tour that will see you around Europe with Trillium or are you going to take a little rest and work, later on, on new projects?
Nope, I'm going to keep on truckin' and keep the ball rolling! Not to sound greedy, but I want more, more, more!
Thanks so much for the great chat, Amanda. I really hope to see you on tour with Trillium very soon. Is there something you would like to tell to your fans and to Femme Metal users?
Thanks so much for your time and interest! I really hope I can see some of you while I'm out on the road – it would make me super happy!! xx Amanda
Links
MySpace * ReverbNation * Facebook * Twitter * Site
Latest Multimedia
Interview by Erwin Van Dijk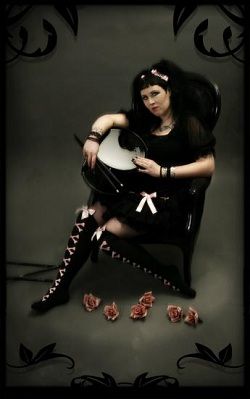 An interview with Karin from Asrai. Karin is the drummer from Asrai, a Rotterdam based gothic band.
To what kind of music do you listen yourself?
What I like most is Gothic Rock and eighties stuff.
And what are your favourite bands and artists?
There are several bands I like, In random order; The Damned (was great that we had the opportunity to be on stage with them), Nick Cave, Bauhaus, Dreadful Shadows (pity that they split up, I had real high expectations from them), Siouxie and the Banshees (Damn good drummer), The Birthday Massacre (One of the nicest bands we ever met, nice music too), Goth Minister (Fun on demanding), The 69 eyes, Scream Silence, Rammstein, Leave's eyes, Death Stars (Great entertainer), and there were some artists who recently made a good impression on me, one of them was Samuel, I was impressed by their stage act and attitude when they play at the Waterfront after some disasters with their tour bus. Also Cradle of Filth and Gaahl from Gorgoroth. Tiamat (they were very impressive live) , and so on….
While women in metal are more common these days than some ten years ago a girl behind a drum kit is still rare. Did you always wanted to become a drummer?
I never thought about it like that. We just wanted to make music. I started to play guitar and did that for three years. At that time, you could find me more often behind the drum kit when our drummer left the band years ago. We decided that I would become the new drummer and we would look for another guitar player. Although at that time not an easy decision, but one I never regretted it.
And what drum kit do you use?
From the beginning I use a Pearl Export, I like the black hoops and especially the solid quality of the kit. I still use my first kit at the rehearsal studio and that one is almost 20 years old. I have an endorsement for my cymbals and sticks. The sticks are from Balbex with my own signature on it and the Cymbals are Amedia the Vigo rock series.
What is your favourite Asrai song?
Difficult , I have more than one… "Running", "Alice", "Recall", "Tower", "Stay", "Roses", "Touch in the Dark"… I guess much more then just one…
Did you have any other bands or projects besides Asrai?
Not at the moment, although a while ago I had another project together with Martin and Johan. Years ago I played in another band for some months. For me: in the end nothing compares to Asrai
Where did the name "Asrai" come from?
The Asrai are small, fragile, female beings who turn to a puddle of water when they are captured or exposed to sunlight. It makes them unreachable….
There are a lot of female fronted bands in Holland and most of them started much later than Asrai. What makes your band unique compared to all those other bands?
There are quite a few although most "female fronted" beholds only the singer. I don't know if Asrai is more unique because we have three women in the band. I have the impression that we are more unique because of our background. And our friendship is at least special for us personally.
Last year Asrai released the album "Pearls in Dirt". What are the differences between this album and "Touch in the Dark" or "As Voices Speak"?
First of all the big difference is "As Voices Speak" is analogue recorded. We did all recording within three days and the whole production in a week. Recording of "Touch in the Dark" and "Pearls in Dirt" was all digital and we had a month time for recording, also together with a producer. "Touch in the Dark" was produced by Roman Schoensee and "Pearls in Dirt" has been produced by Sascha Paeth. Also a big difference for us will be that Manon and Martin joined the band while recording "Touch in the Dark". So therefore, we didn't write the songs with the five of us. The CD "Pearls in Dirt" is written by the five of us.
And what is the idea behind the title of the album?
It's the title of the song that was originally written for this album but was never finished. Three songs grew out of this one so we thought that it the album should name after this. To us it means beauty in a rotten society.
And can you tell us something about the songs on the album?
The songs are all about things you experience in life. Last two years was a personal hard time for some of us, with difficult and sad situations. You can hear that in our lyrics. These themes mixed with raw themes like abuse, global disaster and some fantasies. We don't like to explain this one deeper, because everybody has his own emotion to a song. We don't want to fill it in for the audience.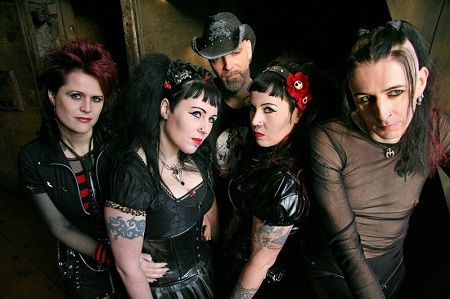 Which one is your favourite live song?
My favourite songs to play live are "Awaken" and "Sour Ground", "Delilah's Lie", "Touch in the Dark".. also more then one.
About the song writing: is this teamwork or is there one mastermind behind Asrai's music?
For us making music is teamwork.
Asrai is clearly a "gothic" oriented band. In this case the gothic from the eighties like Bauhaus or the Sisters of Mercy. This gives your music a real "eighties" vibe. But most Gothic bands of today have a lot of "metal" influences. Have you ever thought of writing more oriented "metal" stuff?
We don't write our music with a concept in mind, of course we're influenced by other music styles and that's automatically combined in our songs. I think that you can find metal influences. Although don't expect a guitar solo… we don't like them.
Can you tell us something about the other members of Asrai?
Rik – Guitars
Rik joined Asrai about eight years ago and in the end we wondered ourselves why we never met before, because we know a lot of the same people from the early days. When Jos (Grendel) played guitars at Asrai we wanted to experiment a bit more with our music and Jos knew Rik and so he introduced him to the band. One of the best parts of him, besides he's a good guitar player is that he doesn't like solo's too.
Manon – Keyboards
We know Manon from the city we live in. She was hanging around with a guy who played guitar at Asrai when our regular guitar player had broken his leg. As soon we got to know each other there was a connection and Just after recording the demo for "Touch in the Dark" Manon told us that she could play the violin, we invited her to play with us… well in a couple of days she went with us on stage… Unforgettable.
Martin – Bass
We know Martin for such a long time; He played together with one of our friends in a band. That's how we met him. For more then ten years he played together with our brother in Vanity 4 and I played with him for a while in the band Popes from Hell. When we wanted to record "Touch in the Dark", our bass player went ill. So we asked Martin if he want to join us… We're still glad that he said yes.
Margriet – Vocals
Margriet is my twin sister, best mate and to me (one of) the best vocalist I know. She is a special person, like the rest of the band. We're lucky with this line up. We have a really good time with each other.
How did you get involved with the Hellhounds fest?
We still were looking for a tour after releasing "Pearls in Dirt". And when the first idea was born for the Hellhound festival we were suppose to join that tour. It took a while before all the bands could be confirmed and in the meantime we got the opportunity to do the Darkest Tour. And with our days off in mind, it wasn't possible to do two tours in a row. So it was nice to do Dutch show at the Boerderij at Zoetermeer.
Asrai did a tour with Cradle of Filth last year. What have you learned from this tour?
The Darkest Tour was a festival tour with Asrai, Septic Flesh, Moonspell, Gorgoroth (now God Seed) and Cradle of Filth. It was a great experience to be a part of something big as this. We did learn a lot of it and it was really nice to meet some diehards in the music scene. Now I'm not only talking about the bands, also the crew, one of the light techs said it so nice: "The band is for the Rock and the crew makes it Roll". And some basic stuff we learned was that first make sure that you are one of the first who can take a shower; with so many men and facial paint you never know when will be the next opportunity of a nice hot shower. The crew of Cradle of Filth was awesome and they gave us some good technical advice. Sleeping in a nightliner bunk and waking up every morning in another country is something special too…. and don't think that we see much of the countries we visit. You don't have the time for it. Although at our days off we did some sight seeing.
What are your highlights with Asrai?
Through the years we had several highlights, every time it is something special to release an album. Being singed by a record company, the first time we saw our video clip at MTV, also our Mexico tour was so awesome.
With a band you are a lot of time on tour. Is it easy to combine Asrai with your personal life?
It's not always easy to combine; we all have a daytime job… so we're not drowning in days off. So sometimes we have to make choices because of that. When I couldn't get a day off for the gig at WGT years ago I even wanted to quit my job, gladly suddenly there were opportunities to get that day off.
And do you have any negative experiences in all those years with Asrai?
Of course we have, I guess one of them was at the beginning when a German record company were supposed to release a compilation CD, we had to pay for that one. And in the end the organisation run off with the money. And about 20 bands lost their money and gained one disillusion more.That some recensists put the album already on internet before the release date… that our record company went bankrupt, not only for us. But personally I think it's hard to see something end like this. Specially when somebody put his heart and his soul into it. Travelling a long time to a gig and at the day that we would play the organisation run off with the money, so the rest of the festival was cancelled… All important papers were been stolen from our dressing room and Rik's guitar was been stolen from the rehearsal room… well that one had a happy end, he got it back.
What can we expect from Asrai in 2009?
It's hard to tell, we have the feeling that the financial crisis has his reflection at the music scene as well. Too much organisations (bookers, festivals etc) are struggling to survive… so I hope everybody else will survive this all (I know Asrai as a band will!) and that we can do some nice stuff.. Like nice festivals etc. In the meantime we decided to work on new material.
Links
MySpace * ReverbNation * Facebook * Twitter * Site
Interview by Claudio Grippi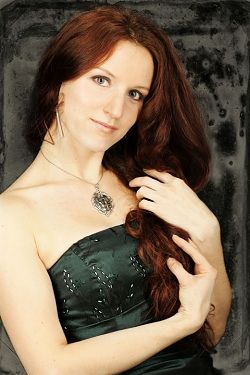 This time we let the guitarist and mastermind, Anastasia, intruduce this young German band symphonic metal caressed by JRR Tolkien's symphonies and some real kick ass girl power (hahahahaha men this time you're the minority). Well, hail to the girl power, isn't?
Hello Anastasia! Thank you for taking the time for this interview. Let's start immediately. First of all, How are you?I would like to start with a simple question. Where does the name Arven come from? What is its meaning? Is it somehow related to the name Arwen from the movie trilogy "The Lord of the Rings"?
Yes, you got it right. We named the band after the female character from the book "Lord of the Rings" by J.R.R. Tolkien. Well, we are certainly not the first band to look for a name in his book but Arwen seemed perfect for us because the beautiful story of an she-elf, who gives up her immortality for a love of a mortal man, represents very well everything our music stands for: intense passion and strong emotions.
How did this project start?
Before I founded the band Arven, I have already played in a couple of metal bands, where I always was the only female musician. I thought it's a bit sad that metal music is so men-dominated and on the other hand I was personally acquainted with 2 girls, who also played in metal bands. So when I started to compose songs and wanted to found a band it seemed only natural to me to try and form a female metal band. But finding capable female musicians, who would be interested in playing metal turned out to be a real challenge. The search for musicians lasted almost a year and at times I was so frustrated, that I almost gave up. It seemed to be impossible to find what I was searching for, no matter how hard I tried. But in the end I'm really happy that I didn't give up, because finally I got lucky and Arven finally came into the world. I can say that for me it's a big pleasure and an honour to make music with the girls of Arven and it's one of the best things I ever experienced in life!
Why did you choose "Music of Light" as the title of the album? Does it have a special meaning for the band since it is also the opening track of the album?
On the one hand "Music of Light" was a title of one of our early songs, that represents our musical style really well. On the other hand "Music of Light" seemed like a good description for our musical style in general, as you can associate "light" and "clear" or "ardent" with our sound. This double meaning seemed interesting so we choose it to be the album title.
Arven is mainly composed of ladies with several musical backgrounds: from classical music to metal. Which musical backgrounds or bands do you mostly inspire to when it comes to song writing? Is it a specific choice you made to hire female-only musicians and singers? Or it just came as it is?
Yes, like I said earlier it was a choice. From the beginning I wanted the band to stand out of the crowd in some way. There are very many metal bands out there with a female singer and sometimes you see a girl play an instrument in a metal band. But I know of only very few metal bands, where the song writing and the whole musical concept has been done by female musicians, so from that perspective Arven creates a feminine version of metal.
In your opinion, what are the main differences in terms of song writing within a group of five girls and one boy? Do you think 'female song writing' is more detail-oriented?
I don't think that the song writing process itself is different in a female band but our tastes may be. In general our music seems to be softer, than the most men-dominated metal bands are, but actually we didn't plan it to be this way. Our desire was (and still is) to explore different styles of metal from soft to hard and create our own version of it: there is a distinct soft and feminine side to our album but we also like to contrast it with powerful aggressive energy, that you could call our masculine side.
As far as the lyrics are concerned, what are the main topics that inspire you?
In our song writing process music always comes first and lyrics are created after the song is almost finished. This way we have to find a theme for a song that fits the mood created by the music. Basically we try to write lyrics that mean something to us, we put a lot of our very personal experiences in the lyrics, though it may be not so obvious sometimes. As a songwriter I put a lot of myself into my music and with Carina I'm very lucky to have found a singer, who us able to express the feelings that I put in the music in a genuinely way. She really "means" what she sings about. Typically for a female dominant band there are a few love songs on our album: in "Music of Light" we tried to capture the euphoria of being freshly in love whereas "Till Death do us Part" is about a painful experience of a breakup. The song "My Dear Friend" is the song that means most to me, I wrote it after the death of a close friend of mine. But not all songs on the CD are earnest, "Raise your Cups" is a cheerful party-song, for example and "Midwinter Nights" is a fairy tale with reversed gender roles.
Your new album has been released recently. This is a very delicate time for new female-fronted metal bands to come out with new, interesting material among the greatest female-fronted metal bands. How do you think "Music of Light" may find its way into the listener's heart?
Considering the great number of the female-fronted metal bands on the market it's indeed a difficult time for a new band that plays this kind of music. Often times we get the: "Please, not yet another female-fronted band out there" message, even before someone even listened to our music for one second and it can be very frustrating, after you put so much passion and energy into the songs. But in the end, we just have to accept that fact and we certainly wouldn't change our musical style because of that. No matter what, we will stay true to our style and hope that there are enough people our there who follow their hearts instead of just being in line with the musical trend.
This album features many well-known names in this genre. Stefan Schmidt from Van Canto and Sascha Paeth (producer) are among these, for example. How did their experience help contribute to the production of the album? Did they influence your sound somehow or did you already have a clear picture of the album?
Working with Stef (Stefan) Schmidt was a great experience for us. He met us at one of our live-shows and he liked our music and offered some great ideas, so that we ended up doing some kind of a "song writing workshop" with him, where we took some new song material of Arven and experimented with different arrangements and song structures. He is a real professional and a very skilled and experienced musician and we enjoyed to work with him so much, that we decided to record the choirs for the album in his studio. You can hear Stef among the male voices in the choirs. We think that he did a great job and would like to thank him one more time for supporting us along our way. Finally Sascha Paeth did the mastering of the album and gave the sound of "Music Of Light" it's final touch.
How would you describe the new album in terms of genre? It seems you are fond of Medieval/Celtic music.
I was always fascinated by medieval music because of it's background and history. Every music tells it's own story,and I am very interested in this time. I love the instruments and the sound of medieval melodies so it became one of the main musical influences for the album. We are often asked the question about genre but for me this question is not one the really important ones.
Do you think your sound is going towards symphonic or power metal in the near future?
Actually right now we are experimenting with both. We have a couple of new up-tempo power metal songs that are a lot of fun to play life. On the other hand I'm thrilled by the idea of using more orchestral arrangements in future but it's a relatively new approach to me and will certainly take time to get the results that I'd like to have in this area.
What are your plans for the future?
Our greatest wish right now is to play live-shows as often as possible because playing live in front of our fans is what a metal band is all about in the first place. This year a number of live-concerts are already planned and we are very much looking forward to the shows. On the other hand we are working on new material for a second album and we hope that it wont be long until we enter the studio one more time and go on the musical journey and find out where it would lead us to this time.
One last question. Are you planning to tour in Europe supporting other bands or are you looking for promoters for your own tour?
As a young band it's not quite easy to get the opportunity to play great live shows, but we hope that we will be able to play more live shows in Europe in near future. We already played in France a couple of times last year and we got excellent feedback from our fans there, so we are curious to see more countries, visit new places and get to know more people who are interested in metal.
Anastasia, thank you very much for your time! Is there anything you would like to say to our readers?
Thank you for your interest in our music and the band and also thanks to our fans all around the world! We didn't expect that much positive feedback and we are happy to find that our music is so well received. Best wishes for all of you, and who knows, maybe one day we can meet at a live show ;-).
Credit Photos
Photos by angst-im-wald.com
Links
6 color styles available:

Style switcher only on this demo version. Theme styles can be changed from Options page.