Browsing articles tagged with " schopfung"
Interview by Ed MacLaren
After an extended hiatus, Erben der Schöpfung has returned with the excellent "Narben der Ziet". The new music seamlessly combines metal and electronica in an industrial cloak of dark melancholy. Femme Metal gets personal with vocalist Dina Falk about the making of "Narben der Ziet" and her approach to music.
"Narben der Zeit" is finally out and it's definitely worth the wait. How has the response been to the CD so far?
Since we've still been fighting for the rights to finally release it – even if we got the rights to do so – we did not reach as many people as we could have. The response of those who we've reached is actually very good and we are happy about it.
It's been eight years since "Twilight" but many could say this is a new band. How did you and the rest of the new members get involved? Is Oliver still the creative center?
On "Narben der Zeit", he still composed all of the songs but with a little help on the ballad "Homeless" which I personally wanted to get done and on the album. On everything else, he did the structuring and composing and we just put our stuff on top. So it's still his project but with a band around him that is helping out on some stuff.
The current band has been together now since 2005. When starting "Narben der Zeit" was there a conscious attempt to start in a new direction or to continue Oliver's original concept of the band? How did "Narben der Zeit" evolve during that time until now?
We just started without any plan but knowing that we would be a little metal, a little electro and dark. That was it. We can't force the project towards a particular direction. We just start working and watch the results. One of the things we also knew was that we are getting away of this symphonic-female-metal image that a lot of people still put us in.
"Narben der Zeit" (or "Scars of Time") is an interesting title considering the tumultuous history of the band. Time heals all wounds but you still can bear the scars of the past – looking forward to the future while remembering past lessons. Is there an autobiographical reference within "Narben der Zeit"?
The album title has nothing to do with the band's history but with any lifetime. I guess that everybody has his wounds and scars of time and I guess this will keep on going like this for a lifetime. We chose this title because everybody has got his own and personal scars.
"Narben der Zeit" has evolved the Erben der Schöpfung sound considerably since "Twilight". The metal sections are heavier, the EBM sections are more danceable and the overall feel of the CD is much darker. How did the music for "Narben der Zeit" develop?
This is just a natural development of Erben der Schöpfung through changing members, through Oliver's personal development and through time. We didn't force anything because we think that forcing development does not work. Development is something working independently and in need of time and different phases. You need to develop yourself too otherwise your project is standing still as well.
I'm having a tough time figuring out how to categorize your music for my iPod (which is a good thing in this case). Metal has progressed to a point where it incorporates many different genres to keep the music fresh and moving forward. I see Erben der Schöpfung as a metal band at the core but then again others might argue that you're a very heavy EBM band. How do you view the band's sound?
This is difficult to answer. I'm not a friend of categorization and categorizing our own music is giving me a hard time! Well, I know that people need categories in their whole life to get a certain order to it but I like things that drop out of the usual schedule. Maybe Erben der Schöpfung is just something not fitting in anywhere or even better: fitting any mood. If you feel metal you'll hear metal and if you feel EBM you'll hear EBM.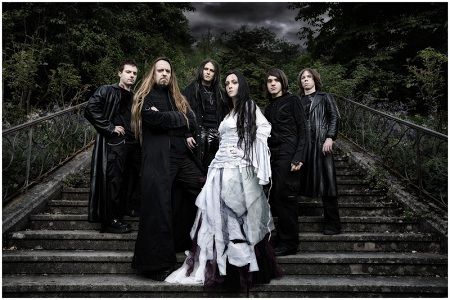 Having that inherent uniqueness in your music lets you stand out from other bands and helps you carve out your own niche. Musically, the rewards are many but are there any drawbacks to following a distinct musical vision?
We don't fit in anywhere! Of course, you'll have a hard time doing something unique or new that people are not used to. There are some that just don't understand our music and act very different because of that. The worst case is if they fit you in a certain category that we don't fit in and then tell us that we'd done an awful job. Also, we are always kind of unsure – even if we are not up to fulfilling expectations – but doing something unusual is making us scan a lot of reactions. We have to find our place and maybe settle down or maybe not.
There is a recurring theme running through "Narben der Zeit" dealing with children and child-like qualities. Tracks like "Jane Churm", "Homeless", "Leaving" and "Your Lullabies" are told with a child-like innocence but at the same time from a perspective of innocence lost. How did the lyrics develop for this CD and what experiences did you draw from while writing them?
While writing the lyrics to "Narben der Zeit", I mostly wrote down the first thoughts that came upon my mind. I didn't play a lot with words and I didn't think about them for a long time so it's just my first thoughts and feelings. That was a good way for me to write the first lyrics but they were also very open to attack and very personal. If I now look at the lyrics it is a lot about looking back and discharging childhood or a certain piece of my inner child. I would say that I've lost a lot of innocence in my childhood and early teens to twenties but I'm gaining it back now in a whole other quality. There was a lot of reformation and inner cleaning going on during the last two or three years and I guess that the lyrics to "Narben der Zeit" were doing their part.
Your ethereal and melancholy vocals are a perfect fit to the dark gothic mood of the music – it makes for a diverse listening experience with headphones in the dark. How did you develop your vocals when recording this CD?
Developing vocals was a similar process to writing lyrics for this album. I just sang whatever came upon my mind and it was fitting the mood; I came in listening to the plain composition, writing the lyrics and even now listening to the songs. It's a strange mood but it was the only way for me to do the vocals on this album. Anything else just didn't feel right.
What are your tour plans for supporting "Narben der Zeit"? Are there any international dates planned or touring overseas?
We definitely want to present "Narben der Zeit" live and play gigs but we don't have any dates planned yet. Right now it's very difficult to tour if you are starting or restarting a project and next to it three of our band members have to attend school so we do have to plan very tight. But we are working on it and hope to play live soon. Dates overseas are depending on how many people would like to see us playing and on getting in touch with a good fitting booking agency.
Hopefully, we won't have to wait another eight years for new music from the band. Is there any new music in the works or a remix album?
I hope so too! We are working on new songs right now and for now it's looking very good to record a new album soon. We are very productive and industrious since Christmas but a lot of work is still waiting to be done.
2009 is gone and we're into 2010. Does the band have any musical New Year's resolutions for the new decade?
We'll see!
"Narben der Zeit" is rapidly becoming one of my favorite CDs of 2009. What were your top CDs this year and what made them standouts for you?
Ouph… Actually, I didn't listen to a lot of music this year besides our songs…maybe Devil Driver's "Pray for Villains" and Rabia Sorda's "Noise Diary" but I've missed all the other good releases in 2009. I've rather been listening to old ones that year.
Links
Latest Multimedia
Interview by Marc "Peston" Sels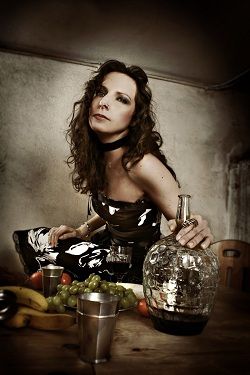 Elis is a band from Liechtenstein and was formed in 2003 after the split from Erben Der Schöpfung. In 2006, on July 8, their vocalist Sabine Dünser died of a celebral hemorrhage. She was replaced by Sandra Scheleret, well known as guest-singer on some Samael-cd's and ex-vocalist of Dreams of Sanity. It is with this Austrian musician that I had this interview.
How is the Beauty and the Beast tour going?
The tour was really nice! I think it is very rarely that you have so many nice people together without any exception. We enjoyed it a lot. I even had the chance to join Atrocity for the tour as a guest vocalist. This came very surprising as it was a spontaneous idea, but I had lots of fun.
Can you tell us something about the new album "Catharsis"? Some favourite numbers?
"Catharsis" is very important for me, the reason is that it is like a new chapter, a new beginning for me. About a year and a half before I joined Elis I got the diagnosis Morbus Hodgkin which is a kind of lymph node cancer. In the months that followed I had to go through chemo- and radiotherapy, and it was a very hard and harrowing time for me. I completely changed my way of living, and since then I see things totally different. When I started working on the vocals for "Catharsis" all these feelings broke their way to the surface, and so most of the lyrics are very closely connected to what I experienced at that time. All songs are very dear to me but I guess my favourite numbers are "Firefly", "Mothre's Fire" and "Das kleine Ungeheuer".
Was it hard to replace Sabine, emotionally and musically talking?
Yes it was hard, I think for all of us. When somebody passes away so young and so unexpected it is hard to continue. Although we really liked eachother a lot from the beginning on, for me it was difficult to find my own place in the band, and for the guys it was hard to start a new chapter. We took some time to find together. Musically wise it was not that difficult because Sabine's lines are nice to sing and her lyrics touched me a lot, so I feld connection to the songs very quickly.
Is it easy to produce the same sound on stage as on the albums?
No, I wouldn't say so. In the end it is very difficult to get a good live-sound. Mainly it depends on the sound engineer, and we are not often able to bring our own one.
"Griefshire" was a concept CD. Isn't it difficult to play some songs live, or don't you use these songs on stage?
We are playing the "Griefshire" songs life, but never in the context of the concept. It is not so difficult because we see each of them as an indipendent individual, with it's own message. For example "Show Me the Way" has a great statement.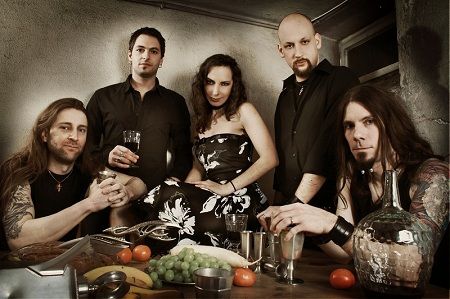 With the digipack edition of "Catharsis" comes a DVD from the gig at the MFVF 2007. What memories you have of that festival?
It was very touching because the audience welcomed us so well. The were happy with us that Elis is back on stage again, and we felt very comfortable that evening. I'm happy that this was the concert that was recorded for the live-DVD!
The band keeps the tradition of putting a few German songs on the album? Do you think non-German fans can enjoy this?
We hope so! Just see how people can enjoy Rammstein…hehe In the end the German language simply has a very different sound than English and it is tempting to use it as a stylistic device.
You also sing in Siegfried. How do you keep both bands apart?
As Siegfried was not so active in the last years there was never any problem for me. It is just coincidence that both albums were released at the same time. I do not do the lyrics for Siegfried and just contribute some vocal lines, so there is no "creative problem";). It is very nice to have the chance to show also another side of my voice, and the guys from Siegfried are really cool people, we have lots of fun when we are working together!
Is Elis, like a red somewhere, from the Greek Elis, land of Helia, or is there another explanation?
The name comes from the poem from an Austrian poet (Georg Trakl) "An den Knaben Elis" (to the boy Elis). Sabine made a successful song about this when she and the guys still were calling their band Erben der Schöpfung. They then decided to rename the band after this song.
What are the plans for 2010? Touring? A new cd? Etc…
So far nothing concrete but we are working on this! Touring would be very nice and of course we have to work on new material.
Links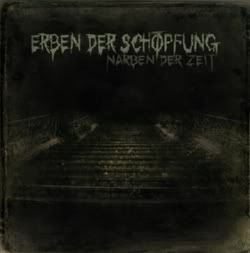 Hailing from Lichtenstein Erben der Schöpfung have been in existence since 2000 and have just released their second full-length CD titled "Narben der Zeit" and it features 10-songs and 56-minutes worth of some pretty good goth/electronic metal with an emphasis on melody. Usually whenever this band is mentioned, it is in conjunction with fellow countrymen Elis, since Elis includes several former members of Erben der Schöpfung, but this band is good enough to stand on their own and the music contained on "Narben der Zeit" is a testament to that. "Frequency" is the first track and it combines the heaviness of metal with modern electronic sounds, it is a good opener that is very catchy. The band follow that up with the track "Jane Churm", a good melodic track that sets the right tempo and is one of the absolute highlights. The third track "Homeless" slows things down a notch. It is a stirring ballad and the vocals of Dina Falk are nothing short of breathtaking on this one. The song also feature some nice orchestration and it has a different tone than the other songs on this CD, making it another track that definitely stands out. "Der Tote See" speeds things up a bit and brings back the electronic elements. Other highlights include: "Leaving", "Locked", "Your Lullabies" and "Twisted" closes the album. It's amazing to me that Erben der Schöpfung have been around for as long as they have, yet still have gone relatively unnoticed. This band has a lot to offer the metal world and after listening to their newest output "Narben der Zeit" one can only hope that they get the attention and support that they so richly deserve.
Rating – 80/100
Tracklist
Frequency

Jane Churm

Homeless

Der Tote See

Leaving

Freeze My Soul

Locked

Krähenaugen

Your Lullabies

Twisted
Line Up
Dina Falk – Vocals

Rino Vetsch – Guitar

Florian Riederer – Guitar

Oliver Falk – Keyboards

Jens Wagner – Bass, Vocals

Pady Margadant – Drums
Links
Label : Napalm Records
Review By Erwin Van Dijk
Elis is a band from Liechtenstein and was formed out of the ashes of the band Erben der Schöpfung in 2003. although I am reluctant to call Elis' music Gothic (it has a lot of doomy and other musical influences) but Napalm Records has labelled the promo as gothic metal. "Griefshire" was Sabine Dünser's last album with Elis. Compared to this album "Catharsis" does not have many dramatically changes to the previous albums. Instead, "Catharsis" sounds like a band that knows what to do and, more important, how. Some people might recognize the song "I Come undone" because it is a cover. The original version was done by Jennifer Rush, way back in 1987 (from the album "Heart over Mind"), as usual with metal oriented bands this is a great version. Unlike today pop bands used to be real bands with real musicians so it is very easy to make more up-tempo covers of eighties pop songs (Atrocity released two albums full of covers). Unlike many other bands of the genre Elis finds it's inspiration in the real world, about real persons and problems instead all the cliché song texts. Like the origin of the album title. Shortly before Sandra joined the band she went through a very hard time and according to her this was physically the hardest experience in her life. While her body was struggling to recover she has her own personal insights. That is one of the meanings of the word "Catharsis" according to her "the healing of the soul by going to tragedy". The album "Catharisis" is about these experiences. And, we all know that the band Elis has had it's own share of tragic. Sandra has grown as a singer since I first heard her on the Dreams of Sanity album "Komödia". The song "Firefly" it worked but with Elis I do not think it really adds something to the album. More the opposite: with the song "Morning Star" sings Sandra a beautiful part until the voice over spoils the magic. But even with those voice-overs I think it is the best Elis album. Good songs and Sandra at her best. If you liked "Griefshire" then you will like "Catharsis" even better. To add that the digipack limited version will have a DVD including the Live at Metal Female Voices Festival 2007.
Rating – 85/100
Tracklist
Core of Life

Twinkling Shadow

Warrior's Tale

Des Lebens Traum, Des Traumes Leben

I Come Undone

Firefly

Morning Star

Das Kleine Ungeheuer

Mother's Fire

Rainbow

The Dark Bridge
Line Up
Sandra Schleret – Vocals

Pete Streit – Guitar

Chris Gruber – Guitar

Tom Saxer – Bass & Vocals

Max Näscher – Drums
Links
6 color styles available:

Style switcher only on this demo version. Theme styles can be changed from Options page.