Browsing articles tagged with " screaming"
Interview by Roberta Ilaria Rossi
On the wake of the most famous bands like Arch Enemy, The Agonist, In This Moment, a "newbie" French band is moving its steps in the European metal scene, with one only easy target: spreading the words on the other side of the French boundaries. We're talking about Eths, a new French metal core/nu metal band, already known by many in their native home. Now that a few months have passed from the official release of "III", FM had the pleasure of exchanging a short chat with Candice Clot, that has revealed us something. This is the result of our brief jaw.
Hi Candice. Welcome to our website. How are you doin'?
Fine, thanks!
Let's start our interview. Recently, one of your first records, "Soma", released in 2004, has been issued again by Season of Mist. What's behind the decision of a new reissue?
It seemed to be clear for us to continue the road with SOM, we live in the same town it's easy and we really know each members of the house. We have a great deal with them.
Talking about this new record, I think it's a new and "fresh" one, quite strong. For a moment, please correct me if I'm wrong, my mind associated your sound to the album called "Follow The Leader" by Korn, because of the more robust sounds, which quite remind the thrash of Sepultura or the hardcore of Biohazard, embellished of course by your voice, which is the main point of the sound of the band. Do you agree with this statement?
"Soma" has been released in 2004 so it's quite so long ago.
The first thing clearly noticeable in the listening of Eths music is surely your voice which is quite versatile, because you use a very cutting, sharp growl, showing a first-rate performance, maybe one of the best ever listened in the "female fronted" metal, going through then a use of the clean vocals which result more mellow and persuasive. How do you manage to lead these vocal passages? Do you train your voice a lot or is it a pure and natural talent?
15 years in the metal world breaking my voice but I worked a lot for my clean voice and find a way to mix both voices was with the help of a good breath and a coach. When you have the vocal technique you can afford a lot more things and it's not just talent but only work and experiences.
Step back for a moment: we talked about your voice and maybe some fan has made some comparison with some famous growler vocalist like the German Angela Gossow or the Canadian Alissa White-Gluz. What do you think about these two women? Do you like their music, their vocals?
I know the music of Arch Enemy the singer is a real front woman, she really knows the job but I don't know the other sorry.
Talking about "aggressive" vocalists like the ones I mentioned, is there any other person/female singer you like to listen to the most?
I don't have any references about female voices, but I've always respected the work of Tarrie B from My Ruin.
Eths is a nu metalcore band from France, you are already known and famous there and you're trying to get step by step the way to success all over Europe, but the project was mainly born in 1996 as "What's the Fuck" and right after you changed the name in Melting Point, reaching at the end the final name: Eths. Could you please share something more about the band biography?
We played in Chile Brazil, Russia, England, etc. Done big festivals like Graspop, Szigets, Dour, Wacken etc .So we garnered a lot of good stage memories and saw many big bands, I think we're lucky.
"III" is the latest and newest album, recently released by Season of Mist. The thing that captured my attention in this record was the choice of putting some tracks sang in French and also in English and I've noticed that the same has been done by your "colleagues" and friends Kells. What did cause the choice of putting these tracks in this latest record?
We made 4 songs in English it wasn't easy to rewrite these songs because poetry in French is not the same in English, it's the same subject but not the same words. It was a compromise to record it but the label didn't force us to do it but they let us know it could be a big plus for the band so we made it.
The production of the record has been given to Fredrik Nordström, which has worked in the past with masters like The Haunted, Dark Tranquillity, Dimmu Borgir, Arch Enemy and more and the final result is more than excellent. Why have you chosen to trust this man to work on your material?
Fredrik is a great producer, he's pushing you to your limits to have the best but always let you decide what is the best cause it's your disc, in front of him we could feel his experience in some details, he absolutely don't want to complicate the things, so he was really efficient and we learned to go straight to the point. It was the first time we worked with of a real metal producer and we're really happy with the sound he did, by the way I have to say that Henrik Udd (his acolyte) did also a great job and working with them learned us a lot.
Also the artwork of the record is quite curious. Would you like to talk about it? What is the concept behind it?
This is a post apocalyptic goddess who is the link between our songs. Nicolas Senegas did a real good job we are totally satisfied with the result.
'Till now, your music has been chiefly written using the French language. Will we ever see a record totally sung in English in the future?
No, as far as I write the lyrics I can't write an whole album in English even if it 's only a translation it's a lot of work. Everything has to be changed even sometimes the meaning because of the musical with words. Everything has been simplified for an optimal hearing and I don't like to write like this.
"Tératologie" (2008) was your last album and "III" has been released recently after 4 long years of silence. How come have you decided to wait for so long to release some new material?
After the "Tératologie" tour we were very tired, I've had a kidney infection at the end of the tour and Staif a hand tendinitis so we needed a break. It took a long time to Staif to be in a good shape because he couldn't play guitar anymore. I took time to a have my daughter and time to reconnect to music. Also we realise we needed a break to tell new things, new stories to renew the music and it's very important to create different songs.
Talking about your music career, I know that you've taken part in the track called "La Sphere", by Kells. What could you tell about this cooperation and about your personal friendship with Virginie Goncalves?
I know her from quiet some time, we played on a gig with our bands and one day she asks me if I would sing on a Kells song. Yeah, it's my friend even more today because we've been on tour together and we're mothers, so we share a lot, we understand each other and the simple fact is that we scream, we sing and raise our children that's funny.
Let's talk about lyrics: who is the main person who do write the lyrics in the band? Where does the inspiration for the creation of your music come from?
I write the lyrics and everything could inspire me. Humanity is a great inspiration and I like to shell every part of it. Now "III" reflects a fact of life and a desire for change, a renewal for humanity. We talk a lot about 2012 in general but mostly I'm inspired about the different eras of our earth, the intelligence and the predictions of ancient civilizations disappeared which are necessarily developed the process of "III". The planet has gone through several apocalypses and we are the fruit of it… it helps to ask many questions like birth and death.
Recently you've embarked on a mini-European tour with Kells. What could you tell about this experience?
It's always cool being on tour with friends or other bands now the different thing was that I wasn't the only girl so it was more girly but you know on tour. It's always the same for every band known or unknown. You soundcheck, you wait, you play, you drink, your party and you sleep… with your friends.
What is the most beautiful thing in living on the road?
For sure not the road but to be on stage.
What could you tell, instead, about the relationship you have with the fans?
I'm not a fan of Facebook and I prefer talking after shows than reply to emails it's a better way of communication. I generally do not like fanatics minds and I do not understand them but I owe them respect. We are often associated with young teenagers and I always try to remember when I was 15.
Unfortunately, I've noticed that Eths tours in Belgium and France only. Will you ever embark on a full European tour, setting foot on every single European country and, why not, all over the world?
And we need a good European agent or world agent

it's the only way to see us the band is not so big on Europe so we need someone who believe in the band to bring it abroad.
Any future goal for the band or yourself?
The best for everyone.
Thanks so much for your interest in us and thanks for having allowed us this interview. You have carte blanche in order to speak and say something to our readers and your fans! Thanks so much again!
Thank you all!!!
Credit Photos
Candice Clot Photo by Nicolas Sboub Delpierre
Band Photo by Eric Canto
Links
MySpace * Facebook * Twitter * Site
Latest Multimedia
Interview by Ed MacLaren
It's been long considered that in most things two's company and three's a crowd but in the case of Swedish power metal outfit Amaranthe, three is merely the number of world-class vocalists they feature on their self-titled debut album. With clean female vocals along with clean and screamed male vocals, Amaranthe are anchored by a vocal prowess of which few bands can boast. Add the fact that the band weaves progressive, metalcore and techno elements along with a unique pop sensibility into it's power metal onslaught, Amaranthe is a new breed of metal band that fascinates with its innovation. Femme Metal got to spend some time with female vocalist Elize Ryd and hear about the origins of Amaranthe, big success in Japan, and their recent European tour with Kamelot. Your self-titled debut "Amaranthe" was one of the most anticipated releases of the year so far and it looks like it exceeded all expectations. Did you ever think you'd get this kind of public response so quickly?
No, because this is the first time I've released an album with me as one of the main composers and singers, so I didn't know what to expect. But of course, this was exactly the kind of respond I was hoping for, and have been dreaming of ever since I started to work with this band.
It looks like Olof Mörck and Jake E Lundberg put together their version of an all-star metal band – including your formidable vocal skills. How did you get the Amaranthe gig?

(Laughs) It's pretty funny because I became friends with Jake E in 2004; we met at a bar in Gothenburg and he started to talk about his band, Dreamland, and that he needed a female vocalist to record the song "Fade Away". We exchanged numbers and there the story began. I also got in contact with Olof through Jake and we became really good friends. Two years later I participated on his fourth album with Dragonland called "Astronomy".
At that time, I was still educating myself at a school called Performing Arts School – an artist school for professional singers and dancers – in Gothenburg. In 2007, I started to work at a cabaret but in my free time me, Jake and Olof often hooked up and wrote songs together. That year they decided to start a new band since they got a really good sound by mixing their musical ideas together. Their plan was to bring in guest vocalists, which included me among a lot of others as well as Andy (Within Y) to record a demo. After that day it just continued that way, and after a while they decided that they wanted to keep us as a part of the band.

The members of Amaranthe have an extremely diverse musical background. With that said, how did Olaf and Jake E sell the project to everyone?

They didn't really sell the project; Olof is really good friends with Morten (Arcane Order, Soilwork, Hatesphere) so it was just natural to ask him to play the drums, and he said yes right away. They didn't ask Andy if he wanted to be in the band, they just called him and said, "You're in the band now, just so you know…." And he was like, OK. I must add that when I heard the first song, which was "Enter the Maze", I fell in love with the sound so it wasn't even a question for me if I wanted to be a part of it or not… We actually did our first photo shoot without any bass player, but for the debut show we felt that we really needed one and we didn't want to do any audition for that since the rest of us came together as friends in the beginning. We really wanted it to stay that way so Andy asked his friend Johan if he wanted to join us at our next gig, and he did, and he was a perfect match.

Was it difficult to meld all those personalities and influences into a cohesive musical whole?
No, not at all. Everybody got the chance to play exactly what they like; Olof created parts in the music where he could shine with his guitar, Andy could do his screaming, Jake could sing like Axl Rose, me do my pop/rock thing, Morten got free control over the drums and Johan playing his powerful bass.

Amaranthe has a very clean and modern metal sound punctuated by tight progressive hooks. How would you describe the finished product – the Amaranthe sound?
I would describe it as you just did, clean and modern, but also new, powerful, energizing and positive!
Did you ever wonder what the final musical outcome was going to be at any point?
No. Since I've been a part of writing the songs I just got a lot of ideas based on what Jake and Olof created. So it has always been fun, and easy to write, since I could hear the results already from the beginning inside my head. The question was if it was going to end up that way in the end – it mostly did but sometimes even better after everybody else put their hearts into it.
For a metal band with progressive and even some metalcore elements, the music on Amaranthe is very accessible. It could bridge a lot of genres and open you up to a very large fan base. Was that an intentional decision by the band or was it really a happy product of the band's diverse musical background?
It was a really happy product of the band! I think the reason for why everybody wanted to build something with this band was because everybody got the chance to play their own taste of music – which every one of us really got room for. And that's also a big part of our sound. You have a really good point there; I'm very happy that all of us like the same kind of things but I guess that's just how it ends up when you write music together with like-minded friends.
Despite the huge number of bands the members of Amaranthe are involved in, Amaranthe doesn't feel like a side project – it has real long-term possibilities. Do you and the band feel the same way?
Yes, we do! When we got our first record deal offer, they had to ask themselves if this was the one band that they wanted to make a priority. Well, of course it's hard to decide since we had no clue how it would turn out but everybody seemed convinced that they wanted to have Amaranthe as their first choice. For me personally, it was hard to decide since I had to quit my job as a musical artist. But since my dream has always been to tour, see the world and perform with my own material, it was not really a hard decision to at least give it a shot.

How did the recording sessions progress? Olof is a self-confessed detail geek, isn't he? Did you do most of your composing in the studio or was it mapped out well before hand?
Everything was totally mapped out before we got into the studio except Olof's guitar solos which he was working on at night. We tried to copy the sound we had on the demos since they were very well composed with keyboards, vocal harmony parts and all that. So it was just trying try to get into the same mood as in Olof's and Jake's living rooms where we recorded all the demos. So Olof's perfectionism had already been applied to the music before we got into the studio. (Laughs)
In Amaranthe, the vocalists almost outnumber the rest of the band! That's a very unique sound dynamic. Does it give the band a distinctive musical chemistry – something different to let Amaranthe stand out?
Oh yeah, I think so, we singers are a different breed. (Laughs) We really have to think differently from a guitarist or a bass player, for example, not at least when we go on tour. We have to stay healthy and in good shape to be able to sing. No late nights and booze for us so it feels really good to not be the only boring one! (Laughs) Well maybe it works for Andy; he just gets that little extra rasp in his voice.

There's been a lot of online buzz around the band for a while now but Amaranthe seems to have really struck a chord with the Japanese. Is it true that you've been out-selling Lady Gaga on the import charts over there?

Yes that's actually true! (Laughs) Insane isn't it!? We topped all sale and import lists the month our album was released.

What is it about Amaranthe that the Japanese are responding to?
Most of all they respond to our strong melodies and the catchy refrains. The whole concept has been received with open and enthusiastic arms. They really appreciate the new metal sound.
Maybe Japan is just ahead of the curve when it comes to your music? Do you think that Amaranthe's music will resonate in time just as well with the rest of the world? Maybe world domination only happens one country at a time…
(Laughs) That sounds like a plan. After being there we saw how hard our record company Universal had been working with promos, commercials, spreading our name through radio – TV's also been extremely good. And that, of course, has been a huge help to our success. So if every country would work like Japan, it could lead to world domination pretty fast I guess. (Laughs)

Your touring slot supporting Kamelot didn't hurt – not to mention your solo turn as the featured female vocalist during the Kamelot set. How did you get involved in performing with Kamelot?
Jake E used to work for Kamelot back in 2008. At that time they became friends and after hearing about Amaranthe they listened to our music on MySpace. Both Roy Kahn and Thomas Youngblood really liked the music and I think it was in that moment they got the idea to bring me as a backup singer on their tour through Europe. They simply sent an e-mail to Jake and asked them if I was available, which I was since I just quit my job.
How has that touring experience impacted your own musical outlook?
Well, I think I've realized the power of music by touring around the world. Before, I wrote music for my own sake because it made me happy like a need to express other feelings. Now I have seen that the songs you've been making in your livingroom actually can make other people feel something.
I've been to live shows before but to see the audience from the stage is a totally different thing. I did my first big tour with Kamelot in 2009 and that was the first time I met real metal fans: it was unbelievable to see their response. I was shocked at first and pretty shy when we walked out after the show because I wasn't used to that kind of attention. But after a month touring and doing a dozen big festival gigs like Wacken, Rock am Ring, Rock im Park during the summer, I learned a lot. I'm happy they gave me that experience. To see people smile and cry, that really touches me and now for future writing I'll have all these people in mind which really gives me inspiration. I've also got a lot more knowledge and a reminder that we all are one. I meet people I would never have had the chance to meet if it wasn't for the music. That feels unreal for me to be honest.
Considering how close you are with Kamelot it must have been a shock to hear that Roy Khan was leaving the band. You were in close quarters with the band for such an extended period of time – was it something that you saw coming?

No not at all. It was as big a shock for me as it was for everybody else! It was a sad summer when we had to cancel all the shows in the U.S. – for me, the band but most of all for the fans. At first I thought he would come back for the European tour we did. But as everybody knows he didn't. A big praise to all those who showed up still supporting the band. The tour became a huge success. Fabio Lione did a phenomenal job so he's also going to join Kamelot on the upcoming U.S tour which starts on the 26th of August in Atlanta.

After recording the album and completing your first tour, what's surprised you the most about being a "big rock star"? Was there anything that made you rethink what you've gotten yourself into?

(Laughs) No not yet. But if my career had began with all this I would probably think like that. But I've worked my way up pretty slowly for a long time which I think is healthy. I've been dreaming of this since I was a little girl so now it feels more like a relief to finally be able to do what I feel like I was born to do.

You, Jake E, and Andy Solveström onstage together makes for a very active stage show. Do you have to map out your own area of the stage so you don't run into each other?
(Laughs) If it was up to me I would have done that, I'm used to working that way, so yes, I actually tried to make a small kind of choreography in every song, like, "You stand there, and then I sing my part, you step to the sides, Jake appears in the middle, we walk out and give Olof space for his guitar solo, then we go back in and stand in a row and then…" and so on but they refused. Well, after playing a few shows now I guess it's not that necessary. We can feel each other and give each other space on the stage – that's no problem. But maybe I'll get my will through in the future. (Laughs)

How would you describe the Amaranthe live show for those new to the band?

Our live show is, as you now know, not choreographed. It's like a party and we improvise a lot. It's all about the energy, great music and passion! In the future we, I, hope to bring in a lot more influences to the show, like maybe dancers, a choir, a light show and much more when we make our headlining shows in the future – like Rammstein and Kiss types of things. (Laughs) That would be a dream!

With you being so up-close and personal with the Kamelot guys on stage, were you able to learn any tricks you could "steal" and take back to Amaranthe?

Sure, they have a lot of tricks; I can't tell though… Just kidding! (Laughs) That must be all the influences they put in their show, like the theatrical intros, a choir, a belly dancer. I think that was a really cool mix with the metal music. I'd like to do that in our show some time, if the boys allow me to decide… They also gave me a tips to wear ear plugs on stage. But now I have an in-ear system which is even better. I want to be able to hear my grandkid's voices in the future… (Laughs)

Now that the Kamelot tour is finished, what's next on the tour agenda? Japan must be salivating for Amaranthe to come and perform live. Not to mention the Americas…

Next up is Bloodstock in the U.K, then I'm going on a one month U.S. tour with Kamelot featuring Simone Simons. On the 15th of October, Amaranthe is going back to Japan, we're going to play at Loud Park! Soon after that, Amaranthe has a nine week long tour through Europe. Can't tell you more than that right now. But keep your ears and eyes open because more info is coming in the very near future…

(Famous) Last words?

Good questions! We played with Symphony X a few months ago in Tunisia, and the drummer, Jason Rullo, gave a tip in an interview to young musicians which I think was awesome. He said, "Practice creates luck". Keep on rocking people!
Latest Multimedia
Photo Credit
Photos by Johan Carlén
Links
Label : Kicking and Screaming Music
Review by Tony Cannella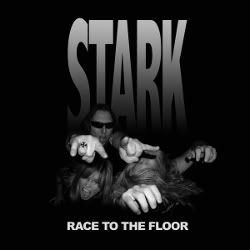 New York City's Stark are a three piece band that play high energy, straight-forward, hard rock music with a bit of punk edge to them. Their newly released third album is titled "Race to the Floor" and it features 9-songs and 31-minutes worth of music that is completely and utterly dripping with attitude and swagger. It is all pretty much your basic rock and roll, yet it all feels new, thanks in large part to this trio's enthusiasm and energy that is quite evident on each and every song. The high adrenalin opener, "On the Edge" kicks things off in a huge, energetic way. "Get It" is next and is one the best the CD has to offer. Just a fast paced, catchy number that features a pretty cool groove running throughout the whole song. These songs rock hard as can be heard on: "Getting Along", "Wasting Air", "Drunkaholic", "What It Is" and "Nightmares". The closing number, "Puttin' Out Your Fire" ends things on a high note and leaves the listener wanting more. "Race to the Floor" is chock full of powerful riffs, cool solos and the underrated vocals of Lani Ford. Just great and passionate performances all the way around from this power trio. "Race to the Floor" is a gritty, riff-heavy rock record that never gives the listener a chance to come up for air until the last note is played. A very good effort from this NYC based band and a CD that comes highly recommended. It can be ordered via CD Baby.
Rating – 85/100
Tracklist
On the Edge

Get It

Getting Along

Wasting Air

Drunkaholic

What It Is

Nightmares

End of the Line

Puttin' Out Your Fire
Line Up
Lani Ford – Lead Vocals & Bass

Joe Hogan – Guitar & Backing Vocals

Eric Robel – Drums
Links
MySpace * ReverbNation * Facebook * Twitter * Site
Label : Grailight Productions
Review by Tony Cannella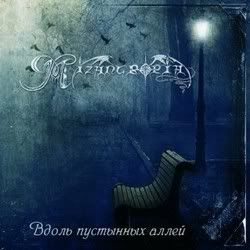 From the Ukraine, Mizantropia plays a hybrid of extreme gothic metal, black metal, melodic power, symphonic metal and sprinklings of traditional heavy metal added here and there, got all that? Just issued is their debut album, "Along the Lonesome Alley" and here is a perfect example of a band that totally took me by surprise, in a good way. Mizantropia primarily sings in their native Ukrainian language with bits of English at certain parts throughout the 53-minute album. Lead vocals are shared by Ekaterina Sinegina and Sergey Mushta (who has since left the band) on extreme, screaming vocals. Musically, the songs on "Along the Lonesome Alley" are not as chaotic and brutal as one might think; Mizantropia walks a fine line between heaviness, beautifully structured songs, atmosphere and melody. Ekaterina's vocals soar right there along with the music and combined with male screamer Sergey Mushta the duo create quite a tandem. Mizantropia were another band that was previously unbeknownst to me. It is great to see some stellar metal coming from such varied parts of the globe. I for one am always happy to sample young and talented bands such as Mizantropia and "Along the Lonesome Alley" had me impressed from the moment I began listening.
Rating – 88/100
Tracklist
Ложный Свет (False Light)
Ghost in the Rain
Воскрешение Смертью (Resurrection by Death)
Сказка (The Tale)
Диалог (Dialogue)
Холодный Рассвет (Cold Dawn)
Bloody Fight
Проклятое Чувство (Cursed Feeling)
Outro
Line Up
Ekaterina Sinegina – Vocals
Sergey Mushta – Extreme Vocals
Sergey Yasyr – Guitar
Evgeniy Suslov – Guitar
Igor Ermolenko – Bass
Eva – Keyboards
Anastasia Kurchenko – Drums
Links
Independent Release
Review by Tony Cannella
This 11-song debut from Atlanta based industrialized metal band Last R3d Ransom goes by the title of "Sleep Well Sweet Vanity" and it features an intoxicating array of styles and emotions throughout the 45-minute disc. "Sleep Well Sweet Vanity" presents the listener three distinctly different singing styles; the feminine voice of Charlotte Kelli, some screaming vocals and the clean male vocals provided by Saint. The overall pace is mid-tempo but the band does include blasts of aggression to go along with their melodic sensibilities that makes up a great deal of the material. The fact that Last R3d Ransom is only a three piece is also quite surprising, since they have a simply huge sound. Songs like, "Make Up", "Black Gospel", "One Word" and "Always Been", "Synthetic Sleep", the pounding aggression of "October" and the symphonic flair of "Lay Down" offers the listener an exciting array of material. After listening to this 11-song debut, my interest in Last R3d Ransom was most certainly heightened. The material on "Sleep Well Sweet Vanity" is quite strong and consistent throughout the duration. This Atlanta band is definitely worth checking out.
Rating – 83/100
Tracklist
Make Up
Seamstress
Black Gospel
One Word
Passport
Always Been
Synthetic Sleep
October
Lay Down
Stay
Empire
Line Up
Charlotte Kelli – Vocals, Guitar, Keyboards and Programming
Saint – Vocals, Guitar, Bass, Keyboards and Programming
Adair – Drums
Links
MySpace * ReverbNation * Facebook * Site
6 color styles available:

Style switcher only on this demo version. Theme styles can be changed from Options page.