Browsing articles tagged with " short"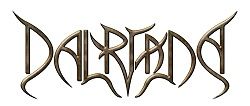 Interview by Ed MacLaren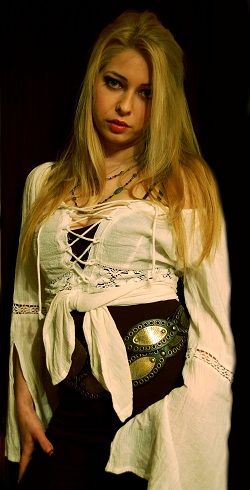 Music has always been an amalgamation of styles and influences and metal is no exception. By channelling folk through the heavy riffs of metal, Hungary's Dalriada have combined the best attributes of both styles with intricate and unique results. With their latest release, "Ígéret", Dalriada prove without a doubt that you can celebrate culture while still bludgeoning the eardrums. Dalriada's vocalist Laura Binder took some time to speak to Femme Metal about the challenge of expressing Hungarian folklore in a metal framework as well as the band's goals for "Ígéret".
The new album "Ígéret" on AFM is an album that really transcends language. You don't have to understand a word of it to feel the energy and passion in the music – and that's no small achievement. Congratulations on another great album!
Thanks a lot on behalf of the whole band! We all put a tremendous amount of work into this album. I tried really hard to add more of myself, ourselves, my style and our combined style to it and to share some of the emotions I felt while writing these songs with the whole band.
You choose to stay true to your folk tradition and write and sing in your native tongue. Many bands adopt English lyrics to reach a wider audience. What are the advantages and disadvantages of singing in Hungarian or is it even an issue with the band?
Not an issue really! We've been writing our lyrics in our native Hungarian since the beginning back in 1998, and that isn't realistically going to change.The Hungarian language in itself sounds quite exotic already to the western European ear and Hungarian folk music isn't very well known in your region either, so I think it gives us something that is totally unique. This is only one of the many things we're able to use to strengthen our work: it's a way of honouring our own culture as well. If you look very closely, you'll probably find more similarities between Swedish, Finnish or German folk metal bands than you'll find comparing us with them.
Technically, folk music isn't really about the type of instrumentation but the common people reflecting the traditional forms of a society. Do you and Dalriada consider yourselves a modern folk band?
Yes, I think we accept that but we also embrace being tagged as a folk metal band too because in terms of a definition of our work, this sounds about right. Having said that, we operate with lots of other musical elements too and we aspire to diversity and variety, whilst adhering to our principles, so I always try to ask people to look below the surface as well!
The music on "Ígéret" feels very 'celebratory'. Is this how Dalriada views its country's history?
Well, our home country's history abounds with severe, tragic events, yet much of it is extremely heroic too, so in a way you're right! Peace was extremely rare. Hungary never went to war to conquer as such – although it had the power to do so – but very often to defend its people from outside foes. Many of our songs tell about our ancestors' bravery and self-sacrifice and therefore their character is quite celebratory and epic; yes!
How do you determine your source material for each album?
It depends; it's very different. In many cases, it's a single folk song, a poem or a good book that starts the process of song writing. But, sometimes we knowingly adapt a specific folk song or melody too – a particular tale or legend. There are some personally very inspiring songs on our new album "Ígéret".
Is Dalriada making an igéret – that's a promise in Hungarian I believe – with this album? Is it to anyone in particular?
Yes, in a way, but it's a pointer as well. This album is for anybody who is open minded and interested in modern metal, combined with eastern European folklore and culture and especially Hungarian folklore and musical traditions alike. We don't expect a sudden flash of brilliance and increase in our popularity abroad; our goal with this album is to put ourselves on stages across Europe (and maybe beyond) and to become a viable part of the world's "metal heartbeat"!
You and Andras Ficzek serve up some excellent vocal performances and harmonies on "Ígéret" – especially on tracks like "Igazi Tuz" and "Leszek A Hold". Did you two have any particular vocal strategies when recording the album?
Thanks a lot! Basically, we are our own producers; when Andris sings his parts at the studio, I regularly give him instructions and feedback and vice versa. We can be quite productive when working together; it's a result of long lasting, constant teamwork, and we compose all the vocal and choir parts this way. We have no specific plan; I, for my part, try to utilise my abilities as best as I can to add something new and extraordinary to the whole, for what the songs require and he's also trying to always give each and every song its own unique note.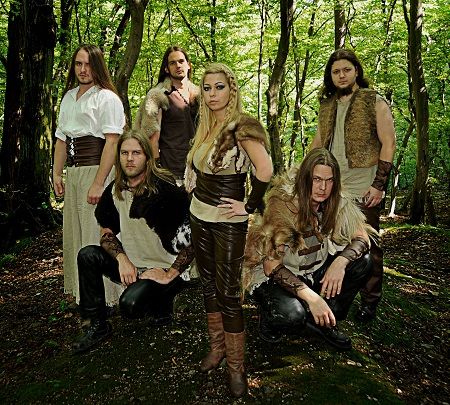 You even did some grunting on your part! How did that go? Had you done this before or did you have to learn how to do it? Hopefully your throat held up well!
Yes, it's not hard… I've actually used this technique on stage for years now and even on our album "Szelek" from 2008 where I had a small screaming part. The new album is truly the first one with longer parts, that's true, but I didn't have to learn or even practice this kind of vocal technique. It just bursts out of me, naturally. In one of our new songs – "Hajdútánc" – I alternate, time and again, between screams and clean vocals, and it drives the crowd crazy! (Laughs)
The traditional "Intro" and "Outro" were very interesting bookends to the album. Were they functioning like a book's prologue and epilogue, setting up and closing the stories in between?
Exactly and that was definitely our goal: to create some kind of frame for the album. The "Intro" – chosen and played by the Fajkusz Band – a traditional Hungarian folk music trio that has constantly backed Dalriada on stage since 2009 – is a fragment of an old poem written by Tinódi Lantos Sebestyén who's a Hungarian soldier/poet from the 16th century. The "Outro" is a part of the song "Leszek A Hold" with shaman drums.
Tracks like "Mennyei Harang" and "Ígéret" incorporate lyrical and melodic elements of older traditional folk songs in your music. How important is it to maintain a connection between the modern and your traditional folklore?
Extremely. When we first started playing back in 1998 in a slightly different band to Dalriada, our primary goal was to mix Hungarian folk melodies and some classical music elements with traditional heavy metal. Of course, this idea wasn't new since there were some outstanding folk metal albums by bands such as Skyclad and especially Amorphis who were writing masterpieces of this genre with their album "Elegy" in 1996. But, although we wanted to create something similar we knew we had to better this and add to it our main idea of expressing our love for Hungarian folk music and folklore. We mustn't forget to mention the Fajkusz Band in this regard too, since they too have helped us a lot in combining these styles in an authentic and real way.
"True Fire" is a tribute to a fallen band mate, Peter Hende. What a great homage to immortalize him and his life in a true folk fashion.Thank you once again.
Yes, Péter Hende was a founding member and the spirit of the line-up back in 1998. He died suddenly and unexpectedly in January 2001. He spent only 3 years in the band and was only 23… This song was written in his memory. Rest in peace!
Dalriada is very prolific as far as metal bands go – six albums in seven years. What's the secret to producing such consistently high-quality music for so long? Isn't it about time for a break?
I hope not! There's no big secret, we just like to work on short deadlines; it seems to inspire us, and it's just the way it goes in this band. Certainly, it's always important to show progress from album to album; the sound and the songs' need to move forward. If, in our opinion, the new stuff will be weaker than the previous ones, we wouldn't publish it and I think that would be the time to stop for a bit. But we'd like to stick to this schedule for now – one album per year approximately. That's, of course, just theory though because you never know how it'll turn out! (Laughs)
"Ígéret" is very danceable, for a metal album – it has a real groove to it. Your concerts must be a real party!
Our Hungarian friends and fans support us in an incredible way; the spirit and the atmosphere of a Dalriada gig is fantastic. I can't even compare it to anything! Without the support of our Hungarian fans, we'd be nowhere!
Do you have any tour plans for the summer? Will you be performing around Europe or maybe North or South America?
We have some confirmed concerts abroad in Europe certainly; in Austria, Germany and Italy, but hopefully, there will be more of them as well. The tour dates will soon be available on our homepage. Feel free to check them out!
(Famous) Last words?
No real quote, sorry!! Just thank you for this opportunity, and I hope to see you at a gig somewhere in Europe soon to show you just what a real Dalriada concert is like!
Links
Latest Multimedia
Label : Prophecy Productions
Review by Andrea "Disgraced"

September and its last thoughts. Fursy Teyssier brings finally to the calm and sweet light of autumn twilight the long awaited and – by its creator – desired debut album. Thank god or whoever in its place he didn't give up since he created the project in 2003! Now let's make a brief prologue for those of you out there who aren't familiar with this particular scene, born some years ago but only now coming to the attention of bigger audiences – relatively speaking, of course. Bigger audiences are always after something not even half close to the art delivered here but… you know, de gustibus. And, just to spam you with another ol' saying, we could say that "every genre has the hero it deserves".

So, lately France has been a fantastic cauldron for these kind of bands, born in the cold and deadly riffing of extreme black metal, who chose to go beyond usual and old stereotypes still typical of many bands (see above: anyone's free to do what he/she/they want) and not just add new elements to their music but, directly blending and mixin it in a promiscuous relationship with (dark but not necessarily) ambient, new wave and shoegaze above all. Recognizing certain soundscapes reminiscent of Joy Division, Cocteau Twins, The Cure (mostly "Disintegration" and "Wish"-era), Slowdive, Jesus and Mary Chain is extremely easy and pleasant. Pleasant for lovers of that kind of music of course but also for those open-minded metalheads (or simply good music-lovers, which should be the only important category) who like to sink in a music full of emotion, deeply heart-moving, that didn't lose any aggressiveness at all but on the opposite just gained in sheer beauty.
Of course we might make a similar speech for other musical genres, even remaining inside of the metal field, that were born in the last 20 years and that bring a big handful of contaminations with them – just think of those dear, I'm sure about that, to the readers of this webzine like gothic metal, symphonic metal, and so on. But here the situation is slightly different: I still have to understand, and leave the matter open to every listener out there, if it's the inner world of the musician(s) which serves well to the designated musical style or… or is it the music a good servant, the perfect means for the artist(s)'s emotions to come out hre into our so-called real world? Or maybe both? I don't have an answer right now.

So let's dive into the music of this album. Here the black metal elements are even more hidden that what did and does his friend Neige in Alcest or Teyssier himself in his other projects; one of the heaviest tracks is the long and epic "Chanson D'Automne" (Autumn Song), always walking on the edge of metal, post-rock and neo-folk. Another heavy song that will make you clap at these musicians for their skills in blending together many styles without losing a clear idea of what they want to do – you know, many would end up just creating a ridiculous mess – is the wonderful "Les Feuilles De L´Olivier" (The Leaves of the Olive). Its central part, let's say from 2:05 on will bring you on the border of a forest together with the two children of the cover artwork (more on this later), with the darkness behind your shoulders in the shape of a soft pillow ready to take you in and the sun keeping its distance on a wasteland in front of you… but still, there's hope. I hope most of you won't be disappointed by the overall lack of female vocals, provided there and then by the good Audrey Hadorn, who anyway contributes with lyrics as well. Teyssier's vocals are very good, though he just chants out with lots of emotion and few technique but who cares?

His vocals don't reach the immense poetry of such untouchable masters like Brendan Perry or Peter Murphy but they flow very well with the music, just like they're expected to do I guess. "Effet De Nuit" (Effect of Night) shows us a very good rythmic section with an increasing tension finding a glimpse of peace only towards the end, where the guitar finally traces space to take a little breath. Final song "Une Matinée D'Hiver" is the tiny but strong, not weak at all, well deserved light but not at the end of the usual gallery, there are no obscure and frightening galleries in this record; that light, granted by the guitars and vocals which climb on each other, is like the smile I imagine the two children of the cover will have in the end, something like, after all we made it to here, we're alive in front a beauty that can be scary and we're aware there's a lot of horror going around. But, we'll keep on going on. Before I finish my review an important note must be done, that is about the artwork and Teyssier's incredible talent in painting and drawing. He actually is a renowned artist also doing cover artworks for other bands but apart from that a great, great painter able to depict sceneries of calmness, innocence and sadness without looking banal or ridiculous but always with that sense of being on the edge of two worlds, and you can't decide if and which one is better than the other. Teyssier possesses a great technique, maybe even greater than the musical one; from the depth of my ignorance, it reminds me of Renoir's warm strokes, not to mention Turner's light and Constable's love for certain landscapes. At this point, just let me tell you there's a limited edition of this album (1000 copies) that consists of CD, DVD (with Fursy Teyssier's award-winning short film "Tir Nan Og") and a stunning 56 pages art book. What are you waiting for?!
Rating – 85/100
Tracklist
L'Envol des Corbeaux
L'Echappée
Les Feuilles de l'Olivier
Song for Mountains
Sur le Quais
Effet de Nuit
Septembre Et Ses Derniéres Pensées
Chanson d'Automne
Svipdagr & Freyja
Une Matinée d'Hiver
Line Up
Fursy Teyssier – Vocals, Guitar, Bass
Audrey Hadorn – Vocals
Winterhalter – Drums
Links
Label : Equilibrium Music
Review by Stina
Some outstanding music has come across our ears throughout the course of 2010 from Equilibrium Music, and Hexperos's "The Veil of Queen Mab" is no exception. This Italian duo (the bandname derives from the characters Esperidi and from Hesperos – the former designing the three nymphs of the evening, who take care of a tree of golden apples and sing with melodious voices, and the latter the name of the first vesper star, the one preferred by Venus) was established in 2004 by multi-instrumentalist and main composer Francesco Forgione (double bass, cello, Bardic harp, percussions and keyboards) and vocalist Alessandra Santovito (also transverse flute and hammered dulcimer), formerly known for her work in the band Gothica. Alessandra is gifted with a rich and suave lyrical soprano voice that is destined to rejoice the ears of every fan of female vocalizations (she achieved a first class degree in opera singing at Pescara Conservatoire with full marks and honours), yet, what makes Hexperos stand out, and the reason why "The Veil of Queen Mab" scored so highly in my appreciation, is due to how they effortlessly escape the redundant approach that scuppers many a band with a Neoclassical edge to produce music that it's as synergic and airy as it's majestic and powerfully evocative. "The Veil of Queen Mab" has taken its time coming out, having been recorded and meticulously assembled over the course of three years (the band's debut, "The Garden of the Hesperides", saw the light in 2007), and thus the arrangements are manifold and finely crafted, but the textures found on each piece, dexterously fused with Alessandra's jaw-dropping voice, sound so graceful and impalpable they softly wrap the listener up like Queen Mab's merciful azure veil: the album title is inspired by that of a short novel by Nicaraguan writer and poet Rubén Darío, paying homage to the queen of fairies and dreams – originated by the Anglo-Saxon mythology, probably with roots in Celtic legends, and referred to in countless works by a number of artists, from Shakespeare or Percy Shelley to Gustave Doré – who brings solace to the Artists comforting them during their struggles. Hexperos used this figure as a striking metaphor to underline the aim and spirit that pervades the whole work, which is dedicated to Art, and Artists. The result is an album that can draw comparisons to top-shelf Gothic/Neoclassical acts, but ultimately sounds like nothing else but the work of their creator – and most importantly, like a true work of Art. Recommended.
Rating – 85/100
Tracklist
The Fairy Appears
Queen Mab
El Velo Azul
Moon Spell
Summatem Deam
Diadem of the Night
Summoning of the Artists
A Reason to Live
Nocturne
Le Lacrime di Proserpina
A Forest
A Midsummer Night's Dream
Time of Spirit
Asturiana
Line Up
Francesco Forgione – Double Bass, Cello, Keyboards, Bardic Harp, Bodhrán, Jambè, Programming
Alessandra Santovito – Voice, Flute, Hammer Dulcimer
Francesca Romana Di Nicola – Celtic Harp
Alessandro Pensa – Violin, Viola
Manuel Manzitti – Bassoon
Links
MySpace * ReverbNation * Facebook * Site
Label : SL Productions
Review by Luisa Mercier
Inspired by the E. A. Poe short novel of the same name, Grey November deliver us a monument devoted to the memory of funeral doom, nuanced with a romantic, decadent atmosphere that the writer himself would have liked. The opener "A Dull, Dark, and Soundless Day in the Autumn of the Year" is a synth-based track while the rain slowly set the mood for a grey autumn landscape. Then Marieke ethereal vocals kicks in gracing everything with a ghostly aura, while drums and guitars play their doomed dance. Spoken words from both male and female counterparts give an even more creepy vibe to the song. French language enhances the already inner elegance of the whole record, which is also partially sung in English. "Roderick Usher" has the typical doom pace, while Marieke and Cédric entwine their voices until the melancholic acoustic break, rain beaten and cold bitten. The silhouette of the Ushers haunted house is perfectly painted in the mind of the listener, completely covered in fog and gloominess. Thick guitars pave the ending of the song and their reverberating sound fills the air with mysteries. The following "Lady Usher" is the second longest track on the album. The first half is synth-driven, completely hopeless and sad, while the second leaves the listener aghast through whispers, spoken words, the rain and the wind. The outro is doom metal again and Marieke showcases her magnificent vocals. The fourth track is a short piece, full of sounds from a surrounding environment: the wind, an old door opening, steps on the stairs, drops falling from the ceiling. "Requiem" is a neoclassical instrumental only broken by a French spoken part and it works as intro for the title-track. Sixteen minutes long, it builds heavier and heavier, even some growl appear through the thunders and the ending has a sudden, obsessive black metal twist. Something you did not expect after a whole record so slowly paced. "Epilogue" closes the album; the first part is quite weird, full of electronic beats, it resembles an industrial song. Then it becomes neoclassical again, strangely peaceful with a slight restless feeling. Spoken parts and Marieke's singing creates a romantic atmosphere. The final minutes are completely made up of sounds taken from the surrounding of the house. Chaos and then the rain beating over the abandoned mansion. Not an easy-listening for sure, but if you love this kind of atmospehere you will love "The Fall of the House of Usher".
Rating – 80/100
Tracklist
A Dull, Dark, and Soundless Day in the Autumn of the Year

Roderick Usher

Lady Usher

Requiem

The Fall of the House of Usher


Epilogue
Line Up
Marieke Delanghe – Vocals


Cédric Seyssiecq – Music, vocals, lyrics, concept, artwork
Links
Label : Wormhole Death/Aural Music
Review by Luisa Mercier
The Way of Purity is a mysterious band, Supportive of The Animal Liberation Front, they are convinced that in the future animals and men must be equal and they fight for this objective. The new record "Equate" is about this subject and moreover, it denounces on of the cruellest sins of out times: speciesism. That is a theory according to which men are superior to animals and justifies acts like vivisection. After an EP, released some months ago, The Way of Purity has recorded this new full-length that keeps intact the main features of the band. It is opened by "Artwork of Nature", a violent, very aggressive track that mixes blackish riffs, female growling vocals and a little bit of melody that makes everything more dramatic. In "Death Abound Everywhere", death metal guitars are mixed with just a hint of electronic, quite groovy. "Eleven" showcases female clean vocals and I have to say that they are really beautiful, warm and elegant, they shine through the record and are a nice change to the usual growl. The music is lesse brutal, a bit more "symphonic". Doubtless one of the highlights of the record. Generally, the songs are very short, but it is something I am really appreciative of, because this way you can enjoy the true essence, the brutality without getting lost into details. Quite different from the rest is "The Last Darkest Night". I would define it a slow/mid-tempo song compared to the others (apart from the usual black metal moment) and it has an interesting bridge. My favourite, indeed. The Way of Purity have managed to write an album which is catchy, but aggressive, which delivers a message but it is able to entertain a wide audience.
Rating – 75/100
Tracklist
Artwork of Nature

Death Abound Everywhere

Eleven

Eternal Damnation to René Descartes

Keep Dreaming

For All Who Thrive Unheard

The Mighty Fall

The Last Darkest Night

A Time to Be So Small

Lijti Crjsty
Line Up
Tiril Skårdal -Vocals

XDeadGirlX – Vocals

XDeath WishX – Guitars

XWithoutNameX – Guitars, Vocals

XLostMyFaithX – Keyboards, Vocals

XJeffreyX – Bass

XWallOfDeathX – Drums
Links
MySpace * ReverbNation * Facebook * Site
6 color styles available:

Style switcher only on this demo version. Theme styles can be changed from Options page.