Browsing articles tagged with " sigland"
Label : AFM Records
Review by Tony Cannella & Disgraced
For many – myself included – the Norwegian Goth Metal band Theatre of Tragedy was one of the first (co) Female fronted metal bands that I first got into, thanks to their seminal 1995 self-titled debut. They followed that up with the awesome "Velvet Darkness They Fear" which to this day, still ranks as one of my all time favorites; it is a true masterpiece (in my opinion). Since then their work has been a bit uneven and has included a controversial foray into the realm of Electronic Music. If nothing else, TOT has proven they are not afraid to go off the beaten path and set their own boundaries, for better or worse. Now, it seems that that path has come to an end, as the band has announced that they are calling it a day, with this, the double live album/DVD "Last Curtain Call" being their swan song. Recorded and filmed in their hometown of Stavanger, Norway, "Last Curtain Call" features 16-songs and almost 90-minutes of the band tearing through some of their best songs live. The set begins with "Hide & Seek" from their most recent album "Forever Is the World" and then the band reach back a few years on "Bring Forth Ye Shadow" from the "Velvet Darkness…" album. Most every Theatre of Tragedy album is represented with the exception of 2002's "Assembly". The band even performs three songs off the "Musique" album. "Fragment", "Machine" and "Image" all sound good live and kudos to the band for giving each era equal time. The highlight for me, came on the track "And When He Falleth", it was great to hear TOT bring out this one, as it is a classic in my opinion. Vocalist Nell Sigland proves that she up to the task in performing the classic Liv era stuff as well as songs from the two albums she recorded with Theatre of Tragedy. She is a huge talent that I am sure will be heard from again. If this really is the "Last Curtain Call" for Theatre of Tragedy, they have no doubt left us with an eclectic catalogue of music and a lasting legacy. Fare thee well…
Rating – 80/100
Label : Kolony Records
Review by Stina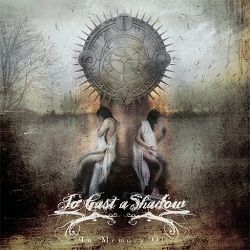 To Cast a Shadow might not be a band to everybody's taste but this is less because of particularly arresting abilities and more because they confine themselves in a narrow netherworld: they go for a stripped-down, almost stark approach to melodic Goth/Doom Metal in opposition to the Symphonic flair or knack for electronics that are so predominant in the Femme Metal scenario at this present time, and for this reason they might come off as too bleak and toughly digestable for the average Female fronted metal fan – still, they might lack enough emotion, power or bite to retain any replay value to the pickiest Doomsters. Hailing from the city of Hamar (and with already an album to their name, 2007's self-financed "All Alone"), the foursome is part of the renowned Norwegian scene that seemed bent on spawning a number of pivotal acts in the genre: among others, Theatre of Tragedy. And, with Nell Sigland taking over the mic on the short and atmospheric "Betula", one would not be surprised in getting to know that To Cast a Shadow do actually sound like a sort of revved-up later styled ToT with a harsher styled accent (the band cites sources as diverse as The 3rd and the Mortal, My Dying Bride, Type O Negative, Satyricon, Anathema, Tool, Paradise Lost and Black Sabbath as inspirations): unwelcoming, brooding and mostly mid-paced (save for a couple of instances, for example the energic low-frequency chugging inserted in the end of "Oceans Apart"), the music is built on a nearly skeletal but massive rhythm section, with the female vocals – elsewhere handled by blonde frontwoman Gunnhild Huser, whose clean lines sometimes alternate with guitarist Marcus Granlien's harsh semi-growl – spiralling over the top. Gunnhild is said from her bandmates to be in possess of a mind-blowing vocal range spanning from jazzy to operatic, yet her vocals are a potential knock against the band, since she's as technically competent as detached, and somehow restrained in her delivery, lacking agility and leaning a tad on the unidimensional side in terms of pure expression. But it is in the songwriting department that To Cast a Shadow are mostly found wanting: the ten songs on "In Memory of" tend to be meandering and at times they lack a bit of direction, beside coming off as a bit too formulaic to impress long time fans of Doom Metal – and, of course, much less ear-catchy and bombastic than what listeners have lately grown accustomed to in the Gothic genre. Being a young act, To Cast a Shadow still probably need to find their way and their voice in an insanely crowded scene. Given further time to mature and refine their sound towards more focused shores, they might just surprise the audience. Until then, "In Memory of" stands as a transitional effort rather than an actual revelation.
Rating – 60/100
Tracklist
Tormented
Morose
Nightfall
Oceans Apart
Betula
My Misery
When You Leave the Room
Set Afire
The Answer
In Memory of
Line Up
Gunnhild Huser – Vocals
Marcus Granlien- Guitars & Vocals
Stian Dalslåen- Bass
Kent Helset – Drums
Links
Label : AFM Records
Review by Tony Cannella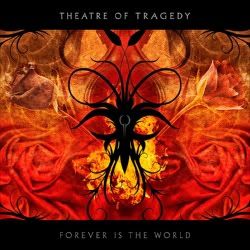 It's no secret that the long running Norwegian band Theatre of Tragedy have rich history and have been highly influential on many of today's bands. Thanks in part to the tremendous work they did on their first three albums. After that the bands direction changed course and they released a couple techno/electronic CDs that polarized many of their fan base. Say what you want about those two CDs ("Musique" and "Assembly") it was a bold move to tackle uncharted musical territories. Following the departure of original female vocalist Liv Kristine the band soldiered on with her replacement Nell Sigland and released a solid album ("Storm") that was – in part – a return to their old vibe – while still moving full speed ahead – and was a welcomed return by many long time fans. Now the band is back with a new CD with the curious title of "Forever Is The World".One thing you have to admire about Theatre of Tragedy is that they have always made the the kind of music that they want to and with "Forever Is The World" that continues. "Hide and Seek" begins things with an eerie vibe. This is actually a really good opener that sees Raymond Rohonyi starting off with a sinister sounding growl type of vocals before Nell Sigland joins in on the chorus. This song has a very dark quality to it that really makes it a favorite of mine. "A Nine Days Wonder" is next and sees Nell handling the bulk of the vocals on this one. The song contains a solid riff throughout that is just steady and like a guiding hand for the song. "Revolution", "Transition" and "Hollow" keep things moving along steadily. Other highlights include: "Frozen", "Deadland" and the fabulous title track "Forever Is the World" which brings the CD to it's conclusion. The guitars are definitely up front throughout the CD and the CD is a good mix of their classic stuff and the more experimental musical approach that the band have been known for. It would be unfair to judge "Forever Is the World" based on the awesomeness of the earlier Theatre of Tragedy material. This is TOT in 2009 and beyond. The future looks indeed bright for this long running metal band. If you (like me) thought that "Storm" was a return to greatness, than "Forever Is the World" should appeal to you.
Rating – 80/100
Tracklist
Hide and Seek

A Nine Days Wonder

Revolution

Transition

Hollow

Astray

Frozen

Illusions

Deadland

Forever Is the World
Line Up
Nell Sigland – Vocals

Raymond István Rohonyi – Vocals, Programming

Vegard K. Thorsen – Guitars

Frank Claussen – Guitars

Lorentz Aspen – Keyboards, Pianos

Hein Frode Hansen – Drums
Links
Label : My Funeral Records
Review by Tony Cannella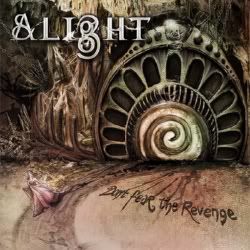 At only 7-tracks and 31-minutes worth of music, the debut effort from Italy's Alight is more of an EP than an actual full-length release. What you get on these 7-songs contained on "Don't Feat The Revenge" is a healthy dose of Alight's brand of Gothic influenced metal complete with lots of melody and great musicianship that carry this effort from beginning to end.The first thing that caught my attention with "Don't Fear the Revenge" was the packaging. The CD comes in a cool digi-pack format with some nice artwork accompanying the CD. Of course the most important thing is the music and Alight also do very well in that department. The band are fronted by the vocals of Sabina and also include female bassist Elena. The opening track "Disarmed" is a very good starting point for this CD, and features a good grinding guitar riff and the keyboards contribute to the overall atmosphere. "Revolution" and "Landscapes" keep things going on course and the next track "Your Bride" is one of the main highlights and features a guest appearance by Nell of Theatre of Tragedy on guest vocals. The Final three tracks "Black Rain", "These Eyes" and "Forever Lost" are also solidly entertaining and a good way to end things. Given the relatively short playing time on "Don't Fear the Revenge" it will be interesting to see how the band develops on future releases. Overall, the songs and the direction on "Don't Fear the Revenge" are solid and should lay the foundation for a promising career.
Rating – 76/100
Tracklist
Disarmed

Revolution


Landscapes

Your Bride

Black Rain

These Eyes

Forever Lost
Line Up
Sabina Spagnoli – Vocals

Edward Crow – Guitars

Elena Donolato – Bass

Mirko Montresor – Drums
Links
MySpace * ReverbNation * Facebook * Twitter * Site
6 color styles available:

Style switcher only on this demo version. Theme styles can be changed from Options page.