Browsing articles tagged with " singing"
Interview by Scott Brady
When I first listened to the "Afterlife" EP from Anne Autumn Erickson and her band Upon Wings my first impressions were this has to come from Europe due to the nature of its sound. However this metal siren and her band are not European whatsoever. Anne Autumn Erickson hails from Detroit Michigan. Many Americans are well aware that Detroit Michigan has fallen on some hard dark economic times in recent years. Anne Autumn Erickson is definitely a light coming from a very dark place and in the years to come will give Detroit Michigan something to be proud of much like Kid Rock and Ted Nugent and Motown have. Kiss even titled a song called "Detroit Rock City" and a young upcoming Female Metal singer has chosen to pick up the rich musical traditions coming from Detroit and carry the flag over into Female Fronted Gothic metal.
Her voice has certainly received attention by some very influential players in the modern American rock scene. Some of these artists that Anne Autumn Erickson has already worked with in her short time in the industry are Guest vocalist Brett Hestla (ex-Creed, Dark New Day), master Grammy-nominated mixing engineer Glenn Brown (Kid Rock's recording engineer) and guitar work and production from Canadian-based Kevin Jardine.
Continue reading »

Interview by Matteo Bussotti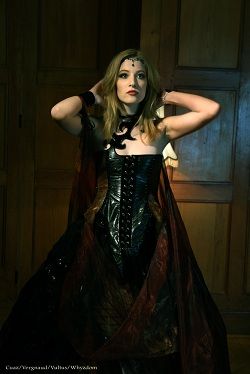 It's not an usual thing to have such a young singer in a successful band. Nonetheless, this is what happens in Whyzdom. Their career just took off with the release of their latest album, "Blind?", and so we felt obliged to ask their singer some question! Talking to her has been a real pleasure, and although her young age, we can foresee a great future for Elvyne. So, ladies and gentlemen, enjoy our interview with Elvyne Lorient, from Whyzdom!
Hi Elvyne and welcome to Femme Metal! My first question is a simple, personal one: at what age did you start singing? Did you immediately fall in love with music, or did you take the "musical path" later in your life?
Hello Matteo ! I started singing at the age of 6 I think. It was my father who made me sing with him… and I never stopped since then. So it has become a part of my life very early.
I think your band's name, Whyzdom, is an interesting game of words, isn't it? Can you explain it to us?
Oh, since I joined the band only this year, I'm not sure that I know everything about this. Vynce told me once that it was based on several words : Wisdom, Why, Kingdom… so, well, for me it evocates a contrast between the quietness of wisdom and our music which is full of energy. Continue reading »
Interview by Si Smith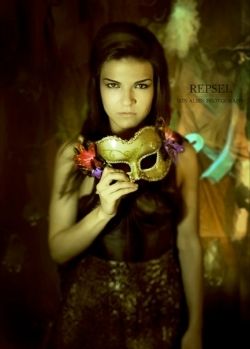 After the 2007 line-up change of the band's original 2003 members, the band started writing and composing the first album called "The Double Mask of Human Kind"
, released on 8th February 2011. The new album differs completely from the two previous demos called "At the Gates of Arcan" and "Darkness and Confusion" by introducing a new, guitar-oriented sound. "The Double Mask of Human Kind" describes the two faces of war, the hopes and fears of the people living in war zones as well as the sarcastic complacency of the people who lead wars according to their personal economic and political interests. Femme Metal got the chance to talk to Marta Iacoponi, singer and violinist from Repsel.
Hi Marta. First of all, thank you for talking to us, and a warm welcome from everyone here at Femme Metal.
Thank you, it's a pleasure to be interviewed by Femme Metal!
The band started in 2003 under the name Repsel being an acronym of the original members' initials. Who was in the band at that time and how has the band changed up until now?
Well, Paolo, the drummer, and Lorenzo, the guitar player, are the band's only remaining founding members. The band had initially another vocalist. I joined the band in 2004 and we started recording our first demo the same year. The line-up remained the same for almost four years, but on October 2007 Giorgio replaced the former guitar player. Soon after, we began working on the new album, "The Double Mask of Human Kind". The band changed up another time in January 2010. Alessandro, the bass player, was the last to join the band. Continue reading »

Interview by Erwin van Dijk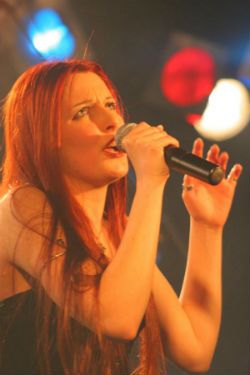 An in-depth chat with Chiara, the soprano singer of the well-promising Italian Gothic Metal band Lust for Oblivion about their debut demo "Black Moon" and their musical future.
Did you always want to become a singer?
I've always loved music and my first experience with it was at the age of nine, when I started playing the piano, but I've always loved singing, too, since when I was a child, so, some years ago, I started taking opera singing lessons.
And to what kind of music do you listen yourself?
I listen to classical music, especially opera and piano compositions and also to metal music.
And who are your favorite bands and musicians?
Bands like Dark Tranquillity, Moonspell, Within Temptation, Lacuna Coil, Tristania are my favorite, but I've surely forgotten some…obviously I adore Tarja Turunen!!!! My favorite classical musicians are W.A.Mozart, F.Chopin and K.Orff.
Interview by Alessandra Cognetta
Anaè is the lead singer of the French metal band Adrana, a combination of progressive metal, heavy metal and classical music, enriched by a strong literary component. The mix of different influences as well as forms of art makes Adrana a unique musical experience and we're here to find more about them.
First of all, welcome and thanks for taking the time to answer our questions, Anaè. How has 2012 been for Adrana so far?
Thank you for giving us the opportunity to present our music and artistic work! I am really thrilled! The year 2012 has been fairly quiet so far. After the release of "The Ancient Realms" and the first part of the French tour we were given a little time to work on new songs, work toward a movie clip and prepare a surprise regarding our future gigs to all of our fans!
One of the things I enjoy the most about your music is the "story" (I won't dare to call it a concept because in my opinion it's far more than that) behind your whole production. Can you describe for us the main themes of Adrana's adventures?
We would like that it becomes much more than a concept. We are working on it, but we are still far from what I wish to do in terms of total art (featuring theater, music, stories, dance, and a whole fantasy world). Our music tells the adventures of the warrior princess Adrana desperate to reclaim her fallen kingdom. It contains many elements of heroic fantasy like the character's actions or places in a rather dark atmosphere, darkening progressively with each new album. Although the story revolves around a princess, this one is more gloomy and sanguine. There are many battles, betrayals, murders and unmentionable secrets that punctuate the epic story of Adrana. Adrana talks about the difficulty of bringing people together in their diversity, and the difficulty to win the trust of others. Adrana shows us that very often we find ourselves alone with our destiny. Finally, this quest leads the Princess to ask the recursive question as to whether the pursuit of a right cause, right as it is, justifies having to kill thousands of human and nonhuman creatures to get there?
We know what influenced your music, but what influenced your lyrics? How were Adrana and her Ancient Realms born?
The band name was invented, without special intention by Ludo and Maxime (guitarist and drummer, the founders of the band). They then included Grhyll, our keyboard player, and me to write the story. The first songs whose lyrics had no relationship between them (stories of vampires, putrefied nymphs, or warrior princess), have become the pillar of the epic story of Adrana. Now, Grhyll has taken charge of the story and I work exclusively on writing lyrics around the story created by Grhyll.
6 color styles available:

Style switcher only on this demo version. Theme styles can be changed from Options page.