Browsing articles tagged with " single"
Independent Release
Review by Tony Cannella
It is really hard to get a feel for an artist based on two songs. It's even harder when it is two different versions of the same song. So it goes for the Belgian artist known as Gloria in Excelsis. But you know what? After listening to her new single "Cage", I have to say that I really like what I've heard. Gloria had previously been with band Guren and now sets out on her own under the moniker Gloria in Excelsis and "Cage" is her debut single. The song "Cage" really has a heavy thrashy vibe with plenty of power and blunt force behind it. The pace is hectic and heavy, yet still melodic. The single comes with two versions of the song, one sung in English and the other in Japanese. Either way the song packs a mean wallop. Continue reading »
Interview by Laura Medina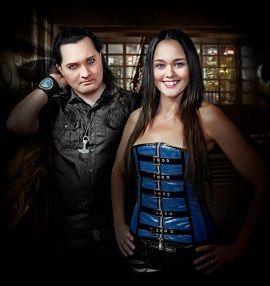 Amberian Dawn, a symphonic metal band from Finland, announced via their official website that they were parting ways with their longtime female vocalist, Heidi Parviainen, in early 2012 soon after their magnifying, superior and outstanding performance at the Metal Female Voices Festival (MFVF) X in Wieze, Belgium. Flash forward to December 2012, it was announced via their official website that the band would release a compilation album consisting of songs from their four previous albums that would be re-recorded featuring their new Finnish female vocalist, Capri!
With the release of "Re-Evolution", their new female vocalist Capri poured out her own mix of classical and rock styles as well as raw emotions into those Amberian Dawn songs. Continue reading »
Label : Zen Hill Records
Review by Tony Cannella
It is difficult to get a feel on a band based on one song. Such is the case with Portland, Maine's Heart Shaped Rock who has just released a one song single titled, "Brought it On". They do have an extensive catalogue of music, which you can find at their ReverbNation profile, but to my knowledge they have only released singles thus far and "Brought It On" is their third following, "Dream Sequence" and "Karma". Before getting into the review, I have to say that I love the cover art work, so that is definitely a plus in their favor.
Heart Shaped Rock has an eclectic array of influences and it definitely surfaces in the music. Continue reading »
Independent Release
Review by Tony Cannella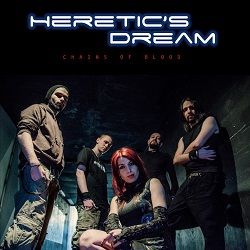 The Italian – now based in the UK – Gothic/prog metal band Heretic's Dream released their debut album "The Unexpected Move" last year and it proved to be an unexpected surprise (positively so). Now the band returns with some new material. Actually, just one new song, entitled "Chains of Blood".
Happily Heretic's Dream's Gothic/progressive metal sound remains happily intact, but what this 6-minute track represents is a progression in the right direction. The guitar riffs are rumbling throughout the track and lead vocalist Francesca Di Ventura's angelic vocals are just as assured and self confident as they are on the debut. Continue reading »
Label : Arcane Records
Review by Luisa Mercier
Schoolcraft is the solo project of Lindz Riot, singer of the Canadian gothic rock band Mary and The Black Lamb.
As solo artist, she decided to show us her skills with piano, since she is classically trained, drawing her inspiration from nature, fantasy, orchestral music and trip-hop.
"Your Mind" is a 2-track single which features the title track and "Where You Go".The first is a simple piano-driven ballad, sweet and melacholic. The mood reminds me of singer songwriters like Kirsty Thirsk or Johanna Stevens. "Where You Go" is more electronic based, with a trip-hop vibe. The vocals are more sensual and less naive, feels like floating in the air.  If this is just an appetizer of the album that will come, I will be really glad to listen to it! These two tracks sound really promising and diverse, so I am eager to listen to what she can do on her own! Continue reading »
6 color styles available:

Style switcher only on this demo version. Theme styles can be changed from Options page.