Browsing articles tagged with " single"
Label : Zen Hill Records
Review by Tony Cannella
It is difficult to get a feel on a band based on one song. Such is the case with Portland, Maine's Heart Shaped Rock who has just released a one song single titled, "Brought it On". They do have an extensive catalogue of music, which you can find at their ReverbNation profile, but to my knowledge they have only released singles thus far and "Brought It On" is their third following, "Dream Sequence" and "Karma". Before getting into the review, I have to say that I love the cover art work, so that is definitely a plus in their favor.
Heart Shaped Rock has an eclectic array of influences and it definitely surfaces in the music. Continue reading »
Independent Release
Review by Tony Cannella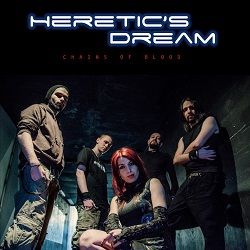 The Italian – now based in the UK – Gothic/prog metal band Heretic's Dream released their debut album "The Unexpected Move" last year and it proved to be an unexpected surprise (positively so). Now the band returns with some new material. Actually, just one new song, entitled "Chains of Blood".
Happily Heretic's Dream's Gothic/progressive metal sound remains happily intact, but what this 6-minute track represents is a progression in the right direction. The guitar riffs are rumbling throughout the track and lead vocalist Francesca Di Ventura's angelic vocals are just as assured and self confident as they are on the debut. Continue reading »
Label : Arcane Records
Review by Luisa Mercier
Schoolcraft is the solo project of Lindz Riot, singer of the Canadian gothic rock band Mary and The Black Lamb.
As solo artist, she decided to show us her skills with piano, since she is classically trained, drawing her inspiration from nature, fantasy, orchestral music and trip-hop.
"Your Mind" is a 2-track single which features the title track and "Where You Go".The first is a simple piano-driven ballad, sweet and melacholic. The mood reminds me of singer songwriters like Kirsty Thirsk or Johanna Stevens. "Where You Go" is more electronic based, with a trip-hop vibe. The vocals are more sensual and less naive, feels like floating in the air.  If this is just an appetizer of the album that will come, I will be really glad to listen to it! These two tracks sound really promising and diverse, so I am eager to listen to what she can do on her own! Continue reading »
Label : Battered Vinyl
Review by Luisa Mercier
The new single by the California-based Diva Suicide is an anthem against the X-Factor generation, as they state on their Facebook page. It is a song that praised the unique personality everyone has and it is apparent in the lyrics: "You look just like everyone else You're too lame to stand on your own I'm the new girl on the block I'm the one dressed in black You can hate me but you can't change me.."
As far as the music is concerned, the track is typical industrial rock. A lot of electronic is involved, while XS delivers her childish yet harsh vocal lines. The chorus is addictive and it hooks immediately the listener. Highly recommended for The Birthday Massacre fans! Continue reading »
Interview by Alessandra Cognetta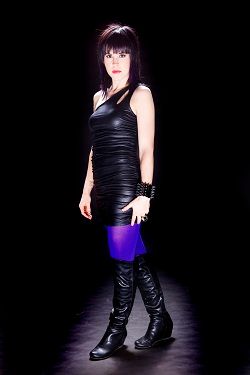 Leslie Hunt is the lead singer of District 97, a prog band from Chicago that is (not so) slowly conquering the American music scene and establishing its own name at home and abroad. Their work is a surprisingly fresh combination of different styles and musical experiences, with two full-length albums released and an ever-growing touring activity. If you want to know more about District 97 (and believe me, you want to), this is the right place to start! 
Hello and welcome to Femme Metal, Leslie! We're really glad to have you here with us. District 97 has just finished their US tour, how would you describe this experience, now that it's over?
I thoroughly enjoyed myself! Each show was a success in its own right, and I absolutely love performing this music. I also love our fans! They are some of the most genuine and appreciative people I have ever met, and I am so honored to be on the receiving end of their loyalty. It was definitely a challenge to play eight nights in a row, especially since my performance style is getting more and more theatrical as our sound evolves, but as soon as we would play the first note, I was able to transport myself to the headspace required to experience the song as if it were my first time.
District 97 has never been featured on our Webzine before, could you introduce the band and its members to our readers?
Sure! I'm Leslie, and I sing, dance and play tambourine sometimes. Jonathan Schang is the drummer, primary composer, bandleader, AND he manages everything that happens behind the scenes, so we all give him serious props. Jim Tashjian plays lead guitar and sings backgrounds. Rob Clearfield plays keyboards and additional guitar. Patrick Mulcahy plays bass. Continue reading »
6 color styles available:

Style switcher only on this demo version. Theme styles can be changed from Options page.