Browsing articles tagged with " sismith"

Interview by Si Smith
Born on the streets of St Petersburg in 2007, this gothic incarnation of Russian musicality flies a unique flag amongst many of its fellow compatriates. With much Russian metal tending towards the folk and doom metal genres, it's is refreshing to hear a gothic (?) band originating from this musically fertile area. Although as previously mentioned in a previous review, their music is slightly more up-beat than the average gothic release so we should not be hasty in pigeonholing these guys at all. Let us allow vocalist Tatiana and bassist Yaroslav to represent the band and explain for themselves….
First of all thanks so much for talking to us at Femme Metal and welcome from all at the webzine.
Yaroslav: Hi, thanks, delighted again for our conversation, already a lot of time has passed since our last interview, and a lot has changed.
So guys, your first release upon the music scene was the first EP "Breathe Again" which you put up on the internet for free download. How did you feel about the final product you had released at that time?
Yaroslav: No we did not have to release, we rerecorded in another studio and added
a different song. Now for the past times we look at it as an original stage of our development, many come to know us solely due to the EP.
I understand that you worked quite hard after this on promotion of your material, from radio airplay to interviews and 'zine reviews. How difficult was it to promote other people's interest in your work?
Yaroslav: We sent many copies of our EP to various journals, fanzines, Internet radio and concert agencies. But because of the quality of its implementation we did not get the result we wanted. In general, I must say that in Russia things are not predictable; because of this it is very difficult, and sometimes do not understand how to promote the group.
Tatiana: I guess it is always hard to introduce new things to the public. That`s why Yaroslav always does all things, connected with promotion.
Quite early on in your musical career you got to play alongside bands such as Amorphis and Norther. How do you prepare yourselves for playing alongside such heavyweight names?!
Yaroslav: Not to say that we are very prepared, it was a higher stage of our development. We opened their Russian tour. After that there were more performances throughout the year with Reflexion, Lovex and Throes of Dawn (also a group from Finland).
Your first EP rolled off the press in 2010, containing mainly the material from the first two EPs. Did the tracks change much over time as you prepared them for the new release? Or were they very much in their original form?
Yaroslav : All the songs from the first two EPs were rer-ecorded again in the studio, we worked on the first album with the sound produced, so the sound was different and much higher. Therefore, it received high praise from beating rated in one magazine even better at the time than the Leaves Eyes' album. But I must say that our very first songs were sometimes naive, a kind of attempt at writing.
"Lateless" seems to have been a great success (our reviewer gave it 83/100). Did it open any specific doors for you? What was the initial reaction from fans and press?Yaroslav: As I wrote in the last response, it made a good impression. It showed that Russia can make a quality album, if you do everything right. Last time we interviewed you Nataly was singing with the band. How did the change to Tatiana take place? Yaroslav : Everything happened very smoothly, we knew that Nataly was to leave us because of her career at work, she moved to another city. Therefore, we started looking for her replacement. And with the new singer Tatiana, we recorded a single "Discover" and our last EP "Bless from the Heaven".
Tatiana, you now have to sing the songs Nataly sang as well as the new material. How has it been for you? What is your background in the singing world?
Tatiana:
First it was a little bit strange – I never sang this type of song, besides Nataly`s voice is quite different from mine. Some of her parts I had to change. The new material is much easier for me. As for background I always liked absolutely different types of music. But I
think that such persons as Tarja from Nightwish and Doro Pesch at influenced my way of singing and acting on the stage.
Musically all your music seems to feature a very solid guitar sound matched to memorable rhythms and thought-provoking lyrics. Apart from you two, how do the other members of the band contribute to the overall sound of Lateless?
Yaroslav:
Each team member contributes to the sound of the group in the arrangement of the song. However, I am the main author of the music, I must say that on our second album we are currently working on new material, the songs will be different, as in sound and in style. Just watch out for our friends.
Tatiana:
All the members of Lateless work together to reach the best sound that we can. All musicians create their parts by themselves.

The EP begins with a quite heavy guitar riff and a melancholy song topic "Grief and Ashes". Does this represent any particular event in your lives, or are they just great lyrical subjects?

Yaroslav:
The text of this song I wrote about 2 years ago, when I arrived in the deepest depression, it was a cold winter night, empty subway cars and empty, deserted street, unless of course you know what I'm talking about.
On "Of Your Memory" there is a great balance between the singing and growling vocals, with Tatiana's singing often echoed or completed by the growls. How do you two work together as vocalists? How do you go about writing the complementary vocal lines?
Yaroslav:
Growling on this song appeared quite by chance, we recorded it in the studio, and then tried to joke extreme vocals. And we liked the idea and we left it, it was good.
Tatiana:
Honestly, this idea about two vocals in one song appeared from the joke. Suddenly, Yaroslav's vocals we found to be totally suitable in this song. We were just surprised, but glad, because it sounds really awesome!) Another surprise for me was the really good efficiency of his work, he did only two or three takes before the final version. I was very glad because we
work really hard and it made the sound of the songs really good. Honestly, I`m very proud of myself too because we recorded vocals in a freezing cold studio and I thought that the low
temperature would make my voice sound worse than it is.
It is clear from the lyrics of all the songs on the EP that the themes of death and the afterlife are the prominent ones. How do the band members feel about these almost spiritual topics? Have you any strong views on these phenomena?
Yaroslav:
All songs on the EP, except for "Grief and Ashes" belong to our former vocalist Nataly, so you should ask her. We gave her a free hand in writing lyrics and trusted her 100 percent. For us, there is practically no taboo subjects in the lyrics, exceptions only fascism, satanism and other brightly expressed religious themes.
Tatiana:
As for me, I believe in the existence of afterlife. I think my point of view helps me to feel the sense of this song from my heart.
It seems from your various posts on the internet and other interviews that you are very passionate about your music. For each of you, what are the things that make you happy and what are the things that annoy you the most in your lives?
Yaroslav:
I live music, 24 hours; I'm a fan of music. I am constantly thinking of something to play on the guitar. I like to invent songs, beautiful melodies. I do not need much personally. A quiet warm evening in the company of close friends at the lake and a couple of bottles
of whiskey is good.
Tatiana:
Of cause, music makes my life really better and colorful. Music and love… the only things I`m living for today. As for annoying things they are typical for all people at my age – it`s exams and people`s misunderstandings.
Last time we spoke to you the future was quite "foggy" apart from a few major concerts. Has the future cleared at all for you? Do you have any visions for where Lateless will go next?
Yaroslav:
Now comes the summer, and we're in a small way inaccessible to fans. Since the last interview was a lot of concerts we went to a mini tour in support of the album. Attended transfer on television. Shooting the bonus DVD for our EP "Bless from the Heaven". We now plan to proceed to the shooting of our first music video. The song is in Russian, it is called
"Fly Away".

Tatiana:
We have a lot of plans, you know. The big dream of mine is to create a big album with a lots of songs, and I hope that soon my dreams will come true.
Finally may I thank you for your commitment to continue making music, and ask you if there is any message you would like to leave with our readers at Femme Metal?
Yaroslav:
Thanks for your support, it is always a pleasure to communicate with Femme
Metal. I think you give good support to really cool bands. I want to wish that you develop further, I want to have to see you in Russia; I think you're here to see prices show many how to work.
Tatiana:
I would like to wish all metal-lovers new absolutely different and interesting music from their favorite bands, stay with us, guys!
Thanks again and all success to the new EP!
Yaroslav:
Thanx, STAY ROCK!!!
Links
Latest Multimedia

Interview by Si Smith
They say that two is always better than one, and this is definitely the case with Julian's Lullaby. The dynamic frontispiece of this band involves TWO female vocalists, equally enchanting and providing the band with a double dose of femme metal magic.The bonus is that the music is also as enchanting, involving romanticism but also a dose of heaviness and mystique. Femme Metal had the pleasure of the company of both Julian's Lullaby vocalists, so we asked them to spill the beans on the true nature of the band….
First thanks so much for joining us at femme metal for this interview, and welcome from all of us. The band formed back in 2004, were you both there at the start? How did the band build up to what we see today?
Margina:
Well, when I joined back in 2009 the band was already focused on "Sand on Your Hands" using male – female vocals. Then Elias thought it would be really fascinating as well as interesting, to experiment using 2 front female vocalists. So a few months later Aprilia joined us, and since then we all stick together successfully.
Aprilia:
I also joined the band in 2009, after a series of coincidences… The band was already formed as it is now at that time and they were recording "Sand on Your Hands". Elias had the idea that a second female voice would be interesting, so I joined in.

In the four years before the first demo release, you must have spent much time working on material and practicing together. How did the band go about building up its profile "out in the world" at this time?
Aprilia:
Most of the material is composed by our rhythm guitarist Elias. When a new idea comes in, all of us work together, through rehearsing, and everyone puts his own touch on the piece. In the end, though the initial idea is there, the result is something new, reflecting the whole band in it.
Margina:
The original ideas mostly come from our guitarist Elias as Aprilia already said. He composes and gives "life" to the songs. Good thing is we all work together as a team and each one of us has always some sort of a new idea to propose/add. So with Elias's implementation, team work and the personal touch, the final project is unique, and it certainly represents the whole team's expectations.
On your Facebook page you quote differing bands such as Slipknot, Epica and Queen as your influences. What elements would you say go into making a great Julian's Lullaby song?
Aprilia:
As I mentioned earlier, the major element of making a great song is the involvement of the whole band. Since each of us has different influences and likings as far as music is concerned, putting them all together, in the right amount, makes our songs what they are.
Margina:
Differing bands is because each one of us has a different musical background and that's what practically helps us in proposing new ideas and keeping experimenting on them. Now the exciting thing about teamwork is that we somehow manage to mix and match all these ideas/influences yet retain a balance, without having to "sacrifice" our original idea of the project. The basic elements are: the fact that we seem to interact in the best possible way and of course the fact that we are friends besides being Julian's Lullaby.
Your first demo "I Can Hear You Thinking" was released in 2008 – and then Julian's Lullaby tracks appeared on a number of compilations. How did these opportunities come about? Did it all come on the strength of the demo release?
Aprilia:
At first, the demo was the reason for our appearance in these compilations; we approached MNR guys initially and really jumped into this opportunity. Then Elias saw an ad placed by "Kiss Army" fan club and Rock-Hard magazine (GR) recruiting bands for an upcoming Kiss tribute CD, we recorded "Beth" they liked it so also joined! After that we were asked to join again on MNR's next volume CD with a song, this was the time when the whole line-up changed; so we decided to go on with something new, a song outside the demo and "Sand on Your Hands" came to be.
You guys seem quite "romantic" in your approach to music – from the artwork of the latest album cover to the quote on your website, "no angels, demons or dark desire can keep us apart". Where does that come from? Is this something you all share?
Margina:
This quote is from "Sand on Your Hands" and I must admit I really love this song probably 'cause it was my 1st song to record as a Julian's member. Well we all certainly have our "romantic" side and the artwork also proves that, still not all of our songs share this orientation. We try to keep a balance between "hard" and "soft" and our album proves that!
Aprilia:
Well, we all have our lyrical parts. And the combination of the compositions with the female voices brings out something "romantic". But don't be fooled. Not all of the songs are "gentle".
It must be a great support for each other to have TWO vocalists on stage together. Do you girls spend much time together outside of the band – get up to any mischief when no-one's looking…do you get time to work on your rapport outside of just live performances?
Aprilia:
The fact is that we do spend time together outside of the band – but no mischief done! Especially this past year we got closer, and we combine working out for the songs and having fun.
Margina:
Of course we share moments and have fun besides singing together, since we are good friends. Actually even on rehearsing we are having fun. On stage things are not different for us I guess, since we do share a nice chemistry and we fully interact. We generally combine practice with having a good time.
I notice from your videos that one of you moves around a lot more onstage whilst the other sings – does this represent quite different personalities for you both, or you both similar kinds of people and singers?
Margina:
Different personalities and music backgrounds I would say, yet the same goals. We both seek the best vocal output. I just go on stage and do the things I feel like doing (things I would probably do when rehearsing as well), while at the same time focusing on the best possible singing performance. Feeling "free" on stage is what good chemistry and interaction does like I mentioned before.
Aprilia:
We are different personalities but the "secret" of our performances lies elsewhere… I am very self-conscious about my singing performance onstage. So I prefer to sacrifice some movements to have the best result on the singing part…
Hailing from Greece must seem like a bonus, as the Greeks are well known for their classical and romantic traditions. Is there a particular Greek element to your music or lyrics would you say?
Aprilia:
I don't think there is anything in particular that connects us to the Greek classical and romantic traditions, apart from their being in our DNA of course.
Margina:
Classical and romantic traditions are part of our history and they are somehow in our nature. I have the impression though, that besides some romantic "stigmas" that you already discovered in our music, there is no other particular element.
Signing with STF Records must have been a great boost to the band's morale. Has it changed the way you work at all?
Aprilia:
Having a label deal is a good PR and really wonderful in the sense of additional promotion – guys at STF work right and serious – but I believe that with hard work and focus you can live up to your standards.
And so the new album is out now, "Dreaming of Your Fears". What is the significance behind the title?
Margina:
"Dreaming of Your Fears", just came to us naturally as we were deciding about the title. We all liked the idea since it had some sort of relevance with some lyrics and song titles in our album.
Aprilia:
There isn't any hidden meaning behind the title. It was just a brainstorming of what would sound "appropriate" as an album title. And like "I Can Hear You Thinking", "Dreaming of Your Fears" reflects the concept of the album in a beautiful manner.
You seem to manage to keep a balance on the album between the heavy and the melodic. Is this a hard balance to keep? Are there any in the band that would pull more in one direction than the other?
Aprilia:
You bet they are. But since we know our style the balance is easily preserved. In the end we all get to be happy with the outcome, whether it is heavier or more melodic.
Margina:
Keeping balance is never easy when it comes to different people with different opinions, preferences etc. Our intension was to compose the songs in a way so that any of us would be satisfied with the outcome no matter what. Since we are fully aware of what we want from our project we just collaborate and exchange ideas. This leads us to a more "heavy" or "romantic" aspect, but what matters is that we all like it.
For me "Would It Be" is one of the finest moments of the album, where all the elements come together in just the right way to create the perfect alchemy. What are the best and worst moments of the album for you? Were any of the songs particularly problematic in the recording process?
Margina:
Glad you like it! I love this song as well and I bet many people under certain circumstances have come to wonder… would it be that hard…I never had the chance to study music as much as I wanted to or take any vocal lessons thus I cannot say that I encountered problems during the recording sessions. It is well known that one cannot have the very same performance every day and of course there will always be songs that do require more focusing and effort. Actually recording sessions have been really fun, because Elias and Aprilia were always there to help when necessary so everything turned out to be ok.
Aprilia:
There were some difficulties, I admit that. But with the help and persistence of Margina and Elias in particular I overcame the obstacles, and I want to thank them for that. I wouldn't say there was a song that was particularly problematic. We all had our ups and downs during the recording sessions but everything came out just fine.
I have to ask why you have included two versions of the last song, is there something special about that song that needed emphasizing?
Aprilia:
The reason is that we all like the acoustic version as much as the original one. So we wanted to share this emotion with our audience.
Margina:
Oh I guess we all liked acoustic as much as the original one and we could not easily decide, so we thought it would be really nice to include both versions in our album. I believe listeners will like the idea.
Now that the new album is well out there, what are the next aims of the band? What are your next targets as creative individuals and as a band?
Margina
:
We will definitely need time to promote our album the best way we can. In the meantime we are already working on new songs and ideas…
Aprilia:
Once the recordings for the first album were finished we started working on new ideas and developing new songs. We have to work on the promotion of our album and after that, who knows?
Finally, thanks for talking to us. Are there any final messages to the world you would like to get out there?
Aprilia:
We would like to thank you too. And a thank you to everyone for their support: the audience, our label and the other members of the band for making this happen.
Margina:
It's been a pleasure talking to you, thank you for this interview. A big "thank you" goes to our friends, fans and our label for all the support so far. Thanks to the people who contributed to the album and every single member of Julian's for making this dream come true!

Interview by Si Smith
First-time viewers of the new album by Dotma will be presented with a fantastic vista of colour and imagery – but what are the forces at work behind the image, behind the polished artwork and powerful musicality? Not ones to be pigeon-holed or typecasted, Dotma tread the line between gothic and power metal with the skill and dexterity of players well-established in the world of female-fronted metal. Yet this is only their first full-length. To understand how this remarkable feat has been achieved, I spoke to singer and lyrical crafter Johanna Lesonen….
Biographies of Dotma seem to start as many band bios do, with guitarist and keyboardist Harri deciding to form a band surrounding a particular theme or genre. Johanna, how did you join up with these guys at the very beginning?
Well I had just started to take classical singing lessons, and I was very excited about singing. I wanted to try singing in a band and my friends had just founded one. I was the one who asked if I could sing in their band. They weren't sure if they wanted a male singer, so they hesitated a little. But since there were no other singers around, I got the job! And it seems that it was a good decision! =)
Dotma has a strong image, both musically and artistically. This image seems to draw the listener/viewer into the heart of the band experience. What were your expectations of the band from the start? Did you know in which direction the band would be going from the time of the first demo?
At the beginning I really hadn't any specific expectations for this band, I just wanted to sing. We started with power metal and after the first demo we came to the conclusion that we wanted to develop our style. We weren't sure in what direction. We thought it will come naturally, if it's meant to come. And so it did.
A second demo entitled "Dances With the Shadows" was released in 2009. How had the music progressed by this time? Were you happy with the end result?
We were much happier with the result than we were with the first demo. We had grown as musicians and the songs had developed into this style which felt more like ours. It was still power metal but there were these symphonic and atmospheric elements already to be heard. But still, the process continued till the recordings of the full-length album.
It seems that all lyrics are written by yourself at this time: how do you go about choosing themes for songs? Could you take us through your creative process for writing and/or perfecting your song lyrics?
Actually I have written most of the lyrics, except "Kingdom of the Sky" and "Memory Worth Dying For" which are written by Harri. My writing process starts when I hear the song. The song gives me a certain feeling and I start to imagine things in my head. I tend to think quite visually. When I hear music, pictures appear in my head and finally a story. There are few songs in which lyrics I have used old poems of mine. For example "The Cave" and "Reborn" are such songs that I had already written most of the lyrics and suddenly I realized that there were these poems that fit perfectly in the theme. After this I finished the lyrics automatically. "Indian Fall" is a ballad and when I listened the song, the lyrics came at once. "Whispering" didn't get its final form until the vocal recordings! So it really depends on the song how the lyrics are being born.
In December 2009 you started to prepare to record your first full-length debut album involving Rockstar Productions (Finland) and Cutting Room Studios (Sweden). Was it difficult involving people from outside the band at this point? How did you communicate to them your own hopes and ideas for the finished product, to ensure that the album turned out how you wanted it?
Of course it's always challenging to find the right people to work with this kind of project. It's not possible to read other people minds, so I think the most important thing is to speak up. We negotiated a lot about the sound, arrangements and so on. We also were along in the whole process, including mixing and the mastering.
Coming to the debut album "Sleep Paralyses", it is a remarkable epic journey through a series of emotional landscapes. Would you say there is a uniting theme or feeling to the album?
The uniting themes are probably the instability of human mind and the beauty and the ugliness of this surrounding world. Dreams and nightmares rules through the whole album and the main feelings are loneliness, fear and hope.
The fantasy image is still strong surrounding the band, yet the band is so much more than just the traditional fantasy and medieval themes. How has the music now developed beyond the "typical" Gothic and Power metal imagery and become something unique in the genre?
This is a difficult question for me because I cannot look objectively our music. I cannot define why the music is now unique because we just do what our heart tells and if that's something new that differs our band from the others, we have done something right. If we talk about the concrete music, there is a big change from the early days; tempo. We have slowed down the songs and given more space to the atmosphere. I have also used my voice as versatile as it's possible with my classical technique. We have done everything with a great passion.
The construction of this epic masterpiece included vocal and guitar contributions from members of other bands such as Thaurorod and Embassy of Silence. How did they fit into the overall vision of the band? Are there plans to use more guest musicians in the future?
They fitted perfectly because first of all they are all great musicians and their way of doing music is very passionate. We gave all the guest musicians free hands and we trusted them. And they did an amazing job!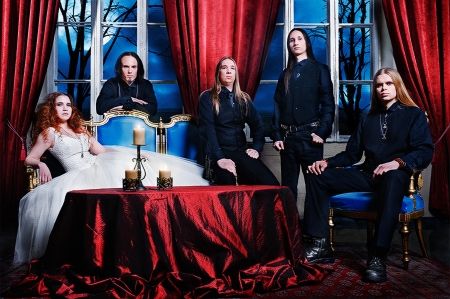 The song "Reborn" blasts out triumphantly, almost as a decree that the band is itself is reborn with power and self-belief on this new release. Also your band's logo has developed into a far more intricate and beautiful creation since the previous two albums. How are you going to keep up this newfound impetus and vigour? When things become stale or routine, how do you as a band keep yourselves fresh and enthusiastic?
I think we will be worrying about it when it happens. You cannot think and plan all the things beforehand. We live in the moment, and what happens in the future, we live along with it. We all love music and we will always do it some way or another. When things become stale or routine, we just wait until it will pass, and maybe concentrate on something else for a while, until the inspiration returns.
All the music for this album has been credited to Harri Koskela. Is this completely his own work, or do other members of the band have contributions and musical ideas as well? If so, how does this work? If not, wow! That is a big load on Harri's shoulders!! He surely is a master of his work! Does he present these musical pieces to you ready-made, or are they constantly-evolving works in progress?
That is a big load on Harri's shoulders yes, because he does all the composing. We all are involved when the songs are being arranged, but before that Harri composes the songs from the beginning to the end. The songs get their final form in the studio where new visions wake up.There in the studio we all work with the songs, especially the vocal parts.
"Kingdom of The Sky" has been described as the masterpiece of the album. Could you tell us more about it, its meaning and also the other voices and ideas involved?
It's a song that Harri composed as a dedication to his dear cousin who passed away. It's a very personal song to him, so he did also the lyrics. Concerning the music, it's quite an unusual composition. There are many different parts which describe the periods of life. The last choir part is in Finnish and it tells about the funeral. It's a very intense and beautiful song.
As the date of the album's release draws nearer, it seems that you have a number of live dates already set up for April/May 2011, many involving fellow Finns Beyond the Dream. How do you find the different stresses of performing live? Is there anything special we can expect from your live performances this year?
You can expect great interpretation of our songs and pretty costumes of mine! =D Heh well seriously, we love performing and giving the music to the people and we just hope it shows. We try to give people a musical experience that they feel alive. About the stress when performing live, it's part of this job and we have learned to handle it, so it's mainly positive anxiety and adrenaline flow.
You played in Russia towards the end of last year – that must have been quite an experience! How was the Russian audience?Were many already familiar with the band?
That was a great experience,they were so hospitable,all the arrangements worked perfectly and I just fell love with the audience.They were truly listening our music and I felt the connection with them.I want definitely to go back some day!
Finally, as you look forward beyond the new album into the future, are there any plans to extend the bands' influence beyond Finland? If so, what are your plans for world domination??
I think the big market will be outside of Finland, so we hope to get a lot of gigs outside of Finland. About the world domination, it comes along with good shows. =) It only leaves to say thank you for this interview, I hope it has given people a chance to get to know the characters behind the image, the minds behind the lyrical soundscapes
Links
Interview by Si Smith
Intro by Miriam C.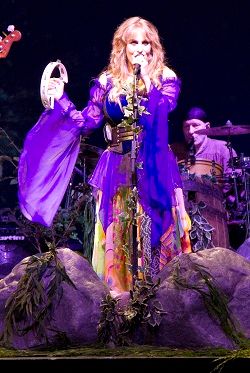 It's the second time that we give space to Candice Night, the first time it was for promote her debut solo album "Reflections" now it's time for a new Blackmore's Night record and precisely is the DVD "A Night in York". Let's see hear (or better read) the details straight away from the enchanting and dreamy Candice.
First of all congratulations on the DVD and more importantly the birth of your new musketeer Rory Dartanyan! It must be a great time for the family.
It really is. He is my spiritual, peaceful child. When all else is chaotic in the world, he just grabs your face and looks into your soul and you breathe him in and all is well. I've been calling him my zen baby since the 1st day in the hospital. And Autumn LOVES her baby brother. They have an amazing relationship.
The last time we spoke to you was for your solo album. As a metal based webzine we enjoy supporting related genres as well. Blackmore's Night has always seemed to defy genre definition, crossing several genres. How would you describe Blackmore's Night music to a newcomer?
It is a variety of fantasy music that incorporates rock, regional ethnic, tavern/gypsy music with ballads, instrumentals and Renaissance music.
This was your first trip back to England for a while. Why did you choose to film the DVD in England?
Our first DVD, "Castles and Dreams", was shot in a medieval castle in Germany in 2004; the next one was in the Olympia Theater in Paris in 2007. Since then we have put out 2 more CDs and we do a lot of the songs in concert that have different arrangements than what is on CD. So, a haunted opera house in a medieval city seemed like the perfect venue to record and show these newer songs on DVD.
Your set contains a great mixture of slow tracks and upbeat dance numbers. How did the audience respond?
Great. They were an amazing audience. People think that the English audiences will be more reserved, but more people dress up in costume and garb in England than anywhere else. Ritchie amends the set list per night based on the audience's energy so he's constantly reading them.
You describe this as a "trip through the ages". Have you a favourite historical era you would like to have lived in?
I think the greatest thing about living now is that you can choose from the eras that have come before to see what feels right to you and then incorporate that into your life today. I love the romantic visuals and castles from the Renaissance time; the costume and garb of the Victorian era; and the creativity of the 1960's. And I bring a bit of each of these things into my life now.
As always your outfit is beautiful and really compliments the performance. Is it your own work?
Thank you. I guess it is. I tend to collect things as I go along whether it is from vintage shops, Renaissance faire vendors or gothic shops and piece everything together to make it my own look. It's like a patchwork outfit from lots of different fabrics.
Despite the grandiose setting you manage to create that intimacy even from the beginning as you tell us about Autumn and how she sleeps and drinks. We almost feel part of the family! Is that intimacy with the audience important to you?
Yes, it is, because our audiences are more than just audiences. I feel as if when they understand us though our music, its as if they understand us deeply- more so than someone who would just have a chance meeting in the street or even who have known us for years. The music level is a deeper level than conversation, so I feel comfortable sharing things with them. I used to say that fans are just the friends we haven't met yet, and I still feel that way.
You sing some songs form "Autumn Sky" and some from older releases. How do you decide on a set list? Is it set in stone?
Never set in stone. Ritchie changes the set list as we go along and no one ever knows what he is going to play next. He does it based on the audience, on the venue, on how the songs ring in the hall, on his mood. It all depends.
For "World of Stone" you speak of your love for Renaissance music. What is it about this music that captivates you?
It is an honest music. In my mind, it was from when people played for the pure love and passion of the melody. Not to get on MTV or be played on the radio. It's this passion and mystery that makes it so enthralling.
A magical moment is when Autumn joins you on stage. How has she taken to the minstrel's life? What did she really think about it?
She absolutely loves it. Loves meeting new people. Stands on the side of the stage and each time Ritchie changes a guitar she says "Now? Dada? Now?", she always wants to be on the stage! She sings every word to every song, dances and spins in circles and pretends to be the band members or play their instruments months after we are back home. She is a true performer. Perfect tempo, perfect pitch- it's a little scary.
At one point you duet with a rather male Lady Gaga. Are there any real life collaborations you would like to pursue in the future?
The people I am fans of are the people I'd be afraid to meet in case they weren't what I thought they were in my mind. I love Don Henley, but I can't imagine ever recording anything with him. I'm a big fan of the 80's rock and metal bands too but I think we're in different world musically – though it did work with Helloween so who knows?
Finally, one theme of the show seems to be "magic is here". How important is it to find our place in nature and the world? Can music help?
Music can help everything. Help you heal, help you celebrate, help you make it through and help you to dream. Our place in the world helps you to find yourself too and in turn help to heal the world. So it's all cyclical.
It has been a pleasure talking to you. Thanks so much for this interview.
Thank You!
Links
Interview by Si Smith
Do you ever long for the lost days of hair metal, of Motley Crue and Guns'n'Roses? If you do then you could do far worse than checking out the new album from Hollywood Groupies, a rock quartet with a penchant for raunchy tunes like rock used to be, down and dirty. Femme Metal spoke to singer Foxy to dish the dirt on the band…. First thanks for talking to us, and welcome to the Femme Metal Webzine!
Hi everybody!!

I must say that it was a breath of fresh air to hear your debut album, it is nice to hear this kind of music being played again loud and proud. So who's was the idea of forming this band in the first place?
Thank you so much!! I can say that the idea came from me and Kelly..
The band now consists of yourself, Kelly, Ace and Condor. Was it easy to come to this line-up or were there different people along the way?

Well it's been a long trip..but it sure has worth all our efforts..there's always been me, Kelly and Ace, along with other people who thought to go on their own way..and that 's how our paths crossed with Condor..

Your sound seems well-defined and clear to listen to. Who does what in the band when it comes to writing songs like these?
Everyone has an important role when it comes to give birth to a song, because we want everyone to feel a song like his own baby, but usually Ace writes the music and I write the lyrics..

As front woman all eyes turn to you when the band plays. What is your vision for the band?
I don't really have a vision or an idea, everything comes from what you feel and what you want to prove to the audience at the moment, anyway most of the people who bought the album and then saw one of our show said we're a lot better live, and I agree with them, we're able to express ourself in a better way..
You must all have gone through different life experiences to get to where you are today. What do you feel each member brings to the band?
Sure..everyone had different life experiences.. emotionally and working adventures, these experiences make everyone the person that they are today, we formed in 2006 so I can proudly say that each one of us is important for the other ones in the band, that's what makes us special, to share joy and sorrow with your band mates is one of the best things ever. So I can't really tell you what each members brings to the band but I can surely tell you everyone brings something important to be a special band..

A demo was released in 2007. What happened to this demo?
What do you mean..has it become a gem?! If so I'm gonna sell it on eBay right now! hahah! There were not so many copies, there were just a few songs and just one is still alive and kickin' in our setlist nowadays which is "Swallow This.." but we we're thinking about "covering" one of the songs featured in that demo..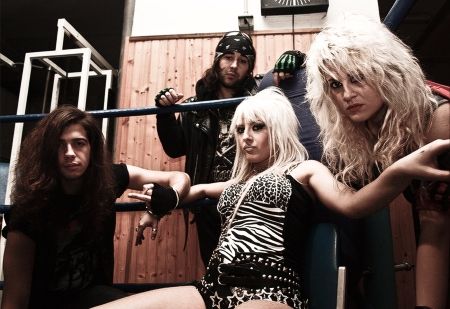 It was 2009 before the band began to get noticed in Europe and the USA – what were the stages along this journey for you?

It was a kind of surprise, we were working to get noticed in Italy and suddenly a lot of people from the U.S. and the rest of Europe started to contact us to say that they appreciated our music..

Getting included on "Glamnation Vol 4″ must have been a smart move. How did this deal come along?
Yes it was! They contacted us thru MySpace (which is a powerful way to get noticed for every musician) and we didn't think about it neither for a second..we said yes!

"Punched by Millions, Hit by None" is now out and about on the music scene. What does the title of the album refer to?
It refers to every enemy that tries to put you down, everyone has at least one, someone who said to you in your life "you're not gonna make it ", trying to discourage you.. the ones who try to throw a monkey wrench in the works.. hehe.. the title is the clear answer for that, you can hit me but you can't beat me..

Last year you played the Free Wheels festival in France alongside many established acts. What are your live plans for this year?

That' s weird to hear about it now, because right now while I'm answering to you, it recurs one year from Free Wheels festival and I feel pretty melancholy since it was one of our best band experiences and one of the best days of my life.. we're gonna play a few gigs here in Italy and then we're gonna play in L.A. on the 4th November at the Whisky a Go Go!

Your singing is very striking in its power. How do you train your voice?
I don't train my voice at all and that's one of my biggest mistakes but I don't feel the need of doin' it, i just drink a couple of drinks before go on stage..

Have you any funny stories from your band to share with us? Or does all go smoothly with you all the time…..?
It never goes smoothly! hahah!! Most of the times it ends up with me and Condor arguing for something.. I think the funniest stories are from our beginning but I can't remember one in particular, maybe I was not that sober..hehe..

Finally, do you have any words of wisdom to share with your audience? We are listening…..
I'm never the wise one.. the only thing I tell you is always fight for your dreams, if you win you'd be satisfied and if you lose you wouldn't have any regrets..

Thanks again for the interview, we wish you success in the future.


Thank you so much and thank you for the awesome interview!
Links
MySpace * ReverbNation * Facebook * Twitter
6 color styles available:

Style switcher only on this demo version. Theme styles can be changed from Options page.