Browsing articles tagged with " situations"
Interview by Danny Robertson, Marc Sels & Miriam C.
We spoke to Jessica from German folk metal act Lyriel to get the story behind the new album "Paranoid Circus" and more news about the band.
How did the band first get together?
Lyriel was formed in autumn of 2003. Oliver, Sven and Dani had been in a band called Sorrowsend. Oliver decided to found a side project with me and the other Sorrowsend-members joined the new project. We chose to add some other instruments and Lyriel was born.
Who are your main influences as a band?
Partially our music is inspired of the fantasy world and other musicians in this scene. It is sometimes not easy to find music that contains all our musical taste. We try to find a way and solution that is based on this concept. But we try also to develop our own kind of music and style. This is the idea behind Lyriel.
How long did it take to write and record "Paranoid Circus"?
The creative process just began after the release of "Autumntales". So we worked almost three years at this album. It sounds very long but a great attention to detail costs a lot of time and gives the album that certain something. We haven't got that possibility at the first two albums.
Are there any musicians that you admire?
There are a lot of good musicians in this world but I don't admire anyone special.
What are the album's main themes and concepts?
The main themes are several situations in life and its consequences and also personal experiences.
What inspired the album's title?
We thought that "Paranoid Circus" is the suitable title of the sometimes paranoid situations of life which we described in the songs.
What would you say are the main differences between the new album and previous releases?
"Paranoid Circus" sounds mellower. The first two albums were more an expedition of our own style and sound. Something what can be recognised with Lyriel. Our music gets more folk-influences and less of the Middle Ages. "Paranoid Circus" sounds modern and different as "Autumntales" or "Prisonworld".
Do you prefer to play live on stage or the studiowork (recording, writing new songs, rehearsals…)?
I, personally, prefer to play live on stage. I'm never satisfied when I'm singing in the studio. My voice is much better with a bit of adrenalin in it

.
On the first CD there was a song in Elvish. Are you a Tolkien-fan? If yes, did you like the Lord of the Rings-movies?
I think we all are little Tolkien-fans but not fanatic. It was just an idea and the speech sounds very interesting. I like the movies and they are in my personal collection.
You played with Sabine Dünser, and she was a guest on the first CD. How was she to tour and work with?
Sabine was one of the nicest persons I've ever met. She was so native and we had the luck, to meet such a person on our first tour. She liked our music. One evening on the toilet, I catched her, singing "The Crown of the Twilight". This was very funny. We were so delighted that she followed our invite to sing on the album. Although she was a little ill, she gave her best and brought her ideas into the melodies of the song. We miss her!
Are there any interesting young female fronted bands in Germany?
Oh – there are so many, like Xandria, Leaves Eyes, Jennifer Rostock etc.
Which current acts would you say you share the most common ground with?
Blackmore's Night, The Gathering, Loreena McKennitt, Xandria, Within Temptation.
What is the band's greatest aim/ambition?
We try to reach as many people all over the world with our music.
Where the fans can buy the "Live auf Burg Greifenstein 2005″ DVD and if it is sold out, as expected, shall is planned to publish out like a rerelease?
I'm sorry, it isn't planned at the moment, to re-release it but it is available at YouTube.
What's next for the band? Where can we next expect to see you perform?
We plan to produce a video of one of the songs. Anyway a tour to present "Paranoid Circus" is planned for this year and a few live dates are already fixed: 30.04.2010: Walpurgisnacht 2010, Bockwitz/Ger 02.-04.07.2010: 2. Bordun Rocknächte, Halle/Ger 11.-12.09.2010: Rollfeld Festival, Großhain Airport/Ger
Is music an escape from reality, or does it have to be critical concerning political and society?
Music is my passion. I just love to sing. Most of the lyrics are written by Linda and she described the critic on the society sometimes. I think one song of "Paranoid Circus" "Welcome" describes the whole feeling we have for music very well. ("Healing just as ruin – but it´s worth the fall it´s our last escape").
What is for you the cd, movie, book and live show of 2009?
More a book then a movie. Most of the lyrics base on personal experiences but not only of 2009.
Any last messages for people?
We like to greet and thank all our fans. We know that they had to wait more than three years for a follower of "Autumntales". Thank you for your patience! We hope "Paranoid Circus" can compensate this. Please visit our pages (below you can find the links). There you can listen to our music.
Links
MySpace * ReverbNation * Facebook * Site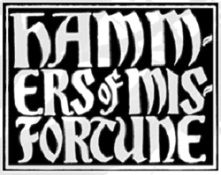 Interview by Luisa Mercier
After listening to their latest release, Femme Metal Webzine had the chance to have a quite interesting chat with John Cobbett, mastermind of Hammers of Misfortune. He has explained us a lot about what lies behind the complex lyrical content and musical content of the record!

Hi John, first of all congratulations for your new album. I enjoyed it a lot! Unfortunately, there might be folks out there who have never heard of you before. Could you introduce yourselves to our readers?
Hello, my name is John Cobbett and our band is called Hammers Of Misfortune. We are a band from San Francisco, California, USA. We began as Unholy Cadaver in 1997 and became Hammers of Misfortune in 1999. Our first album came out in 2001. I'm glad you liked our new record!
May you talk us a little bit about the concept that underlines the album?
Each song has its own concept. Some of them tell stories, some of them describe situations, some of them can be taken on several different levels at once. Many of the songs deal with common people dealing with hard times, a few of them deal with the people that created the hard times. There is a thread of lost innocence and disillusionment in the songs, but each one has its own story to tell. I was doing a lot of research about chronic unemployment, foreclosure, student debt, the credit crisis, the bailouts, bankruptcy etc. Not just the facts and allegations but the stories of real people who are going through these things, including myself and several of my friends. It's interesting that the #ows movement (Occupy Wall Street) sprung to life right around the time this album came out. I guess I wasn't alone in my concerns. This is a real crisis with real victims. At the same time, the lyrics could be about any situation of loss, heartbreak, resignation in the face of impossible odds, I could go on. I should reiterate that it's not accurate to put all the lyrics under one thematic umbrella. Some are more specific, some are purposely so vague that they could describe almost any situation.

This cover artwork is quite different from the previous ones. Is it somehow related to the concept?

The photo on the cover is a long exposure shot of us standing on Bernal Heights, overlooking the Mission District of San Francisco, where 5 out of 6 of us live. It's us in our natural environment. I guess if so many metal bands are taking pictures of themselves in the woods behind their house, we could do it too!
Your album is a unique one. It blends many of the genres in heavy metal. How do you incorporate so many influences in the music? Is it programmed or they just flow freely?
We really don't make any effort blend influences. We write songs. It's a very natural process. The key is to ignore influence, genre, trends etc. We simply don't think about it in those terms. It's all about the song.
That's not to say that I'm not influenced by anything. As a songwriter, I'm influenced by songs. Any great song will do. A great song is timeless, it could be the Beatles or Bob Dylan, it could be Discharge, Bowie or Cole Porter. I think most bands decide what genre they want to be before they even play their first note. Why get caught up in the endless parade of trends and genres? We want the songs to be good, and the albums to be good. Whatever tools or ideas we have at our disposal are put toward that goal.
Since we are a female fronted music-themed webzine, would you introduce us the two female members of Hammers of Misfortune? How did you get in touch with them?
I was introduced to Sigrid Sheie at a punk show in 2002. She was originally playing bass with us (she can play almost anything). When we realized that she was a classically trained pianist, we saw the opportunity to add piano and Hammond B3 organ to our sound. I've always loved those instruments. It's been quite a learning experience, writing and arranging with keyboards in a metal band. Sigrid showed up to her first rehearsal with a binder full of sheet music – she had transcribed our songs! We were quite impressed. She is now an adjunct professor of piano at University San Francisco.
Leila Abdul Rauf, along with Sigrid, also plays in a band called Amber Asylum. It was Sigrid who suggested we invite Leila to join the band. We were big fans of Leila's band Saros. We saw them many times and played some gigs with them, so I was already a fan of her guitar playing, and she was already part of the family, so to speak. She's also pretty good on keyboards and a fine singer, but mainly it's her detail-oriented, technical approach to guitar that I'm a fan of. She can also bust out a soulful guitar solo. It's a privilege to work with both of Leila and Sigrid.

You've been in at least three other bands before Hammers of Misfortune, did the experience with them influence the work with HoM in any way?

Hammers has always been my number one. The other bands were much less complex, more of a release for me. Mainly because I didn't have to write any lyrics. It was fun to just sling riffs and play the guitar. You learn something every time you go on tour or make a record, regardless of what band you're with. Hopefully, you learn from your mistakes, especially in the studio. Making an album is a massive undertaking and the lessons learned in the studio are the ones that you bring to the next session. Those experiences and lessons definitely come into play every time you make a new album.
I've read about previous difficulties with labels and such. How's Metal Blade treating you since last year?
We haven't had too much trouble with record labels. There's very little money left in this business, so there's not that much to argue about, haha! So far our dealings with Metal Blade have been very professional and fair. They stayed out of the way when we were making the album and now they have stepped up to help promote it. They've done a great job so far.
Do you have any idea yet on what the future might bring for Hammers of Misfortune? Any thoughts on a tour or a new album?
There will be 4 shows in the Pacific Northwest US in December, then we're playing Roadburn 2012! After that, who knows? The next album is always on my mind but it's just forming right now. Once this new line-up gets our "stage legs", we'll have more chemistry as a group. I'm looking forward to that. Thanks!
Links
John Cobbett : Twitter
Interview by Danny Robertson
We caught up with Dani Nolden, singer for Brazilian heavy power metallers Shadowside, to get a glimpse into the band's history and talk about the new album "Dare to Dream".
How did it all get started – who initially formed the group?
We pretty much got started as a garage band that wanted to have fun and register permanently some ideas we had. We were good friends that had never played a real gig, had never recorded a CD, we were very inexperienced, very naive and didn't have much in mind regarding what we would do with the demo in hands. We would always joke to each other about being rockstars someday *laughs*. But we didn't really know much about the music industry or what we really wanted to achieve. However, after we released that demo EP, we got so much attention from the press and from people that we saw ourselves in the magazines as a very promising band and our 6th show as a real band was supporting Nightwish in Sao Paulo, Brazil, in front of 7000 people that went just crazy. It was a bit too much for some of our members since we were teenagers… kids, if you wanna put it that way. Some thought making music seriously and professionaly was too much of a responsability and decided to quit. Another one got a bit carried away with all that and thought he was already a rockstar *laughs*. So I'm the only one left from that original lineup. I managed to keep myself together because I surrounded myself with friends and family who would help me keep my feet on the ground. We were just starting out – as we still are, so there's a lot of work ahead before we can say "we did it!". I found Fabio shortly after we started so I consider him as being with the band since its birth. Since then we've toured with Helloween, co-headlined concerts with bands like Kittie, Divine Heresy, Metalium, so it's been an awesome ride so far.
Who/what were the group's main influences back then? Are they all still a source for inspiration?
We never had one or more set influences, we had the bands we listened to more but they haven't changed much since then. We are all into more or less the same thing – everything *laughs*. We all love from 80′s pop like Duran Duran to Slayer. Some of our favorite bands are Deep Purple, Judas Priest… but at the same time we all dig different stuff. Fabio's favorite bands are Tears for Fears and Slayer, mine are Disturbed, Rammstein and Skid Row, just to name a few. Raphael is really into Pantera and Scorpions. We all like all of those bands but we don't have the same favorite bands and definitely not the same influences. I think what influences us is everything we listen to combined with our own personalities. We just try to make sure we do not sound like other artists so we don't think of anything in specific that we want to sound like.
What was your local scene like back then? Did it take long for you to get noticed?
No, not at all, we didn't expect anything that happened to us back then. Let's put it this way, the scene back then in my hometown was boiling water. We had a large number of great musicians and bands so we thought it'd be harder to get noticed but we packed a 500 seat venue on the first show we played in Santos, that's how fast things happened for us. That kinda set fire on the scene and even more bands started activities. There's still a lot of talent alive here. The old venues were all shut down though. We still have places to play because we don't have to play only Rock venues anymore back home, but young bands that haven't proven they can draw a crowd don't get to play at a decent place and rarely get attention. We always try to pick at least one band from Santos to support us whenever we are in town.
How would you say that the new album compares to your older material? Has much changed?
We want to give a new direction to our sound, I mean, we want to keep focusing on our style, but, this time, we also want to make it more experimental. Heavy guitars with modern synths and an alternative, powerful bass. Some has definitely changed as it's only natural to evolve and modify some things with time but the essence is exactly the same. Energy, intensity, anger, passion – it's all there. The heavy guitars are there as well as the catchy melodies. We just decided we didn't want to sound like other bands and go 100% for our own identity. Nowadays we are a more mature band, we aren't afraid to try and rely on our own personalities anymore, that's why we'll dare even more on the next record! We found our thing, we're a raw Metal band, Hard Rock influenced, that plays music to make you bang your head and go crazy. We don't really want you to come out of one of our concerts thinking "wow they are great musicians". We just want you to escape your reality for those 2 hours, scream your problems out and just have fun.
How long did it take to write and record the new album, "Dare to Dream"?
Not long at all, we recorded the whole album in exact 23 days. Maybe a month more writing it. There wasn't much time to really think hard of what we were doing because all our plans changed pretty much on the last minute. We had plans to write and record in like 6 months, no rush but right as we started the songwriting process, "Theatre of Shadows" was released worldwide. We had no plans for that record anymore as it had been out in Brazil for a while already. So we had to prepare for the first U.S. tour at the same time as we were working on the new album. In the end that was the best thing that could have happened to us because it kept us from overthinking arrangements and changing stuff that didn't have to be changed and also kept the live feel that we wanted. We just trusted our guts and went along with it.
Are there any main themes or concepts which run through the new album?
There's no real concept, lyrics are simply based on real life situations that happened either to me or to people close to me. '"In the Night" is about a secret relationship when one of the parts isn't interested in keeping the secret anymore. I took the humorous approach and told the story of a woman, probably in PMS, going absolutely nuts and threatening to tell all *laughs*. Lots of people have seen themselves in that situation or know of someone, sometimes it's an office relationship that's not allowed, or dating someone much older or much younger or simply dating someone already committed that's promising you things. "Baby in the Dark" is about a friend of mine who was desperately trying to fit in. He wanted to be loved by everyone so he would mold his personality according to the group he was currently in. He ended up not knowing who he was anymore and for a while I had lost one of my best friends. Nowadays he's back to his old self but lots of people just become generic and boring. I don't mean generic regarding looks, anyone can look and act "normal", you don't have to be eccentric to be special, you can if you want to, but you don't have to. But you always should stick to what you are. "Dare to Dream" is that song to push you, to make you believe you can actually achieve stuff if you try. You might not reach every single thing you wanted but you'll never achieve anything if you don't try. And the end result will surely be better than what you had before you started out. Whether the dreams are of a job change, a trip or being a Rock musician, anything is possible.
You recently shot a video for the track "Hideaway" – how did that go? Where and when can we expect to see the video?
That was a lot of fun, we are still to record the second part of the video in the next few days, that will "test" me as an actress, you'll be able to tell me how I did very soon *laughs*. It will be very intense and dramatic. First part was the band playing and we were asked to make it angry and very energetic. We recorded at an old warehouse and the place was huge, we thought the whole area was abandoned but it turned out there was this building right behind the warehouse. Fabio's drums were really loud and people got so mad because of the noise that they called the police on us. We are very proud to have annoyed our neighbors *laughs*. The video should see daylight in early February. I can't wait to see it finished!
What would you say have been your biggest achievements, or favourite moments as a band thus far?
All the 5 U.S. tours, the 2 Spanish tours, all the big concerts we've played as well. Being on the road is always fun and whenever we are all together, I always have a great time. We were recently one of the top 5 best selling Metal bands in Brazil, along with Iron Maiden and Heaven and Hell so that was a huge achievement for me. We also were picked as the best band in Brazil in 2009 by Roadie Crew magazine, which is currently the most important one here.
What are your future goals?
To keep making music, keep touring and take it as far as possible. We're not nearly done yet! *laughs*
Who are your favourite current acts?
I'd say Disturbed and Rammstein… they're not exactly new bands but are some of the non-80′s bands that I'm really into.
What's next for the band? Where can we expect to see you next?
Hopefully you'll see us touring the U.S. and Europe at some point this year, not only in places we've played before but also some new ones as well. We're also going to play Brazil and who knows where else! After that, we'll go back to the studio to work on new material. We won't stop in 2010, whether we are on a stage or in the studio, we'll be extremely active.
Any last messages for people?
I hope you all started 2010 well and that you go for your dreams, believe in them and try to make them real. Hope you like "Dare to Dream", it's a very honest and straight to the point album. If you don't, just listen to it louder and you will automatically start to bang your head *laughs*. I'll see you all on the road at some point… when I do, show me your horns! Cheers!
Links
MySpace * ReverbNation * Facebook * Twitter * Site
Latest Multimedia
Interview by Connie Bach
Diva Suicide's flavor is a constructed system of layers. It kind of reminds me of chocolate-covered pretzels, with the hard, solid guitar at its core.The layer of synthesized elements and sweet, emotional lyrics adds the "chocolate" in the equation. I feel I'm hearing undertones that call up the alternative music of the early nineties when I listen to "Scars", Diva Suicide's debut release.
Hello, Xs.
Hey hey

The name Diva Suicide stems from a photo shoot you did. Would you tell me more about the career that led you to be the band's singer?
Singing is my passion and I have always been involved in bands and when I had the chance of joining Diva Suicide I jumped on it.
As a singer, what inspires your lyrics?
Depending on the song really. Sometimes personal situations and thoughts, sometimes just general things in life…
In the past, you mentioned you are interested in animal rights activism. Do you intend to use your musical career to promote animal rights activism and how?

Yeah absolutely – I think it's really important that bands support these causes. Music unites and makes people think. The more we are, the stronger and more able to change things. I'm delighted to see bands like London After Midnight and Undercover Slut promoting animal rights.
The song "Crystals" is being featured on Femme Metal's upcoming compilation. What is the concept behind this song?
I wrote this song thinking of those whose lives are so meaningless that they have to gossip of someone else's and who put a label on you because of your image without caring for what's inside.
Moving on, you joined the band after your photo was their cover art for a demo. How did you become connected to the band and what were your impressions?


I was a friend of the band's members and they got in contact with me when they were looking for a singer. Our manager and some of them came to one of my rehearsal's with my previous band… they liked what they saw and offered me to be the new singer for Diva Suicide.
How has working in a home studio influenced the type of music and the relationships between band members?

Working in a home studio has its good and its bad things. On one hand, soundwise you can't have 100% the final product you'd like to but of course it's more comfortable to record there as you spend lots of hours so it feels like being home and you've got more time to experiment new solutions.
Building on that, what does Diva Suicide have in mind for the near future? Is there another album in the works?


Actually, we are working on our first full length album, which we thinks it's gonna really represent the energy and the personality of the band as it is has developed during the past months.
What does it take, for you and your fellow band members to navigate your day-to-day lives around rehearsing, playing shows, etc?
Sometimes it can be really hard work but at the end of the day it's worth it cos' the band is my life and even if we have to fight against lots of problems and sometimes some idiot we always get around and do what we wanna do at the end.
What do you personally enjoy doing in your free time? Any crafts, hobbies, or other musical side projects, or other pursuits?

There's little free time outside the band and it's always about music too. Love going to gigs and checking out other bands on the scene or spend hours discovering new bands and buying new CDs. I also like enjoying time on my own reading or writing too, though.


I've visited London in the past, and the city has a relaxed atmosphere. Many noted female-fronted bands have sprung from the city's streets. Is there anything about the city that ever comes to mind while performing?
I think London can be really stressful if you live it day by day. At the moment we are really excited about our forthcoming gigs around UK and abroad and we'll take this as a chance to take a break from the city for a little while. Also we are really looking forward to play in front of the audience of other cities which we've heard are really cool.
Thanks for your time, Xs. Diva Suicide definitely brings a fresh take on the metal scene.
Thanks!
Links
MySpace * ReverbNation * Facebook * Twitter
6 color styles available:

Style switcher only on this demo version. Theme styles can be changed from Options page.