Browsing articles tagged with " six"
Label : Alfa Matrix
Review by Luisa Mercier
The Greek duo Siva Six is back on the scene after five years of absence. Their latest release was the their second album "Black Will" and now "The Twin Moons" comes to fill the void they had left. What is peculiar about this record is that a real orchestra has been hired, the one directed by Chris Antoniou, who may be already known to our readers because of his work with Septic Flesh and Chaostar. The basic concept revolves around ancient human tribes, destruction of the earth, alien race. Quite apocalyptic, indeed. The music highlights this aspect since it is quite harsh, the beats are restless as Z 'svocals are. There is not much space for moody songs or melody pieces in this record. Continue reading »
Label : Nettwerk Music Group

Review by Luisa Mercier

I know a lot of people that thought that Delerium had split up. Well, this record is here to prove that it is not true, even though six years since last record "Nuages du Monde" are a lot of time. "Music Box Opera" is a long-awaited album that has been a bit hit and miss for me. Let's try to see why. First track "Consciousness of Love" is a sweet, delicate piano and electronica track featuring Stef Lang, a promising Canadian singer songwriter. The chorus is catchy and groove while the verses are more piano-based. Lovely song. Following, you will find the already known single "Monarch", an Eastern flavored melody sung by Nadina, Canadian singer of Lebanese origins. It is a dark, fascinating song, even though I am not totally sold. "Days Turn into Nights" features a male vocalist, Michael Logen. Song is classic atmospheric Delerium tune, but I confess that I don't like very much male voiced in this genre of music. "Chrysalis Heart" is maybe my least favourite. It is good, poppier and faster than the others, but I find it a bit dull, cheesy. Again Stef Lang is on vocals and those are the best part of the song. One of the highlights of the record is "Light Your Light", sung by Jaël of Lunik. The song has the mystical feeling that lacks in the others, thanks to choirs in the background and beautiful uplifting vocals in the chorus. The work of Jael has been impressive and really expressive. "Rain Down" is a simple, beautiful instrumental that sets apart the first half of the album from the second. Piano and electronica-based, it has the same dreamy, chilling mood that you find in the rest of the songs. Maybe something that lacks in "Music Box Opera" is a bit of variety in tempos that range from slow to mid-tempo. Most beautiful song is "The Sky" thanks especially to the amazing Kristy Thirsk, one of the most famous and loved Delerium voices. She sets the atmosphere being sweet, whispering or soaring. "Hammer" featuring British singer songwriter Leona Naess is darker and more industrial oriented. In general, it has a heavier kind of electronica, maybe to support Leona's vocals that are less ethereal compared to the other singers. I like the track, it has a sexy vibe that I was missing. "Awakening" is another dark, groovy, Eastern sounding song in which Nadina sings some vocalisings. Since it is quite long, it might result boring on the long-term. Anna-Lynne Williams sings in "Frostbite" that is a heavenly, dreamy song, slow and lush. Typical Delerium, with layered vocals and thick electronica. Azure Ray is one of my most recent discoveries in dream-pop and it was good to find them collaborating with Delerium. "Keyless Door" is a nice, sweeping ballad that ranks among the best songs with Jael and Kristy Thirsk one. Closing track is instrumental "Music Box Opera". Epic, relaxing and modern sounding at the same time, it is the perfect conclusion for a record that might have been better, but has outstanding moments.
Rating – 75/100
Tracklist
Consciousness Of Love (feat. Stef Lang)
Monarch (feat. Nadina)
Days Turn Into Nights (feat. Michael Logen)
Chrysalis Heart (feat. Stef Lang)
Light Your Light (feat. Jaël)
Rain Down
The Sky (feat. Kristy Thirsk)
Hammer (feat. Leona Naess)
Awakening (feat. Nadina)
Frostbite (feat. Anna-Lynne Williams)
Music Opera Box
Line Up
Bill Leeb – Founder, Writer & producer
Michael Balch – Co-founder, Co-writer & co-producer
Rhys Fulber – Co-writer, co-producer
Chris Peterson – Co-producer
Stef Lang – Vocals
Nadina – Vocals
Michael Logen – Vocals
Jaël – Vocals
Kristy Thirsk – Vocals
Leona Naess – Vocals
Anna-Lynne Williams – Vocals
Azure Ray – Vocals
Links
Interview by Luisa Mercier

It was on 2006 that we heard news, for the last time, about Bill Leeb's electronic pop project Delerium. After that nothing. But with 2012, after 6 years of silence, Delirium reappears in the music business with the fourteenth album called "Music Box Opera" and since I have always been a great Delerium fan, so it was a great pleasure to have this exclusive interview from Bill.

It's been a long time since "Nuages du Monde". How does "Music Box Opera" connect with the past and how does it differ from it?
The concept is still the same, we are trying to create ethereal electronic pop music. Having said that, a lot has changed in the world and with all of us so there's definitely a growing scenario going on with all the people involved… More specifically would be that we've come along way in writing, producing and programming and our tastes have changed… We've all matured and we've evolved and we tend to think that it comes out in the music.

There are some new entries among the singers, together with already known voices like Kristy Thirsk. How and why did you choose the new ones?
With every record we try to evolve and bring new flavours into the mix, we usually make a list of potential singers we want to work with. We then reach out to them and through attrition and luck we end up with people we respect and want to contribute to the album. It's definitely a lengthy task cause a lot of people have busy careers and lives so sometimes these things take much longer than anticipated. That's why its also been 6 years been albums, good things take time.

Am I wrong or the sound is more electronic? What audience do you expect to reach in the music business overcrowded by mainstream acts?
No, we've definitely put away all the organic instruments and have gone for a really electronic feel this time. More programming, no acoustic guitars or anything. We thought it was really time to change it up and go down the electronic road, which is kind of where Delerium started from anyways, we like things to be really tweeky now and since technology has so much to offer now we try to expand our horizons.

Have you ever felt so hopeless towards music scene as to want ro give up everything and just go back to a normal kind of life?
No, being an artist is something that picks you, you don'y really pick it. I think all artists are tortured souls, whether they are successful or not because how does one measure success. Is it done through the amount of status you have versus how much wealth you obtain? Or is it just trying to be a pure creative genius who's simply putting forth something you think the world needs to see or hear. It's a never ending journey, you could ask any artist of any genre and they will all tell you pretty much the same thing. No piece of art is ever perfect or complete, you go on forever striving for that perfect song even though in the back of your mind you know it's unreachable, which keeps you going. As far as normal goes, I don't think anybody lives a normal state, the world is a pretty complicated place.

On an happier note, is there still something you have not tried and you would like to do -music related – in the future?
I would definitely like to score a major motion picture with a real budget that is very artistic and off the beat and track. This is something that has always eluded me and kept my curiosity, I keep hoping that this will be the one thing will still come to fruition down the road. We just finished our second video game soundtrack for a game called AirMech with Front Line Assembly so we are interested to see how that will pan out and where it will lead.

Future project? Touring?
Touring has become a very insidious proposition because it seems like it's hard to put the show together that you want, and putting something out there that is less than 100 % of your idea and vision feels like you are not reaching your full potential for your audience to see. Everybody tells you now day to go out, lofi, low cost, literally get in a van and tour but is there really a point to that? Will that actually help sell records these days? This is a question the band always talks and thinks about, so at this point we are pretty undecided what the future of live shows will be at this moment in time. Having said that, if the feedback merits it and there is a real demand we will obvious give it a rethink and possibly hit the road and do some shows.
Links
Latest Multimedia
Interview by Si Smith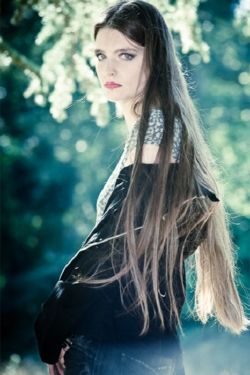 And here we are having a nice chat, this time, with Kat Ward about the second platter of the UK Progressive Gothic masters hAND. Let's hear what the singer she has to tell us…
If you don't mind, let us take a walk back in time. You describe your current musical incarnation loosely as "Prog goth", but originally you were a rocky trance duo? How did that work?! And where did you find Cris? (FYI Cris has now left the band and Dan Thomas is now our new drummer).
We started off with a piano, a guitar and a drum machine, the very early work of hAND is quite industrial sounding and very different to our current sound. We recorded one EP before we decided that adding a live drummer to the mix would really add impact and presence, especially on the live front. We advertised for a drummer on our local music forum, Cris turned up for an audition and we just hit it off straight away.
So moving on a little we find the band releasing 2 EPs, the second of which appears to have gained you some sponsorship and reputation in the industry. How was the feeling in the band at this time? Did you see something good coming, or were you just playing things "by ear"?
The second EP was really just a chance to see how we sounded as a three piece, it was also the first time we went into a studio to record so it was a nice experience all round. We sent it out to a few people for critique and overall response was very positive. At this point we just wanted to get some live experience, write some new songs and look into releasing a third EP. We were enjoying being a band more than anything else.
In 2007 you took part in the AKG Unsigned Heroes competition and won through to the top 20; eventually you signed to Copro Records. How was the band evolving at this time? Were you still reworking your original material, or constantly writing new stuff?
We're always writing new songs! When we signed to Copro it was a little bit of a wakeup call, I think we all took a step back and thought "ok let's start taking this a bit more seriously and see what we can do". The first album consists of most of our original material; there are songs on there that are from back when hAND was a duo.

And so the inevitable debut album loomed large on the horizon!! "Deadroom Journal" (July 2008) seems to have been received well in the press, with Metal Hammer describing it as "surprisingly inventive", and Kerrang comparing your lyrical world to Amy Lee but your musical approach as "reminiscent of Tori Amos-style experimentalism". Great praise indeed from two of the UK's most popular music magazines! How did you as a band view your debut album? Did it end up as you had hoped?
The whole experience of recording "Deadroom Journal" and hearing the final version was one of the best times of my life so far, I'm pretty sure that goes for the guys as well. It came out far beyond expectation, and we are all really proud of that record. Sure we listen back to it now and think we should've done this differently or that could be better, but it's still a great sounding album. It was really nice to hear all the songs we'd been working on and playing for a couple of years brought to life and done justice.

"Manuscript" and "Clannad Mass" were the only two tracks to make it to your debut album from your earlier releases. What was it about these two pieces that you felt was particularly worthy of a place on the album?

"Clannad" was always a favourite with the band and our fans, so we felt that it had to be on our debut album, everyone loved that song. We really wanted to represent the piano more and we had some interesting ideas for an album version of "Manuscript", so that's why it ended up as the first track.
Much gigging and promoting of the new album followed, but at the beginning of 2010 your UK tour dates were cancelled. Two cancelled tours in 12 months? That must have been a real downer for the band. What was the problem with the management? And how do you "bounce back" from something like that?
At that time we didn't have any management, we were doing everything ourselves. We were approached by an events company who we had played for before and they were really enthusiastic about getting us on this UK tour with a few other bands. Unfortunately the company disbanded and closed its doors before the tour got off the ground. We understood their reasons but it was a disappointment none the less. Before that we had been asked to support Ayin Aleph on a burlesque UK tour, this time the tour manager pulled out and we only ended up playing one gig with the band that we had arranged. After the second tour fell through we decided to focus solely on our second album, and not even think about the live side of things for a while. We lived in the practice studio, perfecting the songs and pre recording all the guitar/bass and piano.
It must have been a real buzz to join up with Femme Metal Records, as committed as they are to supporting and promoting their acts. Has it made a difference to the bands outlook and approach at all?
Now that we have a label and management team behind us that are actively promoting and getting our music and name heard; it's given us a definite boost as a band. We feel like we have a clear direction and always something to work towards. It also helps when dealing with others in the industry as they tend to see you as a serious act and not a "bedroom band" so to speak.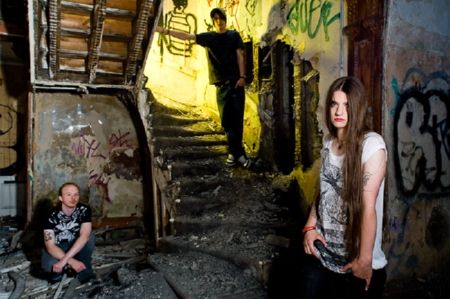 Towards the end of last year you were asked to guest on Isor's new album on the cover of "I've Got the Power". That must have been exciting! Did it tempt you to progress in an even heavier direction? Or are you happy with the band's "heaviness" as it is now?!
It was a last minute and spontaneous thing but I was very happy to do it. It was a nice feeling to be asked as Nick (drummer for Isor) has worked with lots of artists but chose me to guest on his album. In terms of heaviness, I would say we are writing "heavier" sections for some of the brand new material, but for us it's about a piece as a whole and we love contrast and unpredictability. I don't think we'll progress much more into the heavy side of things, but you never know.
The first thing you revealed with regards to the new album was the cover, which you posted up on your various sites. Could you explain its significance to us?
The whole album artwork was loosely based around a vinyl by Toyah called "The Blue Meaning". We all really liked the front cover and wanted to create something along the lines of that. We invested a lot of time and energy in a photo shoot for the artwork and let Gustavo run with it, we wanted photos to play a big part of it. He came up with about 4 different covers which were very hard to choose between, in the end we picked the one we did because it was a little bit darker and had a bit more mystery to it than the others.

It appears from the "Recording Breathing" video series that you released that you had a great time in the recording process of the new album!! What would you say is the key to successfully getting through this process alive and well at the other end (and with a great product!)?
Preparation before you even get to the studio is a major factor. The more practiced you are with the material the easier it is to record and it's going to make the process more relaxed and fun. You want to triple check every piece of gear and take spares if you can, something will go wrong!!! Other than that, discipline in yourself. Recording an album is a great experience and personally I want the finished result to be the best that it can be, if that means detoxing on caffeine, dairy, alcohol and the occasional smoke to make sure my voice is ready, then that's what I'll do.
The album starts with a deceptively simple song, after which we get "The Pier", a six minute journey through mellow parts, a really fast interlude and finally almost shouted/spoken vocals over riffing towards the end. With all that variety, how on earth do you decide upon the final structure of a song? Do you all have similar ideas as to where a song should be going, or do you all have conflicting influences and preferences that somehow create a coherent whole?
Sometimes we have a rough plan for a certain type of song and work round that, others we just go with the flow. We generally tend to write songs with the music first, and most of it comes from us having a jam until one of us plays something we all really like, and that's our starting point. I write all the lyrics completely separately from the band and match them up with whichever song I feel they suit the best, the vocal melodies are always the last thing to be worked on. All of us have very different influences and taste in music but we're happy to include bits from everyone's pool of experience, it's what makes our music so varied.
Being only a three-piece, the vocals are quite prominent in the mix and some of the backing is quite minimal in places. Do you feel that the band is limited at all because of this? Have you ever thought of having additional members?
I definitely don't see it as a limitation and it helps in writing by pushing us to think of more interesting ideas. We did experiment on this album with the track "Re-animation" (and are continuing to do so); it features some synth from Tom Johnstone – which works quite well! We're always trying to think of new elements and have discussed having a second guitarist from time to time; we usually come to the same conclusion that we feel it would make our sound more "mainstream" and lose some of the quirky edge it has now.

The album comes out on the 2nd May (It's was changed to June 6th) in the UK. Judging by the reviews you have received so far, how do you anticipate the album being received?
I hope the overall reception will be very positive, based on the reviews and comments so far it's heading that way. I think most reviewers will be able to appreciate the musicianship and intricacy of the music even if it's not a style that they would normally listen to. A big "thumbs up" from the UK prog scene would be very nice too!
You have played in the past alongside bands such as Delain, Octavia Sperati & Lahannya. Will you be (hopefully) touring the UK promoting this album? Any festivals planned?
Unfortunately not long before "Breathing" was released our drummer Cris decided to leave the band due to having other commitments; this has meant that any dates or plans for a launch party have had to take a backseat to finding a new drummer. Fortunately we have very recently recruited Dan Thomas to be our new drummer and are looking to get back on stage and playing shows as soon as we can.
Well we look forward to hearing more from the hAND camp in the future, but until then thank you so much for talking with us, we at Femme metal webzine wish you all the best with the album release!!
Cheers and thanks for the interview!
Links
MySpace * ReverbNation * Facebook * Twitter * Site
Interview by Ed MacLaren
In the last few years, female-fronted metal has turned into a revolving door for vocalists. To satisfy the bands and their fans, vocalists have to be able to do justice to the older material plus have the potential to take the band in new directions. We've seen bands conduct highly publicized searches across countries and continents trying to find that next great singer. In the case of Chile's Six Magics, they had to look no farther than their band manager. The smoldering contralto of Elizabeth Vásquez officially debuts on "Behind the Sorrow", the excellent new album from Six Magics. Femme Metal got a chance to speak to Elizabeth about "Behind the Sorrow", how saying "No" can get you the job anyway and what we can help the victims of the recent earthquake in Chile.
"Behind the Sorrow" is a re-release of your 2008 album "Animal" with a new track and new packaging. Why did you choose to re-release the material?
Well, "Animal" was just a promotional CD that we made for Chilean friends and fans. It was something very small and we did it because people were crazy asking and asking about our new material. We were looking for a good label at that time so we decided to edit a limited amount of copies here. So our real third album release is "Behind the Sorrow".
You spent years as Six Magics' manager before you became the vocalist. How did you get the gig? Was this your plan from the beginning – do the manager thing for awhile and then strike when the opportunity appeared? Were you the first choice or did you have to convince the band to give you an audition? Perhaps you didn't even give them an option.

Ha-ha! Yeah, that could be a good strategy but I was too young when I started with the band as the manager so that never was on my mind. I started with the band seven months after they decided to have a band. I did all the stuff managers do. I was very proud of them because they were very talented and the band had started to be well known here too. When they recorded the second album, "The Secrets of An Island", which contains a lot of voices on it because of the choir, Erick Avila, the composer, was crazy looking for a contralto voice. As it was so hard because most of the girls were soprano, he asked me to sing in the choir and record the lines with them. After that I was also asked to sing some female parts live because it was also needed for two songs. When Sergio Dominguez decided to leave, we were looking for singers even in Argentina and the States but it was hard to find a foreign singer who fulfilled all the requirements the band asked. So, when I was also looking for a singer, Erick had the idea to ask me if I could do it. My answer was no: I was very impressed and I thought it was an insane idea!!! So as I wanted to free myself from this, I told him I would record a song – the most difficult song. I recorded "Behind the Sorrow" and when they listened to my version it was just silence. I thought, "Cool. I did it!" but then Erick said, "It's amazing!! I love it!. Send it to (producer) David Prater to know what he thinks!". The band liked it and David Prater said he was impressed and that I was what Six Magics needed to be complete! Everything was unexpected!
Considering the band was established for many years, why did the band choose to change directions and move from a male singer to a female one? Was it considered a risky move?
Fortunately, the band was always taking risks with everything: the performances, lyrics, etc., so when Sergio quit they thought it was a good opportunity to get another singer better than him so it wasn't a traumatic situation for them. They just wanted to solve the problem soon because Sergio quit when he had already recorded four songs. They never thought about having a woman singing because they thought that having a girl among them could be a problem because of her requirements, or because she would be a soprano singer or something like that. As the band was very recognized and valued here, they thought it could be hard – not for them – but for fans to understand it. The guys did what they had done before: not to be afraid about the risk and they were very convinced that this was the best for the band.
How was it for you to step into a male singer's shoes especially in a recognized band with a large repertoire of songs?
As I am a contralto, the band's songs weren't a problem for me – the thing was to be respectful with each song and show this to the fans. I didn't change the songs for me; I still sing the old songs in the same way Sergio did it. I think fans understood that and they felt good about it too. At the beginning, we thought that when the news about my arrival to the band was published, fans would be annoyed or something but on the contrary, they were surprised but happy. It was really crazy! We thought that as they (the fans) have always trusted in the band's decisions, fans (would think) that if the band decided to have a female singer now, it was because it was the best for the band and they would respect that. People were very, very, kind with us since the very beginning. I think it was also because they knew me from when I was the manager! Personally, I have a lot of respect for all the guys in the band. It was amazing to share the stage with these monsters. All of them are well recognized here as virtuosos and all of them are music teachers. So it has been an honor for me to be with them.
Was there an adjustment period for you, the band, and the fans while you learned to make the music your own?
Just musically speaking, because we had known each other for 10 years! We had a lot of rehearsals because I knew all the songs perfectly but we needed to understand each other with my new role. I was ready after a month of rehearsal. I must say all of them were very generous and they always showed me they were happy to have me with them. The problem was then to find another manager. Ha-Ha! Erick is the main composer and our musical director. He was very, very, demanding, but it wasn't in a dramatic situation. Erick started taking advantage of having a female voice and we started to make some new melodies for the new material, etc.
Six Magics' music is very atmospheric and dark with many heavy and progressive elements. Being from Chile, is there a sound associated with South American metal that makes it distinct from the rest of the world? Have you made it a part of your music?
In the second album of Six Magics, you can find a lot Latin-American elements: the lyrics are about a Chilean island and their mythological stories, musical rhythm, and also in the instruments the guys played. At that moment, we wanted to save our roots and record an album with all these elements. It was a very well recognized album here and the band was considered as a contributor to the music and Chilean culture too. After that, we decided to record a third album with a different point of view, musically speaking. I think as Erick loves classical music, and in the band we all have different musical likes, it's easy to find different influences in our music too. I think Pablo Stagnaro, the drummer, is responsible for the Latin-American patterns we play live sometimes.
You tagged David Prater of Dream Theater fame to produce "Behind the Sorrow". How did you get him on board and what did he bring to your music?
A couple of years ago we decided to record a new album. Our main idea was getting this new album considering other sounds, rhythms, melodies and lyrics. He had recorded another band here in Chile some years before and as we knew these guys we could contact him rapidly. We wanted this third album to be different from the previous ones. We also thought it would be a good idea to reach this goal if we worked with a producer. With all of this in mind, we contacted some people to take this job and after some months we decided to produce the new material with David Prater. He wanted to work with us because he thought the band had enough potential to get good results and the idea of working with him was quite attractive to us because, talking about music, he wanted the same we wanted. I mean, we were lucky because we found a producer that didn't want to change our music as his wish and we wanted to do the same he wanted! It was a long time in which many things happened: since his arrival with the band, we had almost everything recorded and the singer quit the band. So then I took his place and David had to come to Chile again to record the vocals with me having a very serious illness etc… At the end of the process, we realized that everybody was very happy with the result and that all the sacrifices were absolutely paid with this new album. I think what he brought to our music was the idea of simplicity, the previous albums had thousands of notes sounding at the same time and the musical spirit went more for having a lot of complex arrangements working together at the same time. Fortunately we wanted to do something more simple too.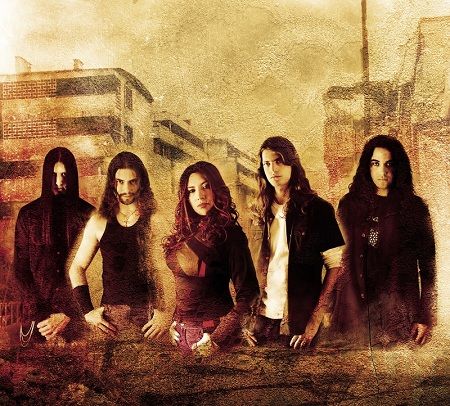 South America is crazy about metal music. What is it about metal, especially European bands that South Americans respond to?
Yes. Latin-American people love metal bands from Europe and they used to go to their concerts too. In Chile, we have the chance to see almost every band so I think people are losing their capability of being surprised: one day we have Metallica, next month Iron Maiden, then Blind Guardian, Sonata Arctica, Slayer, Dream Theater etc…so sometimes we need to save a lot of money to go to the concerts – especially because they cost a lot. Chile is one of the most expensive countries to have a concert; even small band's gigs are expensive. About language: Chile is a bit different from other Latin-American countries: people love bands that sing in English but in other places I know they prefer bands that do it in Spanish. As Chile is more influenced by the USA and Europe, that's not hard to understand. Here we have a lot of good bands but as we don't have a "metal industry", it's always difficult to make music and live from it.
Your vocals on "Behind the Sorrow" are very sultry, very low and ominous. The vocal heat really adds a level of seduction to songs like "It's Not the Way". Your voice also allows you to easily stand out from the upper-register operatic singers in so many other female-fronted metal bands. Were you always a singer or did you come to it later in life?
Thank you so much for your kind words and I'm happy to see you have listened to our music carefully. I have been listening to music since before I was born! Music was also my favorite subject at school and I was asked to sing every time I could do it. As I like jazz and rhythm & blues, I had some cover bands where I learned a lot. As I told you before, I like R&B and jazz and metal of course! My favorite singers are Aretha Franklin, Ella Fitzgerald, Peabo Bryson, Freddy Mercury, Dio and many other metal singers, so I used to sing this music too. When someone asks me to sing something from the 80s pop or rock I don't have any problem. Sometimes I sing bossanova or jazz depending on the moment and feelings. All music gives you something special but what metal is for me is part of my entire life!
"Run" implies there was more to the World Trade Center bombing than another terrorist attack. This track is a bit of a misfit lyrically among the rest of the tracks on "Behind the Sorrow". What was the inspiration to write the song? Does the band have a political edge that fans don't know about yet?
Not really. Chile was under a dictatorship for almost 20 years but we were children then. We belong to the generation that lived that but we don't have a political view of certain things. Politicians are really worried because of the lack of interest of Chilean youth. I think we are tired of politics because for many years after democracy was set in 1990 we have listened to a lot of (political) discussions in our families and also seen it on TV. And as our album is very realistic and we talk about things we really believe in, that's a song we wanted to write but we didn't know how, then the idea of making something related to this topic was very strong. What really motivated us to do this was that all of us think we shouldn't believe everything we are told. Sometimes we can lie and make other people believe we are the victims but we are not. We wanted to talk about different topics we strongly believe and we had the opportunity to record two previous albums where we didn't want to do it, but we talked about a fantastic world or mythological being from our country instead. This time, as a natural process in life, we wanted to do something different. It was also motivating because we had David Prater with us and we could share a lot of experiences about this topic, his feelings and thoughts, so it was really nice to share the ideas of an American guy with our own beliefs.
We're starting to hear of more and more bands from South America making an impact internationally. Should we prepare ourselves for the next wave of metal bands? Who are the top female-fronted metal bands we should watch out for?
I think music is a nice way to join people, countries and cultures. We have lived that! You can see how people who don't know you can have an effective approach to you just because your music could reach their heart. So I think if music is sincere it doesn't matter where it comes from. Unfortunately, I don't know too many bands from Latin-America. It can be curious, I know, but I still listen to the old ones like Angra and their derivations (ha-ha) Sepultura and Criminal from Chile.
Releasing "Behind the Sorrow" must give the band some time to work on new material. Are you working on a new album? What can we expect to hear?
The album was released just last month and, of course, we are interested in recording another album soon but now we are just concentrating on the next promotional tour and supporting our label with everything we have to get "Behind the Sorrow" the best results. We wanna enjoy this album completely first! We will see about a new record during the second semester of this year and I will let you know for sure!

A new album means a tour. Where is Six Magics performing in 2010? Are you staying close to South America this year or can we expect to see you in Europe and the U.S.?
Yes, a new album means a tour. We understand that and we love it, too! We have been working with some people to have our promotional tour in Europe next semester. We are still booking the gigs so you will hear about them soon. We want to go to the USA too and we have got some invitations so maybe we will have good news very soon.
The recent earthquake in Chile was a tragedy and we at Femme Metal send our condolences and support to the Chilean people. There are many metal bands that have a close relationship with their Chilean fans and are raising money by performing in Chile or in their own countries. Does Six Magics have any performance plans to help raise funds or to participate in relief efforts?
Thanks for that and we know many bands like Chile and its people. We really thank all the bands that are trying to help or are simply sending their support. We have got many emails from different parts of the world. Fans and other bands have sent us their valuable support. It's a so sensible situation for all of us. We had returned from our promotional trip in Germany and after nine hours the disaster began. It was really scary and we are still having news about the real consequences of this tragedy. It has been something that has affected us in different ways – mainly psychologically speaking. Feeling our houses or apartments so vulnerable and feeling hundreds of aftershocks has been very hard. Emotionally, we are still affected and I think it will take a lot of time to be totally recovered. Life has changed for all of us since that day, no matter if our house was or was not destroyed or if we have relatives missing or not. As many of us are teachers so the professional situation hasn't changed too much, but our students are also affected. It's a circle, but we are trying to stand up. We have seen a lot of tragedy in our country and you suffer when your country is suffering too. We have been collaborating with different foundations as a band and also individually. We are always available to do benefits too. It's also a way to cure our souls when you can help others and you realize you must be grateful to be alive and have all your family with you. If readers want to donate to the relief effort what is the best way they can contribute? As you can imagine, there are many ways people can support Chile. If they really want to do it they will find the best way. Fortunately, Chilean foundations are very confident. One is Hogar de Cristo (Christ Home) at and here you also have another interesting link. Thank you very much for your patience and support. God bless you all guys. With love, Elizabeth and Six Magics.
Links
6 color styles available:

Style switcher only on this demo version. Theme styles can be changed from Options page.