Browsing articles tagged with " sky"
Label: Trieste Records
Review by Tony Cannella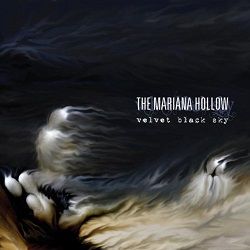 "Velvet Black Sky" is the title of the 2nd album from The Mariana Hollow, a 5-piece alternative metal band hailing from the UK. If their debut album, 2010's "Coma Heart" knocked on the door, their newest release is ready to kick it in.
The overall feeling on "Velvet Black Sky" is dark, but more varied than on their previous album. The intro "Before the Dive" segues nicely into the pounding, atmosphere heavy "Dead Reckoning". The songwriting on "Velvet Black Sky" is miles ahead of "Coma Heart", and that is evident from the very beginning. The next track is the excellent, "Your Halo" which the band has done a video for (you can check it out at the usual outlets like YouTube, etc.), and it is easy to see why this song was chosen, it is one of the more accessible songs you will find on VBS. Continue reading »
Independent Release
Review by Tony Cannella
In 2009 the U.K. based progressive rock outfit Crimson Sky released their debut full-length "Misunderstood". Since that time, the band has undergone numerous line-up changes including the addition of new vocalist Jane Setter. Now, Crimson Sky returns with their new line-up and a brand-new 4-song EP entitled "Dawn".
The keyboard intro leads us into the almost 7-minute opening track, "Crimson Sky". The 7 ½ minute ballad to mid-tempo song "The Sea" is next and one of two older songs that have been re-recorded by the new line-up. New lead vocalist Jane Setter is an excellent addition to the band and breathes new life into the older tracks. Continue reading »
Interview by Miriam C.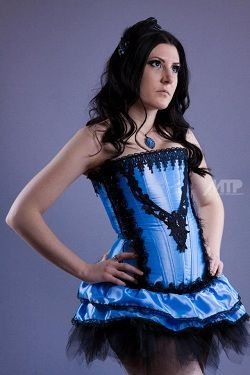 Schoolcraft is the solo musical entity leaded by Canadian singer and instrumentalist Lindz Riot. Recently she landed the touring female singer and keyboards position on UK symphonic extreme metal band Cradle of Filth and for this reason I thought it was a nice idea to ask her few questions about her next projects, her background and least but not last about her (former?) band Mary and the Black Lamb and her last release "Rushing Through the Sky". I'm sure that if you love ambient music, harps and cellos, you'll be get intrigued by Lindz.
Hi dear, how are you? I would like to start this interview asking more infos about your musical background/training. Also how do you manage to balance your classical training with the contemporary one?
Hey Miriam! Thank you so much for having me at Femme Metal Webzine. I actually started in country music when I was a child. I was taught guitar by my dad and that's where my singing started. I think the country style of voice training was a good foundation for me because it taught me the basics of belting as well as softer folky tones in the higher range. Well, I wouldn't call it training more so as just my own interpretation of it.
In my tweens I gave up music for a bit, but then when I turned 15 I discovered punk music and became very passionate about it. I formed an all-girl punk band and that's where I began in the music business and played bass for 8 years. I took lessons twice a week and really developed my song writing and basic theory skills at this time. I sometimes wonder where I'd be if I didn't give up the bass. I'm pretty sure I could handle technical death metal pretty easily, but the bass just wasn't in the cards for me anymore after the age of 20. Continue reading »
Interview by Robin Stryker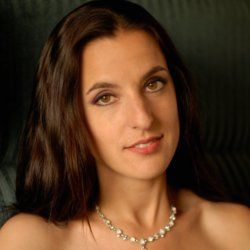 After more than six nail-biting months of anxiously awaiting the sophomore album from Dutch progressive rock band, Kingfisher Sky, I finally got a copy in my grubby paws on "Skin of the Earth". There is no second album slump here … the songs are tighter than ever, with plenty of the progressive elements and folk influence that made their debut album such a joy to listen to. Femme Metal webzine caught up with vocalist/songwriter, Judith Rijnveld, to get the inside story on Kingfisher Sky.
Hello Judith, and welcome to Femme Metal webzine! Congratulations on Kingfisher Sky's sophomore album, "Skin of the Earth", debuting on both the Dutch top 100 album chart and the top 30 alternative chart. Did you do anything special to celebrate?
Haha, we went out for Sushi!
"Skin of the Earth" has a nice ring to it. What does the album title mean?
It describes the mood of the songs on this second album. We felt that crawling through the dirt figuratively speaking and rising from the ashes of the band we started out with was the main theme of the album.
If I understand correctly, when you and Ivar de Graaf wrote Kingfisher Sky's first album, "Hallway of Dreams", you did not have a complete band yet. Was it different writing the new album with specific band members and instruments in mind, like Maaike Peterse on the cello?
It wasn't really a big difference. Sometimes we thought "this is a good part for the cello" but there are songs that haven't got any cello in it. On
"Hallway of Dreams"
, we had two violinists and now Maaike played a lot of strings that melted beautifully with the keyboard strings. We did write parts specifically for two guitars and I went a little easy on the choirs because we would have to hire 4 singers or play a tape live and that's not us.
The iPhone videos that Ivar takes are hilarious peeks behind-the-scenes at Kingfisher Sky's gigs and recording sessions. Would you introduce your bandmates and tell us a bit about their personalities?
Ivar can make everybody laugh, especially me, is very genuine, kind, intelligent, charming and he's a musical genius. Eric is a very calm and down to earth person, he is great at the business side of the band and he has great technical knowledge and he's an expert in sound engineering. He is a steady and great bass player and he is funny too. Edo is a very sensitive guy, very sweet and such a great guitarist. Just like Ivar, he knows an incredible lot about music in general and specifically about his own instrument and his musical heroes. Maaike is an angel on stage and a sweet friend in life, she is classically trained and knows everything about classical music and theatre. David is a very sweet guy, very shy and that makes him even sweeter, he draws cartoons and is a perfectionist where his music is concerned. He is very driven. Oh, and he enters the dressing room door like Kramer (Seinfeld) does and that is really funny. Chris is also a sweet and enthusiastic guy, who can be very funny too. He has a great imagination and he doesn't realise how good he is as a guitarist, which makes him even cuter.
You and Maaike seem to have a special bond. What is the best thing about having a musical sister to hang out with?
Maaike and I can read each other like a book, we can tell each other everything and when we have an argument we can tell each other the truth, the whole truth and nothing but the truth and that has been forgiven by each of us the same second. When I'm worried or stressed out before a show, she always knows how to cheer me up and ease my nerves. I trust her with my life.
Four or five people is the typical size for a rock band, while Kingfisher Sky has seven members. Do you ever have trouble fitting everyone on the stage for live shows?
Only when we are supporting, but then it's great that we like each other a lot J
The band was quite cryptic about any details regarding "Skin of the Earth" until shortly before its release date in late September. For example, in the updates on recording the album, the tracks were only referred to by their initials instead of by name. Why did the band keep the details under wraps?
It was just like parents that don't want to tell the name before the child is actually born, I guess, and it was funny to see what people made out of it. In the end I think it made the release a bit more exciting.
Kingfisher Sky really took their time recording the new album. Does having a home studio give you more flexibility to get the exact sound that you want? Has the "barking seal" gone away for good?
Hahaha I sure hope so, I have learned to spare my voice in front of the classroom for ever. When we take our time to record, we also have the time to endlessly doubt every little detail, so sometimes that's even harder than when you only have a couple of hours in a studio.
As a husband and wife team, is it sometimes hard to "switch off" being in music mode?
Music is such a big part of us that it is something that is always there and is integrated in our lives. So we don't really need to switch that off

How did it feel to hold your new creation in your hands, when the album was finally mixed, mastered, and completed?
So weird. All of the hard work in one lovely package. When I saw the tracklist on the back and realized the songs where actually on there it made me cry, and then we opened a bottle of prosecco.
Comparing "Hallway of Dreams" and the new album, there seems to be more contrast between the soft acoustic passages and the heavier metal-infused passages. What effect was Kingfisher Sky going for with "Skin of the Earth"?
No effect, we just continued writing and wanted the album to contain even bigger contrasts, more roughness and we wanted it to be more progressive, intelligent and adventurous.
The cover art, with primary colours and bold graphics, is also more aggressive than the soft watercolours on the first album. Care to elaborate?
My mother already knew the songs quite well when she started the creative process of the artwork. Just like with "Hallway of Dreams", I made moodboards and we talked about the lyrics,the stories and the "colours" of the songs. We came up with an idea of the cover, thinking about the elements earth and fire as a beautiful contrast with the first album. Richard Hilgeman, our friend and photographer,came up with great ideas for the photoshoots and made beautiful pictures that completed the whole thing.
Have you ever considered trying your hand at painting the cover art for Kingfisher Sky?
Yes, but my mom is better at it, hey.. but I can sing better than she does J
What do your teenage art students think about you being the vocalist and songwriter for a progressive rock band?
They know me as their art teacher wearing jeans and a black T-shirt and then all of the sudden they see me singing in a video! That is weird for them, children want their teachers always to be the same, sometimes they can't believe it's me when they hear or see Kingfisher Sky. In general they think it's cool to have a Rocking teacher, and they are really proud and sweet.
"Hallway of Dreams" was inspired by movies, mythology and real world situations. What were some of your lyrical inspirations for "Skin of the Earth"?
Exactly the same actually.
If you could go back in time and give your 13-year-old self one piece of advice, what would it be?
To start a band with Ivar de Graaf and not to be so hard on myself.
Is Kingfisher Sky planning a tour? We'd love to see you in the UK and US. J
Me too. We want to play as much as possible and reach as many people as possible. The album will be released internationally, so who knows?
Judith, thank you so much for taking the time to talk with us today. Do you have any parting words for your fans at Femme Metal webzine?
Thank you all so much for your support, it means the world to us!
Photos by Richard Hilgeman
Links
MySpace * Facebook * Twitter * Site

Interview by Si Smith
First-time viewers of the new album by Dotma will be presented with a fantastic vista of colour and imagery – but what are the forces at work behind the image, behind the polished artwork and powerful musicality? Not ones to be pigeon-holed or typecasted, Dotma tread the line between gothic and power metal with the skill and dexterity of players well-established in the world of female-fronted metal. Yet this is only their first full-length. To understand how this remarkable feat has been achieved, I spoke to singer and lyrical crafter Johanna Lesonen….
Biographies of Dotma seem to start as many band bios do, with guitarist and keyboardist Harri deciding to form a band surrounding a particular theme or genre. Johanna, how did you join up with these guys at the very beginning?
Well I had just started to take classical singing lessons, and I was very excited about singing. I wanted to try singing in a band and my friends had just founded one. I was the one who asked if I could sing in their band. They weren't sure if they wanted a male singer, so they hesitated a little. But since there were no other singers around, I got the job! And it seems that it was a good decision! =)
Dotma has a strong image, both musically and artistically. This image seems to draw the listener/viewer into the heart of the band experience. What were your expectations of the band from the start? Did you know in which direction the band would be going from the time of the first demo?
At the beginning I really hadn't any specific expectations for this band, I just wanted to sing. We started with power metal and after the first demo we came to the conclusion that we wanted to develop our style. We weren't sure in what direction. We thought it will come naturally, if it's meant to come. And so it did.
A second demo entitled "Dances With the Shadows" was released in 2009. How had the music progressed by this time? Were you happy with the end result?
We were much happier with the result than we were with the first demo. We had grown as musicians and the songs had developed into this style which felt more like ours. It was still power metal but there were these symphonic and atmospheric elements already to be heard. But still, the process continued till the recordings of the full-length album.
It seems that all lyrics are written by yourself at this time: how do you go about choosing themes for songs? Could you take us through your creative process for writing and/or perfecting your song lyrics?
Actually I have written most of the lyrics, except "Kingdom of the Sky" and "Memory Worth Dying For" which are written by Harri. My writing process starts when I hear the song. The song gives me a certain feeling and I start to imagine things in my head. I tend to think quite visually. When I hear music, pictures appear in my head and finally a story. There are few songs in which lyrics I have used old poems of mine. For example "The Cave" and "Reborn" are such songs that I had already written most of the lyrics and suddenly I realized that there were these poems that fit perfectly in the theme. After this I finished the lyrics automatically. "Indian Fall" is a ballad and when I listened the song, the lyrics came at once. "Whispering" didn't get its final form until the vocal recordings! So it really depends on the song how the lyrics are being born.
In December 2009 you started to prepare to record your first full-length debut album involving Rockstar Productions (Finland) and Cutting Room Studios (Sweden). Was it difficult involving people from outside the band at this point? How did you communicate to them your own hopes and ideas for the finished product, to ensure that the album turned out how you wanted it?
Of course it's always challenging to find the right people to work with this kind of project. It's not possible to read other people minds, so I think the most important thing is to speak up. We negotiated a lot about the sound, arrangements and so on. We also were along in the whole process, including mixing and the mastering.
Coming to the debut album "Sleep Paralyses", it is a remarkable epic journey through a series of emotional landscapes. Would you say there is a uniting theme or feeling to the album?
The uniting themes are probably the instability of human mind and the beauty and the ugliness of this surrounding world. Dreams and nightmares rules through the whole album and the main feelings are loneliness, fear and hope.
The fantasy image is still strong surrounding the band, yet the band is so much more than just the traditional fantasy and medieval themes. How has the music now developed beyond the "typical" Gothic and Power metal imagery and become something unique in the genre?
This is a difficult question for me because I cannot look objectively our music. I cannot define why the music is now unique because we just do what our heart tells and if that's something new that differs our band from the others, we have done something right. If we talk about the concrete music, there is a big change from the early days; tempo. We have slowed down the songs and given more space to the atmosphere. I have also used my voice as versatile as it's possible with my classical technique. We have done everything with a great passion.
The construction of this epic masterpiece included vocal and guitar contributions from members of other bands such as Thaurorod and Embassy of Silence. How did they fit into the overall vision of the band? Are there plans to use more guest musicians in the future?
They fitted perfectly because first of all they are all great musicians and their way of doing music is very passionate. We gave all the guest musicians free hands and we trusted them. And they did an amazing job!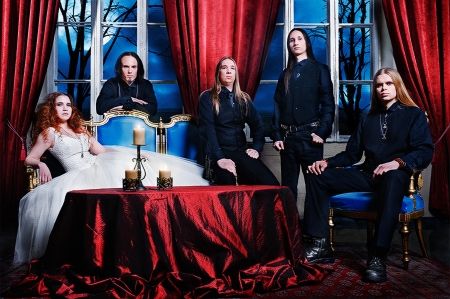 The song "Reborn" blasts out triumphantly, almost as a decree that the band is itself is reborn with power and self-belief on this new release. Also your band's logo has developed into a far more intricate and beautiful creation since the previous two albums. How are you going to keep up this newfound impetus and vigour? When things become stale or routine, how do you as a band keep yourselves fresh and enthusiastic?
I think we will be worrying about it when it happens. You cannot think and plan all the things beforehand. We live in the moment, and what happens in the future, we live along with it. We all love music and we will always do it some way or another. When things become stale or routine, we just wait until it will pass, and maybe concentrate on something else for a while, until the inspiration returns.
All the music for this album has been credited to Harri Koskela. Is this completely his own work, or do other members of the band have contributions and musical ideas as well? If so, how does this work? If not, wow! That is a big load on Harri's shoulders!! He surely is a master of his work! Does he present these musical pieces to you ready-made, or are they constantly-evolving works in progress?
That is a big load on Harri's shoulders yes, because he does all the composing. We all are involved when the songs are being arranged, but before that Harri composes the songs from the beginning to the end. The songs get their final form in the studio where new visions wake up.There in the studio we all work with the songs, especially the vocal parts.
"Kingdom of The Sky" has been described as the masterpiece of the album. Could you tell us more about it, its meaning and also the other voices and ideas involved?
It's a song that Harri composed as a dedication to his dear cousin who passed away. It's a very personal song to him, so he did also the lyrics. Concerning the music, it's quite an unusual composition. There are many different parts which describe the periods of life. The last choir part is in Finnish and it tells about the funeral. It's a very intense and beautiful song.
As the date of the album's release draws nearer, it seems that you have a number of live dates already set up for April/May 2011, many involving fellow Finns Beyond the Dream. How do you find the different stresses of performing live? Is there anything special we can expect from your live performances this year?
You can expect great interpretation of our songs and pretty costumes of mine! =D Heh well seriously, we love performing and giving the music to the people and we just hope it shows. We try to give people a musical experience that they feel alive. About the stress when performing live, it's part of this job and we have learned to handle it, so it's mainly positive anxiety and adrenaline flow.
You played in Russia towards the end of last year – that must have been quite an experience! How was the Russian audience?Were many already familiar with the band?
That was a great experience,they were so hospitable,all the arrangements worked perfectly and I just fell love with the audience.They were truly listening our music and I felt the connection with them.I want definitely to go back some day!
Finally, as you look forward beyond the new album into the future, are there any plans to extend the bands' influence beyond Finland? If so, what are your plans for world domination??
I think the big market will be outside of Finland, so we hope to get a lot of gigs outside of Finland. About the world domination, it comes along with good shows. =) It only leaves to say thank you for this interview, I hope it has given people a chance to get to know the characters behind the image, the minds behind the lyrical soundscapes
Links
6 color styles available:

Style switcher only on this demo version. Theme styles can be changed from Options page.