Browsing articles tagged with " sleazy"
As you may have noticed from the pics taken during the last shows, it is some months already that two new faces have been on the stage in Overtures' line up: after more than 9 years together, both former members Daniele Piccolo and Marco Falanga – for personal reasons that the whole band understands and accepts – had to give up the stage. Marco and Daniele have been two of the guys who created Overtures, they helped the band in its growing up, they have been vital in the development of the sound and it is thanks to the choices made together that Overtures reached some important goals. They are and they will always be part of Overtures' history and part of the family, and we all wish them all the best! At the same time we are really proud to announce that STEFANO D'AMORE and ADRIANO CRASNICH will officially take their place as stable members of the band. Stefano D'Amore already was the lead guitarist of Speed, Adriano Crasnich already plays with Frame of Pain and Hammered. Since a few months they already are part of Overtures and as you may have heard (and seen) during the last shows, their great taste and their good choices let the band continue its course exactly where it was stopped with the previous members, without changing or modifying anything. Both Stefano and Adriano already took part in the recordings of the third album ENTERING THE MAZE, that will be released in the first half of 2013 with our label Sleaszy Rider Records. At the same time we are happy to announce that the recordings are actually over: in the next days we will close the mixing of the album to pass, in a few weeks, to the mastering process. There are some more important news yet: we are really pleased to announce the new collaboration between Overtures and the German agency B.MUSIK MANAGEMENT, that will be pub in charge of the booking and management of the band. B.Musik boasts in its rooster Iron Savior, Athorn, Elvenking and worked with Edguy, Rage, Hammerfall, Gotthard and many others. For the details: b-musik-management.de
Label : Sleazy Rider Records
Review by Tony Cannella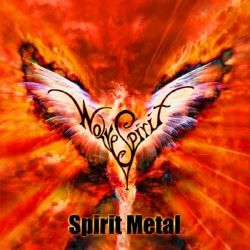 From Germany, WolveSpirit offers something a little bit different than today's crop of Female Fronted metal bands.With their debut album "Spirit Metal", WolveSpirit gives the listener a healthy dose of pure heavy metal, combined with 70s era classic hard rock/heavy metal, to create an album that ironically sounds fresh in today's metal landscape. The opening duo of "Change" and "Hero" gets the ball rolling. While technically, Debbie is not the greatest vocalist you will ever here, she has got a huge voice loaded with passion and heart, which in some cases is more valuable than technicality. Her voice is just a great metal style, which at times is reminiscent to me of Jutta from the legendary German metal band Zed Yago. Also, the Hammond Organ sound provided by Oli is what helps to give the band their 70s influence. The 3rd track "Ride On" has a very up-tempo style and free spirit to go along with the subject matter. This is just a good song to cruise around to on a gorgeous summer day, with your stereo cranked to 11. Other highlights include: "Wolves of Woden", "Dune", "Release" and "Home". I will always find time for a band like WolveSpirit who plays just no frills, to-the-bone metal and for that reason I can highly recommend "Spirit Metal".
Rating – 87/100
Tracklist
Change
Hero
Ride On
Wolves of Woden
Night of the Wolve
Light and Shadow
Dune
Release
Home
Line Up
Debbie – Vocals
Rio – Guitar
Oli – Hammond
Andy – Bass
Wolf- Drums
Links
Label : Sleazy Rider Records
Review by Tony Cannella
Germany's Re-Vision have been with us since 1993 and released its debut in 1997. Now, the band is back with their 4th full-length platter, "Chapter IV: …All for the Sake of Love". The CD features production and guest vocals by Devon Graves from the band Dead Soul Tribe. The material highlighted on "Chapter IV…" is quite melodic hard rock/metal with a heavy groove that has an immediately infectious impact. Among the 14-songs, Re-Vision gives the fans a strong metallic record, with a bit of an alternative vibe present as well, but at its heart, "Chapter IV…" is a melodic, metal guitar-driven disc. The CD sets a solid pace from the outset with "Colours", "Scream" and "Deconstructed". "For the Sake of Love" is just a huge sounding number and an early favorite of mine. "Tomorrow May Come" has got a ferocious sounding guitar riff that really drives the song. In vocalist Anke Willnat, Re-Vision has a singer with a powerful voice that oozes character and emotion. Other highlights include: "Awake My Soul", "While We Sleep" (a great ballad), "Chew 'Em Through" and "Light on Me". "Chapter IV…" comes to its conclusion with a stirring cover of the underrated Iron Maiden song, "Strange World" featuring just an awesome duet between Devon Graves and Anke Willnat. In addition to their duties in Re-Vision, the members of the band (minus vocalist Anke Willnat) have been supporting ex-Iron Maiden singer Paul Di'Anno as his backing band on tours throughout Europe, this is a solid choice by Mr. Di'Anno in my opinion. I have never been familiar with Re-Vision prior to hearing "Chapter IV…" and was shocked to hear how long they have been around but consider me impressed with what I have heard from this outstanding German band.
Rating – 93/100
Tracklist
Colours

Scream

Deconstructed

For The Sake of Love

Tomorrow May Come

Shapeless

Awake My Soul

While We Sleep

Chew 'Em Through

Don't Wake Me Up

Tantalized

Light on Me

Deep Forever

Strange World
Line Up
Anke Willnat – Vocals

Daniel Duering – Guitar

Christoph Luecker – Bass

Dominik Nowitzki – Drums
Links
Label : Sleazy Rider Records
Review by Tony Cannella
Thy Symphony is a symphonic power metal band from Brazil. Their debut album is titled "Harmonizing the World" and it has got a strong classical symphony vibe to it and some solid duel male/female vocals provided by Camila Senne and Allan Ortiona. First off, I really like the way the two vocal styles come together on "Harmonizing the World". Instead of using the popular beauty and the beast style, Thy Symphony is only enhance by the classic metal singing style by Allan Ortiona in combination with the operatic delivery provided by Camila Senne. After the obligatory short intro, the band launch into the powerhouse opening number "Pandora's Box". "Eternal Life" is among my favorites; this is just a great fast tempo track that moves along at a brisk and energetic pace. The title track has a big symphonic feel to it. Thy Symphony also has a dramatic element to them, which comes out in many songs. The majority of the songs have an up-tempo, melodic style to them and the vocals I would say are split pretty evenly. Other standouts include: "Broken Wings", "God's Call", the great ballad "Sun and Moon" and "Survivor". "Harmonizing the World" is one of those albums that I am sure will find a niche with the power metal crowd. This has all of the elements that will keep fans of the genre entertained. Thy Symphony is just an impressive band with a long future in front of them.
Rating – 85/100
Tracklist
Intro

Pandora's Box

Broken Wings

God's Call

Sun and Moon

Eternal Life

Harmonizing the World

Survivor

Shadows and Dust

Rising From the Sand

Lords of the Seas

The Brave from Highlands
Line Up
Camila Senne – Vocals

Allan Ortiona- Vocals

Marcello Valsesia – Keyboards & Guitars

Cezar Raize – Guitars

Rene Labate – Bass

Matthew Liles – Drums
Links
MySpace * ReverbNation * Facebook * Twitter * Site
Independent Release
Review By Tony Cannella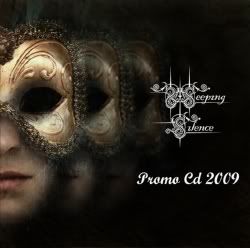 From Malta, Weeping Silence plays symphonic power metal with goth and doom undertones. In 2008, the band released their full-length debut, "End of an Era", now Weeping Silence are back with a new 4-song, 25-minute promo CD. The 4-songs contained on the promo CD feature sweeping, epic arrangements and intricately played musicianship. Rachel Grech leads the way with her strong and clear vocal style.The opener, "Promises Broken" begins with a heavy riff and develops into a mid-paced tempo of an opener and immediately the full scope of this talented band is on display. Lead vocalist, Rachel Grech has a nice range as her vocals soar over the excellent musicianship."Dark Waters" and "Within White Walls" are exceptional as well. The final track, "Innocent Cries" is over 7-minutes long and it brings the CD to a rousing conclusion. I have never been familiar with Weeping Silence prior to hearing this excellent promo CD but now I am a fan. With their promo CD, Weeping Silence combines all of the elements that I look for in a band. I am sure that Weeping Silence will appeal to fans of the symphonic power metal genre. At only 25-minutes long the CD is all too short, but it definitely serves its purpose in getting fans excited for the next full-length from Weeping Silence.
Rating – 90/100
Tracklist
Promises Broken

Dark Waters

Within White Walls

Innocent Cries
Line Up
Rachel Grech – Vocals

Mario Ellul – Guitars

Toni Farruggia – Guitar


Allison Camilleri – Keyboards

Sean Pollacco – Bass

Angelo Zammit – Drums
Links
MySpace * ReverbNation * Facebook * Site
6 color styles available:

Style switcher only on this demo version. Theme styles can be changed from Options page.