Browsing articles tagged with " sleep"
Label : Nuclear Blast
Review by Davide Torresan
After almost a year of waiting, finally the soundtrack of the movie connected to the last Nightwish's album,"Imaginaerum", is out. After its release the album had a global success, giving reason to the ambitious project of Tuomas Holopainen of creating a film with some new songs written by himself. Riding the wave of enthusiasm, Nightwish decided to leave for a long tour that took them first in Europe and then in North America. In October the waiting for the film's release has been ruined by the premature split with the singer Anette Olzon. It caused the panic within the fanbase of the Swedish singer and an increase of hope to see the return of Tarja Turunen for the nostalgics of the "Old Era". None of this happened. In no time Anette has been replaced with the talentuous Floor Jansen (Revamp, After Forever) to finish the tour in North America. To celebrate the end of the first part of the tour and the end of the works on the film, Nightwish decided to do a final concert at the Hartwall Areena in Helsinki. And the premiere of the film took place immediately after the show.
"Imaginaerum" (The Movie), directed by Stobe Harju, tells the story of Thomas Whitman, an elderly songwriter with an otherworldly imagination. During sleep, the old man fights to find the most important memories of his life and to relive the experiences of his youth. He must also contend with the fact that, due to a serious illness, his life is in danger. Only the dreams are the "sanatorium" to cure his imagination and soul. Continue reading »

Interview by Si Smith
First-time viewers of the new album by Dotma will be presented with a fantastic vista of colour and imagery – but what are the forces at work behind the image, behind the polished artwork and powerful musicality? Not ones to be pigeon-holed or typecasted, Dotma tread the line between gothic and power metal with the skill and dexterity of players well-established in the world of female-fronted metal. Yet this is only their first full-length. To understand how this remarkable feat has been achieved, I spoke to singer and lyrical crafter Johanna Lesonen….
Biographies of Dotma seem to start as many band bios do, with guitarist and keyboardist Harri deciding to form a band surrounding a particular theme or genre. Johanna, how did you join up with these guys at the very beginning?
Well I had just started to take classical singing lessons, and I was very excited about singing. I wanted to try singing in a band and my friends had just founded one. I was the one who asked if I could sing in their band. They weren't sure if they wanted a male singer, so they hesitated a little. But since there were no other singers around, I got the job! And it seems that it was a good decision! =)
Dotma has a strong image, both musically and artistically. This image seems to draw the listener/viewer into the heart of the band experience. What were your expectations of the band from the start? Did you know in which direction the band would be going from the time of the first demo?
At the beginning I really hadn't any specific expectations for this band, I just wanted to sing. We started with power metal and after the first demo we came to the conclusion that we wanted to develop our style. We weren't sure in what direction. We thought it will come naturally, if it's meant to come. And so it did.
A second demo entitled "Dances With the Shadows" was released in 2009. How had the music progressed by this time? Were you happy with the end result?
We were much happier with the result than we were with the first demo. We had grown as musicians and the songs had developed into this style which felt more like ours. It was still power metal but there were these symphonic and atmospheric elements already to be heard. But still, the process continued till the recordings of the full-length album.
It seems that all lyrics are written by yourself at this time: how do you go about choosing themes for songs? Could you take us through your creative process for writing and/or perfecting your song lyrics?
Actually I have written most of the lyrics, except "Kingdom of the Sky" and "Memory Worth Dying For" which are written by Harri. My writing process starts when I hear the song. The song gives me a certain feeling and I start to imagine things in my head. I tend to think quite visually. When I hear music, pictures appear in my head and finally a story. There are few songs in which lyrics I have used old poems of mine. For example "The Cave" and "Reborn" are such songs that I had already written most of the lyrics and suddenly I realized that there were these poems that fit perfectly in the theme. After this I finished the lyrics automatically. "Indian Fall" is a ballad and when I listened the song, the lyrics came at once. "Whispering" didn't get its final form until the vocal recordings! So it really depends on the song how the lyrics are being born.
In December 2009 you started to prepare to record your first full-length debut album involving Rockstar Productions (Finland) and Cutting Room Studios (Sweden). Was it difficult involving people from outside the band at this point? How did you communicate to them your own hopes and ideas for the finished product, to ensure that the album turned out how you wanted it?
Of course it's always challenging to find the right people to work with this kind of project. It's not possible to read other people minds, so I think the most important thing is to speak up. We negotiated a lot about the sound, arrangements and so on. We also were along in the whole process, including mixing and the mastering.
Coming to the debut album "Sleep Paralyses", it is a remarkable epic journey through a series of emotional landscapes. Would you say there is a uniting theme or feeling to the album?
The uniting themes are probably the instability of human mind and the beauty and the ugliness of this surrounding world. Dreams and nightmares rules through the whole album and the main feelings are loneliness, fear and hope.
The fantasy image is still strong surrounding the band, yet the band is so much more than just the traditional fantasy and medieval themes. How has the music now developed beyond the "typical" Gothic and Power metal imagery and become something unique in the genre?
This is a difficult question for me because I cannot look objectively our music. I cannot define why the music is now unique because we just do what our heart tells and if that's something new that differs our band from the others, we have done something right. If we talk about the concrete music, there is a big change from the early days; tempo. We have slowed down the songs and given more space to the atmosphere. I have also used my voice as versatile as it's possible with my classical technique. We have done everything with a great passion.
The construction of this epic masterpiece included vocal and guitar contributions from members of other bands such as Thaurorod and Embassy of Silence. How did they fit into the overall vision of the band? Are there plans to use more guest musicians in the future?
They fitted perfectly because first of all they are all great musicians and their way of doing music is very passionate. We gave all the guest musicians free hands and we trusted them. And they did an amazing job!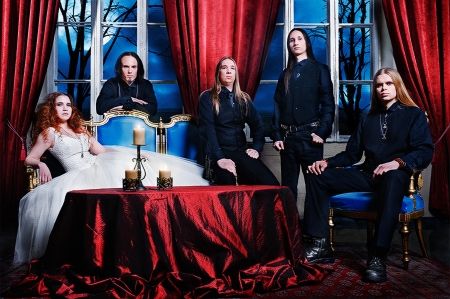 The song "Reborn" blasts out triumphantly, almost as a decree that the band is itself is reborn with power and self-belief on this new release. Also your band's logo has developed into a far more intricate and beautiful creation since the previous two albums. How are you going to keep up this newfound impetus and vigour? When things become stale or routine, how do you as a band keep yourselves fresh and enthusiastic?
I think we will be worrying about it when it happens. You cannot think and plan all the things beforehand. We live in the moment, and what happens in the future, we live along with it. We all love music and we will always do it some way or another. When things become stale or routine, we just wait until it will pass, and maybe concentrate on something else for a while, until the inspiration returns.
All the music for this album has been credited to Harri Koskela. Is this completely his own work, or do other members of the band have contributions and musical ideas as well? If so, how does this work? If not, wow! That is a big load on Harri's shoulders!! He surely is a master of his work! Does he present these musical pieces to you ready-made, or are they constantly-evolving works in progress?
That is a big load on Harri's shoulders yes, because he does all the composing. We all are involved when the songs are being arranged, but before that Harri composes the songs from the beginning to the end. The songs get their final form in the studio where new visions wake up.There in the studio we all work with the songs, especially the vocal parts.
"Kingdom of The Sky" has been described as the masterpiece of the album. Could you tell us more about it, its meaning and also the other voices and ideas involved?
It's a song that Harri composed as a dedication to his dear cousin who passed away. It's a very personal song to him, so he did also the lyrics. Concerning the music, it's quite an unusual composition. There are many different parts which describe the periods of life. The last choir part is in Finnish and it tells about the funeral. It's a very intense and beautiful song.
As the date of the album's release draws nearer, it seems that you have a number of live dates already set up for April/May 2011, many involving fellow Finns Beyond the Dream. How do you find the different stresses of performing live? Is there anything special we can expect from your live performances this year?
You can expect great interpretation of our songs and pretty costumes of mine! =D Heh well seriously, we love performing and giving the music to the people and we just hope it shows. We try to give people a musical experience that they feel alive. About the stress when performing live, it's part of this job and we have learned to handle it, so it's mainly positive anxiety and adrenaline flow.
You played in Russia towards the end of last year – that must have been quite an experience! How was the Russian audience?Were many already familiar with the band?
That was a great experience,they were so hospitable,all the arrangements worked perfectly and I just fell love with the audience.They were truly listening our music and I felt the connection with them.I want definitely to go back some day!
Finally, as you look forward beyond the new album into the future, are there any plans to extend the bands' influence beyond Finland? If so, what are your plans for world domination??
I think the big market will be outside of Finland, so we hope to get a lot of gigs outside of Finland. About the world domination, it comes along with good shows. =) It only leaves to say thank you for this interview, I hope it has given people a chance to get to know the characters behind the image, the minds behind the lyrical soundscapes
Links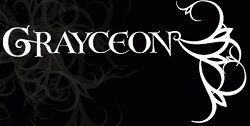 Interview by Si Smith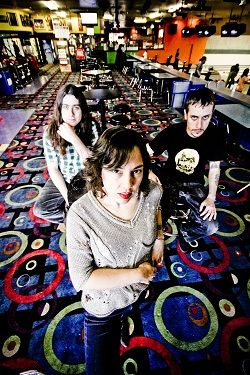 Grayceon are the perfect blend of metal and classical – with a mixture of jazz, doom and prog thrown in. Proving suitably elusive to pin down, they nevertheless have managed to land a deal with Profound Lore records and a third album that has blown the critics out of the water. We spoke to front-woman and cellist Jackie Perez Gratz.
First of all, thanks for this interview – and welcome to Femme Metal.
Hi.
When I first bought your album I was, to be frank, quite overwhelmed. The balance between the beautiful classical element and all the other influences thrown into the melting pot is what really impressed me. It would be so easy to get it wrong, to overdo one element at the expense of another. How on earth do you get that balance "just right"?
All three of us have large variety of musical influences that often overlap but it gives us a large collection of styles to choose from when writing songs. I don't want it to sound contrived because we don't sit around and decide which element we want to use just to mix things up or keep the balance right. The balance happens naturally because we are always trying to make the songs challenging and fun to play for ourselves. If all our songs had only one or two musical influences we would probably get bored and not want to write as much. If that were the case, we would be much more easy to label as [insert given genre here].
The cello sound is particularly deep and sonorous. Do you have to adjust the cello in any way to fit with the metal parts?
I have spent a lot of time getting my cello tone right to fit with Max and the type of music we play. It tends to be a bit more punchier and grittier than I would normally like the cello to sound if playing solo, but in the context of Grayceon it works well. I try to make it not overpower the guitar but still cut through and, of course, still sound like a cello and not like another guitar. I also put a lot of thought into what I should play during the very metal parts, I like to mix it up. Sometimes more chugs are needed to make the section over the top metal so I'll join in with Max, but sometimes a smooth melodic or dissonant line over the top of pinch harmonics will be more interesting and unexpected for a metal section. It really just depends on how I'm feeling that day.
You have spent time in the past recording with other artists such as Agalloch, Om, Ludicra and Neurosis, really great artists who also have a progressive and "atypical" approach to their music. What have you learned from these experiences? How much of their influence do you bring to Grayceon?
Everything I do musically gets churned into my own approach of writing and performing. I might not see where the influence is directly coming from, but it would be hard for these experiences to not influence me in some way. That would be like saying 'for the next 5 years don't let any of your life experiences change you personality.' It's just not possible. When I was recording with Ludicra I remember playing through a wall of cabs that were completely deafening. I literally had to play in a separate room so that I could hear what I was doing and not make my eardrums bleed. It was so much fun and I'm sure that eventually influenced me to start using a bigger cab in my own rig.
Your first demo was released in 2006 and contained two tracks, one of which made it onto your first self-titled CD for Vendlus Records. How different was your sound then to what we hear on "All We Destroy"? Did you have any particular musical aspirations at that time?
Grayceon has been slowly evolving with each recording. I think we write a bit differently now and you will hear that on "All We Destroy". That first demo is really complex, but not in a bad way. It's just a lot to digest. I think we counted the riffs in the song "Love Is" once and we came up with an insane number, like 32 different riffs. The vocals have also changed a lot since then as well as how and when we write the vocals to songs. I think we are constantly growing and gathering new influences that effect our writing. Production for our releases have evolved a lot since then, too.
Being only a threesome must mean that the ties between you three are quite close. Have you ever considered adding to the group, maybe a bassist or keyboardist?
We seriously considered adding a bassist at one point last year and I was the one who totally chickened out and killed it. I was really worried that the special dynamic between the three of us would get messed up somehow. I am pretty protective over that because what we have is so near and dear to me. Adding another personality and instrument could take the Grayceon out of Grayceon. And that really scares me.
"The Grand Show" in 2008 was your second full-length. Already the great themes of life are there, such as beginnings, endings, sleep and eternity. Where do you find the inspiration for these philosophical musings? Have you any set of your own personal "rules" that you like to live your life by, and would like to communicate through music?
Most of the ideas behind my lyrics come from my real life experiences, mainly my personal relationships. It feels natural to me to write about life in this way. I have some rules for how I'd like to live my life but I don't always follow them. The double meanings behind most of my lyrics is me just working things out for myself- wondering and observing. My hope is that someone listening will be able to relate to the things I am going through, but its not my motivation when writing.
Three years on from the debut and "All We Destroy" seems to have moved onto even more poignant topics. "Shellmounds" and "War's End" in particular reference war as a major theme. What is the overriding message of this album would you say?
I'd say that the main message of the album is that new beginnings are possible. Sometimes we just have to let go, put down our sword, and stop fighting the fight. That doesn't mean that the album is without moments of despair, pessimism, and anger. "We Can" and some of "Shellmounds" can fall into those categories.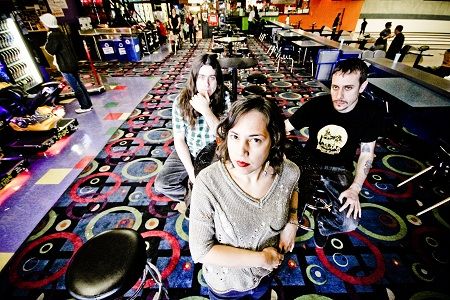 Your serious lyrical concepts aside, I hear that as a group of people you guys have your own sense of humour. Have you any humorous incidents to share with us today?
Zack and Max are so fun to be around and they can both make me put my serious nature aside, especially when we are all together. We had an in-person interview once wherein the interviewer asked us what we were reading and to talk about the book. Zack went off on a very intelligent rant on a book about pooping that he keeps near the toilet. Max and I were literally busting our guts listening to him and the interviewer didn't flinch. I'm not sure he knew if we were being serious or not. Stuff like that happens now and again but in general we try to be light hearted and not take ourselves too seriously. Nobody likes a band that is full of themselves and nobody likes to be in a band that doesn't have fun doing what they do. We genuinely have a good time playing with each other and when the fun ends, well… hopefully it won't!
"Sleep" off the last album and "We Can" off this one both approach or cross 20-minutes in length. Do you always aim to have one of these long tracks on each album? Or is that just the way things worked out?
Yeah, sometimes a song doesn't want to end while we are writing it. Songs like these always have another place they want to go and we just follow it there and make sure it gets there safely. Because we don't like to set rules for ourselves when song writing, we let the songs be as long as they want.
Elgar's Cello Concerto is certainly one of my favourite classical pieces, and I would love to hear Grayceon do it! If you could metal up one classical piece, which one would it be?
Aha that's one of my favorites, too! Rutter Requiem is also another favorite of mine. It's not a cello concerto, but it starts out with this amazing solo cello line that I have been obsessed with for years. If I were to 'metal up' a classical piece I might have to choose one of Holst's The Planets movements, or Stravinsky's Firebird Suite, or Dvorak's New World Symphony. I don't think I would choose a straight up cello concerto, it would definitely have to be an orchestral work. More melodies to choose from and it would be fun trying to capture all the pertinent parts between just me and Max.
You recently played the Profound Lore showcase with other avant-garde bands such as Castevet and Slough Feg. How did the crowd receive your brand of music? What was your set list?
We were very well received. Some people told me Grayceon was one of the few bands they were definitely not going to miss, others told me they had heard of us and were curious but weren't sure what to expect. We tend to catch quite a few people off guard when we play a big bill like that, but I never see people leaving the room, so that's always a good sign! I believe our set list was: "Dreamer Deceived", "A Road Less Traveled", "We Can", "Shellmounds", "This Grand Show is Eternal".
Your work with Amber Asylum was quite brooding and introspective. Do you find your work with Grayceon heading down this path as well sometimes, or are there simply too many influences involved?
I'm not sure our influences have anything to do with it, but I don't think Grayceon shares a path with Amber Asylum even when we are playing our more mellow sections. Amber Asylum was always much more abstract and loose with its writing and performing style. Grayceon writes in an organic way, but after we write a song we never jam on it or use queues to dictate changes. Once a song is written, it's written and we are very consistent with performing it. Also, Max likes to play very busily which is not a bad thing, he is covering a lot of ground with the way he plays. But because of this I don't foresee him playing a long drone or repeating a single riff for 10 minutes any time in the near future.
I suppose to some Grayceon may seem like another Giant Squid, yet both are unique. How do you switch between the different personas needed for each band? How do you ensure that Grayceon produces a unique sound all its own?
Each band has a very different dynamic between it's members. Both bands use its individual members to each of their strengths. The combination of these things inherently make the two band sound different. I actually enjoy taking a bit more of a backseat on writing for Giant Squid. Aaron has such a talent for narrative and he always has a master plan for the lyrics, so I just let him roll with it. He also prefers my higher falsetto vocal range, so we tend to write vocals for me that are very different from how I sing for Grayceon. Also, with Giant Squid, there is another instrument in the mix, bass, so I tend to leave much more room for other instruments than I have to with Grayceon. The cello has a very different role. And the bands have different tunings, the drummers and guitarists all have very different styles of playing. Basically, what I'm trying to say is I don't think we could sound like each other if we tried!
Last year you completed your first European tour alongside Jucifer. How did the audiences change from one country to another? Was there any particular show or city that stood out for you particularly?
WE LOVE EUROPE!!! And we'll jump on any chance to be able to perform there again. The audiences were amazing in every country we went to. The promoters treated us like royalty. The drives were beautiful, the food was delicious, everything is better when you are in Europe! We had a ball and don't have anything to complain about really. Personally, Portugal, Spain and Italy stand out as the countries I would most like to return to. We played the SWR Metal Fest in a small village in Portugal and it was probably one of the most exciting shows Grayceon has ever played. And one day in Italy we had espresso and pizza for breakfast, lunch
AND dinner. It was amazing!
This album has certainly been well received critically from what I can see. Are there any plans to tour this year on the strength of this new album? Any countries you'd like to visit on tour?
We will most likely not be able to leave the US this year. We are still trying to recover financially from our European tour. But, that said, we have played several shows at SXSW Music Festival in Texas, we're going on a small mini tour with our friends, Lesbian, in the Pacific Northwest, and we may have some more things up our sleeve for later in the year. We are actually working on writing some new material this summer which will keep us out of trouble for awhile.
Finally, thanks so much for talking to us. Any last comments for fans or potential fans out there?
Thank you so much for the wonderful interview! And for the fans, we thank you for listening and hope you continue to enjoy the music!
Credit Photos
Photos by Dary Darko
Links
Interview by Ed Mac Laren
Portugal's Factory of Dreams make it clear from the first molar-rattling power chord that they're ready to make your head explode with their incredible new concept album "Melotronical". Musically and vocally epic in every way, it's a 60-minute sensory assault that leaves you exhausted wondering what the hell just happened – just as you're reaching for the play button again. Easily one of the strongest albums of the year so far, vocalist Jessica Lehto and composer, multi-instrumentalist and vocalist Hugo Flores – seriously, what can't this guy do – took some time to talk to Femme Metal about the concept of "Melotronical", what makes their ongoing collaboration work so well and coming into their own as a top-tier band.
"Melotronical" is one of those albums that you can hardly believe when you hear it for the first time. You've beefed up the sound but lost none of your instrumental intricacies and trademark atmospherics. Were you as amazed at the result as the fans were?
Hugo: Yeah, the idea was to impress the audience from the very first track "Enter Nucleon" with an explosive and original sound. The initial synth from "Enter Nucleon" is very aggressive and then with the soaring guitars and blown up drums it's all settled in for the ride! You know, the story and concept demanded a much more aggressive approach this time, so in the end the sound would really have to be much more powerful. I wasn't that much surprised simply because I followed the album's evolution every day, from composing to mixing. But I must admit I was indeed surprised after seeing the whole package and listening to the mastered version. I wanted to convey into music the idea of Tronic – or mechanical motion. "Melotronical" combines the atmospherics and simplicity of "Poles" with the progressiveness of "A Strange Utopia" and adds edge and vivacity to the sound. I'm very proud of "Melotronical". I think we've really made our best album this far.
Jessica: Hugo definitely is a very skilled songwriter and on this third Factory of Dreams album the tracks do feel a bit different compared to earlier releases. The tracks are a bit heavier, the sound might be a bit richer. I was definitely impressed when hearing these tracks for the first time.
You've raised the bar for yourselves on this album – and everyone else for that matter. Musically and vocally this album is killer from beginning to end. When did you realize that you had something special on your hands?
Jessica: To be honest I don't really reflect about my vocals as something special. I just do a job that is as good as possible at that moment, and if others find it special I'm very happy to hear that. (Smiles) As for Hugo's song writing I have always found it special and it has kept growing with each release, which is very lovely indeed.
Hugo: Jessica is just too humble, I must say that her voice is indeed very special and the album is somehow a unique combination of her vocals with my music. I actually started realizing that it was special once I had my compositions laid down and the concept and lyrics written. And that was even more evident once "Whispering Eyes", the main single, was taking shape with the recorded vocals. Very powerful music, appealing, yet quite progressive in its own way. But it's also like Jessica mentions, I do what comes to mind and shape the sound according to that. Maybe for a fourth album I might pursue this line of songwriting, because "Melotronical" is definitely asking for a follow-up album.
What was the conceptual genesis of "Melotronical"? Was there a sudden epiphany or had the ideas been floating around for a while in the backs of your heads?
Hugo: It started because I wanted to play with a 'robotic' sound and that kind of material. So, I began writing and thinking about an album title that could represent a whole nature vs. mechanic feel. In the end, what came to mind, was a symbiosis between machine, organic and music. "Melotronical" is actually melody combined with mechanical motion as I mentioned. It was quite sudden, yes; I don't recall having this concept going around for many times in my mind. However, the robot vs. human issue was present. I enjoy many films of that kind, such as A.I and books like Isaac Asimov's. Also, my Project Creation trilogy is based around a mechanical dragonfly. So, it was always very present. The album was also a chance to revive two older songs that I had composed a long time ago. One was "Something Calling Me". The first version was done in 2000 and I was the lead singer on that track. The second was part of "Protonic Stream", much much older; I figure I was like 15 when I composed it on my dear old commodore Amiga, can you believe it?
Given the complexity and density of this music – and the fact you play all the instruments yourself – where do you start, Hugo? What was your process for building up the tracks?
Hugo: The process hasn't changed much from my approach since early this decade. But I've learned new ways to mix and produce music. As far as the process and how everything begins? Well, it depends. It may be from a title or from an idea for a story, or even simply by just playing around with the synths and trying out melodies and sounds. Once I find a melody that pleases me, I start developing that melody, changing it and making it evolve. Usually I just let my thoughts and ideas go and when I run out of ideas I stop since that means that the track is complete. I don't like to 'force' ideas or to make a track longer once ideas are unnatural. After that, I begin recording the guitars, the bass and later vocals. I also lay down my drums along with the synths and orchestrations, before the actual guitar recordings. Then it's mixing time. Very time consuming but still pretty cool and creative. As far as mastering is concerned, I prefer to leave that to a mastering engineer, and "Melotronical" had a brilliant mastering process done by Mr. Chris Brown, who worked on so many of my albums and several others from Progrock Records as well.
Hugo, your musical influences are far ranging but there seems to be a little extra nod to 1970s electronic music on "Melotronical". Were you listening to any Vangelis or Jean-Michel Jarre while composing the album?
Hugo: "Back to Sleep" or "Protonic Stream" are good examples of how I enjoy a powerful synth sound. It's all about an epic feel to the music, a wide and full of body approach to sound. Even though I don't listen too often now to Vangelis, he has been quite an influence. I've grown up listening to synth based music. I'm grateful to that because synths enable me to do whatever pleases me. Nowadays it's simply mind-blowing to see the possibilities, and you can have several orchestras right at your hand, ready to play at your command 24 hours a day. How's that for a musician, huh? (Laughs)
Jessica, you dug deep and provided the album with a tour de force vocal performance, soaring, swirling and morphing from one song to the next. How did you prepare for recording the vocals for "Melotronical"?
Jessica: Thanks! (Smiles) I did not really prepare much before recording. Most of the time, when recording stuff for a new track, I listen to the track once or twice before I start working on it. Other times I just feel very spontaneous and start working right away, without listening to the track at first. It really depends on how inspired I feel. Sometimes I have tons of ideas at once when hearing the intro and other times I need to feel the atmosphere of the track a bit more. However, it was really hard work for me this time around. My father unexpectedly passed away in December 2009 and by the time I started recording for "Melotronical" things were still really difficult to deal with. I lacked inspiration and motivation and I had to dig real deep to come up with most of the vocal lines I wrote. I'm not yet sure about my work in some of the tracks, but on the other hand I never am, I'm always hard on myself and I'm never fully pleased with what I do. I just think I did the best I could do at that time and then it's okay.
Hugo: Let me add that I fully agree. Jessica's work on "Melotronical" couldn't be better, period. All the other albums are great, but this time, I don't know, it was perfect. Maybe the fact that she was in a very emotional state may have helped. Or maybe the fact that she thought she would perform worse, Jess consciously lifted her spirit and she told herself to do that extra effort, thus surpassing what would have been a great performance from the start. Kudos to her!
You've really come into your own vocally on this album, Jessica. In our last interview for "A Strange Utopia" we talked a bit about vocal comparisons but on "Melotronical" it's all Jessica Lehto! Your voice has become as individually identifiable as your influences Anneke, Sharon and Tarja.
Jessica: Thanks a lot! That's just about the nicest thing a vocalist can hear! Of course influences will always be there, but as long as you're not just a pale copy of them that's nice.
Hugo got some great vocals down on the album as well and the two of you complemented each other very well. Thanks for letting Hugo record some vocal parts this time, Jessica!
Jessica: Well he's free to do that at any time for sure! (Laughs) And I'm glad he did this time around, his voice fits great with the tracks and he's really a skilled singer too, among so many other skills he has.
Hugo:Yes, I'm a good juggler too, and hamster tamer, as long as they're friendly, and tamable. I already lost a finger due to one of those little things…damn hamster.He was delicious though… Jessica told me several times, "Oh no, you'll ruin the whole thing!" but I said, "Come on please lemme do it, lemme do them vocals, I can't just do the music, you're the one you gets noticed and I'm an egocentric narcissist freak, please please!" and she was kind enough to grant me this little thing here.
What's the optimal way for people to listen to
"Melotronical"
? There's so much going on conceptually and musically. Sitting in the dark listening on a great set of headphones works well but you miss out on the lyrics and the artwork.
Jessica:
Headphones are a good idea, may it be in the dark or not, since that allows you to hear those small little hidden extras that Hugo has embroidered into the music.
Hugo:
A dark room, with candles, the occasional incense (no drugs…or not much) headphones on, and just let the music flow. Don't mind the lyrics, no one understands them anyway! (Laughs)
"Melotronical"'s album packaging is beautiful – Linda Kindt's illustrations are spectacular! Was it difficult trying to develop a visual aspect to
"Melotronical"
to complement the audio?
Hugo:
It was pretty easy for me, since I didn't do it…er…. but I did send Linda my initial ideas, but 99.9% of the work is hers…I should ask Linda to answer this one… maybe she's around, oh, yes!
Linda:
Creating the entire album artwork was an interesting and rewarding experience for me as an artist. I found the concept of
"Melotronical"
very inspiring ever since I heard about it so I didn't have much trouble coming up with ideas. Of course it was a bit challenging to create artwork about songs without hearing the music first but fortunately I was given very good descriptions about contents and themes of each song. Based on that info I made few sketches about the songs and then Hugo chose which ones to develop further, and after six months of co-operation we finally had the artwork we both were happy with.I'm glad I was able to be part of this project – it was a pleasure to create art for such an amazing album.
Hugo:
…and Linda Did a tremendous job!
Factory of Dreams music is unique and sounds quite different from both your other projects. What is it about the combination of your talents and personalities that sparks this kind of creativity?
Jessica:
I don't really know what the thing is. It all relies heavily on Hugo's compositional skills and ideas, I think it's in them that the uniqueness lies. Plus working together has gotten smoother and smoother with each release since we know each other pretty well by now and know what to expect from the other person.
Hugo:
Not all relies on my compositions, because when I write stuff for Factory of Dreams I know Jess will be able to cope with the insanity, so, there are no boundaries to the music composition and structures. I know I can count on the best vocals possible, so, I do whatever pleases me and in a way I know I'll be pushing vocally and instrumentally. Plus Jessica is a fun person to be "around" and we get along very well. Having this friendship makes it all easier, even if we're not in the same room, it's very comfortable to work with her, like fluffy and comfy.
Given that evolution is at the center of "Melotronical", how would the two of you describe the evolution of Factory of Dreams from "Poles" until now?
Jessica:
The music has gotten more and more complex, and I think the vocal arrangements might have gone the same way too. Poles feels like a fairly easy-to-get-album while the amount of listens required to really "get" it seems to increase a bit with the second release and a bit more with this third release.
Hugo:
"

Melotronical"
couldn't be done earlier, simply because at the time, musically, my views were a bit different even if the main style found on "Poles" is present, definitely. With
"Poles"
I wasn't yet sure if I wanted to do more albums in that vein. Factory of Dreams was developing back then, and after the acceptance of
"Poles"
by fans I realized we could keep on doing Factory of Dreams.
"Poles"
is slower, more atmospheric, easier to get into perhaps, even if this is always very subjective and depends on the listener and mood. "A Strange Utopia" is the most proggy of the three albums, and the most experimental in terms of sounds, with many loops and several guest musicians and singers playing around –
and very well I must say. "

Melotronical"

is powerful, much more aggressive but it's also a very cohesive and mature album. This might be my favorite album I've done so far.
So, progressiveness can be within a band's genre but can also be applied to a progressive band and Factory of Dreams is that kind of project. You'll know what to expect from us, roughly, but you also know that no album is ever the same.
The relationship between the two of you must be pretty easy and comfortable by now. Musically, you seem to bring out the best in each other. What do you do to shake it up and challenge each other? Other than Hugo's pranks, that is…
Jessica:
Hugo, a pranky boy? Nah never! (Laughs) Well, I can't really think of anything we do to challenge each other. It all just feels very natural and smooth. We all put down a lot of energy on this project and it feels totally natural to do that.
Hugo:
I challenge Jessica with the music, that's all. All other chal
lenges are very subtle, and hardly do I ever need to "challenge" her because what she does is always so good… actually she's the one to perfect everything by herself. What I do very few times is suggest some changes here and there and this is very occasional. Joking around is common, but no one notices that in the final product since we're professional when the music has to come forward.
Have the two of you thought about developing a long-form video or short film to accompany the album? The concept is cool and it might be fun to watch Jessica evolve from an electronic molecule into a singing cyber-entity…
Hugo:
I've had someone tell me about making a comic book based on the album, yes, but in the end what can be done is a videoclip for a specific song. You won't see the full story of the album develop in that video, because it's just so weird that to put it on a video would be difficult in so many ways. This said, we've filmed a videoclip for a track [Editor: The now released "Back to Sleep" video], in a huge location and we hope to rel
ease it very soon! It'll feature incredible lighting effects and an eerie atmosphere. We're excited about it!
Now that you've completed your Factory of Dreams "trilogy", have you thought about shutting the factory down for a while and working on some other projects separately? Do either of you have anything in the works?
Jessica:
It's up to Hugo when it comes to Factory of Dreams I guess, I'm here to record vocals if he needs me to and I'm always happy to do that. I have s
ome other stuff on the plate too, some vocals for the next Beto Vazquez Infinity release and then I'm working on finishing the fourth demo for my own project, Once There Was, which seems to take ages but maybe one day…
Hugo:
I'm working on the third Project Creation album now, but also composing some new stuff for Factory of Dreams. It won't be soon, but I'm working on it!
OK guys… what about some live shows this year? "Melotronical" would make for an awesome visceral experience with the right stage show. What do you think?
Jessica:
I've never really thought of Factory of Dreams as anything but a studio project, but now that I've started rehearsing some of my own material in acoustic versions to be able to perform it live the thought of live shows is a bit more tempting. Still it would be so much to put together since we don't really live next door, Hugo and I. Never say never I guess, but there haven't really been such discussions up to this point, things feel good the way they are now.
Jessica:
Music should be YAY. Always. If not then there's something wrong and you should go hug a bunny instead.
Hugo:
I'd like to quote a famous person that once said "Music should be YAY. Always. If not then there's something wrong and you should go hug a bunny instead. We hope everyone buys "Melotronical". Drop by our Facebook page, leave a comment or message, we always reply.
Label : Scarlet Records
Review by Tony Cannella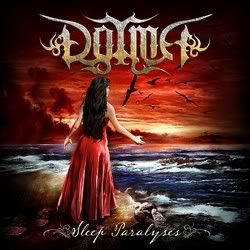 Thankfully the debut album "Sleep Paralyses" from Finland's Dotma is NOT sleep inducing. That's one thing it has going for it, another is the fact that it is loaded with good songs, great musicianship and the operatic vocals of front lady Johanna Lesonen. Clearly, "Sleep Paralyses" has an orchestral power metal vibe that drives the 8-track 50-minute debut. "Sleep Paralyses" begins with the Helloween-ish style guitar harmonies of opener "Legend of Blackbird". This is a fast paced opening number and one that sets a very high standard for what is to follow. The second track is one that really stood out and became an instant favorite. On "Reborn" Johanna performs a duet with a male opera singer, which is a nice, added touch and something you don't see or hear very often in the realm power metal, which, combined with an out-of-this-world Yngwie style guitar solo makes this a highlight. "Silent Sunshine" features more solid vocalizing from Johanna and a great, big chorus. Dotma brings the tempo down on the ballad "Indian Fall". Other highlights include: "Whispering" and "The Cave". Dotma wraps things up with two epics, the first is the 11-minute grandiose "Kingdom of the Sky" and the 9-minute "Memory Worth Dying For". In this day-and-age it is easy to think 'oh great, here comes another power metal band with an operatic female singer' but on "Sleep Paralyses", Dotma quickly puts any reservations one might have to rest.

Rating – 85/100
Tracklist
Legend of Blackbird

Reborn

Silent Sunshine

Indian Fall

Whispering

The Cave

Kingdom of the Sky

Memory Worth Dying For
Line Up
Johanna Lesonen – Vocals

Leo Saarnisalo – Guitars

Harri Koskela – Keyboards

Aapo Lindberg – Bass

Joonas Pykälä-Alo – Drums
Links
6 color styles available:

Style switcher only on this demo version. Theme styles can be changed from Options page.