Browsing articles tagged with " snow"
Independent Release
Review by Tony Cannella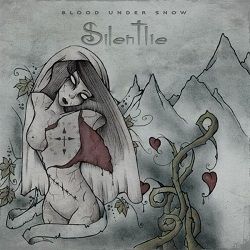 From Italy, the band SilentLie was formed in 2005 by vocalist Giorgia and guitarist Luigi. In 2007 they recorded the demo "Behind My Face". In addition to that they have recorded songs for various compilations and even had a song included on the soundtrack for the movie "Blood Sisters". Now the band returns with 5-song, 25-minute EP entitled, "Blood Under Snow". SilentLie has an affinity for writing solid melodic songs with a hard rock/heavy metal groove and "Blood Under Snow" is a testament to this fact.
The blazing out-of-the-box track "Regret" gets us off to a running start. I really like the vocals of Giorgia. I'm not sure what it is I like about her. Continue reading »
Label : Eyes Like Snow
Review by Luisa Mercier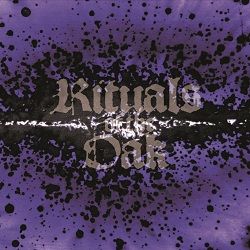 Australia is a country very prolific in the field of doom, gothic-doom metal and Rituals of the Oak are just another evidence which backs up this theory. The band is fronted by the Lebanese singer Sabine Hamad (former Kimaera singer) and is now about to release its second album, "Come, Taste the Doom". As the title makes clear, the doom played by Rituals of the Oak is quite classic: slow paced, guitars tuned down and vocals almost spoken by Sabine, which sings in a very different way than she used to, being Kimaera more gothic oriented.
The ten minute opener "Here" is an example, while the following "The Horla", apparently inspired by a French horror short-story, is no less gloomy and slow with that epic, solemn feeling typical of classic doom metal. An acoustic guitars appears at the beginning of "On the Sixth Moon" and Sabine sings sweetly over a track which has more of a prog feeling than doom, never renouncing to sad guitars. Continue reading »
Interview by Si Smith
"It exists a girl who lives on the moon, her name is… LUNAINFEA". So begins the Lunainfea biography and it is at this point that we greet the band in their creative process. Italy has produced many high-calibre bands recently and Lunainfea are the latest to hit the big time. Femme Metal had a word with Katla Hausmann, to find out more.
First of all thanks for making your EP, and thanks for this interview. Welcome to Femme Metal webzine. Lunainfea is a new band to many of us, please tell us how you formed and introduce the other band members to us?
The band was born in the 2005 from the intimate vision of the music by Julian Nardi and Kaio Karras, which began to create a background blues sound. After Alessandro Rubin gave a stoner boost, I became the Nymphet moon's Voice that completed the alchemy that burst into our best sound.
The moon is a very strong symbol on your album cover and CD. Where did the fascination with the moon begin?
Conceptually, the moon is a far away symbol from demeaning stereotypes that we are surrounded to this day: it's distant but present and strong. In this point of view research of sound and themes began.
The story concerns a girl who lives on the moon – what is her story, briefly?
The loneliness's Daughter, Lunainfea spent her childhood in the lunar desert where the scent of nothing enveloped and protected her. In this absolute silence she evolved in a shell where she could feed herself of her being, feeling the deepest and the most intimate emotions of human beings, coming to pick an unknown flower to many : the purity is the metaphor, the idea behind our music.
When you started putting music together for this release, did you always know that it would be a conceptual album or did that come later?
The music is without limits and we knew before starting our EP, that we don't know where it will lead us.. thankfully.
Musically your influences appear to be many, from blues to psychedelia to stoner. Are there any bands you as a band like to follow or style yourself like? What music do YOU appreciate?
I started singing in childhood and in this moment I needn't rely on a definitive style, what matters is to express the energy inside me.
Your voice is very soulful and expressive when you sing. How did you get into singing, and how has your voice changed over the years?
My voice is something connected to my Island homeland, to the deep of the volcano and the screaming earth, a lunar earth that tells stories. My voice is the same through the years but the essence has changed, today I breathe on a stone … while the moon shines.
There has already been quite considerable positive critical reaction to the album. How have the reviews been so far for you? Has the coverage spread much outside of Italy?
Once we were convinced of the potential of the songs, we needed to record with someone who knew how to model, not just digitalize, the disk and Giulio Ragno Favero was the ideal person to entrust this task. This choice allowed us to receive good reviews from both public and professionals.
The EP begins with a inviting guitar riff, a hello and the call to "follow us". How do you hope that fans old and new will react to this material?
The following sentence is "I am your secret mirror", and a mirror never lies to old and new fans.
"In the Cage" is one of the more soulful and jazzy numbers on the EP. What style do you prefer to sing? Are there any favorite songs of yours you would love to cover on a future release?
I let myself go, will you put me in a cage for this??? Now we are focused on the new songs since we have a lot to say. We'll think about a cover later on.
On "Letter to Hell" there are more discordant musical tones in there and it has a harsher feel to it. Were you happy with how these songs sounded in the final mix? Does any one member of the band have the final say as to when a track is complete and if there is more work that needs to be done?
Each of us is born and lives with a distinctive character. "Letter to Hell", like other songs, is a statement written by four hands. My smile so benevolent and evil at the same time is what is that now.. and in the future.
This song is followed by a short spoken interlude entitled "It has arrived". Does this track and the arrival of winter represent a particular part of the Lunainfea story?
The winter's coming is experienced not as a cold signal but as an opportunity to see things through another point of view.
The EP seems to end on a hopeful note, except that Lunainfea cannot forget the events of "Winter '85″. What is your hope that a listener will feel by the end of the album? Do you think you have achieved this?
"Winter '85″ speaks about a child who for the first time has seen snow. This EP contains , not only songs but also an album of old pictures where many people can recognize and find themselves.
The music sounds like it would be a blast live. Have you more songs to fill a live set? Is it your intention to play live soon?
Together we are developing our label Nomadism live-promotion but now we are focused on the disc to give visibility to the band.
Finally, are there any secrets about the band you would like to reveal for our enjoyment?
Lunainfea is a declaration of love for the music and emotional challenge to ignorance. A search with no stereotypes, with a broad creative. This closely inspires us to a symbol, free and pure as a girl in nothing consciously represented by the lunar desert, brings us to rediscover sensations and memories simple, but for us, essential.
Thanks again for the interview and the great music, we wish you well with the EP and future projects.
Thanks you! it was a pleasure.
Links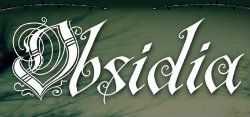 Interview by Marc "Peston" Sels
Obsidia is a five-piece metal band from Austria, with not one but two women in the group : Tajy on the keyboards and Lucrezia on vocals. They have just released a 5 track EP, "Back to Darkness". So this was a good reason to ask Lucrezia some questions.
How's the weather in Austria (February)? Can you ski over there? And do you do that?
Here in Austria the mountains are white and the weather is quite cold. Usually we have temperatures some degrees Celsius, below zero. There is enough snow on the mountains that skiing would be possible, but I go skiing seldom due to lack of time. You know, I prefer our warm cellar where I can play music.
I haven't heard your cd "Back to Darkness" yet, so can you describe it for me? (Lyrics, musicstyle…)
As the title might say we tried to go some years back in time. We aimed to merge the great atmospheric Gothic metal played at the end of the 90′s with our own style and we think that the result is quite presentable. The lyrics are considerable mixed – from the Greek Mythology via vampires to "simple" stories about life.
Is there a big Austrian Female fronted metal-scene? I only know you and Siegfried.
Oh, also very well known female fronted bands like Edenbridge and Darkwell are from Austria. Anyway, the scene in general isn't that big as in other countries. Especially in our area the metal-scene is very Death- and Thrash-dominated.
Austria has been in the worldnews lately with a few less items, Natascha Kampusch, and Hayder (extreme rightwing politician) getting killed in a car accident after leaving a gay bar. Does it has any influence on the music-scene? I can see punkbands jumping on this, but how do the metal bands react?
I have to grin 'cause for me it's quite amusing what Austria is famous for. I don't think that such happenings influence our scene. Punkbands often make their music as protest whereas Gothic Metal should be the kind of music which helps to get out of the daily routine – a way to relax – a way to forget all daily problems.
Okay, now the lighter version. Can you live of being a musician, or do you (and the other bandmembers) have jobs, like most of us (hopefully)?
At least we are not able to live from our music. We spend our freetime for our music because this is our hobby. To earn our money all of us have a profession. Beside some of us study on university.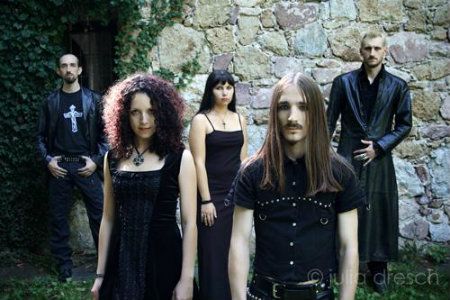 For as far as I know, this is your first CD. Have you got enough material to do a live performance?
Yes- as we're already into song-writing for an upcoming full-lenght-album, we're able to play live. We have played some headliner- and supportshows in Austria and Italy last year and will have our Germany-premiere in May this year.
Do you sing under the shower? If yes, what? What is your all time favourite cd? And what do you play on a sunday morning?
Oh, I sing more often than I know myself; like last week when I recognized that I sing while doing housework. Sometimes I sing totally unconscious – I think this is for me a way to relax. The songs I sing are totally different : sometimes songs of my favourite bands, of course Obsidia songs and sometimes ideas for new songs allthough Sir Iwain (guitar and vocals) is our creative head. All time favourite cd – difficult to say… I love gothic/symphonic metal in general, so albums from Tristania, Epica, Within Temptation, After Forever, Therion, Nightwish….change in my CD-player.
Best book, cd, comic, movie, concert of 2009? And what's your favourite pet, drink, food?
I can't say this is limited on 2009 but I can do it in general. Hopefully this is okay for you.
Best book : I love reading crime-stories like "Speak No Evil" (Rochelle Majer Krich) and I really love reading specialized books about nature, supernatural phenomenons and psychology.
Best CD : I'm really impressed by the "Live Gothic" of Therion.
Best comic : I'm not a big comic fan. Sometimes I watch The Simpsons on TV.
Best movie : Absolutely ungothic, but I love the film "Patch Adams" with Robin Williams.
Best concert : There are many concerts wich impressed me very much but I think the greatest gooseflash that I have got was the After Forever show at Wacken 2004.
Favourite pets : Cats. Because they have this mystical aura.
Favourite drink : Nonalcoholic drink : herbal tea. Alcoholic drink : white wine and gin.
Favourite food : International food from typical Austrian food to Indian cuisine. But I seldom eat fastfood like McDonalds because food has to contain a little bit of love.
What are the plans for 2010? Touring? A new cd ?
As already mentioned, we are hardly working on material for a full-lenght album but we actually aren't able to say anything about a release date. Of course we want to play live as much as possible but we don't know whether we can manage to play a full tour.
And here it is : Can you give us a short history of the band?
Obsidia was founded in the middle of the year 2006 by Sir Iwain and me. We started with writing some songs and then we searched for musicians, which is quite difficult in our area. First live concert was in May 2007, and now we released our first CD.
Especially for the fans, any "Famous last words"?
Obsidia would like to inspire their audience and we hope that we can bring all of our fans "Back to Darkness". In the meanwhile I have heard their first born, and I must say I liked it. Good heavy goth with musicians who know their instrument and a good, strong voice. I see a successful future for this young band, and I hope to be proven right.
Links

Interview by Roberta Ilaria Rossi
Dama is a gothic Italian band that is moving its own first step in the metal music business. I had the chance to exchange some words with the beautiful frontwoman, Barbara, who has explained me a little tricky things about her band and her passion for music. Follow with us what this wonderful lady told in the interview that follows here.
Hi Barbara. Welcome to Femme Metal. How are you doing?
Hi Roberta! I'm fine thanks and happy to talk to you..
You are the singer of the gothic italian band called Dama, band that was born in Milan, after a meeting you had with the drummer Pierfrancesco Tarantino. Could you please tell something more about you and on your band, for those who still don't know your music?
Sure, the Dama project is born in lately 2007 when Pierfrancesco listened to a few of my songs and asked me a collaboration. we officially formed the band when the keyboard player and sound engineer Danilo Di Lorenzo, the bass player Roberto Gelli and the guitarist Cristian Comizzoli join in 2008. During that year we released a promo called "Dama" and we worked on the idea for our debut album "Eirwen" and here we are.
Talking about the name of the band: Dama is the name that you wanted to create for the band and I know that you're a fan of gothic churches. What could you tell about it? Why have you decided this name?
I am a real lover of gothic cathedrals dedicated to Notre Dame. I studied their history, architecture, spiritual meanings, symbology and I visited most of them in France during a summer. When I came back from that journey I was totally in love and I decided to celebrate them calling my band Dama. I think Dama is an evocative word that well represents the world I was creating that period.
Before creating Dama, were you working with other bands or were you already thinking, in the early 2007, to create your own band?
I had a band in 2003 called Veil of Maya with Emanuele Rastelli from Magnifiqat, we played and wrote songs just for fun. Emanuele pushed me into writing and in 2004 we recorded a demo. One of those songs, "Alba", written by my dear friend Federico Rebusso who played guitar in Veil of Maya, has been rearranged by Pierfrancesco and included in "Eirwen".
Dama is not related to the metal world, but it is closet to a gothic rock sound, influenced maybe by some female fronted bands. Do you agree with this? Which words describe best the real Dama sound?
Yes, The Dama sound for this album is a mix of gothic, rock and also a bit of pop. It has something of the melodic symphonic metal from the north of europe too. We've freely used all the ingredients we needed to describe the world I got in my mind.. and that's the result.
A few months ago, on June, your debut album "Eirwen" was released for Ravenheart Records. The album is based on gothic rock, symphonic, maybe also a bit "pop" sound, if we could say so. What was the feedback from fans about this record? Has it got good reviews?
Well, I can proudly say that "Eirwen" has got good good reviews, it has been the top album of SpazioRock in August and foreign people have appreciated the italian part of the album too, that was a challenge! I think that our artistic intent has been well perceived and the "Eirwen" world now has a lot of inhabitants:). What we've read mostly is that this album has a unique and elegant sound, and someone wrote I am a poet;) . I guess we could say that the feedback has been positive!
The title of the album, "Eirwen", initially, only by reading, reminded me of something related to the Celtic worlds; but where does this name really come from and why have you guys chosen this for your debut album?
When we had to decide on the title of the album, I asked myself which language would have been the best since it is both in Italian and English, we thought that it had to be something which could be read in both languages or which on the other hand, shouldn't be of any of the two. Given my passion for the the celtic world, I decided on an word with a celtic origin. Eirwen means "white snow" in celtic and is composed from the word "eira" which means snow and "Gwen" which indicates white and everything which is pure, absolutely the perfect title!
The album consists of "two sides": "Immaginario", which mainly contains tracks written and sung in Italian, and "Imaginary", the English side. Why did you choose to re-propose the same songs in English? What did you want to bet when you recorded the album?
We only wanted to play what naturally came from us.. when I write the songs at the piano they come out with a linguistic identity; Some of them come out in Italian, some in English and I know that some can be played in both languages and some absolutely not. And that's what happened. Italian is a beautiful and evocative language and it's been fundamental to create the "Eirwen" world.
Who of you does it write the music, basically? Which has been the resounding part of recording this album? How much of yourself is there in the record?
I wrote all the music and words by myself at the piano, except the music of "Alba" ("Breaking Dawn" in the english part of the cd). After the composing step we worked in studio together where the magical mind of Pierfrancesco has created all the arrangements. Finally Danilo as our soundengineer has refined the original intentions working on the sound. We've had great, great moments! I can tell that in this record there's all of me thanks to my partner's work.
What does it mean, for you and the guys, this album? What is its real meaning?
"Eirwen" as I said is a world, a world made of ice, passion, love, whispers, woods, nights and rebirth. A story of an "emotional defreezing" through the rediscovery of love. It's been a deep and intense work for us… I think we'll remind those days forever!
You're the main writer of the lyrics. Where does the inspiration come from, in order to create a very good lyric?
Inspiration comes from life, experiences I live and fantasies I have… The books I read help me to find my own way of writing too. For example the song I called "Eliot" has been inspired by Thomas Stearns Eliot's poem "The Wasteland". I write instinctually, words and music often come out together… even though sometimes, when I define the lyrics, I get stuck with a word for days!
How many autobiographical sides are there in "Eirwen"?
"Eirwen" is completely autobiographical
Last year, your first videoclip has been released, "Regina d'Inverno" (very nice video). What can you tell about it?
Thank you! I loved the shooting, it's been a great day! We were in a suggestive place in the reserve of the casentinesi forests, the director Stefano Bertelli has made a very good work and we 've had a good time. The location was perfect for the atmospheres of "Regina d'Inverno" and helped me to feel in the right mood to perform.
In this album, there's also a song by Madonna: "Live to Tell", rearranged in a gothic key. Why did you want to make this song?
I decided I would be an artist the first time I saw Madonna performing live.. I was 6 or 7. I've been loving "Live to Tell" since I was a child and this cover is a tribute to an artist who enhanced my passion for art during the childhood.
Barbara, I should say that I've been quite impressed by your voice. How did your music education/music growth happen?
Thank you again Roberta, I began to approach the piano when I was about 11 and at the same time I discovered my voice and I tried to compose my first songs. I took my first modern singing lesson when I was 18 and I've never quit!.
I know that you had the great pleasure to cooperate with Anastacia. What can you tell about this cooperation? Which are your impressions about it/about her?
I've written and performed the main part of the soundtrack of the movie "All You Can Dream" in which Anastacia played herself but I've never met her personally. I guess I'll have the pleasure to know her when the movie will be released in theaters in April. "All You Can Dream" is a family movie and I've had to write songs really far from my "artistic habits", it's been funny… as a songwriter I love writing for different situations and for different genres, it tastes like playing different roles for an actor.
Have you ever thought of cooperating with some other musicians in future? Who would you like to cooperate with?
I love to have the opportunity to collaborate with other good musicians 'cause it always allows you to learn new things. Recently I've recorded a song called "Berenice" for the death metal band Wake Arcane which will be included in their debut album "The Black Season". For the future I'd like to collaborate with a foreign artist or band, I really, really would love it!
Which are the bands or the musician that have influenced you the most and that, now, still influence your music tastes?
Tori Amos and Kate Bush above all! I obviously love female fronted bands as Evanescence, Within Temptation, Epica, Nightwish, The Gathering and Lacuna Coil. I am an omnivorous listener, from classical music to grunge.. I love russian composers in classical and on the other side indie bands and songwriters from all over the world. I got an open approach, everything touches my emotions is welcome to my playlist!
Now that the album has been released, will you focus yourself on some other new project?
We are working on a soundtrack for a book of a young italian writer, it's a very interesting project! You'll listen to our new song called "Echoes" soon, I can't wait…
Thank so much, Barbara, for the very nice chat. You have the chance to speak to Femme metal users and to Dama fans. What would you like to say?
Thanks to you and to all the Femme Metal Users! Have a great 2012 and Keep supporting Dama!
Links
MySpace * ReverbNation * Facebook * Site
Latest Multimedia
6 color styles available:

Style switcher only on this demo version. Theme styles can be changed from Options page.