Browsing articles tagged with " solitude"
Label : Solitude Productions
Review by Vard Aman
When I first came across Amily (from Rivne, Ukraine), they were marketing themselves as Funeral Doom – slower and bleaker than traditional Death Doom / Gothic Doom, (but not quite as slow as Drone Doom – a kind of Doom Metal where the drummer has time to leave the stage, go to the bathroom, buy a beer at the bar, drink it, chat to a few friends, update his Facebook status, return to the stage and still be 10 minutes early for the next drum beat…. so he goes off again to buy another drink, has a few shooters while he's at the bar, gets drunk, forgets the time and ends up missing the next drum beat altogether totally messing up the timing of the song and throwing the rest of the band completely out on sync… pffffft… drummers! Well, OK, perhaps a bit of an exaggeration there…) Anyway, the first two songs I heard from Amily were the demo versions of the title track to their then upcoming album, the bleak and heavy "To All in Graves", and the immense and beautifully crafted "Fading Image of My Own": both songs that made Amily a name to keep a very close eye on in the future. So the release of their album when it came was cause for some excitement.
Interview by Ed MacLaren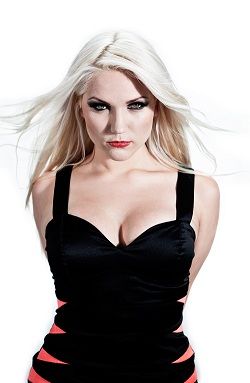 Hearing a band's debut album for the first time is like digging up a treasure chest. You have no idea what's in it but you're hoping that, whatever it is, it's going to make you rich. Uncovering "Breaking the Stillness" – the powerful debut album from Finland's  Shear – is a treasure in its own right – a refreshing and engaging listen that will reward your ears again and again. The album is built on catchy melodies and progressive arrangements but what really raises the eyebrows are the balls-out voice of singer Alexa Leroux. On each track, her vocals cut loose adding some grit to the polished music underneath. Femme Metal Webzine got the inside scoop from vocalist Alexa Leroux on the new album, her powerhouse vocals and how classical training works well in the metal world.
Welcome to Femme Metal Webzine, Alexa! Congratulations to you and the rest of Shear on "Breaking the Stillness". An excellent debut album!
Thank you very much! Glad you like it!
Shear brings a sonic cornucopia to the ears – crunching riffs, swirling keyboards and powerhouse vocals. This album will definitely appeal to fans of power and symphonic metal not to mention the progressive metal faction.
Well, thank you, once again. Our album is a little more melodic mixed with progressive, than symphonic, but I hope it reaches fans of different metal styles also. I believe it's diverse enough, so even if people don't like all the songs they might find some elements they really like.
Are you excited? What are your expectations for the album? The prediction here is that even though it's early in the year, you could be seeing "Breaking the Stillness" on some best of lists at the end of the year.
I am very excited about having an album finally come out. I can't really predict anything and in a way I think it's better I don't even try to, but it would be totally awesome to see it succeed.
Track for track, "Breaking the Stillness" is a powerful listen from start to finish. What's the secret to maintaining that kind of momentum over a whole album?
We really took our time writing the songs. Every song was written with a purpose and they all come from a very personal space, so that is probably what helped the most.
Label : BadMoonBad Music/Solitude Productions
Review by Tony Cannella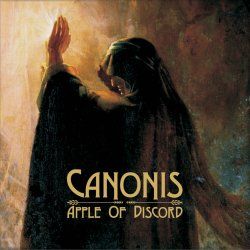 It is odd when a band comes out with a 28-minute compilation EP. Such is the case with "Apple of Discord" by the Russian band Canonis. After a series of Demos – their first of which came out in 1995 – and a single, the band has compiled some of those moments on their new 7-song, 28-minute compilation. Musically Canonis began as Doom Metal band but has since evolved into playing ethereal, ambient music and that is the style that is showcased on "Apple of Discord". On "Apple of Discord" the general tone is one of dark and beautiful music. Their Doom Metal period is clearly in the rear view mirror for Canonis as the songs display an ambience and ethereal splendor to them. There is also a bit of a Celtic, Folk flavor to some of the songs. Throughout "Apple of Discord" I was most certainly impressed with the overall presentation, sound and most of all songs from this talented Russian band. Hopefully a debut full-length from Canonis is not too far off.
Rating – 85/100
Tracklist
Apple of Discord
Memoria Vasta
Arkhaim
The Cold Sea
Snow River
The Aquarell
Amalgama
Line Up
Julie White – Vocals
Emily A.Saaen – Vocals
Tim Spirit – Guitar, Flute, Programming
Mike Deblin – Guitar, Keyboards
Links
Label : Solitude Productions
Review by Si Smith
Norway's death/doomers Funeral have been around for a while now, although we haven't heard from them since 2008′s "As Light Does the Shadow". The album's opener "Hunger" begins with a gentle melody accompanied by the trademark harmony vocals – harmony that is Frode's eventually branching off into doleful lead vocals. Female vocals have always been a part of Funeral's repertoire and for this album they are saved for the album's end. Accompaniment is in the form of picked single notes and low-end chords that deftly creates their sound which is almost constant throughout the CD. Second track "God" is of a similar slow pace to track one, and occupies more or less the same acoustic territory. Some growling riffs punctuate the general funereal terrain of the song. Not as deathly slow as some bands of the genre, the lyrics are elucidated clearly enough to retain the listener's interest. Again the focus is on harmonies, carrying us forward on a wave of solemnity. "Your Pain Is Mine" begins at the same pace once again, although slower interludes allow us to open our eyes to see wider vistas alongside the track's main meandering. With "The Poison" acoustic soundscapes and an initially terser vocal style grant us new visions, after which the traditional soundscape returns and the pace quickens slightly, only to return us to the former once again. The lyrical content of the clean vocals again manages to lift the track above the dark depths we see below, until "Dancing in a Liquid Veil" introduces us to broader keyboard backing and synth backdrops. Grinding low guitar solo lines mix with the keyboards to usher in the remainder of this nine and a half minute epic. "How Death May Linger" once again mixes guitar and keyboard to create another nine and a half minute extravaganza. At this point to some listeners individual tracks may not appear overly distinguishable from others, but this is an album of completeness. The whole experience is neccessary to understand the album, even if at moments we forget quite where we are in the general scheme of things. "Father" somehow appears more orchestral, whilst "Blood from the soil" has some memorable moments. Final track "Wrapped All in Woe" is joined by the female vocals also, as choral backdrop and as ethereal main vocals. This appears to inject new life into the formula, offering a broader listening experience as male spoken vocals also intersperse between female melodies. In short, this album does what it says on the tin. It is slow paced doom metal, varying very little in pace but within that framework every nuance is made as beautiful as possible in its simplicity, whether it be male harmonies or female chorals. An album enjoyed more by listening to the whole than by analysing every track, I think. Just as a symphony is complete across its moevments, this can be seen as a doom symphony across nine movements. Don't overthink it or you might lose the enjoyment of the entireity. A doom masterpiece of our times.
Rating – 80/100
Tracklist
Hunger

God?

Your Pain Is Mine The Rest

The Poison

Dancing in a Liquid Veil

How Death May Linger

Father

Blood from the Soil

Wrapped All in Woe
Line Up
Sarah Eick – Vocals on Track 9
Frode Frosmo – Vocals on Tracks 1,2,3,4
Øystein Rustad – Vocals on Tracks 5,6,7,8
Thomas Angell – Guitars
Christian Loos – Guitars

Kjetil Ottersen

- Keyboards

Einar Andre Fredriksen – Bass

Anders Eek

– Drums
Links
Label : BadMood Bad Music/Solitude Productions
Review by Tony Cannella
From Ukraine comes the Doom Metal band Sideris Noctem. Having already released a demo, Sideris Noctem has just issued their debut album "Wait Till the Time Is R.I.P.". What you get here is 50-minutes worth of somber and melancholic Doom Metal. The mournful intro "First Day" starts the CD. It is a beautiful sounding intro that leads into the heavy, doom riffs of "Wait Till the Time Is R.I.P.". Right away the listener is treated to some fairly technical doom metal and the brutal vocals of Pavel definitely take center stage here.I really like the way the male vocals are done here, as you can understand almost every word he sings. The two vocalists work as a cohesive unit with female vocalist Anna providing a clean, diverse vocal style throughout the CD. Some clean male vocals are presented throughout the CD. "Binary" became my favorite track, as the pace is slowed just a little bit on this and the band present more dark, somber doom. Other highlights include: "Behind the Mirror of the Winters Fall", "Moonlight Snakes" and a cover of the Katatonia song "Without God". The outro "Last Day" brings this nearly an hour's worth of doom to a close. Sideris Noctem has created an albums worth of worthwhile Doom that fans of the genre should come to appreciate.
Rating – 80/100
Tracklist
First Day (Intro)
Wait Till The Time Is R.I.P.
Binary
Behind the Mirror of the Winters Fall
Time Comes To An End
Moonlight Snakes
Without God
Потерявшиеся в обломках прошлог
Last Day (Outro)
Line Up
Anastasia Sverkunova – Vocals (Session)
Pavel Razvodov– Vocals
Anton Vorozhtcov – Vocals (Session)
Evgeniy Chebotarenko – Vocals (Session)
Valentin Chernyak – Guitar
Valentin Falin – Guitar
Alina Vinokurova – Keyboards
Anna Vydrygan– Bass
Denis Badaev – Drums
Konstantin Zmievsky – Drums (Session)
Links
6 color styles available:

Style switcher only on this demo version. Theme styles can be changed from Options page.