Browsing articles tagged with " solo"
Label : Cyclone Empire Records
Review by Luisa Mercier
Black Sun Aeon is the solo project of Tuomas Saukkonen, who is already involved in many other bands (Before The Dawn, Dawn of Solace, RoutaSielu). He used to keep this project to explore other sides of his music mixing gothic, death, doom never losing sight of melody. While the previous work "Routa" was mainly focused on instrumental music, "Blacklight Deliverance" has two guests singers that alternate in the seven tracks: Mikko Heikkilä and Janica Lönn (female singer from Lunar Path). The opener "Brothers" has powerful yet melodic riffing as only Finnish can craft, while Tuomas growls and Janica creates magical landscapes with her vocalising. Towards the end an acoustic interlude makes everything softer and sweeter. There is a real winter mood throughout the song that goes on with the following "Solitude". Continue reading »
Interview by Miriam C.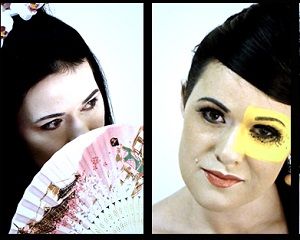 After some painful band splits (we have already seen her in action with Axxis and Xandria), the German singer Kerstin Bischof has decided to going solo (helped by her husband – and former Axxis guitarist – Guido Wehmayer) with her first independent offering called "Project Ava", that at the moment is only avalaible digitally via ITunes. Read what she says about this new musical adventure in the following interview.
Hi Kerstin, first of all thanks for accepting the interview! It's an honour!
Hi Miriam, thank you for the opportunity to talk about my music

As an artist what is your background and influence and what is the fact that triggered you to become a singer?
There is no single fact that triggered me to become a singer. It was always an urge or a drive inside me and I absorbed everything musical around me. A big influence was Kari Rueslåtten when I was a teenager. Nowadays it's artists like Tori Amos and my husband Guido Wehmeyer who inspire me the most. Continue reading »
Interview by Miriam C.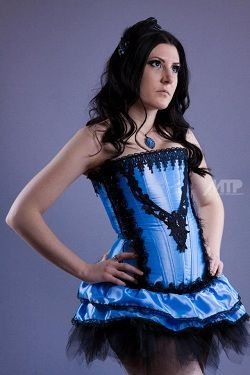 Schoolcraft is the solo musical entity leaded by Canadian singer and instrumentalist Lindz Riot. Recently she landed the touring female singer and keyboards position on UK symphonic extreme metal band Cradle of Filth and for this reason I thought it was a nice idea to ask her few questions about her next projects, her background and least but not last about her (former?) band Mary and the Black Lamb and her last release "Rushing Through the Sky". I'm sure that if you love ambient music, harps and cellos, you'll be get intrigued by Lindz.
Hi dear, how are you? I would like to start this interview asking more infos about your musical background/training. Also how do you manage to balance your classical training with the contemporary one?
Hey Miriam! Thank you so much for having me at Femme Metal Webzine. I actually started in country music when I was a child. I was taught guitar by my dad and that's where my singing started. I think the country style of voice training was a good foundation for me because it taught me the basics of belting as well as softer folky tones in the higher range. Well, I wouldn't call it training more so as just my own interpretation of it.
In my tweens I gave up music for a bit, but then when I turned 15 I discovered punk music and became very passionate about it. I formed an all-girl punk band and that's where I began in the music business and played bass for 8 years. I took lessons twice a week and really developed my song writing and basic theory skills at this time. I sometimes wonder where I'd be if I didn't give up the bass. I'm pretty sure I could handle technical death metal pretty easily, but the bass just wasn't in the cards for me anymore after the age of 20. Continue reading »
Label : Arcane Records
Review by Luisa Mercier
Schoolcraft is the solo project of Lindz Riot, singer of the Canadian gothic rock band Mary and The Black Lamb.
As solo artist, she decided to show us her skills with piano, since she is classically trained, drawing her inspiration from nature, fantasy, orchestral music and trip-hop.
"Your Mind" is a 2-track single which features the title track and "Where You Go".The first is a simple piano-driven ballad, sweet and melacholic. The mood reminds me of singer songwriters like Kirsty Thirsk or Johanna Stevens. "Where You Go" is more electronic based, with a trip-hop vibe. The vocals are more sensual and less naive, feels like floating in the air.  If this is just an appetizer of the album that will come, I will be really glad to listen to it! These two tracks sound really promising and diverse, so I am eager to listen to what she can do on her own! Continue reading »
Interview by Alessandra Cognetta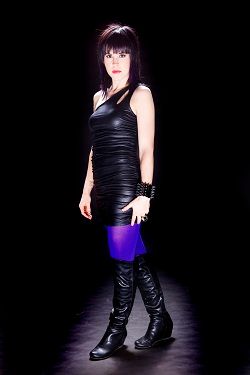 Leslie Hunt is the lead singer of District 97, a prog band from Chicago that is (not so) slowly conquering the American music scene and establishing its own name at home and abroad. Their work is a surprisingly fresh combination of different styles and musical experiences, with two full-length albums released and an ever-growing touring activity. If you want to know more about District 97 (and believe me, you want to), this is the right place to start! 
Hello and welcome to Femme Metal, Leslie! We're really glad to have you here with us. District 97 has just finished their US tour, how would you describe this experience, now that it's over?
I thoroughly enjoyed myself! Each show was a success in its own right, and I absolutely love performing this music. I also love our fans! They are some of the most genuine and appreciative people I have ever met, and I am so honored to be on the receiving end of their loyalty. It was definitely a challenge to play eight nights in a row, especially since my performance style is getting more and more theatrical as our sound evolves, but as soon as we would play the first note, I was able to transport myself to the headspace required to experience the song as if it were my first time.
District 97 has never been featured on our Webzine before, could you introduce the band and its members to our readers?
Sure! I'm Leslie, and I sing, dance and play tambourine sometimes. Jonathan Schang is the drummer, primary composer, bandleader, AND he manages everything that happens behind the scenes, so we all give him serious props. Jim Tashjian plays lead guitar and sings backgrounds. Rob Clearfield plays keyboards and additional guitar. Patrick Mulcahy plays bass. Continue reading »
6 color styles available:

Style switcher only on this demo version. Theme styles can be changed from Options page.