Browsing articles tagged with " sonata"
Interview by Roberta Ilaria Rossi
What a great year for Battle Beast! After a great tour that has seen them supporting Nightwish and a huge change in the lineup, where the singer Nitte Valo decided in parting ways, this band from Helsinki comes back with a super news. Having announced the new vocalist Noora Louhimo, these guys embarked on a new European tour, supporting Sonata Arctica, and they focused themselves on the second (and of the same name of the band) record, already acclaimed by the press as a new masterpiece, so we've got the chance to exchange some words with the beautiful Noora, for a very simple chat.
Hi Noora and welcome to Femme Metal. Let's start our chat with the very first question: would you mind to introduce yourself to our readers?
Hello dear readers, I'm Noora Louhimo. I'm a singer from Finland and been singing since I was 4 years old. My passion has always been music and different ways of expressing myself as an artist. I do many things in music including heavy metal, soul, rock and blues and everything between heaven and hell. Different influences keeps me in balance and inspires as a singer. Continue reading »

Interview by Erwin Van Dijk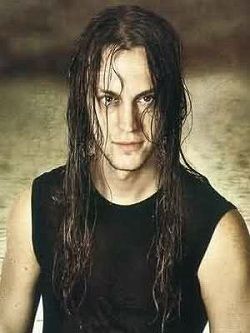 An interview with Mark Jansen from Epica. The band Epica does not really need an introduction. 2009 was a busy year for the band. Epica did a festival tour this summer and released a live album,"The Classical Conspiracy – Live in Miskolc, Hungary". Even better is the news that Epica will also release a new studio album in October. This interview is with Mark Jansen, the mastermind behind Epica.
Did you always wanted to become a guitar player and singer?
No, I wanted to become a cyclist and I also have a master degree in psychology but none of these made it to a profession. When I was 15 years old I went to a show of the Dutch death metal band Gorefest and from that moment on I knew I wanted to be on the stage as well. By then I didn't have the intention to become a singer. I started playing guitar and that was fun enough but when the male singer of my previous band After Forever left I started singing as well.
And did you have any other bands before After Forever?
No, After Forever was my very first band and Epica my 2nd. I never played in any other band.
How do you see yourself, as a guitar player that can do some grunts or as a singer who also can play the guitar?
As a guitar player that does some grunts as well. But above all I see myself as a composer who plays the guitar (… and do some grunts as well haha).
And did you follow any singing/grunt lessons?
No, it was more or less trial and error, grunts should not hurt your throat but everybody who tries to grunt for the first time won't feel comfortable doing it, you just need to find the right way and there you go

What kind of guitars and amplifiers do you use?
We just signed an artist deal with V-empire guitar amps, it's a Polish company and they make damn good amps. We were using Mesa Boogies before and they were good as well but when you have the possibility to sign a deal and get all these great amps for free you just have to grasp that chance with both hands

To what kind of music do you listen yourself and what are your favorite bands?
I often listen to bands which I liked when I was a teenager: Dream Theater, Megadeth, Guns N' Roses etc, it brings back nice memories. A band that I discovered 5 years ago and listen to a lot is Opeth. Besides that I also like to listen to film scores and classical music.
Is it difficult to combine Epica with your personal life?
It's a challenge and I need challenges in my life. My girlfriend lives in the US, so you can imagine it's not easy to combine, but nothing is impossible. At the moment we are 1 year and 8 months together and we see each other quite a lot in spite of the distance. Besides making music, we also manage the band ourselves, we don't want to throw money in the pocket of a lousy manager. The disadvantage is that there's a lot of extra work. But I still manage to have some free time and during this free time I like to enjoy the beauty of nature, sport and watch football

What are your favorite Epica songs?
It's hard to choose as I like many of them. But if I'm forced to make a selection with a shotgun pointed on my forehead I would say: "Cry for the Moon" ("The Phantom Agony" – 2003); "Consign to Oblivion" ("Consign to Oblivion" – 2005); "Fools of Damnation" ("The Divine Conspiracy" – 2007); "Kingdom of Heaven" ("Design Your Universe" – 2009)
I think that the trouble with Transmission Records was without doubt a negative experience for Epica. But what are the highlights so far?
There are many highlights, to name a few: – Lowlands and Pinkpop, playing these great festivals in the Netherlands were highlights; Wacken Open Air (2009) Germany, for me a dream come true to finally play the biggest metal festival of Europe; – "The Classical Conspiracy" and the show itself with orchestra and choir, the biggest highlight so far; Signing with Nuclear Blast, the record company I always wanted to be on since I started playing guitar; Being the first metal band from abroad to play in Tunisia, people were crying of joy, I will never forget that.
And do you have any updates about the Transmission Records situation?
Yes, the label owner signed a deal with Nuclear Blast to re-release the old albums and the previously unreleased "Live in Paradiso DVD".
Epica has two new band members now, both from God Dethroned. The God Dethroned music is very different from the style Epica has. Will the new blood in the band have much influence on the new songs? This is because I've noticed at live gigs (like Wâldrock) Epica has far more energy on stage.
You're right, since these two guys joined us we are a way more energetic band, not only music wise but also the stage performance has become more energetic. The guys have also an influence on the songs as everybody in the band influences the songs so some differences are due to them. But I like it this way, new blood means also the chance to integrate new elements (like solo's) and we did

Where do you get the inspiration for the music and lyrics?
Inspiration is a fantastic thing, you don't know where it comes from and what causes it, it's a mystery

What is the idea behind the name of the album?
"Design Your Universe" basically refers to the capacity to take control over your own life and create your universe. Many people don't live their dreams as they think it's unrealistic and out of reach. I am one of the many prooves that you can succeed, don't fear the unknown and take risks

And can you tell us something about the songs on "Design Your Universe"?
We went quite deep into the details this time. We want to make improvements on every album and as "The Divine Conspiracy" got great critics by press and fans we had to come up with something better this time and that's quite a job! haha. So we worked our asses off to try to make an even better album. My favorite song is "Kingdom of Heaven" a very long song but we managed to keep it interesting, long songs can easily get boring but I think we finally found the perfect ingredients for the longest song of Epica 'till now.
Three songs on "Design Your Universe" are a part of the "A New Age Dawns" saga. This saga has now six chapters. What is the relation between the "Design" chapters and the "Oblivion" chapters?
The relation is that we need to make a change, we lost contact with nature, each other and the earth. We need to get rid to some of our addictions which will destroy us in the end. Like our addiction to earn more money than our neighbour, money is the "antichrist" of our civilization..
You have also recorded a song with Tony Kakko from Sonata Arctica. How was it to work together with him?
Great, we toured with Sonata in Europe and asked him one of these days if he would be interested to record a song with us. Fortunately he was and with his very unique voice he lifts the "White Waters" song to a next level.
There are plans to record DVD at the Metal Female Voices Fest in October. What can we expect?
We will record DVD material, so whatever turns out great will reach a future DVD but if we're not satisfied nothing will happen. The facts are that we are gonna do a big show there, probably the biggest we have ever done. So probably you'll find at least some of this footage on a future DVD together with other concerts. MFVF made advertisements with the message that we will record a DVD there but we don't want to disappoint our fans as long as we're not sure.
Besides the upcoming tour, what else can we expect from Epica in the future?
We don't look to much ahead of us, so I don't know but until the summer of 2010 the whole schedule is fixed already so for like 1 year we know already what to do haha.
And the last question, is there anything the reader should know that I have not asked?
Erwin, you covered it all

Thanks a lot!
Links
MySpace * ReverbNation * Facebook * Twitter * Site
Latest Multimedia
Interview by Marcy Bell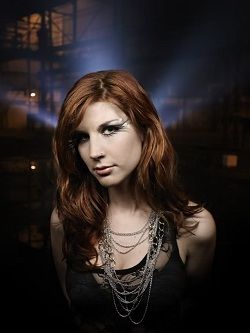 The lovely and talented Charlotte speaks with Femme Metal about the new Delain's album "April Rain" during their tour with Sonata Arctica and more… read all the interview and you will discover more about Charlotte and Delain.
Hi Charlotte, tell us about "April Rain" Delain's new album. What are the differences between this new work and "Lucidity"?
The main difference between "April Rain" and our debut album "Lucidity" is the fact that "Lucidity" was recorded as a project and "April Rain" is a real band album. Back when "Lucidity" was written and recorded Martijn and I didn't have the expectation of Delain becoming a live band yet, mainly because of Martijn's health problems which withheld him from playing live. When the album was done however things got much better and we felt the urge to continue this thing as a proper live band. "April Rain", however still mainly written by Martijn, Guus and me, was also composed with this live band. Every member had their influence on the sound of this album and some really contributed a lot in the writing process.
Mainly all the lyrics are written by you and the music by Martijn and Guus Eikens. Where do you get the inspiration for the writing process? Can you describe it?
Life is the best inspiration. I experience exciting things, good and bad situations, I'm surrounded by interesting people, so I'm nowhere near a writer's block yet! Sometimes I really sit down with pen and paper thinking "I really want to write something now" and pick a topic and go. But more often the words or melodies come spontaneously when I'm in a train or walking through my town or when I'm lying in bed. When I think of something I try to record it (on my voicemail if there's no computer around) because I tend to have a lot of idea's and forget half of them by the time I'm home.
How long did it take to record "April Rain"? Did you recorded it in the Nederlands?
I don't recall how long it took for all the stuff to be recorded, because we all recorded separately at different times and places. Guitars for example we recorded at home, Vocals, drums and base were recorded at different locations in Germany and the Cello was actually recorded in the USA!
Now you are going on tour with Sonata Arctica? What are your expectations?
I had high expectations of touring with Sonata. It's a band I've been listening to a lot when I was about 15 years old so I feel a lot of sweet nostalgia listening to their music. As I'm writing this we're already halfway through the tour and the experience has been awesome so far. The three bands; Winterborn, Delain and Sonata Arctica are a great match I think. We get lovely responses from the audience and I've been singing Sonata's song "Last Drop Falls" with them at several occasions. We're enjoying ourselves!
Recently Delain were headliner at the Metal Female Voices Fest. It was your first time at this festival, wasn't it? How was it?
Actually it was already our third time playing at this festival, it was very nice to be headlining this time. This festival is always good for meeting the colleagues and lots of fans of female fronted bands.
Do you feel that Delain popularity is growing and growing?
I hope so.
Charlotte, what is you music background? Did you take any vocal lessons? Do you play any instrument?
I play the clarinet, a beautiful instrument but not of much use when it comes to songwriting, accompanying your own singing (singing and playing the clarinet at the same time is physically impossible, I can tell.. I tried) or playing in a metal band. So I'm trying to also learn some basics on piano and guitar but I should practice more. I had two years of jazz singing lessons and two years of classical lessons and then quit for a few years. I'm now seeing a vocal coach again to keep my voice in shape for the long touring. I've lost my voice one time on tour and I don't want that happening again, so I'm learning how to use my voice properly instead of just screaming my lungs out every night in a row.
How do you combine your private life with life on tour? Is it difficult? Positive and negative sides?
For me right now everything is still fresh and new enough to be very excited when we're on tour and not miss my own home too much. I do have my moments of missing my love, my family, my cats or just my own bed, but that doesn't get to me too much. Maybe these things will change in time, probably it will get more difficult if you've been touring for a longer time, but I don't know. Time will tell.
What are your biggest heros or models?
Probably the bands I really like myself. I hope I can mean as much to some people with our music, as my favorite music means to me.
How is your relationship with your female colleagues in other bands?
Just fine! They always say that metal is a men's sport so I think we girls should stick together!
You are from the Nederlands, so how is your relationship with bands such Epica, The Gathering and Within Temptation?
You run into each other a lot, so it feels like we're colleagues. There were members from both Epica and Within Temptation on our first album. With Within Temptation it's a special relationship of course because of Martijn's background as a Within Temptation member and the family he has in the band.
You are so young and so talented. Give some advices to young girls who would like to follow your steps.
You're making me shy.. haha. Uhm, well I don't know, I don't think I did anything special except for taking every possibility that came to me when it comes to bands and music. But maybe that's a good advice. Of course it might mean that at one point you're in three bands and a project at the same time, but it's a great way to gain experience.
How is your relationship with internet? Do you stay in touch with your fans and friends with any of the new social network such as MySpace, Facebook or Twitter?
Pfff, It's awful, when entering a venue the first thing everybody does is looking for wifi. You can see everybody wandering around with their laptop in their hands searching for the best connection while screaming "What's the key? What's the key?" in panic. We have a lot of social networks, Myspace, Facebook, Hyves (Dutch thing) but personally I like Twitter the best. I've become a real twitter addict lately.
Future plans for Delain?
Making a kick-ass third album!
Links
MySpace * Facebook * Twitter * Site
Latest Multimedia
Label : Napalm Records
Review by Tony Cannella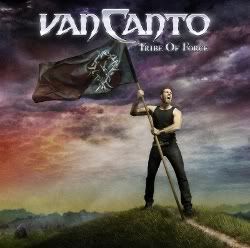 A Cappella metal. What a concept! Some may think that the idea of playing metal, minus the screaming guitars and bass would be corny and just wouldn't fit in to what most people consider to be metal. The German metal band Van Canto are sure to change that perception with their third album "Tribe of Force". The band includes five lead vocalists and one drummer, with one of the vocalists Stefan Schmidt performing the "guitar solos" with his voice. Stylistically Van Canto are not all that far removed from bands like Sonata Arctica or Stratovarius and other power metal bands.You would think that with a playing time of 55-minutes that Van Canto would have a hard time keeping things interesting throughout "Tribe of Force", but the band manages to do so. From the opening track "Lost Forever" you know that you are in for a different metal experience. The band do a good job in mixing the different vocal styles together to create an interesting sound. Each singer is given a chance to take the lead on the CD with female singer Inga, taking center stage on one of the main highlights "One to Ten". Two cover songs are included, the first one is a rendition of the Grave Digger track "Rebellion" featuring Grave Digger frontman Chris Boltendahl joining in on vocals for a great version of the track. The second cover song is a big surprise as the band absolutely tear into the Metallica classic "Master of Puppets". They do an excellent job on this track, I know it's hard to imagine "Master of Puppets" done a Cappella style, but they really do the track justice. Other highlights include: "I Am Human", "My Voice", "Last Night of the Kings" and "Hearted". The drummer Bastian also proves to be a valuable member of the band as he provides a thunderous beat that really helps drive the CD. The limited edition version comes with a DVD of the band live at the 2008 Wacken Open-Air festival and also includes some behind the scenes footage, making it an essential release for fans of the band. With "Tribe of Force", Van Canto prove that they are more than just a novelty act. The songs on "Tribe of Force" pack a pretty strong punch and they are heavy, even without the use of actual musical instruments. All hail Van Canto!
Rating – 95/100
Tracklist
Lost Forever

To Sing a Metal Song

One to Ten

I Am Human

My Voice

Rebellion

Last Night of the Kings

Tribe of Force

Water.Fire.Heaven.Earth

Master of Puppets

Magic Taborea

Hearted

Frodo's Dream
Line Up
Inga Scharf – Lead Vocals

Philip Dennis Schunke (Sly) – Lead Vocals

Ross Thompson - Higher Rakkatakka Vocals

Stefan Schmidt – Lead & Lower Rakkatakka Vocals

Ingo Sterzinger (Ike) – Doom & Bass Vocals

Bastian Emig – Drums & Percussion
Links
Independent Release
Review By Tony Cannella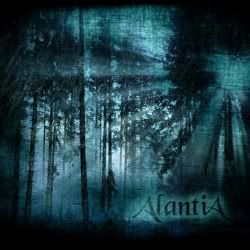 From The Netherlands, Alantia play good symphonic power metal with operatic vocals provided by Yvette. The bands new demo has just been made available and it is this style that dominates the 6-songs and over 30-minutes worth of music. "Solitary Life" is a strong opener that starts off slow but quickly builds and is followed by another powerful track "To Your Demise". The vocals of Yvette are well done as she gives her operatic all throughout the course of the Demo. One of my favorite things about the music featured here is the cool interplay between the keyboards (played by Erik) and the guitar. The guitar duo of Markus and Tom make a formidable pair and keyboardist Erik has some moments where he is allowed to shine as well. The 7-minute third track "Echoes of Perdition" is without a doubt, a huge highlight for me. The overall vibe of the track is dark and atmospheric and it includes some great, heavy guitar riffs. This track is the only one to feature male, growling vocals which adds to the sinister nature of the track. The final track "Deceit" quickly became another favorite. The song is highlighted by some great guitar solos that bring the CD to a close.Alantia has recorded a demo that showcases the bands strong musicianship. The 6-songs contained here should be a welcomed sight for fans of Tarja era Nightwish and Sonata Arctica, still there is plenty here that should set the band a part from the crowded symphonic power metal pack.
Rating – 75/100
Tracklist
Solitary Life

To Your Demise

Echoes of Perdition

Pictures of My Past

The Watcher

Deceit
Line Up
Yvette – Vocals

Markus – Guitar

Tom – Guitar

Erik – Keyboards

Nicky – Bass

Nan – Drums
Links
MySpace * ReverbNation * Facebook * Twitter * Site
6 color styles available:

Style switcher only on this demo version. Theme styles can be changed from Options page.