Browsing articles tagged with " song"

Interview by Alessandra Cognetta
In this interview we get to know a bit more about Trude Eidtang and her newest project When Mary. Their first album, "7SUMMERS7WINTERS" has been released a couple of months ago and it is a well-crafted, passionate work with lots of interesting elements and some of the most original vocals you're going to listen to this year. Trude gave us some really detailed insight on the album and on herself as a musician and as a person. We also get to know a few pros and cons of Norwegian culture and history and discuss songwriting, yoga and folk instruments. But enough with the blabbering, scroll down and read (and listen, too)!
Hello and welcome to Femme Metal, Trude! How are you and how's it going for When Mary? Continue reading »

Interview by Andy Axworthy
After releasing four successful albums in almost five years, the band Van Canto does not really need an introduction. Their 'A Capella' metal has drawn the attention of thousands of fans worldwide over these years. This interview is with Inga Scharf, one of the singers of the band, who talks about the brand-new album "Break the Silence", her music inspirations and the future plans of the band.
Hi Inga! Thank you for your time. How are you?
Great, thank you! Continue reading »
Label : Wormholedeath/Dreamcell 11
Review by Davide Torresan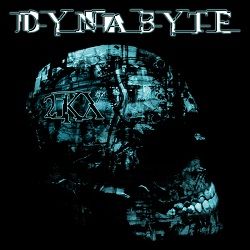 DyNAbyte is an Italian industrial metal band formed in 1998. Their monicker is the fusion of the words "Dynamite", "DNA", and "byte" that can suggest you the sound of this trio (vocals, guitars and bass). After a pair of demos, Cadaveria, the famous singer of her homonymous band, joined the band replacing DyNAbyte's first singer. She has a voice more aggressive than the previous member, and the sound of the band changed becoming heavier. In 2004 they released their first album, "Extreme Mental Piercing", in which they covered Led Zeppelin with the famous "Immigrant Song". This album is sold-out, but you can download it for free from their official website.
This one that i'm going to review is their 2nd release: "2KX". Curious title, isn't it? The explanation of this name is the release's date: 10/10/10. It was a Sunday, an unusual day to release an album.  When you listen to this album, you'll be overwhelmed by songs with a strong impact. Continue reading »
Label: Mazzar Records
Review by Luisa Mercier
Voiceless Void come from Russia and "Song of Black Roses" is their fourth full-length. They offer to the audience a gothic-doom metal played in a rather classic way. Plenty of growling vocals, female vocals, guitars tuned down and lots of keyboards and synth. The opener "Be My Faith" is completely sung by male vocalist and I have to say that I don't like them at all. Way too raw for my ears and they lack violence and despair. The title track follows and we get to hear Olga, the female vocalist. She's got a pleasant dark half-operatic voice that is well suited to contrast Roman, the guitar player and growler. Something different is "Queen of The Lakes" which has an acoustic intro and some nice melodic parts mostly supported by synth and guitars. Listening through the album I have to make a great effort to find something really original, honestly the album is well produced, nicely played but something is missing. That idea that makes you say: "this is actually very good!". It stays an average gothic metal album that lovers of this genre may enjoy but not the others. Continue reading »
Photos and report by Jesse StClair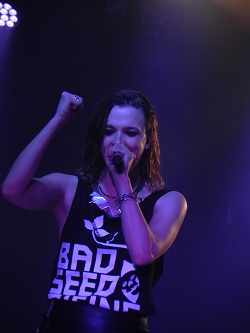 New Years Eve has long been a day of celebration and parties. Everybody knows about the massive countdown in Times Square, New York, but the true party was 3 hours south in a small club in Baltimore, Maryland. Halestorm headlined the Baltimore Soundstage on New Year's Eve to a sold out crowd of 1000 people.
The show was no ordinary concert, but rather a celebration of Halestorm's past, present and future. The night was divided up into two sections: Light and Acoustic as well as Dark and Electric. The first part of the show was the acoustic set. There was no intro music, the lights simply turns on and Lzzy Hale (vocalist, guitarist) walked onstage followed closely behind by the rest of the band. Everybody was dressed in white, and Lzzy even had on a long white gown. Almost right away, the band started playing "I'm Not an Angel" off their first album. Lzzy's powerhouse voice easy soared in the acoustic arrangements, with not a crack or flaw to be heard. Most bands soften their songs for acoustic sets, but not Halestorm. The band left after a few songs, leaving Lzzy alone onstage. Halestorm Rocked harder than most bands out there. Arjay (Lzzy's younger brother and the band's drummer) furiously pounded away on the Cajon drum box while his sister belted and screamed to a cover of Heart's "All I Want to Do Is Make Love to You". The band cleared the stage aside from Lzzy and Joe (the other guitarist). They talked about the old days of Halestorm where they would perform for hours in small bars. They launched into a favourite of theirs back then, a beautiful cover of The Bee Gee's "To Love Somebody" with just the two of them. Joe then left the stage leaving Lzzy alone. She told a humorous story about drinking an entire bottle of wine by herself and recording a song on her record label's voicemail which turned out to be "Hate It When You See Me Cry", which she performed on her own in a beautiful, stripped down arrangement. She then went over to the metal plated piano and played "A Rose in December" which is a song she wrote when she was 16 years old, and Halestorm was in its early days. That wasn't the only rarity in the acoustic set, in fact, most of this section was comprised of older songs, beautiful covers, and newer ballads which typically don't fit into Halestorm's rocking shows.
When Halestorm returned to the stage for the second segment, the Dark and Electric portion of the show, gone were the white gowns and attire and were replaced with black leather jackets, sunglasses and an overall sleek rockstar look. Once again, without any intro music, they dived straight into "Mz Hyde", which possibly is their heaviest song to date. It was quite a contrast from the acoustic set. Despite playing both guitar and singing, Lzzy found the time to run around the stage in her massive stilettos, a task no male rockstar could ever accomplish. Behind her on drums, her Brother Arjay was putting on quite the show. He kept making funny faces and sticking his tongue out at his sister. At one point, he was twirling his drumstick up in the air while using only 1 drumstick to do the part that typically both sticks were needed for. Continue reading »
6 color styles available:

Style switcher only on this demo version. Theme styles can be changed from Options page.