Browsing articles tagged with " soul"
Label: Mascot Records
Review by Davide Torresan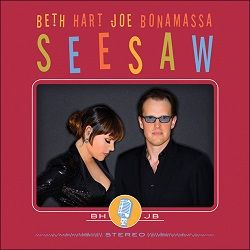 Do you know the saying "Never change a winning team"? Well, the American singer-songwriter Beth Hart and the famous blues/rock guitarist Joe Bonamassa thought the same thing. The collaboration between these two atists started in 2011 when their "Don't Explain" came out. During the tour for the promotion of Beth's last album "Bang Bang Boom Boom", she took the time to shut herself into the studio with Joe to record a new album.
This "Seesaw" is a nice work in which soul, blues and rock merge together giving birth to a cover album that pays tributes to some great artists like Etta James, Billie Holiday, Tina Turner and Aretha Franklin. Continue reading »
Label : Illusive Records
Review by Tony Cannella
From Canada, Embracing Soul was formed in 2009 and released their debut album "Shadow" only a year later. Their style is Gothic metal meets alternative metal, and you can hear this on their new 5-song EP "Luna".
From the opening track "The Raven" the songs are very hard hitting and unrelenting. Vocalist and bassist Chelsea Pisano reminded me a lot of Amy Lee from Evanescence at times. There is no doubt she is an influence and it shows in her style. Guitarist Brandon Iajecznyk is also there to add death grunts to some of the songs. The songs have a raw quality to them, songs like "Luna", "Immortal" keep things heavy and straight-forward. Continue reading »
Independent Release
Review by Vard Aman
Excalibur come from the fairly small city of Orel (Орёл – pronounced Oryol) about 400km South of Moscow, which is just next door in Russian distance. With a name like "Excalibur", you might be able to guess what kind of music they play. Yep, they play Symphonic Power Metal. And in the world of Symphonic Power Metal they certainly live up to their name in the superb quality of their craftsmanship, but not, unfortunately, when in comes to the international fame that they so rightfully deserve. Hopefully that will change.
So, what can you expect from this band and this album? You can expect some of the best material this genre has to offer – a vast dramatic sound full of intricate orchestration; heavy guitars, bass and drumming; excellent vocals (provided by Valeria Nikiforova); plenty of catchy melodies; and of course a few mellow ballad-type songs as well. "Душа" is the third offering from Excalibur, and their second full length album. The album kicks off with an orchestral instrumental and from then up to and including the sixth track the dramatic power of this band is almost relentless – particularly the songs "Дочь Вампира" ("Daughter of the Vampire"); "Душа" ("Soul"); and "ЭВОЭ" ("EVOE") – a powerful and catchy instrumental. Continue reading »
Russia's Voiceless Void has checked in with the following announcement about recording a new album:
"Voiceless Void started recording the fifth full-length album. The album, tentatively called "Music of the Scarred Soul",' will contain 10 tracks totaling about 50 minutes.
"At the moment we recorded the drums, which came through one of the best Russian drummers Andrey Ishchenko, and we are working on the guitar and bass."
Further details on the follow-up to the "Songs of Black Roses" album will be announced as they become available. You can also find more info on the band over at Facebook here. Continue reading »
Independent Release
Review by Vard Aman
Onatra was founded in 2009 in the Ukrainian city of Lviv, and is the brainchild of drummer/composer, Marta Medler; and despite being a somewhat troublesome child at times (breaking up and reforming), Onatra has made some fairly sizable waves in the Female-fronted Symphonic Metal pool. When you hear them, you'll understand why. They describe their sound as "Modern Symphonic Metal" but you might as well read that as "Symphonic Metal", because that's really what it is: good, powerful, multi-layered Symphonic Metal that you can both listen to with your ears and feel with your diaphragm. I have no idea where the "modern" part comes into it, not by its genuine definition (modern as opposed to what? Old fashioned?), and certainly not by its weasel-word definition (no something-core or screamo here). I should add here, however, that Onatra are by no means ordinary Symphonic Metal; they have a distinctive "oomph" that many of their compatriots in the genre lack (but "oomph" in no way equates to "modern").
In January 2012, Onatra released their debut EP called "For Your Soul", consisting of three songs. All three are examples of excellent compositions and display great musicianship, especially instrumentally: powerful guitars and drums interlaced with intricate symphonics (and other bits). Musically, I can't fault any of this and I can't praise it enough, so I'll just say "do yourself a big favour and listen to it" and talk about the vocals instead. On this EP (and the following single), Onatra was fronted by Iryna Vitiv. She is not a bad vocalist by any means, but against the backdrop of the power and the stand-out quality of the music I can't help but feel she is just a little out of her comfort zone. On the title track, "За Твою Душу" (the only non-English track), her voice has a rich and powerful feel to it, and is her best performance on the EP. On the other two tracks she seems to lack the same confidence, and the main reason for this I think is that the other two songs are not suited to her voice or to her style of singing – her vocals are too mono-dimensional. (That said; she excels in the whispered sections of "Shadows' Steps" and in belting out the chorus). "With You" is the main culprit. In my opinion, this song should have been sung in Ukrainian or Russian, or the vocals should have been written in a way that would have better complimented the nature of the music – the first verse especially is a real anti-climax to the way the song built up from the intro.
6 color styles available:

Style switcher only on this demo version. Theme styles can be changed from Options page.