Browsing articles tagged with " sound"
Label: Sound Age Production
Review by Luisa Mercier
From Russia with love. Following their most famous country mates, Arkona, Grai play folk metal, maybe a bit more lively than the one proposed by the band fronted by Masha Scream. This is their second album and is opened by "The Song About Native Land". Even though the titles are in English, the songs are sung in Russian and the effect is very nice. You can hear that there is more than one vocalist; the female vocals are actually delivered by three girls: Irina, Rimma and Alia. The last two are also in charge of keyboards and flute.
These instruments are very present throughout the album, which is more folk than metal, if I had to describe it I'd say that it is very melodic while Arkona is more death-metal oriented. Some growls appear in "Get Up from Your Knees", but it is just a few seconds. Continue reading »
Label: Sound Age Productions
Review by Vard Aman
Alkonost is back! Since 1996, they have deservedly grown into one of Russia's best known and most accomplished Epic Pagan/Folk Metal bands (mixing bits of Doom and Black Metal into their sound). One of their greatest assets was the beautifully smooth operatic vocals of Alyona Pelevina – easily one of the best operatic vocalists the Metal world has produced in my opinion (and in the opinions of many others, no doubt). Incidentally, the Alkonost in Slavic mythology is a goddess of the underworld with the body of a bird and the head of a beautiful woman, and the sound it makes is so beautiful that anyone who hears it will forget everything they know, and will never want anything else again – making Alkonost a rather aptly named band. Now, where was I? Oh, yes…. It therefore came as a bit of an end-of-an-era style shock when Alyona left the band in 2011 (as did their drummer and keyboardist). How does one replace a vocalist like Alyona? (Answer: With Ksenia Pobuzhanskaya, that's how! More on that later). Continue reading »
Label: One Little Indian Records
Review by Matteo Bussotti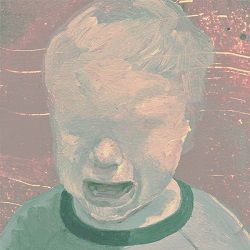 Can we consider "Samaris" as a folk album? I'm saying this because it seems like calm, haunting, relaxed but, in a certain sense, creepy sonorities are what distinguishes Iceland from the rest of the world. Is this kind of music (Do you know Sigur Ròs? You what I'm talking about then) becoming the voice of a nation? I hope so. I really, really hope so.
Samaris' sounds are beautiful, with a strong electronic component, and many ambient sounds which will get you in a relaxed mood and take you on a beautiful trip…full of dangers. There's a small "subtext" across the album: every song may seem harmless, but it gives the feeling that something bad is bound to happen. Like in a horror movie, you wait for something that's going to happen, but you don't know when it'll happen. The result is a beautiful feeling, which really draws you into the album, gently forcing you to listen closely to it. Continue reading »
Label: Sound Age Productions
Review by Vard Aman
My introduction to Andem (whose name is derived from a combination of Angels and Demons) came with the release of their debut album, "Маятник Жизни" ("Pendulum of Life"), in 2008. It was an album that was very well received among many Power Metal fans across the world, but failed to win me over completely; it was their second album, "Дочь Лунного Света" ("Daughter of Moonlight") that did that, with a sound of their own (a style of driving Power Metal with touches of Gothic and Symphonic Metal thrown in) consisting of monster riffs, catchy melodies and well controlled vocals perfectly suited to the music, as well as unforgettable songs such as "Хранитель Мечей" ("Keeper of Swords") and the title track. "Грааль" ("Grail") followed in 2011, a four track EP that consolidated their style and showed progression at the same time (re-recording two of the highlights from "Маятник Жизни" for the EP as well), with vocalist, Yuliana Savchenko, showing a lighter side to her vocals to add to her potent Power Metal style. Continue reading »
Label : Sound Age Productions/Napalm Records
Review by Vard Aman
Arkona (Аркона) have existed for only 10 years (well, 11 now), it feels like they have been around much longer given their achievements. 11 years ago, Masha Arkhipova and Alexander Korolyov, two members of a local Slavic Pagan society decided to form a band called Hyperborea, which a little later, and after gaining more members, changed their name to Arkona (named after the last Slavic fortress destroyed by the Christian invaders). They wasted no time; in late 2002, they recorded and released their first demo entitled "Русь" ("Rus") and followed it up by their arrival on the Russian underground live scene, where they quickly gained popularity. After a a complete line up change around Masha in 2003 (the line up which has been together ever since), their debut album "Возрождение" ("Revival") was released in 2004. Continue reading »
6 color styles available:

Style switcher only on this demo version. Theme styles can be changed from Options page.