Browsing articles tagged with " sound"
Label : Revalve Records
Review by Tony Cannella
Dhune is an alterna-metal band from Italy. They were formed in 1997 and released their debut album "Medusa" in 2007. Their second album is called "Silence of Sound" and it is chock full of chunky, heavy riffs and the duel male/female lead vocals of Elisa Paganelli and Davide Belfiglio (who also plays guitar).
I was impressed with the melodicism of the songs whilst still managing to be heavy. The Pantera like riff opens the album on the song "Addicted", this is a good song, me thinks but there is better to come – right from the start you get a taste of the two vocals and it is quite apparent that they have great chemistry together. She has a clean voice and his is more of a metal (but not grunting, growling or screaming) voice. The next song "Fears You Claim" turned out to be one of my favorites. The vocals are handled mostly by the male Davide who at times sounds a bit like James Hetfield on this one. Continue reading »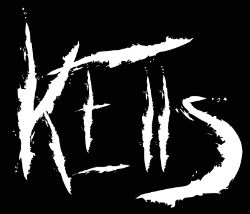 Interview by Ary R.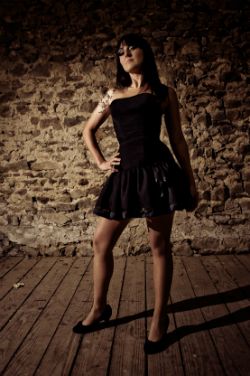 They rocked Europe last year with Leaves'Eyes and Tarja Turunen, and with Epica and ReVamp the former year as well. Now they're back on the music scene with the upcoming album, "Anachromie", that will reveal some other music features of the French rock band Kells. Just read with us what the front-woman Virginie Goncalves told to us!
Hi Virginie. Welcome to Femme Metal. How are you doing? Recently, you've released the new Kells album, "Anachromie". How are the feedbacks from your fans going?
I'm fine, thanks! "Anachromie" has been out for a month now, and it seems that both the press and the fans have praised this record. We are very happy about that because somehow we had chosen to take artistic risks, not to repeat ourselves and to renew our image, and people liked it!
I've been surprised about the title you've chosen for the album, as I've been amazed by the artwork as well. Would you like to talk about them? Who has created the cover and how was the choice for the name of the album born?
In this album, everything in the lyrics is written in a disjointed way, the space-time notion is broken, the reality mixes up with the dream, as in the surrealist genre… Globally, the lyrics are anachronistic. Also, I use many adjectives of color (ochre, silver, gold, amaranth, blue, white, black, saffron, amber, sapphire, sandy…), which gives the lyrics a very pictorial aspect. It is the mixture of these 2 concepts, the chromia and the anachronism, that gave birth to "Anachromie". The cover artwork has been made by Blackthorns Design. We appreciated what he had made for other bands, this mixture of surrealism and modernity, that's why we decided to work with him. The frontcover and the booklet are an illustration of the lyrics… the girl with her bridal veil, with all her dreams, the tortured childhood, the nightmares and the anachronism always there, with the hours of the clock, the tracklist in disorder … as in the surrealist universe, where nothing has any reasonable landmarks or points of reference.
The recording and the creation of the album have been quite challenging. How long did it take to put down all the material, to record it and to mix it properly?
We recorded this album in November 2011, more than a year ago already! We went to Mon Studio in Nancy, to work with Yann (MyPollux). We began with the recording of the drums, then the basses, the guitars, the strings, the choir, keyboards, electro music, to finally end up with the vocals, at the end of November. So it took almost one month, because we prefer taking time! Yann then attacked the mixing in December, and we eventually sent it all in New York to the Sterling Sound Studio for Ted Jensen to master it in february 2011.
Label : Rock'n Growl Records
Review by Disgraced & Luisa Mercier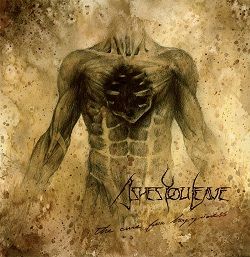 From Croatia with sadness. Ashes You Leave, the historical doom-gothic metal band that started already in 1995, are back with their sixth studio album and a new, hoping solid line-up. Well, I'll immediately say that I'm a long, long time fan of them so many of my judgements might be shadowed by my own liking of the music but two big faults, according to my humble opinion, are present as well and be sure I'll point them out nonetheless. Kicking off with a piece of news most readers of this webzine will be interested in, this is the first record with new female singer Giada (also her first professional record ever), who marks the third woman in a three-records period in the AYL camp and their fourth singer generally speaking. Leaving apart first doomstress Dunja, who marked the mydyingbride-ish sound of their first three albums, and without being rude to Giada's two predecessors (one of whom was an incredibly talented keyboardist as well), it's pretty clear since the opener "Devil in Disguise" that she's the best choice for this band, with a quite distinctive voice which I'll be about again later.
As I just said, "The Cure for Happiness" starts with "Devil in Disguise" which quickly shows you the best the Croatian have to offer; one might say that this album is a bit like "Songs of the Lost" #2, since with their previous album they had abandoned most of the symphonic temptations presented on "Fire" and on the opposite embraced again a slower, more melancholic kind of metal which certainly suits them better. But beware, there are very, very few "nu goth metal" elements here, no Delain or Lacuna Coil-like so to say. A generous solo in the opener track, and the overall heaviness are good examples of that – examples which shold be taken and learnt by many. Of course one of the trademarks of this band, aka miss Batinic's soaring violin melodies are always there but they aren't part of the real own structure of the songs as they did in the past (the firtst three albums reworked the lesson of My Dying Bride's "The Angel and the Dark River" in a quite personal and successful way) although since being Marta together with guitarist/growler Berislav the only two founder members remained - a couple in music and in real life, for gossip's sake – the feeling of a classic sound will be perceived by any old fan, thanks to that subtle red line that separates AYL from most bands in the same genre. Guitarist Berislav Poje, as already mentioned, is also responsible for the male harsh vocals audible hear and there in the most traditional duets à la Theatre of Tragedy with Giada; this marks another big and good return, since it was many years we didn't hear so much manhood in AYL vocals. His growls are deep and powerful, very much death metal alike and very fitting. Second track "Only" Ashes You Leave starts with a beautiful violin-paced movement and seems to be a little less uptempo than the opener; perhaps if Placebo ever decided to play metal they'd deliver something like this – with Molko's already rather feminine vocals it wouldn't be that hard

and let's remember AYL themselves did an incredible rendition of "Every Me Every You" on their previous album. Particularly notable in this song are the guitar riffs again and the groove toward the end of the song born also thanks to the work of the other new bandmember, drummer Sasa Vukosav, who really did a great work with the sticks, and Luka Petrovic's bass skills.
Third track "For the Heart, Soul and Mind" has been released as an online promo single few days ago. Probably that's because it's a faster song with a catchy chorus; strophes are actually the best part in my opinion, with an almost stoner flavour in them and Giada's voice getting a bit acid. In the chorus instead she lets herself be driven by a semi-opera style which comes again in the final vocalizing. Well, this is a point worth of discussion because I think she has a wonderful, warm, natural low voice which makes some tracks simply shine. A bit reminiscent of both Flowing Tears vocalists, past and current, just to give you an idea: they are not the same but that is the what we're speaking about. I think it would be a pity if such a particular singer were influenced by the actual trend in melodic metal and pushed herself to go higher and higher with octaves or to sing operatic-like (although this would help her delivering the "Fire" material) because there are already so many bands with women singing that way while Giada here seems to be quite good at handling lower and more powerful vocals… and there are many examples in the actual "new wave of doom heavy metal with p***y on vocals", just think of Jex Thoth! Add that Etro shares also the same hair colour with Thoth and les jeux sont faits.

Back to our review, what we have next is "The Ever-Changing", a track more difficult to get which proves what the guys are able to do when they let their doom roots grow free in the musical ground. If Giada didn't sing that operatic (she did it perfectly but it's the same as above; think of Mariangela Demurtas singing old Tristania songs, she does it wonderfully but what is unmatchable is her contralto voice, making her resemble a Grace Slick in a metal band) this would be a real 10/10 track! Heavy, melancholic, f**koff guitars, also a bit of evil floating in the background and you have something Draconian would die to write.
Fifth song is "Meant to Stray", which I admit is a song I still have to fully understand, even after dozens of listenings. It's an average midtempo song which simply doesn't impress me like the others, with a certain mainstream rock vibe in it. Following is one of the highlights of the album, smartly chosen as first promo single already back last April. "Summers End", as I commented on YouTube me myself, is an instant classic, without any doubts one of the best songs the band ever created and I would like to speak face to face to both older and newer fans saying it's a bad piece. It's one of those rare songs that immediately grow on you AND even after you listen to it so many times like I did, it's always like the first time. A soft arpeggio introduces Giada who delivers her most passionate interpretation, so full of emotion, in one of the most beautiful vocal lines of the whole album. Lyrics are so meaningful, yet simple and straight, proving that you don't need complicated metaphors to let your inner feelings out: after all, anything you feel is plain and direct inside your heart and mind (and soul, according to track number three!) so why should it become complex and twisted when you give it to the world?
Is this human nature
Are we designed this way
To be unhappy, so uncertain
To live in fear every day
Yet in the affairs of the heart we dwell naïve
So childishly gullible and willing to forgive
And when we're left with nothing but the choking pain
We hope it will be washed away by the autumn rain
Aiming something straight like in this case does not take the magic of the music off, on the contrary it helps you to drown even more in the cloth weaven by the notes. In the middle of the song, before male vocals have their say, we have another beautiful, short guitar solo that comes to life again later on. Also the violin allows to build the whole atmosphere and the initial arpeggio ends the song nicely – one of AYL's flaws is that the end of the songs too often stops sort of abruptly. So we arrive to the seventh track "Reality Sad", a good and heavy stone thrown at you without mercy. Berislav, Matija, Luka and Sasa produced other grinding moments that live will truly smash crowds. Oddly enough, first listenings to this track brought some similarities with Salt Lake City-based band Subrosa to my ears. I should have said "oddly to the maximum", because Subrosa are one of those bands you just cannot describe without sounding too devoted to be objective or anyway, without failing in giving a rightful impression. If you who are reading this love doom metal, both ol' school one and modern styles, if you like stoner/sludge, The Sins of Thy Beloved, '80s darkwave, heavy guitars dissstorted, avantgardness and pure magic in the end, go check them out. Well, fact is that we have doom in both bands, we have violin in both bands, and female vocals too, and above all, the reason why I thought of the comparison, a similarity in the way guitars and vocals speak to each other, the emission of vocals and the sharpness of the axes, maybe it's just me I get this because of the production but hey, that's the impression I had. "The Cure" does not have anything to do with the new wave band but is a beautiful violin interlude; too bad it's so short because it would've been quite original to have it as a full song – and please note that I usually don't like instrumentals. Final track is "…For Happiness" which sadly sounds too anonymous than the rest of the album, definitely not a highlight for me. It isn't a bad song, it also has a good crescendo but as we use to say here in Italy, it's "not meat nor fish". Personally I would have chosen some other ending, maybe with more impact but I'm glad they didn't make any suite or whatsoever because for me it's the same speech as for instrumentals. But hell! We don't have pompous, orchestral metal here luckily! Even though it would be interesting to see a band this kind having their hands into a long, long track that is actually a suite and not a common deathdoomgothic metal llllooong, slllooowww song.
Now, I have already mentioned some major flaws here and there when I met them but now it's time to face the two biggest ones which motivated me to lower my final mark even despite all the love I have for this band (so you see, in the end I succeeded in being impartial!). First one: this is not a doom metal album as the label or the band promoted it and Ashes You Leave are not a tout court doom metal band since ten years. I don't know whose fault is this but if you actually look at promo stuff or statements and you don't know the band you'll easily expect something totally different, like Shape of Despair or Funeral, or even like early Theatre of Tragedy which is without any more words different from what it is and from what the band is nowadays. However, I must also say, especially for newbies, that doom metal is NOT necessarily slowed down to death and does NOT necessarily have to feature all those elements metalheads usually like about the aforementioned bands. Black Sabbath and Pentagram don't use growl vocals, don't have female fairies chanting ethereally, don't have soaring keyboards or orchestral effects and don't have lyrics that deal with shakespearean love. It's a fact that too many young guys think that doom metal is restricted to My Dying Bride or early Anathema and that doom-gothic metal is restricted to Draconian or early Theatre of Tragedy which is completely false. But that is not the full point here; "The Cure for Happiness" depicts usual elements of doom metal, both old and new, but it's simply not SO doom as one might think. It's a different kind of sadness hehe. They're too fast for those who have Unholy's and Thergothon's logos tattoed on their arms and too slow and heavy for most "femalefrontedmetal" (=mellowmainstreamstuff) fans. So if you like or want to explore the middle path or enjoy milestones like Theatre of Tragedy's "Aegis" or "Forever Is the World" or Tristania's "Rubicon" or "Ashes" this album is definitely worth your attention, otherwise you might be disappointed. Second big flow is, for the one who speaks, a mistake they're doing since 2002′s "Fire" album. The production. Everything here is crystalline, polished, well done. Fact is that it's TOO crystalline and polished. It lacks a kind of ravishness which would go along so greatly with the guitar-laden melodies (one of the best points here, don't worry: no keys to build the songs, as it's supposed to be in metal): actually guitars are so sharp and heavy that it's a big pity they don't have so much impact. I say that this was to be detected also on the two previous albums because on the slower first three ones it fitted more, it added to the decadence of the atmosphere, hopelessness and desolation matched by the sound itself. But here it just seems like attacking an army of soldiers with guns and rifles riding a horse and throwing arrows. Moreover, I think vocals are often pushed in front too much and to me (personally) it gives the impression they are not well blended together with the other instruments. Like having your singers doing their job in the kitchen with the rest of the band playing in the living room! So mostly because of this I gave this album the mark you see hereunder but I hope the review says way more than a single number. Plus, it wants to be a kick in the ass for the band to be pushed to do even better next time, so it's because I trust them a lot that I want to force them to improve again more and more, even after all these years.
Rating – 79/100
Ashes You Leave is the most famous Croatian female fronted gothic metal band, founded back in 1995 whent the genre was flourishing thanks to legends like Theatre of Tragedy and Tristania. Their earlier releases are very doom oriented, paying tribute to their main source of inspiration: UK doom band My Dying Bride.With time they developed their sound, mixing it with more atmospheric elements and entering the realm of gothic-doom. In the meanwhile they changed three vocalists and at present an Italian girl fronts the band: Giada Etro.This is their sixth album and compared to the previous one is more guitar oriented even though guitars and violin have not been forgotten as the opener "Devil in Disguise" shows.The song is long, but the vocals are very melodic and make everything more bearable, she has got the classic pop voice and makes everything brighter. Even riffs are more melodic compared to what I have listened of their early releases.First three tracks follow the same formula: long gothic melodic songs with atmospheric inserts of keyboards and violins and growls that appear here and there to contrast Giada angelic voice. In the "The Ever Changing", the song leans more on the doom side with flute and violins, while Giada shows that she can be versatile, using her voice in a darker, semi-operatic way.There is a beautiful atmospheric bridge with violin in the second half of the song. "Meant to Stray" is maybe one of the heaviest on the album due to great presence of growl and guitar riffs matched by violin in background. "Summers End" is more rock oriented than metal, while "Reality Sad" is a shorther song that does not offer much more if compared to the previous songs. "The Cure" is an acoustic break of a minute and a half that will leave you relived after all that metal. Closing track is "For Happiness", classic gothic metal, very guitar oriented. The album is perfect if you are a classic gothic-doom metal lover, if you are nostalgic of the early sound of this kind of music.
Rating – 65/100
Tracklist
Devil in Disguise

Only Ashes You Leave

For The Heart, Soul and Mind

The Ever Changing

Meant to Stray

Summers End

Reality Sad

The Cure

For Happiness
Line Up
Giada Etro – Vocals

Berislav "Bero" Poje – Guitars & Vocals

Matija Rempešić – Guitars

Ana Torić – Keyboards & Flute

Marta Batinic – Violin

Luka Petrovic – Bass & Vocals

Saša Vukosav – Drums
Links
MySpace * ReverbNation * Facebook * Twitter * Site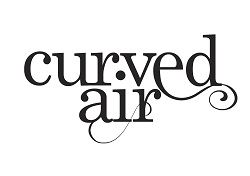 Interview by Matteo Bussotti
It's always an unfathomable emotion every time we have a musician of great importance here on Femme Metal. This time we are really, really proud to have Sonja Kristina, Curved Air's lead singer on our website. Her answers to my questions are simply stunning, and it is an incredible opportunity to interview an artist who's been in the music industry for such a long time. Of course I had to ask her questions about the past, but also the present and the future. Her answers are an insight about how music's world has changed through these decades. It is with great that I, once again, introduce to you Sonja Kristina. I hope you enjoy this interview as much as I enjoyed making it.
Hi Sonja! I must say it is really an honor to have such an important musician here on Femme Metal! My first question is an obvious one: how does it feel to be back on stage?
Thank you, it feels surreal.. timeless and timely.
You are just about to release a live album, "Live Atmosphere". Do you have any plans on recording new material, after your 1976 last album, "Airborne"? (I'm not counting "Lovechild" as your latest album because it was recorded before "Airborne")
This band is very diverse in its influences and also respects the Cuved Air legacy. Yes we will create fine new material together. My first task is to know what I want to say in this time for these times. Each song must explore and express truthful experience – once a song is born it seems so natural but some births are easy some require more gestation.
In which ways do you think Curved Air has changed in this 40 years of career? You can talk as much as you want, feel free to say whatever you want!
I think the first album was very atmospheric and powerful and carried in it the experience of many live performances during which the songs developed. Each album was innovative due to the style and talent of the composers, Darryl Way and Francis Monkman. The second album contained "Back Street Luv" and the great show stopping piece "Young Mother" Darryl became more drawn to melodic simplicity with perfect beautiful arrangements while Francis took the music into more involved and intricate experimental places . This is how they grew apart. After Darryl and Francis and Florian went their own ways, Eddie Jobson at 17 was a perfect replacement to satisfy the expectations that Curved Air produce classic dramatic progressive music. Francis's alter ego within the original line-up was his brilliant edgy guitar virtuosity – also a hall mark of Curved Air. Kirby Gregory took over that role… also young he kept the rock energy high and was a very exciting performer. Mike Wedgwood contributed a couple of songs which added to the album's diversity and I am very pleased with these interpretations of my songs, "Easy" and "Elfin Boy". This album, "Aircut" is my next favourite after "Air Conditioning". Then when the original group reformed and we recorded our live performances something was revealed that was not on the studio album. "Live" caught me in full flight, raw and abandoned… out of control, not fettered by expectations of perfection. It is a great imprint of the power of Curved Air in the moment. "Love Child" is sketchy… my four songs were recorded as ideas for the next Curved Air album after "Aircut" but the band had disbanded, I am happy that they are available now though. "Midnight Wire" was a strange period, it had a more American bluesy influence from the new players . Darryl enjoyed this colour and his melodic pop inventions were embroidered with riffs and funky elements, I was in a dark place so my friend Norma was my voice lyrically, speaking my reality, I couldn't write a sensible sentence at the time. "Airborne" was in my opinion a collection of diverse styles – a band with no direction, different writer's statements, I like "Broken Lady" best, an intimate personal song.In 1990 after years of our individual projects the original band re-grouped and played two shows : the first of which, a magical, historic night was recorded through the sound desk and became "Alive 1990″. It was a confident dynamic reminiscence and it is good that it exists as a very rough recording. Curved Air today is a cauldren of potential. We are truly truly alive : new players, Paul Sax, Robert Norton, Chris Harris and Kit Morgan adding nuances and fresh interpretations of the best of Curved Air's history and forming new masterpieces to add to the future albums and for the audiences who have welcomed us and are hungry to hear this music again played live to to hear what will be created next. This was why we recorded "Live Atmosphere".
And…what about the music industry? How was in the '70s? And how it's changed now? You don't have to be "gentle", if you think something, tell us, I give you the permission to be as nasty and honest as you want!
In the 60s and 70s great independant rock groups and artists were very fertile but there were not so many bands and recordings available as there are today. There was a great thirst for the exciting and inspiring material that people were hearing on the new independent and pirate radio station. Radio Luxemberg was very influential and the 'underground' scene that spawned psychedelic, cosmic and progressive fusion bands as well as singer songwriters and folk influences. Then there was Lou Reed and David Bowie. The New York charged Punk era was a different colour of stripped down direct communication and theatricality. The Eighties were weaned on the sixties and seventies and kept the punk theatrics and pop explorations and launched the mighty robotic Art of Noise bass and snare sound, new voices. The Police, the Smiths…. The Nineties was the era of Ibiza house dance computer white label DJ music, everyone was the star at the raves and clubs, always little fringe clubs too with all kinds of genres being explored in the back ground… in the foreground rap and Damon Albarn, Nirvana and Oasis. Now there is so much diversity from Radiohead to Sigur Ros. However the media generated X Factor etcetera is a talent contest that seems to regurgitate and reproduce and never find the soul of this generation listening to the past great performers and waiting for inspiration.Today everyone can broadcast themselves, record themselves, everyone one has a voice and there is so much that is not transporting or truly inspiring : Justin Bieber and Lady Gaga and the boy bands and girl bands are charismatic entertainers amplified and adored but this in not all that people want?
Sonja, how did you get started? Why and when did you start singing?
As a young child aged 7 I used to recite poetry at school and loved creative writing. Both I found put me in an altered meditative state that I enjoyed, as a result of intense imaginings, I learned to play a little piano and then a little guitar and learned songs from a book of 101 American Folk Songs. When I sang them people became entranced and were encouraging, so it was a rewarding activity also there was much of interest in acoustic music folk styles and blues and songs and singers – I heard Buffy Sainte Marie and her passion and beautiful delivery and songs were a big revelation, the Incredible String Band later, Robin Williamson's unique melodies especially delighted me, Bob Dylan's word weavings. I also was a fan of Dusty Springfield and the early Rolling Stones, I learned songs I liked and began to write some of my own and found folk clubs were places where people like me could show up and sing..
What was the main reason that got you say "Ok, let's do this, let's get back on stage" back in 2009?
Darryl Way had been asking for several years if we could try a reunion tour and Francis and Florian were up for it. However I was busy writing and recording with Marvin Ayres as MASK and I felt I couldn't divide my creativity.Then in 2008 Marvin and I had finished our second album "Technopia" and Darryl asked again so I thought that it would be a positive time to try taking Curved Air out and continue what we had started so many years ago. Francis however wanted to start again with new devised material and not deliver past songs and Darryl wanted to perform the best of our old material. They could not agree so Francis dropped out. After a few months of touring Darryl found it all too stressful and became unwell so he dropped out too. However we had already a wonderful guitarist and bass player, Kit Morgan and Chris Harris, and to replace Darryl I invited two musicians I had worked with in the late '80s /90s., violinist Paul Sax and Keyboard player Robert Norton, this is a group of virtuoso players who are happy to tour. Florian Pilking Miksa, the original Curved Air drummer has never played better and this lineup is a godsend for both of us…
You career spans for decades. If you had to pick…let's say 5 favorite moments of it, which ones would they be?
Playing the RoundHouse in Camden Town in 1970 and all our concerts there; The opening night of "Hair" at the Shaftesbury Theatre, London in 1968 and the entire run; Running my psychedelic wednesday nights at the troubadour club in Earl's Court in 1967; Playing with my Acid Folk Band on the Acoustic Stage at Glastonbury Festival in 1990 and all through till 96′; Playing in New Orleans in a sweltering arena supporting BB King and all the other US stadiums in 71/72.
And what about the songs? Can you list some songs (as many as you want) to whom you're really attached, for any reason?
David Bowie – "Five Years", "Wild is the Wind", "Golden Years"; Buffy Sainte Marie - "Until Its time for You to Go". Guess who I saw in Paris Janis Joplin: "Me and Bobby Mcgee", "Summertime"; Edith Piaf - "La Vie en Rose"; Jeff Buckey - "So Real"; Dusty Springfield "Snow Patrol" – "Chasing Cars"; Seal – "Kissed by a Rose".
Back in the 70s, why did you choose prog-rock? What attracted you to this musical genre?
I didn't chose it, it came to me. Curved Air needed a singer, I enjoyed their sound.
Can you remember the (almost) exact time when you were aware you were one of the most important prog-rock bands of your time? How did you feel at that time?
When we were rehearsing our set and Darryl played "Vivaldi". It was exciting, I felt this music was important like I knew "Hair" was groundbreaking theatre before the show opened in London and I was privileged to be part of it. I felt the same about this band.
You had lots of line-up changes. What have you learned from every Curved Air's member, how did every one of them influence the band as a whole? Of course, you don't have to list everyone (but you can if you want!), but maybe the most relevant ones (no offense intended for the other, of course!)
Francis Monkman was three things: an innovator of sound manipulation – a fearless guitarist and beautiful keyboard player; Darryl Way played violin in a true classical rock style and immersed himself in the latest technology for sound modulation for the violin and wrote great tunes; Rob Martin was a melodic bass player who also contributed beautiful pieces to "Air Conditioning"; Ian Eyre – flamboyant and dexterous bass player; Eddie Jobson - precocious brilliance, courage; Kirby Gregory – cool, hypnotic – true rock n roll attitude; Mike Wedgwood – loyal, solid great bass player; Phil Kohn - witty , quirky, funky; Mick Jacques – cool, expressive, kind, a real gentleman; Stewart Copeland – anarchic, ambitious and driven, very creative drummer.
Among your seven studio albums, what was the most difficult to record? Or, maybe, the one you're attached emotionally the most?
The most difficult to record was "Midnight Wire" – our first recordings were rejected by RCA so producers were brought in who forced the band to rewrite and rerecord the whole album – a miserable experience.The original version was great unfortunately now lost.
What can you tell us about your involvement in the acid folk movement in the '90s? How did you get attracted by it?
I was relaunching my career in 1988 when my youngest child was three, I was looking for a musical scene where I belonged, to begin again in those times. I returned to the Troubadour club in Earl's Court London where I had heard a "new acoustic scene" was happening, I watched and felt excited by these new young singer songwriters playing without amplification with personality and attitude. I took my turn to sing like I did when thirteen years old : I felt the fear of intimate exposure and began to write new songs. I was invited to play a headline set and sang all new songs accompanied by my new friends then I heard of the psychedelic scene when all kinds of weird and alternative new bands and poets and performance artists were attracting the new traveller hippies and newage punks. I asked to play and was made welcome. I gathered a band of strong improvisers – two brothers who were wild – Simon who played drums and steel drum and Tim who sang and played deep dark acoustic guitar – a brilliant violinist who a friend had seen busking with a street band – Paul Sax (now the violinist with Curved Air) a five string bass player and a fifteen year old child prodigy cellist. We played clubs and bars and colleges and festivals, sometimes unamplified – without even a mike, at other times electric and loud, with an oil wheel lightshow even in the most serious folk clubs. We toured for 7 years.
And what about your solo career? Did you get the chance to express ideas and explore things you couldn't have done with Curved Air?
My solo career is just continuing what I did before Curved Air, writing songs… except creating with my own bands and musicians and lately with an inspiring modern- classical composer/ multi instrumentalist Marvin Ayres.
Progressive rock now is not very followed worldwide nowadays. Talking about your fans, do you see new faces at every gig, or do you have your "high-fidelity fans"? I mean, how do younger people react to your music? (Needless to say that as soon as you'll come playing to Italy you'll see my face among the crowd!)
I have been in Italy on Halloween October 31st at the Xroads club in Rome with your band Oak who play progressive rock of their own and also covers of other progressive songs and instrumentals, I have been their special guest and they have been playing some Curved Air songs and I have sung other songs with them.There are young progressive rock bands in the UK who have supported us at concerts and festivals. They heard progressive music when teenagers and started writing their own music, yes there are new fans and children of old fans and people who are seeing Curved Air play for the first time as well as those who have followed the band for many years.
What can you tell us about your experience with musicals? Did they influenced you as a musician, or maybe gave you "hints" on how to act and entertain the public on stage during your concerts?
I was lucky enough to be in the Rock Musical "Hair" which did transform me from a static singer into someone completely at home on the stage. I had acted and been to drama college for one year but this was completely different – it was about being free on stage rather than forma stage craft. So when I joined Curved Air it was this experience I brought with me. I think of performance as shamanistic rather than disciplined, an exchange of energy between audience and performers, working with imagination and inhabiting personas. I also played in a traveling show of cabaret style French Piaf and Brel and other beautiful classic songs with strong English translation, "The French Have a Song for It ". Marsha Hunt, who also starred in Hair, wrote a musical and I played the female lead in that in 1982, I acted and sang in a musical play for TV in 1980 "Curiculee Curiculaa": I found these all enjoyable, not least because I love being part of a company, a group of people engaged in entertaining an audience and telling a story through Drama. I have played in theatre in straight plays also.
Now, a more "general" and more difficult and serious question. What do you think about how the world's changed in all these years? In all these years, you've seen some big revolutions, both political and intellectual (and musical, of course).
Yes, we are in times of great change and innovation, on the brink of great upheaval in lifestyles and government. The 60′s hippie dream seems far away but also integrated into the present time with "green" policies yoga, Tai chi, meditation, vegetarianism and rapid social changes between now and then that now seem unextraordinary. Such as women, gay and racial equality and the and the all seeing Internet.
Now that you're fully back on the scenes, what are your plans for the future, both as a person and as a musician? Do you have any upcoming important projects as "Sonja"? I mean…let's say, just to make an example…maybe you're organizing some big event? Just saying, it would actually be great to see a big festival full of important bands' reunions, like a big prog-rock fest!
I just look to get through every next day with an open heart and clarity and joy, to be free to jump into new arenas. This Curved Air band of superb players' development is important to me and also the potential of continuing my work with Marvin who is now the Curved Air producer too, I would like to do some quality film drama work and theatre too, plays rather than musicals.
Well…there would be lots of other things to talk about, but I think for now it's all! Thank you so much for your time, good luck for everything…and I hope to see you soon in concert!
Thank you Matteo – Curved Air "Live Atmosphere" has been released on 12th of November .
Links
Interview by Connie Bach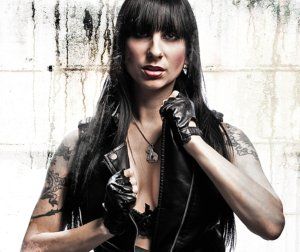 Rock with attitude. This is Sister Sin's personality. The "attitude" aspect is loud, edgy, and melodic. If you are furious with someone this is a great album for the situation. And if you are not in a rage, there is energy for entertainment, and plenty to spare.
Hi, Liv. What's going on with the band right now?
Hi! Right now we are playing lots of shows in Scandinavia and doin' some tours in Europe, we hope to be back in US early next year! The album is just released in Japan too so hopefully we will get the opportunity to do a tour over there next year too. This one's for the whole band. How did each of you get involved in rock music? What's your background?
Liv : Well, I started to get into rock in my early teens when I found Nirvana and Hole, and a Swedish metal band called Drain. Drain had Pantera as their favorite band and that got me into Pantera and the heavier stuff. I so wanted to become a rock star that I forced my to best girlfriends to start a band with me. After a while they got into it too ha, ha… We were called Sisters of Kali and we´re very, very dark and angry on everything. Jimmy : I got into rock music seriously when I was around eleven years old. I loved Metallica and Pantera at that time which friends introduced me with. Then I discovered more extreme music such as Slayer, Sodom, Entombed and later on bands like Morbid Angel, Deicide, Suffocation, Gorefest and also a lot black metal. I played in many bands in those days, mostly death and black metal bands. Then I had a break from playing and one day I heard from a friend that Sister Sin was looking for a new guitarist, knew nothing about who they were. But I gave it a shot since I always had a soft spot for classic hard rock and heavy metal. It turned out to be perfect! Dave : I stole all my brother's heavy metal vinyls after discovering Vanessa Warvick hosting "Headbangers Ball" in the early nineties. After that I got in to a lot of punk, hardcore and eventually black metal as well. Started playing guitar back then but moved on to drums for the usual reason that there weren't any drummers around. And here I am today, piss poor but happy with a Metal Heart, ha ha. It's been a few months since Benton, Sister Sin's bassist, unfortunately had to part ways with the three of you. Liv, how is the search for a new bassist going? What challenges does a change in line-up present, even with the qualifications you have in mind?
It's always very hard to find replacement for someone that you liked and that suited the band so well and we have been thru this before so we are pretty tired of this whole bassplayer thing. That's why this time we really need to find someone that has the passion for music and touring that we do and that could dedicate their life to this band. Even if you do find someone who is technically qualified the most important thing is always the social aspect. When spending so much time as we do in a van you can't have one guy you wanna choke to death every half hour. I think we´ve actually found the right man for job but he´s gonna do at least one tour before we make it official, for both parties sake.
Why does Sister Sin require that the new bassist have studio experience?
Do we? Ha ha… I didn't know that. No, but I guess it´s more of sorting out the serious ones, like we get so many e-mails from people who think that anyone can play bass and let me tell you; just because you can play guitar and get by doesn't mean you can play bass. What are you expecting with the tour with Grave Digger and Grand Magus?
I think that will be a blast! We haven't toured so much in Europe with all the focus that's been on U.S last two years so it´s gonna be cool for sure and we are hitting some very interesting countries as well, so I'm really looking forward to that.
What determines where a tour takes Sister Sin, or any other band? Why?
Since we haven't really sold shitloads of albums around the world we can't exactly pick and choose where and when we wanna tour and whom with. Many people ask why we go on tour with bands like Arch Enemy or OTEP and the reason is just that we got offered those tours and we need to be on the road all the time. Got nothing against any of the bands we´ve toured but yeah, if we could choose we would definitely tour with headliners that are more close to our genre and fan base. We´ve been over totimes and the reason for that is that our label has spent more promotion over there and we need to back that up.

Liv, you are featured as "Miss November" in Revolver's "Hottest Chicks in Metal" calendar. How do you feel about the award? Nice job. The reason I ask is that for some it is a source of pride, whereas some feel it mocks women in metal.
For me it's a pride!! I'm very, very glad to be one of the girls in that calendar, it's an honor. I truly can't believe it really, I'm just a working girl from Sweden and a big American rock magazine wants me in a calendar ? That's so cool! And I don't understand these people that think it's mocking women, if you are a beautiful woman with a talent, show it! Both your talent and your beauty, that calendar is a way to celebrate both in my opinion! "True Sound Of The Underground" did quite well on the charts. What does that mean for the band?
Of course it means a lot to know that people enjoy our work and that we hopefully can inspire others with our music. Not that you have to sell a lot of copies these days to end up on a chart but it´s a nice motivator for us that there is a growing market for the kind of music we play. Do each of you have a personal goal that you are fulfilling through being in Sister Sin?
Jimmy : Yes absolutely. I get to play guitar just they way I dreamed of when I first picked up a guitar and all the countless hours of practice finally pays off with releasing albums and touring, it certainly is a privilege and a dream come true.
Dave : Ever since first got in to heavy metal I always wanted to tour and see the world. And now I get to travel, see new places, new people and be on stage every night doing what I love to do. I've never dreamed of making lots of money (although it would be nice! ) and playing big arenas, I'm just glad that 3 nobodies like ourselves who have been stuck in a rehearsal studio for 5 years never gave up and it´s paying off the way I always wanted it to do. Liv : This is my personal goal, to be able to be in a great band and play live all over the world! One thing that would make it even better would to be able to live from the music one day, that's very much a goal for me. To just live 100% for the band, now I have to share my time with my job as a personal trainer.

Liv, Sweden (especially Gothenburg) has a huge metal scene, with many famous acts. Why does this scene influence Sister Sin?
I really don't think there are any Swedish bands that influences us really. There´s a lot of extreme metal coming out of here which obviously is what Sweden is mostly famous for in metal. A lot of those bands, like In Flames for example definitely inspire in another way though that you can make it if you just hang there, never quit and be true to what you love. Liv, Dave, and Jimmy, thanks a lot for your time. Your musical energy and commitment to Sister Sin is impressive. Hopefully we'll see you in the States again soon.
We will be back 4 sure!
Links
MySpace * Facebook * Twitter * Site
Latest Multimedia
6 color styles available:

Style switcher only on this demo version. Theme styles can be changed from Options page.