Browsing articles tagged with " sounds"
Interview by Ed MacLaren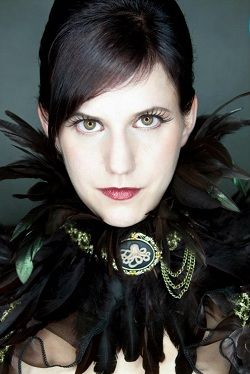 German folk-metal septet, Lyriel, have taken a giant musical leap forward with its latest album "Leverage". Fully embracing its inspirations and influences, Lyriel have crafted a singular listening experience that will embrace you with its soft gothic string arrangements while bludgeoning you with its pounding riffage. Vocalist Jessica Thierjung took some time to talk to Femme Metal Webzine about the new album and what lies at the core of Lyriel's sound.
Welcome Jessica! Thanks for joining Femme Metal Webzine for this interview! Congratulations on the release of "Leverage"? It sounds like your strongest album yet.
Hi! Thank you and yes; I am very, very excited about this release! "Leverage" means a lot to us. We are very proud and satisfied with it.
"Leverage" is a powerful and melodic album for sure – heavy and incandescent. The band obviously has high expectations for it.
Yes, we have. It was our aim that the production and songs should surpass the previous productions this time. We wanted the songs to be straighter than ever before and really grab the listener.
There are a lot of different styles battling for control on "Leverage" to great effect. Do you spend a lot of time experimenting with unorthodox arrangements and sounds?
To a certain extent! We've tried lots of sounds to make sure that the recordings sounded "clean" this time. We were much more meticulous than on the previous albums. Several times, we've re-arranged, re-recorded or made new vocal recordings in order to be satisfied with the end result!
"Leverage" seems most successful when it fully integrates the folk and metal styles. How do you find a balance within songs like "Parting" and "Aus Der Tiefe", or is the hybrid a natural sound of the band?
This hybrid is what Lyriel is all about and it's what defines this band. The Lyriel – style has grown quite gradually… Every band member has musical experiences that have grown from different kinds of music, so it's a constantly evolving process!
"Leverage" brings the heaviness out more so than your previous efforts. How would you describe the evolution of Lyriel's sound from "Paranoid Circus" to "Leverage"?
It's really the first time that we've had enough time to really refine our songs properly, I feel. Pleq from the Panic Room in Sweden mixed the songs and left a real trademark stamp on them! His clear and powerful mixes were exactly what we'd been looking for since the beginning and now I think we'll progress more and more.
Tracks like "The Road Not Taken" showcase the melodic, classical side of the band as well as its command of mighty riffage. Is that the sweet spot where Lyriel finds itself most comfortable and able to showcase its range?
Absolutely! Without a song like this, this really wouldn't be a Lyriel album because this is one part of our main musical bandwidth. We are lucky to have four melodic instruments (main vocal, second vocal, violin and cello), all working together, which means that we have so many options to use. And, we really like ballads because we can wallow in all the different melodies. We really love performing songs like this; whilst, of course, loving the harder side to our material as well.
With so many members, how do you combine the acoustic and the electric together in a way that lets everyone showcase their instruments?
It's not that simple but we're always striving to find ways to do it. We decided early on, to give more space to the acoustic instruments and reduce the amount of synthetic sounds on "Leverage". Whilst we were arranging the songs, we were always watching to make sure every instrument or voice will be used to its upper-most; and I think it worked out great!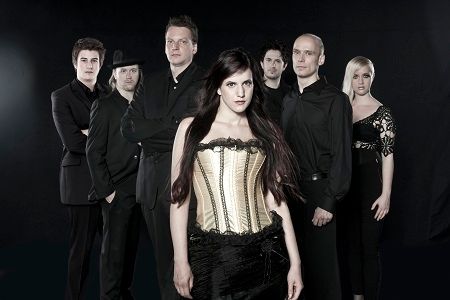 What is the composition process like for Lyriel? Do you compose acoustically and then arrange the parts for the heavier instruments?
No, not as such… Olli (Thierjung – guitar) writes the basic ideas on the PC beginning with the verse and chorus which just contains one main melody, bass and a harmony. Then the rhythm will be worked out and the arranging really begins. After that, the songs will be devised and worked through by the whole band before we go into the studio.
Lyriel plays to a lot of different crowds from goth to medieval; fantasy to straight ahead metal fans. What's the secret to your crossover appeal? Is it image, attitude, the music or all of the above?
Well, we actually feel very at home in all of these scenes, because our different band members all have very different roots. This puts us probably somewhere in between. And it's supposedly why different kinds of people at every age like our music. It's really fantastic to see the diversity of our fans at concerts or on the Internet!! It gives us an unrivalled opportunity to play different types of events, festivals, and concerts, with no restrictions!
What is the concept behind Lyriel? What are the essential elements of the band's identity? The folk metal genre is brimming with high-caliber bands. What do you and Lyriel do to differentiate yourselves from these other bands?
Our sound concept really doesn't fit into any scheme, and I think that makes a huge difference. We like to play different styles, but without losing the original Lyriel style itself – however difficult that is to define. I always pick out the cello and violin as our essential elements and we are always anxious to achieve new levels of sound and style using all the parts equally.(Laughs)It's a really exciting and creative time for the band at the moment. Partially, our music is inspired by other musicians in this scene, of course… But we're constantly trying to develop our own kind of music and style as well. So far, we're pretty happy with everything but we're still curious as to what comes next? Maybe that's what's exiting about us? We are not finished yet, and there is much more to come!
You sing two tracks in German on "Leverage". Is it important to represent your German roots instead of performing exclusively in English?
Yes it is, absolutely. We are German, so why not sing in German? Those songs just cry out for it! Then again, performing exclusively in German is not an option for us either. I personally love to sing in English. Linda (Laukamp – cello) writes the lyrics in English rather than in German because English has its own lovely way of transforming words into lyrics.
Tracks like "Looking for Love" and "Black Clouds" have one foot firmly in pop territory and the other in the rock/metal vein. Have you ever thought about moving in a more pop direction and make a run at international top 40 successes?
Well from a young age I have always had a love for a bit more rock/metal vibe on things and I just don't think I can move on from that just for the sake of being a top 40 success. (Laughs) Don't get me wrong – I would love to have a song on top 40 but I believe in sticking with what I like might get the same result. I have to say as a live performer I love having the rock/metal feel.
You've said before that you prefer to sing live than record in the studio. Your vocals on "Leverage" can be gentle and sweet but will instantly leap in power levels. How do approach your vocals in the studio to record that live sound?
I try to feel the 'magic' and the 'intent' of each song. When we are recording, we often discuss the meaning of the lyrics and by this, try to figure out how to use my voice to cause a certain mood. It was a constant dialogue between me and Tim (who recorded the album) so as to make the very best out of every song and I think it has worked really well!
Does performing your songs live bring out different elements of the songs than on the album?
Yeah, in a way it does because seeing someone preform live can be a stronger experience then an album – it's like a story being told. The songs are being influenced by the people playing the songs and you can give it that little extra.
Maybe a live album is in order to capture that vocal power and the musical diversity of the band?
Yes, a live album would be great! Let's hope that we can realize this very soon?
With "Leverage", Lyriel now has a pretty large pool of songs to play live. What can fans expect from Lyriel when they come to see you live this year?
The songs from "Leverage" of course, and a pretty diverse set composed of stuff from our other albums too. A few band members will be new for some fans, so it will be wonderful to see the reaction.
Are you going to play any all-acoustic shows? Your music would have just as much impact with or without the amps.
We'd definitely like to play all-acoustic shows in the near future, but nothing is determined just yet. We did a few all-acoustic shows in the past and we really loved them. The on-stage feeling is very different from what we are used to, but you are right, our songs work either way. And some songs actually work even a bit better in my opinion, because cello and violin are more evident and the melodies can really fly!
Famous last words?
Robert Frost's quote: "Two roads diverged in a wood, and I took the one less travelled by. And that has made all the difference."
Links
Latest Multimedia

Interview by Si Smith
Rooted in 60s DC comic culture, the idead of the bizarro world has long fascinated those with the time to wonder; a place where everything has its "perfect imperfect duplicate", a world of topsy-turvy superheroes and supervillians. Since then there have been numerous references to the concept, from Buffy the Vampire Slayer to the American sitcom Seinfeld. But now the metal world has its own take on the Bizarro theme: German melodic death metal/metalcore band Deadlock bring it straight into the 21st century with a new album tinged with the very antithesis that gives Bizarro its identity. Rough and smooth, demonic and divine, silence and noise, fast and slow, this album has it all. I spoke to superheroine Sabine Scherer for a healthy dose of alternative reality.
First, thanks so much for taking the time to speak to us, and a warm hello from all at Femme Metal.
In 2011 Deadlock can truly be said to be established as a metal force to be reckoned with, now that you have five full-length studio albums behind you.
How has the journey been across this time for you personally?
It's been a pretty cool experience so far! We've been on the road with so many cool bands and played great shows, visited places I would never have dreamed of, like Japan, Ukraine or Russia.
It's now been almost three years since the release of the remarkable "Manifesto": what have Deadlock been up to in the three years since the last album?
We've played many shows and went on tours with All That Remains and The Haunted, Soilwork, Lacuna Coil, played the X-MAS Tour with Heaven Shall Burn and Caliban, played some festivals like With Full Force and Summer Breeze, as well as these great trips to Japan, Ukraine and Russia. Those were some fast three years

Not only a new album but a new logo and from the paintbrushed lines of the first through the intricate angular etching of the second, now we have the futuristic minimalism of the third. A deliberate attempt to forge a new identity, or just coincedence?
We all think that with the musical progress which we went through, it was time to underline the musical evolution in the look. We've had this idea earlier, but never really felt it was the right time. But with the new album, I think it totally fits.
"Bizarro World" is an album firmly rooted in its concept. For those who are not aware of the concept, would you take us briefly through your understanding of the phenomena of Htrae and the Bizarro Code? How important are these to the album?
"Bizarro World" is a place where all good is bad and all ugly is beautiful and vice versa. Sad but true, we often find that this "Bizarro World" often corresponds to the world we actually live in, way too often. It has become quite common not to question the things we're confronted with and we're accepting the presented solutions in a non-critical and non-constructive way. For example, we're trying to heal so-called diseases by poisoning ourselves, states go bankrupt but spend a horrifying amount of money on weapons and the war industry, everybody is talking about saving the environment but who's actually doing something? This is Bizarro World.
"Virus Jones" is a strong opening song: not only do you start the album with the longest song on it, it also showcases your vocals at the very start; how do you begin to prepare your voice for recording a vocal like this? Could you take us through the recording process as you see it?
I usually don't really prepare for recording sessions, voice wise. some times I do voice excercises, sometimes I'm drinking a beer before recording

one day we're done in 5 minutes, the other day we need 5 hours, it simply depends on how much we're going with the flow.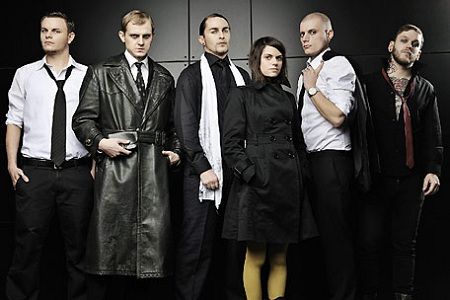 No rapping or guest vocals this time – just the grandiose concept! And the sharp contrast of Johannes' death metal growls with your crystal clean melodics. There are a couple of ballads here where you can show off your voice to the full – namely "You Left Me Dead" and "Paranoia Extravaganza". Of all the styles that you sing, have you a favourite style? What is your MOST and LEAST favourite thing about singing for Deadlock (if you can tell us…:-))?
There is no bad thing about singing for Deadlock, and no bad style. Of course, there are songs that are more exhausting than the others, but all of them are fun to play, sing and perform.
I notice the techno breakdowns are still there intermittently – eg on "Renegade" – has there been any temptation to leave these out to satisfy some of your critics? Or are they an integral part of the Deadlock sound?
I think that if we would have felt that we needed more of these electronic styles in any of the new songs, we would never have hesitated to use them. We would never just not use something just to please other people.
I would definitely say that "Htrae" works up to a great climax for the album. Some bands use up all their good material and by the end you are left with filler, but not Deadlock : it is one of your most powerful vocal moments on the album I think. How does it feel when you perform tracks like this live?
I love this song, but we have not yet played it live, and we're currently not planning to play it in the future.
The band appears to be very tight musically, and all the parts join together to create something so much more than the sum of its parts. How do you all manage to stay "in sync" with each other when playing a Deadlock song? Are the relationships strong between the band members?
We do rehearsals before tours and everything and we know each other and the way he uses his instrument very well.
Personally I would say that on this album your vocals have become more prominent than on previous offerings and you have been given a wider range of vocal acrobatics to perform. How has the change affected you, going from guest singer on the first album in 2002, to becoming basically one of the focal points of the band's sound in the present day?
Well I got more things to do on stage

I think it's a cool balance on the live set and both Joeand I are giving our best to transform the songs from the album into an enjoyable live experience.
It has been great as an onlooker to see you progress through the five albums, becoming stronger each time. Have you any advice you would give to up and coming vocalists who wish to be in it for the long haul like yourself?
Thank you! I'd say that it's most important to always be yourself and never try to copy others. Of course, it's good training to cover songs, to find out what's easier for you and what's more difficult, but in the end, you have to put your own soul in it.
Finally, looking to the bigger picture, do you feel you have found your "niche" with Deadlock? Or do you have any ideas for other projects or vocal avenues that you could explore in the future?
I guess that we're always on the move. We might as well put out an electronic album next time, without guitars, haha. Just dance. Call it Dance-Metal. I don't know, we have been doing so many things and our heads are full of ideas, I'm excited myself about what will come out the next time we hit the studio.
Latest Multimedia
Label : Nonesuch Records/Warner Music
Review by Luisa Mercier
"Sun Midnight Sun" is the second solo effort of Sara Watkins, violin and fiddler player, plus singer and songwriter, once part of the bluegrass band Nickel Creek. Even though all the songs have that folk-country old feeling around them, only two are actually oldies: "You're the One I love" in which Sara is joined by her friend Fiona Apple. The song is muche faster than the original one and it sounds angry more than loving. The other cover is Willie Nelson's "I'm a Memory". This time the guest is Jackson Browne. They added to the song a hook that was missing, making it an ultra catchy tune! The chosen single is "When It Pleases You", written by Semisonic Dan Wilson. The song is quite long, seven minutes, and it is a mid-tempo power ballad with some rock hints and Sara's sweet violin. The rest of the album was written by Sara, alone or with her producer Blake Mills. The intro "The Foothills" somehow links Sara to her previous work with Nickel Creek, even though the distorted violin is more rock than country. Another worthy composition is "Be There", a ballad quite sad and hopeless. I loved it. Even though the title suggests differently "Impossible" is slightly more lively and joyful. Sara is doubtless matured since her Nickel Creek times and people will love this record when will listen to it.
Rating – 75/100
Tracklist
The Foothills

You and Me

You're the One I Love

When It Pleases You

Be There

I'm a Memory

Impossible

The Ward Accord

Lock & Key

Take Up Your Spade
Line Up
Sara Watkins – Vocals, Violin, Fiddler & Acoustic Guitar
Links
MySpace * Facebook * Twitter * Site
Label : Heckmann Sounds
Review by Tony Cannella
Germany's Astray Path released their debut effort "The Hidden Line" in 2008. They have now returned with their sophomore effort titled "Desert". Fans who liked their debut are in for a treat, because Astray Path has returned with a more focused album, which more than reflects the maturity of the band. "Desert" features a playing time of 10-songs and 50-minutes. Astray Path's style is still of the Symphonic/Gothic metal variety with front woman Kathrin Kaifel providing her operatic delivery to the songs. There is a concept running through the albums, featuring a narration that pops up at certain points throughout "Desert" to help move the story along. The intro "Breeze Over Dunes" sets the scene and brings us into the bombastic "The Call". "Hate" is next and opens with a classic metal riff that propels this song as Kathrin's operatic vocals takes the helm. The over 11-minute epic "Desert" is next and a true epic number. "An Empty Shell" definitely has the potential to be an accessible track for this band, I would never use the dreaded word 'commercial' in describing this track, but there is a potential accessibility factor with this song. "Korpeklau" is next, and for me this one stood out the most. It is a bit different than the other material featured here, as there is a definite folk vibe on this song, this track also features maybe Kathrin's best vocal performance. I just loved this song! Other highlights included: the 9-minute "Night" (another great epic) and the closer "Stell Dir Vor". "Desert" is a beautifully diverse, well thought out and played second release from Astray Path.

Rating – 90/100
Tracklist
Breeze Over Dunes

The Call

Hate

Desert

An Empty Shell

Korpeklau

Endless Sleep

Sunset

Night

Stell Dir Vor
Line Up
Kathrin Kaifel – Vocals
Elmar Heckmann – Guitar

Simon Kaifel – Keyboards

Dora Tanswell – Bass

Holger Seitter – Drums
Links
MySpace * ReverbNation * Facebook * Twitter * Site
Label : GB Sounds
Review by Tony Cannella
Mallory Switch is the oddly named band out of Italy. Their new debut full-length release is simply titled, "Mallory" and among the 10-tracks and 46-minutes worth of music featured, the band display their style of electronic beats and sounds, some rap and industrialized hard rock music, all coming together under the banner Mallory Switch. The opening track "Business Television" brings the listener into Mallory Switch's electro-world. That is followed by the bouncy, straight-forward song with the blunt title, "You Made My Shitlist" (this is my new favorite song title, ever!). The song alternates between being aggressive and techno influenced and is one of the more memorable tracks included here. "Dirt" keeps the momentum going, with an aggressive marching riff that just pounds away all the way through. Next track, "The Last Man on Earth" really stands out, thanks to the beat that is kept. This song also features a contribution from New York City based rap artist Beans (from the group Antipop Consortium). It is an interesting collaboration and one that works great. Audrey Lynch is the vocalist and guitarist for this trio and her vocal style has an infectious charm to it that goes along great with the music that is being performed. Other favorites include: "No Evil", "Brand New World", "Flow" and the final track "Mother Earth", which is followed by 3-minutes of silence and then the dreaded unnamed, surprise bonus track. While not your typical metal release, "Mallory" still features some pretty memorable moments and Mallory Switch are a band that brings something a little bit different to the table. "Mallory" is a CD that mixes different influences, styles and ingredients. It's all a pretty potent combination. I will admit that this is not what I would normally listen to on a regular basis but the songs on "Mallory" had me interested all the way through and it is just another example of how metal can expand horizons.
Rating – 80/100
Tracklist
Business Television

You Made My Shitlist

Dirt

The Last Man on Earth

No Evil

Brand New World

Flow

Evolution Machine

Mumbling My Time

Mother Earth
Line Up
Audrey Lynch – Vocals and Guitars
Zach Maier – Bass, Synth, Piano

Kid Lynch – Drums, Samples, Programming, Background Vocals
Links
6 color styles available:

Style switcher only on this demo version. Theme styles can be changed from Options page.