Browsing articles tagged with " spinefarm"
Interview by Ary R. and Miriam C.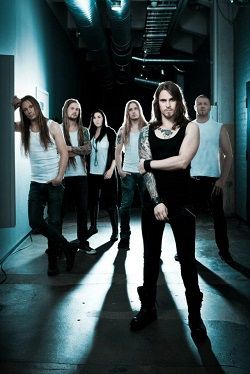 MyGRAIN is a melodic-death band from Finland. In these recent years, this 6-piece esemble gained more celebrity thanks to a few tours in Japan, Asia and especially Europe. After a long delay, the guys were able to release their 4th album via Spinefarm Records and in this exclusive interview, the singer Tuomas and the keyboard player Eve give us a few more details about the new record!
Hi Tuomas, hi Eve. Welcome to Femme Metal! First of all, I'd like to tell you that it's a great pleasure to have you here today! How are you doing there in Finland? 
Eve: Nice to have a chat with you as well! The leaves are falling to the ground here in Finland and the autumn seems to evoke a serious creativity boost… So we're working with the new songs already!
Tuomas: Hi there and thanks for having us! We're living exciting times as we're at the moment starting the Finnish shows with the new album "Planetary Breathing". And at the same time we've already made arrangements for yet newer stuff!
Interview by Tony Cannella
The Swedish metal band Amaranthe recently embarked on their first ever U.S. tour. They are out supporting their excellent sophomore effort "The Nexus" and have been showing the North American fans what they are capable of in a live setting. Recently, prior to their excellent show in Cambridge, Mass. two of the vocalists Elize Ryd and Jake E. were kind enough to take some time following their sound check to discuss a variety of topics. Here is what they had to say…
The new album, "The Nexus" is out. Could you please tell us a little about it?
Elize: Yeah, this is Amaranthe's second album actually. The first one was not released here in the United States, so for the U.S. market this is our first album. There's a lot more of everything, I think, we took it a step further compared to the first one. We have a lot of different kinds of songs. We are very satisfied with the results and it's been received very well. Continue reading »
Label : Spinefarm Records/Universal
Review by Tony Cannella
The Swedish melodic metal band Amaranthe released their impressive self-titled debut in 2011. The album created a huge buzz in the metal world. Since then vocalist Elize Ryd has gone on to touring with Kamelot on their last tour. Now she returns to her main gig for their 2nd album entitled "The Nexus".
Amaranthe continues to utilize three distinctive vocals. In addition to Elize's angelic vocals, Amaranthe also utilizes clean male vocals (Jake E Berg) and harsh male vocals provided by Andy Solveström.
The opening duo of "Afterlife" and "Invincible" are both excellent, but my favorite track is the energetic "The Nexus". The three vocal styles are used quite masterfully here and this is just a great, melodic song. Continue reading »
Interview by Alessandra Cognetta
Many of you remember her from Kamelot, but Elize Ryd's career is so rich I don't think I can fit it all in an introduction. A talented artist and a really sweet person, she agreed to answer some questions for us about her latest effort with the unique band Amaranthe (their second album "The Nexus" will be in stores by the end of March, check their website to see when it's out in your country!). You're going to read about music, dancing, Eurovision (?!), bizarre incidents on tour and, well, I'm not gonna spoil anything, see for yourselves, you're in for a truly interesting interview!
Hello and welcome once again to Femme Metal, Elize! It's always a pleasure to have you with us at the 'zine. Amaranthe's new album is about to be released, and the band has a world live premiere planned for March 2nd in Sweden. How's it going with the preparations for the event? What can we expect to see?
Thank you very much, it's a pleasure for me as well! It is going great, on Monday the band are gonna meet in Gothenburg and start to rehears of the new songs. You will see Amaranthe in full and healthy shape, we all have had some time of the scene so it will be extremely fun to gather again and start this what will be an extremely intense and exiting year
Finnish Symphonic Power Metal band has announced their new vocalist (after the departure of Heidi Parvianen) and the recording of a compilation album, read the following statement from the band and mainmain Tuomas Seppälä :
"Hey all. As announced recently we have spent quite some time with the search for a new singer. A pretty hard task, but we think we managed to find an extraordinarily talented singer. We are very proud to present you
Capri
! She is from Finland and a professional vocalist with a strong background: she has worked for a vast amount of different kinds of studio- and live-projects (musicals, lead and backing vocal recordings, live shows etc).
Capri
has a classical training but is still 100 percent a rock singer. We are sure she will bring
AD
to a new level by interpreting
AD
songs with a different kind of style and emotion."
Here's something more for you eyes and ears. A teaser video of Capri singing some AD songs.
And since we all thought that Capri can sing those "classic" AD songs with new and refreshing style and sound, we decided to re-record a selection of our best songs again with her. Also 75 % of the music stems are going to be re-recorded. Mikko P. Mustonen, who did orchestral arrangements for our previous album ("Circus Black") will add some more colour to those songs with awesome orchestral additions. He's also going to mix this album. Release dates, track listing and cover art are to be announced later.
Songwriter Tuomas Seppälä:
"Founding
Capri
and getting her join
AD
is like a big dream coming true to me.
Capri
shares the same taste in music as I and that's why is obvious that our new partnership is like "match made in heaven". She really makes my compositions to shine like never before and I'm so impressed about her every way. I'm as excited as back then, when I found our original singer
Heidi
. Now my main focus is to make the whole world to hear about
Capri
and start composing new songs for her. But first, we're all concentrating on recording this compilation album with
Capri
and then I'll start working with new material for new studio album "  
For infos check :
6 color styles available:

Style switcher only on this demo version. Theme styles can be changed from Options page.