Browsing articles tagged with " spirit"
Label : Sword of the Spirit LLC
Review by Tony Cannella
"Afterlife" is the debut EP from the Detroit based operatic metal band Upon Wings. The EP features only 4-songs and 15-minutes worth of material but from the very beginning it made a positive impression on me. Musically there is a lot to like about this band, but it was the enthralling vocals of Anne Autumn Erickson along with the thoughtful, introspective lyrics that drew me in.
Anne Autumn Erickson does have an operatic vocal style but it is not over-the-top. She knows exactly when to rein it in and be a little more subdued. Some singers are so enamored with the fact they have this immense vocal ability that sometimes they go a little overboard. Continue reading »
Label: Nuclear Blast Records
Review by Tony Cannella
When it comes to Folk Metal, it simply doesn't get much better than the Swiss band Eluveitie. The band formed in 2002 and in 2004 they released their first EP "Ven". In 2006 they released their debut full-length "Spirit" and have never looked back. Earlier this year they released their latest album "Helvetios" and now they are back with some newly released versions of old songs.
The first 6-songs that makes up "The Early Years" is a re-recording of their rare "Ven" EP; and next 11-songs is their debut album "Spirit" which has been re-mastered. The re-recordings of the songs from "Ven" (with their current line-up) are a huge highlight, since as I mentioned the EP is a rare and very hard to find these days. The songs on "Spirit" run the gamut of traditional folk-ish influenced numbers to poundingly heavy tracks like "Of Fire, Wind & Wisdom" and the re-mastering gives the songs an added kick. Continue reading »
UPON WINGS will release its new EP, "Afterlife", on March 5 via Sword Of The Spirit Records LLC. The CD features guest vocals and production from Brett Hestla (ex-CREED, DARK NEW DAY).
"Afterlife" track listing:
01. Afterlife
02. You Are My Weapon
03. Take Away
04. The Dream (I'm Only Happy When I'm Sleeping) Continue reading »
Upon Wings is proud to announce the release of new EP, "Afterlife", featuring guest vocals and production from Brett Hestla (Ex-Creed, Dark New Day). "Afterlife" is scheduled for a March 5th release on Sword of the Spirit Records LLC.
Rock and metal fans will recognize plenty of names on "Afterlife". Kid Rock recording engineer and Grammy-nominated mixing engineer Glenn Brown mastered the single, while Brett Hestla (ex-Creed, Dark New Day) provided guest vocals and production talents. More metal assistance for the upcoming EP came from producer and guitarist Kevin Jardine, best known as the guitarist of Canadian nu metal giants Slaves on Dope, formerly on Ozzy and Sharon Osbourne's Divine Recordings label. Drummer Peter Tzaferis also contributed to the EP. Continue reading »
Independent Release
Review by Vard Aman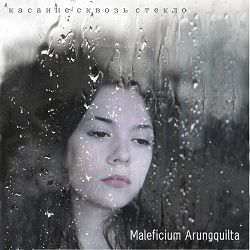 I have written before about the potential benefits of searching harder and farther through Femme Metal's vast underground; there are some real gems out there. And then sharing those gems with others… I run a group on Facebook for Russian and CIS female-fronted metal bands, and one day a user posted a link to a band they had discovered on the group's wall; a band that I had at the time not even heard of before, but a band that has since then become one of my favorites. That link was to a band called Maleficium Arungquilta.
Maleficium Arungquilta are from Izhevsk in Russia. They formed in 2009 and their name roughly translates to a dark spirit or supernatural force that performs evil sorcery (or evil deeds, if you translate "maleficium" directly). Musically, they live up to their name; lyrically, they are more diverse than that, although it does play a part. The strength of this arungquilta's musical maleficium centers mainly around two great assets: 1) their ability to create haunting, and very powerful and beautiful melancholic melodies and 2) the quality and ability of the band's vocalists, particularly the lead vocalist, Lisa Karkina (Lisa Shadrina now… sorry guys). Lisa's voice must surely be one of the most beautiful female voices around. Her timbre and control are superb, as is the clarity of her voice – you won't need lyric sheets to follow her (if you understand Russian that is). She also sings with an emotion that lies beneath her exquisite vocal control but is still very much there – a calm outer surface that still gives away just enough to reveal, or allows one to sense the turmoil underneath. It is very effective, especially when the vocal melodies she delivers are such as they are. To add to her normal voice, she also possesses a powerful operatic voice that would put most operatic singers in metal to shame, and thanks to the band's exceptional songwriting skills, they are used wisely. Lisa is backed up occasionally by the smooth and sonorous clean vocals of Maxim Gankov, and by the blackened shrieks and wailing laments of Alexey Kirsanov (I hope I have them the right way around). Alexey is a potent Black Metal vocalist. Then there is the backing female vocalist, Yana Lindarskaya, who is a similar vocalist to Lisa and whose operatic vocals, when she uses them, are just as powerful. On the song "Чернобог" off "Касание Сквозь Стекло", where Yana sings the intro, she brings an added folk element to her vocals.
6 color styles available:

Style switcher only on this demo version. Theme styles can be changed from Options page.