Browsing articles tagged with " stefanie"
Interview by Andy Axworthy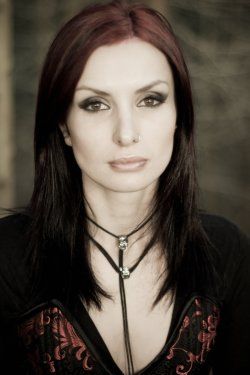 Based out of São Paulo, Holiness have hit the ground running with their first release, a gem of an album boasting as good a set of melody-driven metal tracks that you are likely to hear this side of 2011 and one that grows on you more with each listen. Femme Metal sat down with vocalis Stéfanie Schirmbeck to talk about the power and the potency that is "Beneath The Surface".
Hi Stéfanie – welcome to Femme Metal. It must have been some journey, starting from Erechim in 2006 to Sao Paolo in 2010. What has it been like and what can you tell us about your fellow band members in Holiness?
Hello everyone from Femme Metal!! Since Holiness' beginning it has been a really hard working time for all the band. We are still building our base as a metal band. In São Paulo we are having more opportunities to show our work than we did in Erechim, so we are really glad! I believe that me and the guys are going through a learning period; they are really dedicated musicians, and easy people to live with.
Your first album "Beneath The Surface" is new to us, however it's been available for a while in Brazil. How has having a CD released changed life for the band and how do you feel the album has been received by your fans?

Actually, the decision to launch the CD was completely ours, we didn't have a label supporting us, so from the beginning we were prepared to leave our family and our home. We all feel that the album has been really well received by fans and critics here in Brazil. They are interested in our ideas and in what made us choose this kind of music.

The album was produced by Aquiles Priester with keyboards performed by Fabio Laguna, both members of Hangar. How did they become involved and what was it like to work with them on the album?
Aquiles was doing a workshop in Erechim and we told him we had a band. At the time he was part of Angra, which is a band known around the world. We sent him our demo and he liked it, so we arranged the details and started to record the album. We were able to see how things worked; we really learned a lot – it was a new world shown to us.

You also employed the talents of Adair Daufembach as sound engineer and Tommy Newton on mixing/mastering duties. What did you gain from the experience that they brought to the recording process? Also, how did it feel and what did you think when you were recording and listening to the playbacks for the first time?
Adair is an amazing professional, and most important, he's an amazing person! We became friends after the recording. We learned a lot from him and Tommy Newton was really open and attentive to our taste. The first time I heard the songs, when they were ready, I felt very happy and satisfied.

The pre-production video on your MySpace page shows a band that look like they are really enjoying themselves. What can you tell us about that time, the place and your adventures with the swimming pool? ; )
Haha, that place is my father's farm, he lent the house for the pre production and recording of the album. We were isolated from the world at that period, so we ended up getting kind of retarded, hahaha!! On the last day of recording we had a party to celebrate, I was all dressed up and they threw me into the pool, and the water was really cold!! The results certainly speak for themselves – "Beneath the Surface" is a very good album. Your style has been described variously as melodic power metal to romantic and emotionally charged. How would you describe Holiness to readers who have never heard your music before?
Thank you! I think is a huge mix of influences from all the members. I really like the definition that a friend gave to our sound: he said it's "Modern Metal".
You also have the video to "Into The Light" up on your MySpace page. What is the story behind the song, the film, and the location?
The song talks about moving on, leaving a bad situation by choice, and we did the screenplay based on Spiritualism.The guys are lost souls who don't accept their own death, so another spirit comes to send them to the other side. The location has a really interesting story; the house belonged to former governor of Santa Catarina, a very important person for the country's history.
You have a beautifully rich and resonant voice. How did you get into singing and how do you take care of your voice now you are in a band?
Thank you! I started singing because I used to play guitar in a band that had no singer, so it was like: "you'll sing", and I started to like it – it was a long time ago… I take care of my voice doing singing lessons, sleeping well, rarely drink and eat soft foods.
Who or what are your influences, both as a singer and on your music in general?
As a singer right now I'm searching for my own style, as a musician I like to listen to Hard Rock, Heavy Metal, Progressive, Metalcore and gothic Metal. I don't listen only rock bands, I also like pop rock bands and some Brazilian rhythms.

You have already worked with Hangar, providing vocals on their track "Dreaming of Black Waves". Do you have any more collaborations planned and if you could choose any one musician to play on a song with Holiness, who would that be and why?
Right now, I don't have any collaborations planned but if I could choose someone I think it would be James Labrie, we are all Dream Theater fans and it would be amazing to have his voice on our record.
There is a cover of Alanis Morissette's "Uninvited" on the album, and you have also covered Eurythmic's "Thorn In My Side" for the Japanese version of the album. How did you come to decide on these two tracks, and if you could pick one Holiness track to be covered by the band of your choice, which track and which band would you choose?

We decided we wanted "Uninvited" for the Album because Alanis is one of my first influences as a singer, and I love this song! It's really intense and spiritual…
If I could choose a song I think it would be U2 playing "Waiting for a Change" because they sound unique and we would like to hear the result.

Talking of the album release, at present the cd is available from yourselves and Die Hard Records in Brazil, with a couple of tracks available through Talent Space Records in the US. "Beneath the Surface" cries out for a more general release. Is this something you are working on and if so, how are things progressing?
Yes, we are looking for a nationwide distribution in Brazil; we would also like to sell our record in Europe. Right now we are making contacts and reviewing proposals.

Can you tell us about your tastes in clothes and jewellery? What catches your eye and do you find yourself going for a certain style or is it down to whatever your favourite things are in that moment or whenever you play live?
I used to wear a black a lot – now I'm in a lighter stage. When I'm on stage I like to use corsets, leather gloves, jeans and combat boots. I don't wear jewelry much, I have a necklace my mother gave me and I use it everyday, that's all.
Talking of live performances, you have a couple of shows in Sao Paulo in September. How is the music scene in that area and if and when you come over to Europe, which festivals would you like play if you could take your pick?
I think São Paulo has the stronger Metal scene in the Country; it is the best place to be if you want recognition and opportunities. We would really like to play in Europe, in festivals like Wacken Open Air, Download Festival, Graspop Metal Meeting…

If you were not singing for Holiness did you have a Plan B? What would you be doing instead?
I went to college and graduated. I studied fashion and I would be starting my business. Some day I will – It's in my plans.
Finally, what sort of plans do Holiness have for rest of 2010 and into 2011?
We'll be working on Beneath the Surface tour until next year, we hope it leads to all corners of the world and then we'll start working on our next album.
Stéfanie, thanks for sharing your thoughts with us. Is there anything else you would like to say or add before we let you escape? : )

Thanks, I really enjoyed it!! I would like to thank the love and support people have given us!
Thanks for the Space!
Links
MySpace * Facebook * Twitter * Site
Latest Multimedia
Independent Release
Review by Tony Cannella
"Beneath the Surface" is the title of the debut release, from Brazil's Holiness. This female fronted band mixes hard rock and melodic power metal, fused with memorable hooks and catchy choruses to create a potent debut album and one that will stay in your memory banks after the first listen. The symphonic intro track "Rise" gets this 10-song 40-minute opus off the ground. "The Truth" kicks things into high gear with a crunchy guitar riff and Stéfanie Schirmbeck's instantly like-able clean vocal delivery. She really does have an appealing quality to her voice. Holiness utilizes layered harmonic background vocals to perfection throughout the CD, and the track "What I Want" is an excellent example of this. "Higher" takes things down a few notches in tempo, and starts off with some nice piano, before getting a bit heavier, but still maintaining a mid-tempo pace. Other highlights include: "Waiting for a Change", "Take Me Closer" and "Breath in Time". The final track is a cover version of the Alanis Morissette track, "Uninvited", an odd choice for covers but the band does an excellent job in putting their own spin on the song. The whole CD is well written, produced and performed. With "Beneath the Surface", Holiness has released a quality debut and a fine beginning for this Brazilian metal band. As far as I know, this band is not yet signed. It's a shame actually; they would be the perfect addition to a label like Frontiers.
Rating – 90/100
Tracklist
Rise
The Truth
What I Want
Higher
Waiting for a Change
Take Me Closer
Mine
Into the Light
Breath in Time
Uninvited
Line Up
Stéfanie Schirmbeck – Vocals
Fabrício Reiz – Guitars
Hércules Moreira – Bass

Cristiano Reis – Drums
Links
Label : Shinto Records
Review by Mortuai
Try as I might to be impartial, I find myself slightly biased about "Poet", the debut release from Pennsylvania native Tiffany Apan. On the one hand, I'm still a bit miffed about the fact Tiffany was supposed to be one of the participants on the "Ferocity and Feminitity" compilation but never got around to sending her contribution. On the other hand, those familiar with my tastes (or lack thereof) know full well I am a self-confessed fan of the bizarre in motion pictures, and due to this, her role in Troma Films' "Meat For Satan's Icebox" (no, seriously, that's the name of the film) definitely qualifies her to catch a break or two from me, so it all evens out and I'm back to where I should have started in the first place. While it may be a bit of a stretch to call the model/actress/singer's album a metal release, it certainly is an interesting, if somewhat uneven, listen. Apan's modeling career seems to focus on gothic imagery, and that particular imagery carries over very well into her music, her smooth, melancholic, semi-operatic vocals blending effectively with the everything-else-in-the-band instrumental work of her co-writer Jason English. Vocally, Tiffany reminds me a bit of Sarah Brightman, a touch of Lana Lane and perhaps just a tiny hint of Stefanie Duchêne, though at no point does she sound like a clone of anyone else. Musically, atmosphere is the name of the game here and "Poet" positively drips with it, plenty of stylistic variety on display but every track conjuring up dark soundscapes which are at times classically beautiful and at other moments disturbingly discordant…sometimes both within the course of the same song. Cuts like piano-driven opener "Ghost" (which works much better than the guitar-soaked remix version of the same track included a bit later in the disc), the meditative "Destiny's Path" and the effects-and-dark riff-laden "Ashes to Dust" are excellent songs but other tracks like the lurching, Middle-Eastern-meets-Celtic "Black Forest" don't seem to trigger much more in the listener than confusion. Oddly enough, my two favorite tracks on the album are the two cover tunes – one a superb dark-tinged version of traditional folk tune "Scarborough Fair" (made most famous, of course, by Simon and Garfunkel) and the other a heavily Patsy Cline-influenced tune originally performed by Apan's grandparents in the late 50′s and early 60′s, a track which may seem to the casual listener to be very much out of place in a hard rock release yet somehow fits in here almost perfectly. "Poet" is not for everyone – listeners who may be looking for something a bit more aggressive and metallic or something a bit more commercially viable will doubtless be somewhat disappointed by the generally slow pace and often experimental nature of the music. Fans of gothic rock who appreciate moody melodic vocals should definitely snap this one up though, as it is highly enjoyable for those who have enough of an open mind to appreciate what it has to offer..
Rating – 75/100
Tracklist
Ghost

Porcelain Heart

Free


Runaway and Hide

Ghost (Persephone's NetherRealm Remix)

A Prayer

Black Forest

Scarborough Fair


Destiny's Path

Ashes to Dust

Warrior (Soldier for Myself)

Whispers
Line Up
Tiffany Apan – Vocals
Jason English – Instruments
Links
MySpace * ReverbNation * Twitter * Facebook * Site
6 color styles available:

Style switcher only on this demo version. Theme styles can be changed from Options page.